This Is Who Plays Nora On iCarly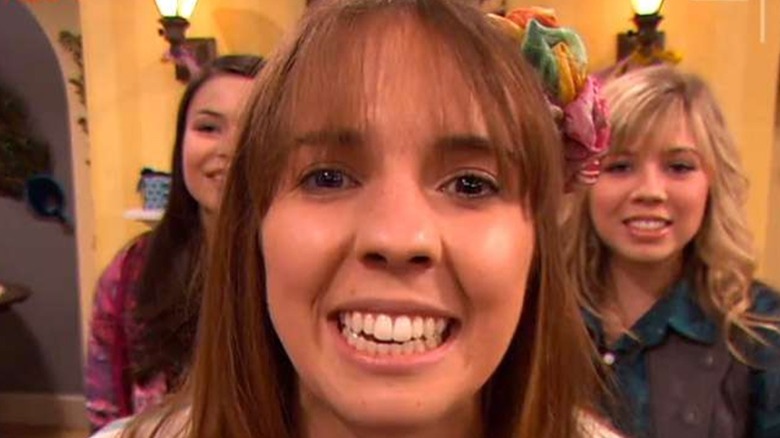 Nickelodeon
If you were a kid or teenager in the late 2000s and early 2010s, chances are Nickelodeon's hit sitcom "iCarly" was one of your go-to TV shows. Airing from September of 2007 until November of 2012, the comedy series chronicled the lives of Carly Shay (Miranda Cosgrove) and her best friends, Sam Puckett (Jennette McCurdy) and Freddie Benson (Nathan Kress), as their web show took over the virtual world. Essentially, the program was a simplified look at early internet culture and the rise of platforms such as YouTube, where seemingly average, everyday people can become overnight celebrities with the press of a button.
Much like in the actual social media world, the in-universe "iCarly" led to plenty of drama over the course of its run. From Nevel Papperman's (Reed Alexander) schemes creating animosity between Carly and MMA fighter Shelby Marx (Victoria Justice) ahead of their exhibition fight to Sam's trip to jail nearly destroying the show, Carly and her friends were doing what YouTubers do these days before it was cool. That includes having run-ins with some pretty out-there fans, such as Nora Dershlit, a superfan that let her love for the online sensation go a bit too far in the episodes "iPsycho" and "iStill Psycho."
Nora was portrayed by Danielle Morrow for her few "iCarly" appearances — an actress with a strong list of credits to her name. Here's where you may have seen her before.
Danielle Morrow is all over the entertainment world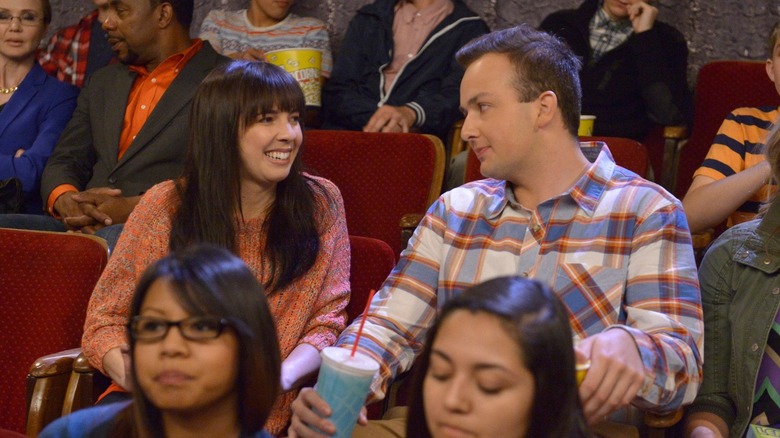 Nickelodeon
Danielle Morrow's debut as Nora on "iCarly" came in 2010, but it wasn't her small screen arrival. Her introduction was in 2006 for an episode of the beloved series "Heroes," specifically the installment, "Chapter Nine 'Homecoming'," where she settled for an unnamed role. With her foot now in the door, Morrow popped up on Disney Channel's "Good Luck Charlie" as Kimmy in the 2010 episode "Pushing Buttons." This gig proved to be a turning point for the aspiring actress, whose workload greatly increased in the coming years.
After her stint on "iCarly," Morrow stuck around on Nickelodeon for a little while longer. She reprised the Nora character for the "iCarly" spinoff, "Sam & Cat," before jumping to "Nicky, Ricky, Dicky & Dawn" in the Season 1 episode, "The Sad Tail of Gary-Chip-Tiny-Elvis-Squishy-Paws" — taking on the part of Veronica Miller. She even stopped by "Henry Danger" in 2017 to portray Kooschtello in "Hour of Power." Aside from Nick productions, she made a quick cameo during Season 3 of "Idiotsitter" and landed two spots as Vicki Thompson on "What's Next for Sarah?"
Though predominantly a television talent, Morrow has tried many times to branch out into other mediums. For example, her most recent acting credit is for a 2018 comedy short known as "Kenny," but it was hardly her first foray into short-form cinema. She has also appeared in the projects "Bestie's Night," "Re-Writes," "No Toddlerance," and "How to Survive a Breakup," in addition to the full-length features "Ashley" and "Hickey."
All in all, Danielle Morrow has seen some real professional highs throughout her career, and her filmography is filling out nicely. It will soon include the return of Nora Dershlit on the rapidly approaching "iCarly" revival (via TVWeb) which is certainly worth looking forward to.