The Real Reason Angela Bassett Won't Appear In Mission: Impossible 7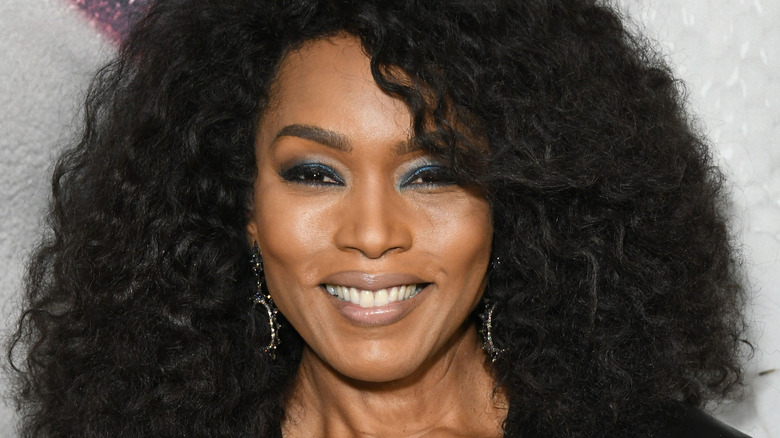 Shutterstock
Oscar-nominated actor Angela Bassett has been making the rounds doing interviews for "Gunpowder Milkshake," an ensemble action flick she co-stars in alongside Karen Gillan, Lena Headey, Carla Gugino, and Michelle Yeoh. The femme-centric movie is assassinating the competition on Netflix but, of course, it's not the only topic on the minds of interviewers. Bassett is, after all, also part of several huge movie franchises, including the Tom Cruise anchored "Mission: Impossible" series.
Bassett joined the spy thriller franchise in "Mission: Impossible — Fallout" where she played Erika Sloane, the latest director of the CIA. At first, Sloane distrusts Ethan Hunt (Cruise) and his team, which leads to her assigning Agent August Walker (Henry Cavill) to trail the renegade operative. As anyone who's seen the movie knows, that ends rather poorly. However, the whole ordeal does lead Sloane to re-evaluate her feelings about Hunt and the IMF, which theoretically sets up a new dynamic for the pair in the subsequent movies.
Unfortunately, though, it sounds like we won't be following up with Sloane in "Mission: Impossible 7" after all. Bassett revealed that she isn't making an appearance in the upcoming movie during an interview with Collider's Steve Weintraub and the reason why should now be all too familiar to cinema lovers.
The COVID-19 pandemic kept Bassett from filming "Mission: Impossible 7"
During her conversation with Weintraub and co-star Gugino, Bassett was asked to give fans of the "Mission: Impossible" franchise a tease of what to expect from the upcoming film. "I can't tease anything about 'Mission: Impossible 7,'" Bassett responded, clarifying, "except that, well, COVID took me out. Literally. Or, kept me out, how about that? So, yeah, that's all I know about that."
Back in 2020, Bassett had said that she believed she would be making an appearance in "Mission: Impossible 7." She told ComingSoon.net, "The real conversation is when, I think they've begun filming, or that was the plan, but you know in these trying times ... But I do have the pages, we'll just see when I get the ticket to fly and go do my part, but that's coming up and I'm really excited about it."
It looks like between then and now, those plans were scrapped. Fans of Erika Sloane shouldn't fret, though. After dropping the news that she wouldn't be in the next installment, Bassett did say, "So maybe I'll be able to tease ['Mission: Impossible 8'] when that comes along."
Even though filming for the seventh installment turned out to be a mission impossible, we still might see Bassett in the inevitable "Mission: Impossible 8."