Why Madeleine From Gunpowder Milkshake Looks So Familiar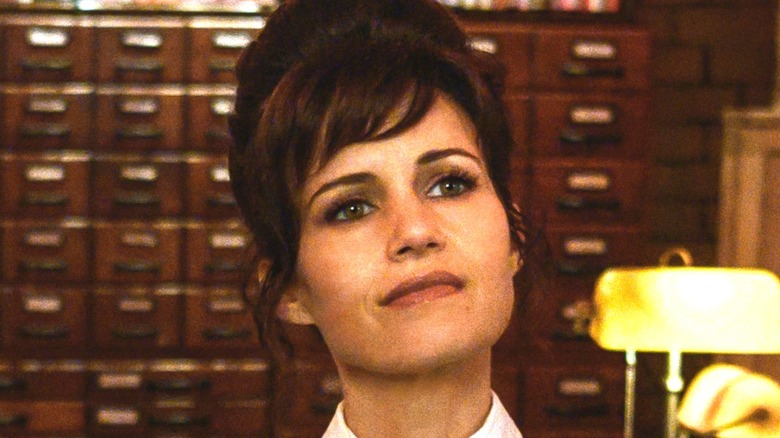 Netflix
The tradition of movies that command cultural attention by gathering a barn-burning ensemble of superstars is as old as cinema itself, and "Gunpowder Milkshake" is looking like the Hollywood dream-team event of 2021. In addition to star Karen Gillan, who's finally getting her big breakthrough leading role in a major studio film after years of supporting turns everywhere you could name, the Navot Papushado-directed Netflix actioner brings together none other than Lena Headey, Angela Bassett, and Michelle Yeoh as members of a hitwoman sisterhood.
Besides those three double-take-worthy names, the sisterhood in "Gunpowder Milkshake" is rounded out by a fourth great performer. But unlike Yeoh, Bassett, and Headey, this veteran actress is not quite as much of a household name as she deserves to be. In fact, you'd be hard-pressed to find another actor who's been so consistently great in so many roles for so long while getting so little recognition. You're almost guaranteed to have seen her in a movie or TV show before — so, if you don't know her name yet, let this be an opportunity to right that wrong.
Carla Gugino was Cortez's mom Ingrid in the Spy Kids movies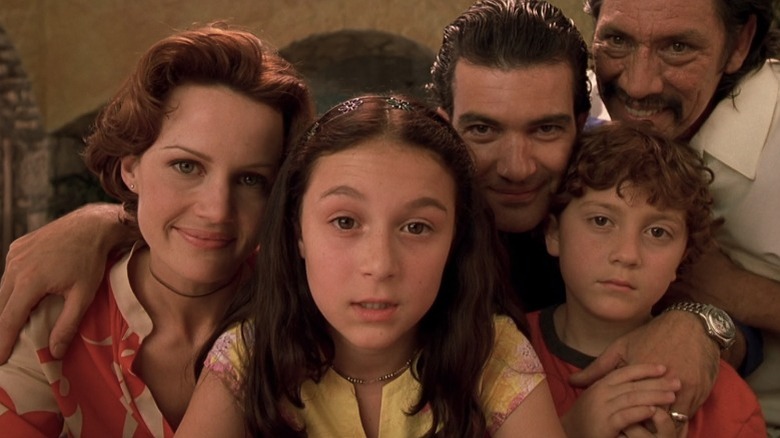 Dimension Films
The original "Spy Kids" trilogy is one of those 2000s cultural relics that feel so period-specific it's almost strange that they could still exist outside of that decade. But, for as much as contemporary viewers might be inclined to make fun of its dated special effects and unapologetically kid-friendly sensibility, the Robert Rodriguez-directed franchise does boast one important achievement that even current sci-fi adventure movies usually lag behind. It gave blockbuster space and centrality to a genuinely multicultural, ethnically diverse Latino family, with Colombian-American Alexa Vega and Russian-Jewish American Daryl Sabara in the titular roles of Carmen and Juni Cortez — something Rodriguez fought hard for, according to IndieWire.
Their parents Gregorio and Ingrid Cortez, meanwhile, were played by two actors who, although white, were both of Latin European descent: Antonio Banderas and Carla Gugino. For the Italian-American actress, "Spy Kids" was a mainstream film breakthrough following a brief modeling career, a series of small movie parts throughout the '90s, and regular roles on three popular TV shows: CBS soap "Falcon Crest," ABC sitcom "Spin City," and, most notably, CBS medical drama "Chicago Hope," which she joined on the final season.
Carla Gugino played a lot of wives and romantic interests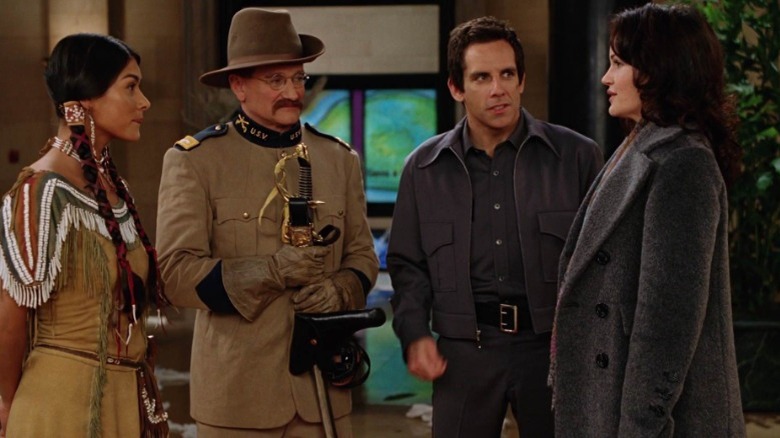 20th Century
Carla Gugino then ushered in a period of fits and starts in the 2000s. Her increasing visibility and striking talent helped her land leading roles on two successive shows, ABC's "Karen Sisco" and CBS's "Threshold" — both of which were canceled after a single season. She also made recurring appearances on cable comedy hits "Californication" and "Entourage."
During this period, Gugino was most frequently seen in theaters as the wife or main love interest of male protagonists. She played museum docent Rebecca Hutman in "Night at the Museum," whom Larry Daley (Ben Stiller) helped out by introducing her to the subject of her thesis, Sacagawea (Mizuo Peck) herself. In the Ridley Scott crime drama "American Gangster," Gugino was Laurie, the divorcing wife of Richie Roberts (Russell Crowe), a small role that nonetheless proved a great showcase for her uniquely piercing stare and impassioned speechifying skills. Late Jim Carrey fantasy comedy "Mr. Popper's Penguins" also starred Gugino as the ex-wife of the main character, who begins dating him again when the titular penguins turn his life around. And, most recently, in "San Andreas," Gugino played another estranged wife who reconciles with the protagonist over the course of the movie: Emma Gaines, whose divorce from Ray (Dwayne Johnson) is interrupted by a Los Angeles-shattering earthquake and other supervening events.
Gugino channeled all her eeriness on Wayward Pines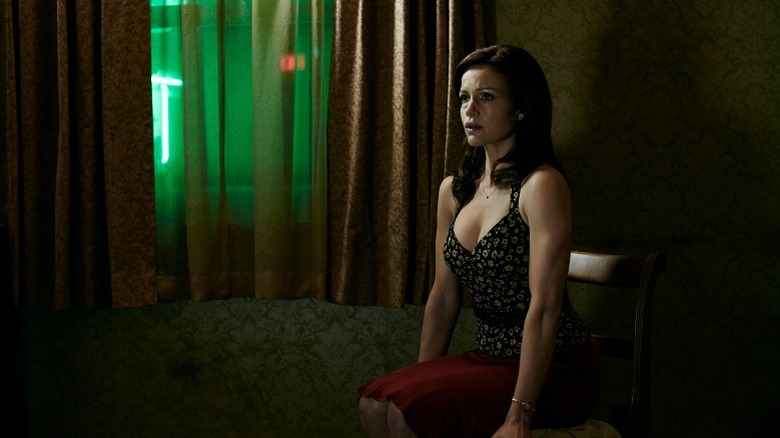 Fox
Fox's "Wayward Pines" was one of the most underrated sci-fi thriller series of the 2010s. Like many other concoctions with the signature of M. Night Shyamalan, it baffled, frustrated, and wowed viewers in equal measure with its story of a seemingly inescapable small mountain town and its myriad supernatural secrets. A bold show at every turn, "Wayward Pines" dramatically changed focus in the turn from Season 1 to Season 2, jettisoning most of its original cast, which included Carla Gugino.
Still, Gugino made a huge impression on her season, in which she played Kate Hewson, a U.S. Secret Service agent whose disappearance prompts fellow agent and former lover Ethan Burke (Matt Dillon) to go to the titular town in search of answers. As Ethan finds himself trapped in Wayward Pines and forced to investigate the town's bizarre nature, he reconnects with Kate, who is now older, married, and insistent on not discussing her previous life. The role allowed Gugino to display her firm grasp on both eeriness and authority, as the mystery of Kate's behavior gradually gave way to more and more answers about what exactly she was up to in Wayward Pines. Gugino then returned for the Season 2 premiere, which marked Kate's final appearance on the show.
She held down the one-woman show of Gerald's Game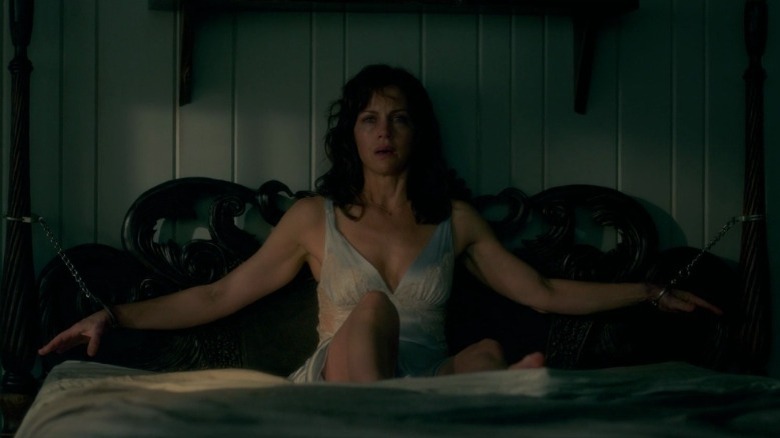 Netflix
Gugino's ability to project a singular personality crosspoint — firm yet vulnerable, magisterial yet endearing — was put to better use than ever in what was arguably her most famous and most acclaimed role. In the Mike Flanagan-directed Netflix adaptation of Stephen King's "Gerald's Game," Gugino played protagonist Jessie Burlingame, a woman who travels to an isolated lake house with her husband Gerald (Bruce Greenwood), lets him handcuff her to the bed for a spicier nuptial session, quickly grows uncomfortable with his belligerence, argues with him, and then finds herself trapped and alone when he suddenly dies of a heart attack.
Most of the film consists of a one-woman show, with Jessie battling desperately for survival and facing her own fears and traumas while Gerald occasionally pops up as a hallucination to taunt her about her supposed lack of inner strength. It wouldn't be too far-off to describe "Gerald's Game" as the story of Jessie finding it in herself to become a full-fledged Carla Gugino character, and the actress takes advantage of the spotlight to deliver a star-making performance that feels like the rightful culmination of her whole career. The movie itself is a first-rate psychological thriller, too, with a focus on character, emotion, and subtext that evinces its literary pedigree. Rarely do we get to feel as much empathy for a horror protagonist as we do for Jessie Burlingame, and you can thank Gugino's brilliance for that.
The Haunting of Hill House confirmed her as a modern scream queen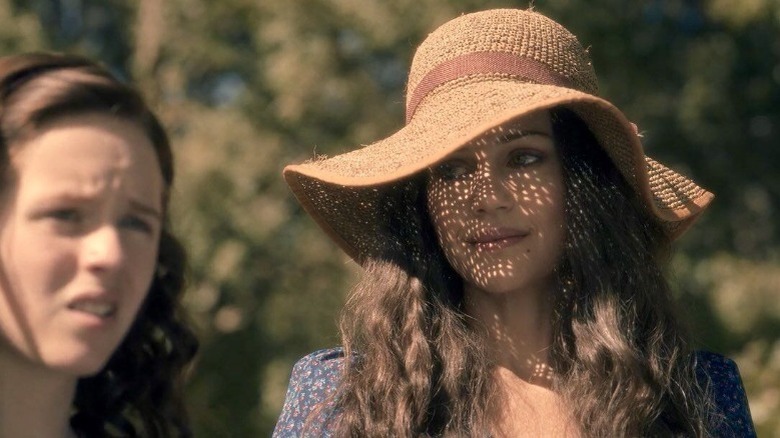 Netflix
Two horror-thriller roles with the caliber of "Wayward Pines" and "Gerald's Game" would be enough to put most actors on the map of the genre's fans. But Carla Gugino didn't stop there: Right after "Gerald's Game," she reunited with Mike Flanagan and returned to Netflix to star in the enormously acclaimed haunted-house miniseries "The Haunting of Hill House."
Although Flanagan's command of tension and nightmarish thrills was on full display as always, "Hill House" became especially notable for the way it melded horror elements with honest, deeply-felt character drama. And there was no character in it with a more gut-wrenching story than Olivia Crain, the architect and matriarch who moves the Crain family into Hill House with the intention of renovating it into her own design, only to fall victim to the mansion's ghostly occurrences. Her death, revealed in Episode 1, hangs over the entirety of the 10-episode series, serving as the focal point for the flashbacks that reveal what happened to the Crains during their fateful 1992 stay at Hill House.
Gugino's customarily brilliant performance earned her acclaim and awards, including a Saturn Award nomination for Best Actress in a Streaming Presentation (via IMDb). The success of her creative partnership with Flanagan led him to cast her again on the follow-up series "The Haunting of Bly Manor," this time as the older version of Jamie Taylor (Amelia Eve), who acts as an uncredited narrator known as "The Storyteller" throughout most of the show.