Read This Before You See Gunpowder Milkshake
This content was paid for by Netflix and created by Looper.
Get ready for the mother of all assassin thrillers. "Gunpowder Milkshake," which features some of the fiercest actresses in Hollywood, incredible action sequences, and a lot of heart, arrives on Netflix on Wednesday, July 14.
The story centers on a woman named Sam (Karen Gillan) who has been trained since childhood to become the ultimate hit-woman for a mysterious crime syndicate called the Firm. And yet, while Sam has unparalleled skills and an impressive body count, she also has some limits. When a high-risk job goes wrong, putting an innocent 8-year-old girl named Emily ("My Spy" scene-stealer Chloe Coleman) in harm's way, Sam defies her orders to eliminate the child and decides to protect her young charge instead, pitting her against her former employer.
With the Firm's goons hot on her trail, Sam turns to her estranged mother Scarlet (Lena Headey), who's an elite assassin in her own right. Alongside a trio of lethal "Librarians" (Michelle Yeoh, Angela Bassett, and Carla Gugino), Sam and Scarlet battle an army of trained killers as they try to get back at the organization that took everything from them. And that's just the beginning. Here's what else you should know about "Gunpowder Milkshake" before it arrives on Netflix.
Yes, it's ladies' night
It's not every day that you see an array of talented actresses headlining an action movie, but the cast of "Gunpowder Milkshake" features three generations of fan favorites, all of whom go above and beyond to bring this madcap action-thriller to life.
Karen Gillan, who audiences know as the cyborg assassin Nebula in the Marvel Cinematic Universe, leads the cast as Sam, the hitwoman at the center of the action. In addition to her Marvel work, Gillan is also known for her role as Amy Pond on "Doctor Who," for starring in Mike Flanagan's stunning horror flick "Oculus," and for dominating the screen in the new "Jumanji" movies.
Meanwhile, Lena Headey, who TV fans will recognize as the conniving Cersei Lannister on "Game of Thrones," stars as deadly mama bear Scarlet. You may have also seen Headey as Queen Gorgo in Zack Snyder's "300," Mary Sandin in "The Purge," and Sarah Connor in "Terminator: The Sarah Connor Chronicles," and you might've heard her voice shows like "Trollhunters: Tales of Arcadia" and "The Dark Crystal: Age of Resistance."
A superstar supporting cast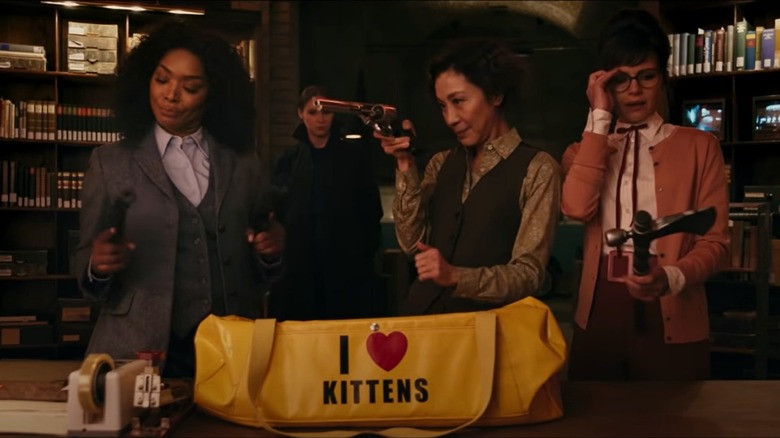 STUDIOCANAL/Netflix
The ladies who portray the trifecta of "Librarians" are also big names. Michelle Yeoh, who plays Florence, has starred in a number of hit films, including "Tomorrow Never Dies," "Crouching Tiger, Hidden Dragon," "Memoirs of a Geisha," and "Crazy Rich Asians." She also made a splash on the small screen with her portrayal of Philippa Georgiou on "Star Trek: Discovery," and will appear in both "Shang-Chi and the Legend of the Ten Rings" and the upcoming "Avatar" sequels. Angela Bassett, who plays Anna May, is an Oscar-nominated icon with a career full of standout films, including "What's Love Got to Do with It," "Waiting to Exhale," "How Stella Got Her Groove Back," and "Black Panther." Carla Gugino, who plays Madeleine, is a standout in projects like "Sin City," "Watchmen," "Sucker Punch," and "Gerald's Game," as well as "The Haunting of Hill House" and its follow up, "Bly Manor."
Up-and-coming superstar Chloe Coleman stars in "Gunpowder Milkshake" as Emily. Coleman previously played Skye Carlson in "Big Little Lies" and Sophie in the 2020 action comedy "My Spy." She also appeared as Naveah in "Upload" and has a number of high-profile projects on her plate, including the upcoming sci-fi thriller "65" and the forthcoming "Dungeons & Dragons" movie. Finally, Sam's mysterious boss is played by the one and only Paul Giamatti. Basically, no matter where you look in "Gunpowder Milkshake," you're going to see some very familiar faces.
A new visionary
In addition to the on-screen superstars, "Gunpowder Milkshake" also boasts some notable talent behind the camera. The movie is directed by Navot Papushado, who co-wrote the script with Ehud Lavski, and who makes his English-language debut with the film. This is far from Papushado's first big hit, though. His 2010 horror pic "Rabies" and 2013 thriller "Big Bad Wolves" were honored by the Israeli Film Academy and recognized at the Fangoria Chainsaw Awards and the Chicago International Film Festival. "Big Bad Wolves" also earned the writer-director some high-profile fans, including Quentin Tarantino, who declared "Big Bad Wolves" to be the best film of the year. Papushado's work can also be seen in the "F is for Falling" segment of "ABCs of Death 2."
No doubt, Papushado's proven track record of keeping audiences on their toes is only going to continue when "Gunpowder Milkshake" arrives on Netflix July 14.