Out Of Every Death In Sons Of Anarchy, This One Stands Above The Rest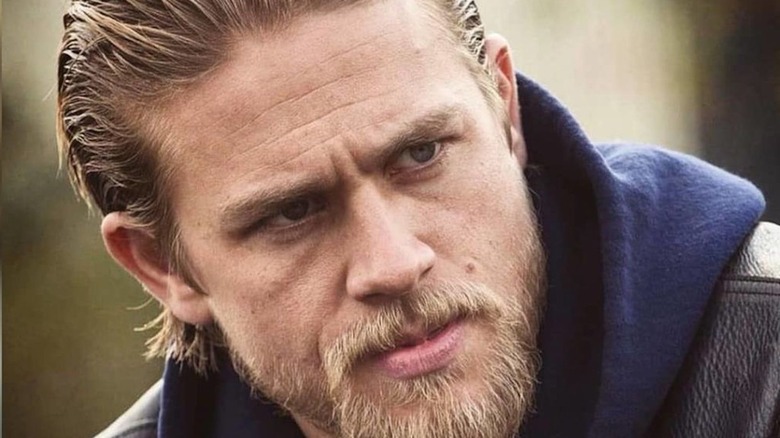 FX
By the time "Sons of Anarchy" finished its 7-season-long ride back in 2014, the FX show had become one of the must-see crime dramas of its time. It doesn't have quite the nuance of other critically acclaimed shows like "The Wire" or "Breaking Bad," but the series' lovable band of rogues are no less entertaining. "Sons of Anarchy" follows Jax Teller (Charlie Hunnam), who goes through an existential crisis when he discovers that his long-dead father didn't want the Sons of Anarchy Motorcycle Club, Redwood Original, to be a criminal enterprise centered on drugs and gun-running. Jax's morals are pulled in a number of directions, as his duty to his brothers conflicts to what he knows is right.
"Sons of Anarchy" is a grimy and unrelenting view of the criminal underworld, but its roguish characters are somewhat charming — even when they're dishing out brutal punishments to anyone who crosses them. Creator Kurt Sutter took the FX series in some pretty dark directions, as gore, murder, and torture are splattered across nearly every single season. 
Since there are so many deaths throughout the series, some moments get lost in a sea of blood. However, there's one particular death in "Sons of Anarchy" that stands above the rest because of the emotional weight that comes with it.
Opie Winston's death was brutal and emotional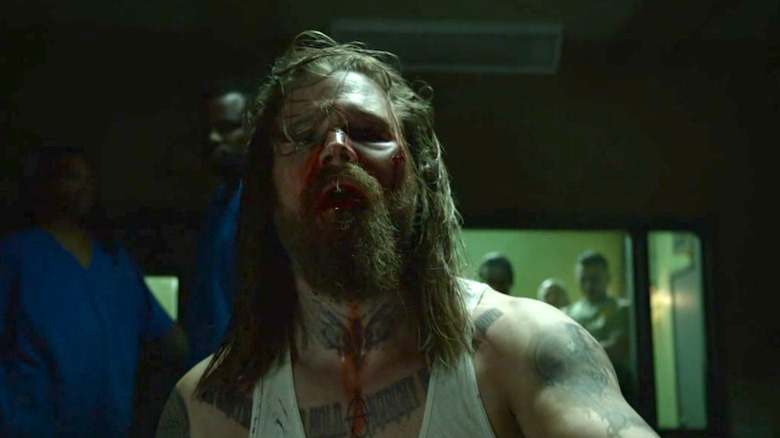 FX
The death of Harry "Opie" Winston (Ryan Hurst) in prison in "Sons of Anarchy" Season 5 is emotionally devastating – so much so that it still generates conversation online to this day. Yes, Gemma Teller (Katey Sagal) killing Tara Knowles (Maggie Sif) in Season 6 is horrific, but the reason Opie's death hits harder is because it's down to self sacrifice. He's killed in retaliation for the death of Damon Pope's (Harold Perrineau) daughter, whom Tig (Kim Coates) accidentally killed when attacking another club.
Opie volunteers to fight in the prison knowing he's going to be killed. Jax, Tig, and Chibs (Tommy Flanagan) have to watch on in horror as two other inmates mercilessly beat Opie with a pipe. It's horrific, and that bond of brotherhood is what makes it the most impactful death in the series. Rolling Stone voted it the 4th best moment in "Sons of Anarchy" overall, and trumped only by sentimental scenes and not main character deaths. Entertainment Weekly also ranked Opie's death 4th in the 50 most shocking moments of the series, while his death nabbed the top spot in a similar list at Goliath. Clearly, Opie's death hits pretty hard.
Plenty of fans on Twitter still talk about the scene, with user @ChoatTony writing, "Am I the only one who's still not over the death of opie in sons of anarchy????" Twitterer @Soup1994Shannon said they could "hardly sleep after watching the episode." 
To make it even more emotional, the cast were equally heartbroken over Opie's death, as they all shaved Ryan Hurst's beard with a samurai sword(!) as a way of saying goodbye (via Entertainment Weekly). "I started crying, and then Boone started crying," Jax actor Charlie Hunnam said. "By the end of it, it was the catharsis that we'd all hoped it would be." 
R.I.P., Opie Winston.