Out Of Every Death In Sons Of Anarchy, This One Stands Above The Rest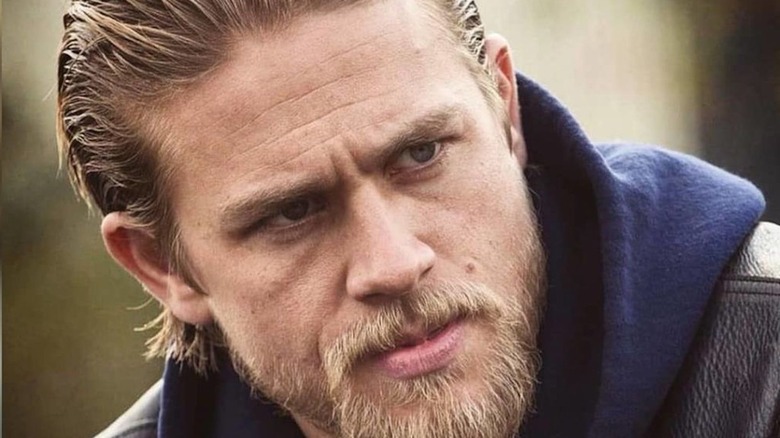 FX
By the time "Sons of Anarchy" finished its seven-season-long ride back in 2014, the FX show had become one of the must-see crime dramas of its time. It doesn't have quite the nuance achieved by other critically acclaimed shows like "The Wire" or "Breaking Bad," but the series' lovable band of rogues is no less entertaining. 
"Sons of Anarchy" follows Jax Teller (Charlie Hunnam), as he goes through an existential crisis after discovering that his long-dead father didn't want the Sons of Anarchy Motorcycle Club, Redwood Original, to be a criminal enterprise funded by drugs and gun running. As communicated posthumously through a discovered manuscript, John Teller's high-minded ideals and peaceful vision for SAMCRO basically upends his son's entire world. Jax is suddenly pulled in a number of directions, as his duty to his brothers conflicts with his father's undeclared vision, and what Jax himself knows to be right.
"Sons of Anarchy" is a grimy and unrelenting view of the criminal underworld, but its roguish characters are somewhat charming — even when they're dishing out brutal punishments to anyone who crosses them. Notably, the series was envisioned as modern day retelling of Shakespeare's "Hamlet," with Jax in the role of the indecisive Danish prince and his father's posthumous words as a kind of reimagined paternal ghost. The central conflict between Jax, Clay (Ron Perlman), and Gemma (Katey Sagal) even mirrors the conflict between Hamlet, Claudius, and Gertrude from the Elizabethan play. Shakespeare's original story is pretty grim in its own right, but "Sons of Anarchy" creator Kurt Sutter took the FX series to some dark places even the bard wasn't willing to conjure. Gore, murder, and torture are splattered across nearly every single season. 
Since there are so many deaths throughout the series, some moments get lost in the sea of blood. However, there's one particular death from "Sons of Anarchy" that stands above the rest because of the emotional weight that comes with it.
Opie dies brutally so his brothers can live ... brutally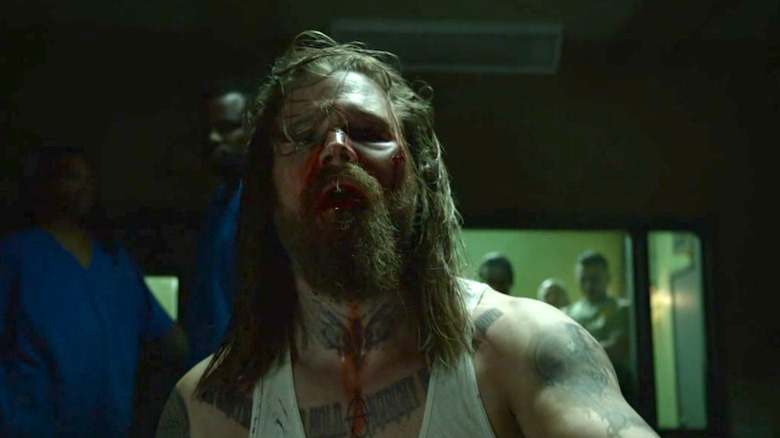 FX
The death of Harry "Opie" Winston (Ryan Hurst) during one of the Sons' brief stints behind bars in Season 5 is emotionally devastating – so much so that it many fans are still reeling from the loss. Yes, Gemma Teller killing Tara Knowles (Maggie Siff) in Season 6 is horrific, but the reason Opie's death hits harder is because it's the last self-destructive step on a long journey into despair that begins after Opie loses his wife in Season 1. He's ultimately killed in retaliation for the death of Damon Pope's (Harold Perrineau) daughter, whom Tig (Kim Coates) accidentally killed when attacking another club. Though he gets to play the hero and save his brothers through self-sacrifice, Opie's final act is as much an escape for him as anything else — a way to run from a life he'd long given up living.
Opie volunteers to fight in the prison knowing he's going to be killed. Jax, Tig, and Chibs (Tommy Flanagan) have to watch on in horror as two other inmates mercilessly beat Opie to death with a pipe. To make matters even more galling, the whole thing is facilitated by a corrections officer who's presumably in Pope's pocket. It's horrific, and that bond of brotherhood between Opie and the survivors he saves is what makes it the most impactful death in the series. 
Rolling Stone voted it the 4th best moment in "Sons of Anarchy" overall, and it was exceeded only by sentimental scenes. No other death scene — even those involving main characters — comes close. Entertainment Weekly also ranked Opie's death 4th in the 50 most shocking moments of the series, and his death nabbed the top spot in a similar list at Goliath. 
Clearly, Opie's death hits pretty hard.
The fans on social media are still talking about Opie's final scene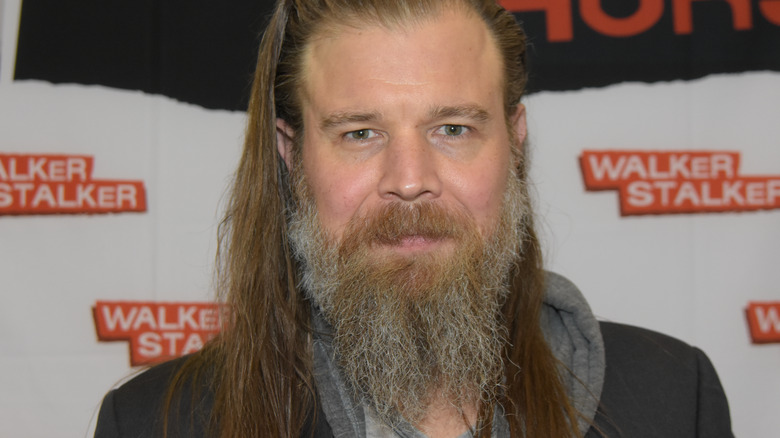 Shutterstock
"Sons of Anarchy" is clearly a series that continues to loom large in the imaginations of its fans. The show's enduring impact is enough to fuel continued discussions on social media, even years after the series took its final bow.
Plenty of fans on Twitter still talk about Opie's death scene, with user @ChoatTony writing, "Am I the only one who's still not over the death of opie in sons of anarchy????" 
Twitter user @Soup1994Shannon said they could "hardly sleep after watching the episode."
According to contemporaneous reporting, the cast were equally heartbroken over Opie's death, and they all shaved Ryan Hurst's beard with a samurai sword as a way of saying goodbye (via Entertainment Weekly). "I started crying, and then Boone started crying," Jax actor Charlie Hunnam said. "By the end of it, it was the catharsis that we'd all hoped it would be."
So R.I.P., Opie Winston. Don't cry too hard about it, though. Ryan Hurst landed a sweet gig playing Beta on "The Walking Dead" after departing "Sons of Anarchy," and for that we are eternally grateful.