The Truth About Beta's Real Identity On The Walking Dead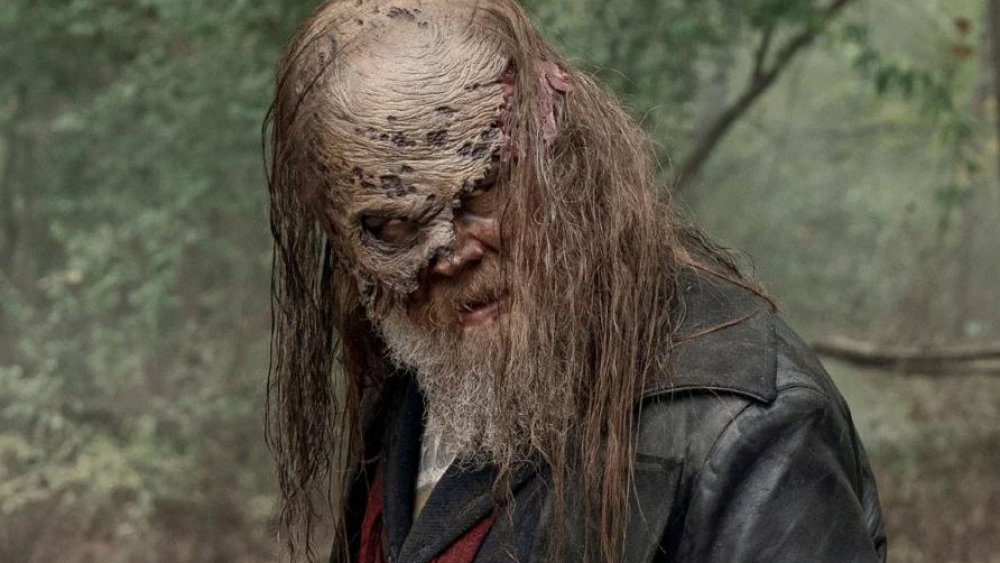 AMC
Contains spoilers for The Walking Dead through season 10
For the better part of the past two seasons of AMC's long-running zombie drama The Walking Dead, he's been the epitome of the "strong, silent" type, though he has been a bit more brooding and gotten far bloodier than most men of his kind. Still, since joining the post-apocalyptic fray late on season 10, the mysterious Whisperer we know only as Beta on The Walking Dead has become one of the more compellingly enigmatic figures in the series' now decade-plus small-screen run. Along with the deadly pack he runs with, characters like Beta (and Samantha Morton's Alpha) have also played a big part on The Walking Dead's unexpected, late-in-the-game revival.
While the character, played with mythic-level menace by former Sons of Anarchy star Ryan Hurst, remains a near total mystery on The Walking Dead, fans of the series recently got a clue about who Beta was pre-apocalypse. His background isn't at all what you might think for such a relentlessly brutal sort. 
The revelatory clue came on the episode "Look at the Flowers," and saw Beta retiring momentarily to an isolated motel room that had been inhabited by a music lover. In this room, Beta (with the head of Alpha at his side) stumbles across a record player, and a surprisingly robust vinyl collection. In that collection was, almost unbelievably, an album titled Half Moon: Live in Concert... that just so happened to have Beta's face on the cover. 
So it seems the beastly, skin-wearing Whisperer was at one time a popular musician of some repute — so much so that folks are still listening to his stuff at the end of the world.
How Beta's The Walking Dead identity differs from the books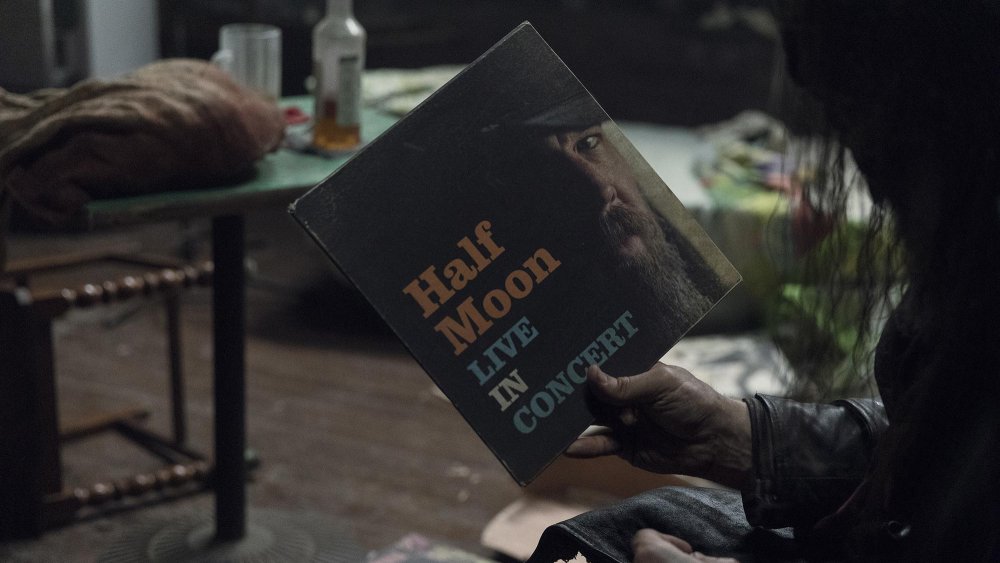 AMC
If you've been keeping track of The Walking Dead and its spin-off Fear the Walking Dead, you know this isn't the first time Beta's backstory has been teased. As reported by ComicBook.com, a few eagle-eyed FTWD fans first spotted Beta's bearded mug on a different record sleeve last fall. And we actually got a taste of his music earlier this season on TWD when another Whisperer was, unbeknownst to viewers, listening to one of his songs. 
Whatever the case, now that The Walking Dead creative team is committing to Beta's musical background, longtime fans of Robert Kirkman's beloved source material will likely be quick to point out that Beta's backstory is dramatically different in the books. If you haven't read TWD, those books teased that Beta was a famous basketball player before the flesh-eating zombies took over.  
In a recent interview with Entertainment Weekly, The Walking Dead showrunner Angela Kang broke down Beta's background shift, and offered that Hurst was key in making the change. 
"So, we were thinking about all of that stuff, and in the comic books he's basketball player. But as we were constructing it here, we were like, 'Does [actor Ryan Hurst] really feel like a basketball player? Maybe more of a football player, but is that the way we want to go?' And Ryan had this idea of, 'Oh, maybe he was this musician,' and we thought that that was really cool," she shared. "And I think the aspect of it that was kind of important is he was this famous guy and he had this dark side that kind of came out in the apocalypse."
Not for nothing, but "dark side" feels like a substantial understatement in regards to "Half Moon" Beta's persona. Either way, we're really hoping to learn more of his story — and hear more of his music — moving forward.