Where Else You've Seen The Cast Of StartUp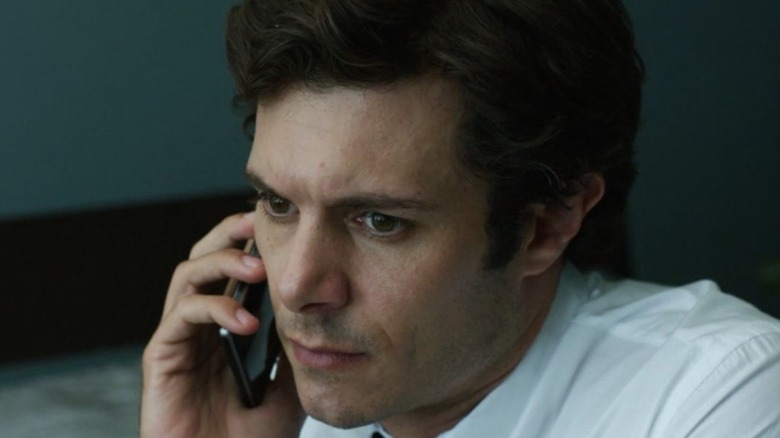 Crackle
In addition to its wide selection of original content, including gritty dramas, musicals, and beloved sitcoms, Netflix has also added several hidden gems to its catalog over the years. One of the newest series on offer at Netflix is "StartUp," which originally debuted in 2016 on streaming service Crackle. The show ran for three seasons and followed tech entrepreneurs who created a digital currency called GenCoin, which is basically a fictionalized BitCoin.
Although "StartUp" is technically a few years old now, it will be a new viewing experience to plenty of Netflix subscribers. Netflix added the show to its roster in May, and the ensemble cast features tons of familiar faces — including some actors who got their start on the show, then went on to other projects, but are now recognizable from those projects to people who are watching "StartUp" for the first time. Here's where viewers have seen the cast of "StartUp."
Adam Brody launched to stardom in The O.C.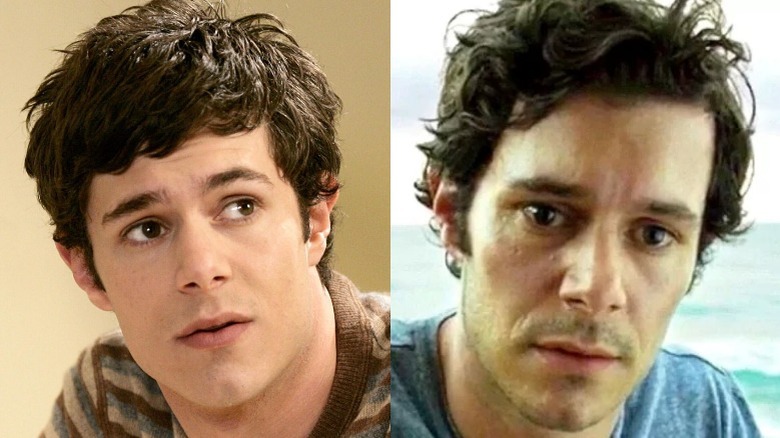 Fox/Crackle
Adam Brody plays Nick Talman in "StartUp," the son of a money launderer. In an attempt to hide his dad's crimes, Nick invests the laundered money in a tech startup, which makes him the target of an intensive FBI investigation. It's definitely a grittier role for Brody, in a more adult series than any of his previous star vehicles. Anyone who watched teen dramas in the early aughts is sure to recognize him, though it may feel weird to see him playing an openly bad dude.
Adam Brody has come a long way since he guest-starred as Lane Kim's adorable boyfriend, Dave Rygalski, on "Gilmore Girls." The actor became a fan-favorite when he played Seth Cohen on teen drama "The O.C.," and he later played small roles in movies like "Jennifer's Body" and "Promising Young Woman." With the exception of Dave, who was genuinely a sweetheart, Brody has largely been typecast as the "Nice Guy" who seems good on the outside but is actually a super creep or a murderer.
Martin Freeman has held several major roles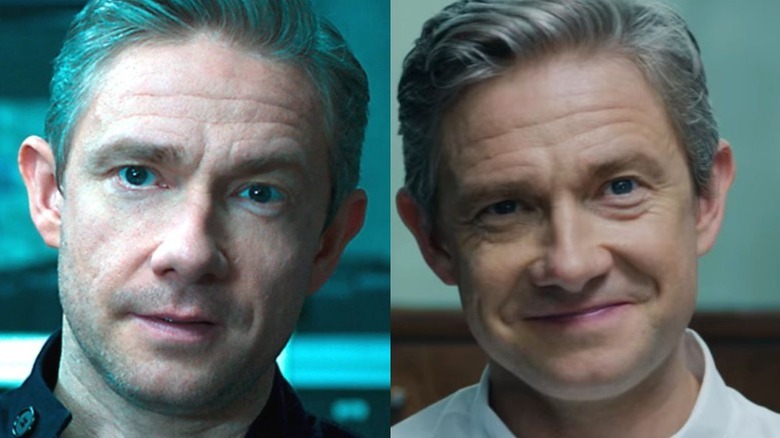 Disney/Crackle
In "StartUp," Freeman plays Phil Rask, the FBI agent hellbent on taking down the team of tech entrepreneurs behind GenCoin. He played the role for the first two seasons. Although Freeman has a mix of roles on his resume, he's no stranger to playing government officials or other office workers.
Martin Freeman has had a variety of roles since he started acting in the late '90s. In addition to playing John in "Love Actually" and Tim Canterbury in "The Office" (UK), Freeman also played Declan in "Shaun of the Dead," Arthur Dent in "The Hitchhiker's Guide to the Galaxy," Dr. John Watson in BBC's "Sherlock," and Bilbo Baggins in "The Hobbit" trilogy. He's also been in the Marvel Cinematic Universe, with his turn as CIA operative Everett K. Ross in "Black Panther" — a character he'll reprise in the 2022 sequel, "Black Panther: Wakanda Forever."
Ron Perlman played Hellboy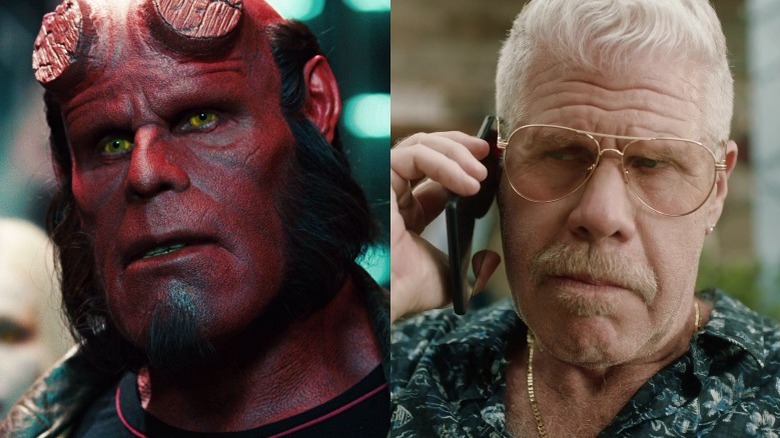 Sony Pictures/Crackle
In "StartUp," Ron Perlman plays multimillionaire Wes Chandler, who invests in the tech startup behind GenCoin and worries about losing his money. Perlman has been acting since the late 1970s, and he's racked up a number of recognizable roles in both live-action and animation — including some recognizable comic book characters. 
Perlman started his career with mostly voiceover work, including roles in "Batman: The Animated Series" and "Bonkers," and he more recently voiced characters in "Justice League," "Teen Titans," "Danny Phantom," "Adventure Time," and "Teenage Mutant Ninja Turtles," among others. However, his live-action work is even more notable: Perlman is perhaps best known for playing Hellboy in the live-action films and Clarence 'Clay' Morrow in "Sons of Anarchy," but he also played Hannibal Chau in "Pacific Rim," Luther Braxton in "The Blacklist," Gnarlack in "Fantastic Beasts and Where to Find Them," and the Admiral in "Monster Hunter."
Mira Sorvino is an Academy Award winner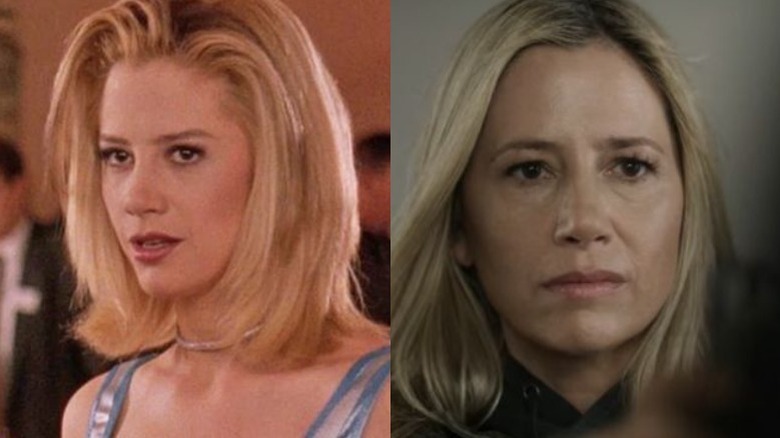 Touchstone Pictures/Crackle
In "StartUp," Mira Sorvino plays Rebecca Stroud, who claims to be a NSA agent investigating Araknet but is hiding the truth about who she is and why she's so interested in their activities. Sorvino, an Academy Award winner, was one of dozens of women who spoke out against Harvey Weinstein and claimed to be blacklisted for refusing his advances — resulting in her career slowing down significantly after the early '90s. 
Still, Sorvino has acted in a number of recognizable and high-profile roles. In addition to her Oscar-winning role in 1995's "Mighty Aphrodite," she played one of the titular characters in "Romy and Michele's High School Reunion," as well as Kate in the TV mini-series "Human Trafficking," which earned her a Golden Globe nomination. Sorvino guest starred in "Psych," played Amy Whelan in "Intruders," and Vicki Gregg in "Stalkers." She also starred in "Falling Skies" and "Condor," and had a recurring role as Nicole Rosemary Page in "Modern Family."
Edi Gathegi was a House doctor and a Twilight villain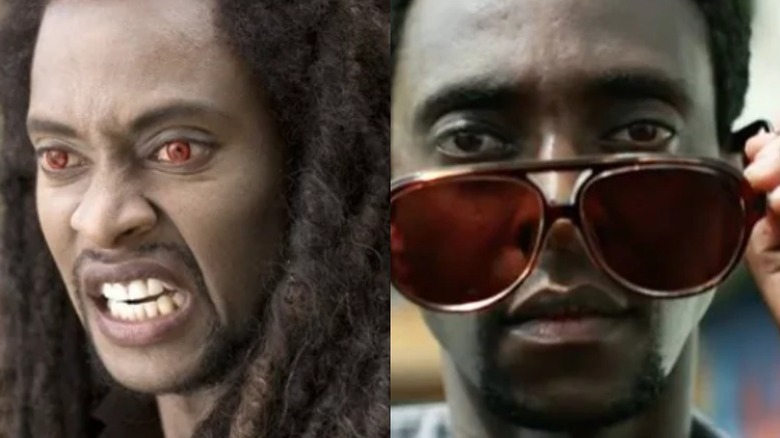 Summit Entertainment/Crackle
In "StartUp," Edi Gathegi plays Ronald Dacey, a gang member who invests in GenCoin in the hopes of improving life for his community and his son. He becomes the team's muscle as they attempt to deal with threats from multiple directions, including the FBI's desperate attempts to take them down.
Gathegi has played a variety of roles since his screen debut in 2006's "Crank," including supernatural villains and even one of Marvel's X-Men. In addition to his recurring role as Dr. Jeffrey 'Big Love' Cole on the medical drama "House," Gathegi also faced off against Bella and Edward as the vampire Laurent in the first two "Twilight" films, and he played Darwin in "X-Men: First Class." Gathegi is also recognizable for playing Jean Baptiste on "Justified," Cheese in "Gone Baby Gone," A.D. Singe in "Briarpatch," and Matias Solomon on both "The Blacklist" and "The Blacklist: Redemption."
Tony Plana starred in Ugly Betty and more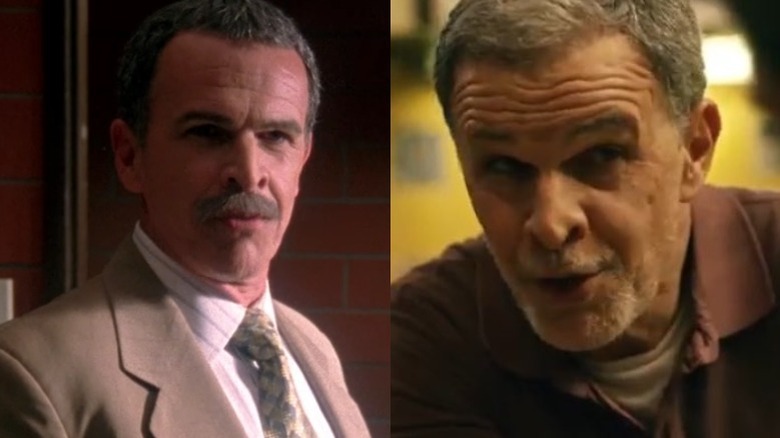 ABC/Crackle
Tony Plana plays Mr. Morales in "StartUp," concerned father to Otmara Marrero's Izzy. She's one of the three characters who invest in GenCoin with Araknet. 
Plana has had a long and lucrative career since he made his screen debut in the late '70s. To older audiences, he's perhaps best known for playing Luke Ramirez on the '90s series "Bakersfield P.D.," Luis Escobar on "Total Security," and Robert Santiago on "Resurrection Blvd." Younger audiences may know him as Omar from "24," Ignacio Suarez from "Ugly Betty," Alejandro from "Desperate Housewives," Benny from "Alpha House," Carlos from "The Young Pope," Victor from "The Fosters," or Ronnie from 2016's "Lethal Weapon" series. Plana also starred in Netflix's "The Punisher," "Playing with Fire," "One Day At a Time," "Superstore," and "Madame Secretary," among other prominent roles. Plana has even done voice work for classic series like "Clifford the Big Red Dog" and more recent hits like "Elena of Avalor."
Kristen Ariza starred in Lie to Me and The Fosters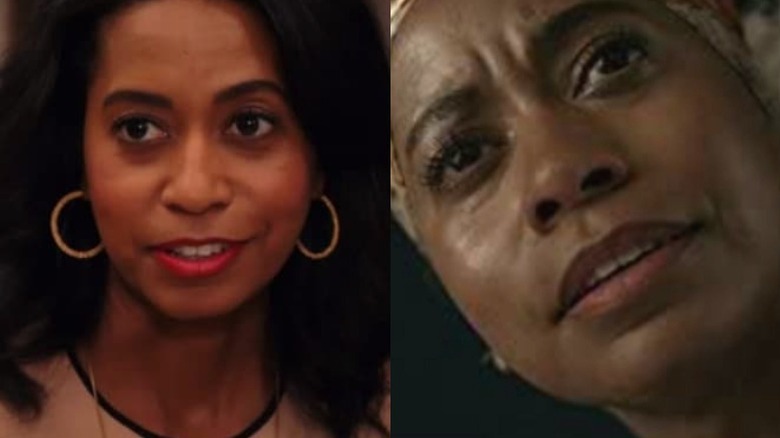 Freeform/Crackle
Kristen Ariza plays Tamara Dacey in "StartUp," Ronald's (Gathegi) wife, and one of the primary reasons he gets involved in GenCoin.
Kristen Ariza's screen debut was in 1992's "The Tomorrow People," but she took a decade-long break before returning to the screen. Since 2002, she's featured in a number of TV series and movies, including "Confirmation," "The Obama Effect," and "The Occupants." In addition to these films, as well as cameo and guest spots on shows like "Friends," "Charmed," "Cold Case," "Without a Trace," "NCIS: Los Angeles," and "Grey's Anatomy," Ariza also played Heidi in "Lie to Me" Season 2, Janet Snori in the future episode of "Parks and Recreation," and Mrs. Pritchard in "American Horror Story." Fans may recognize her from these small roles, but Ariza's most prominent roles include Tess Bayfield on Freeform series "The Fosters" and Laura Cooke in "Bosch."
Kelvin Harrison Jr. is known for his indie roles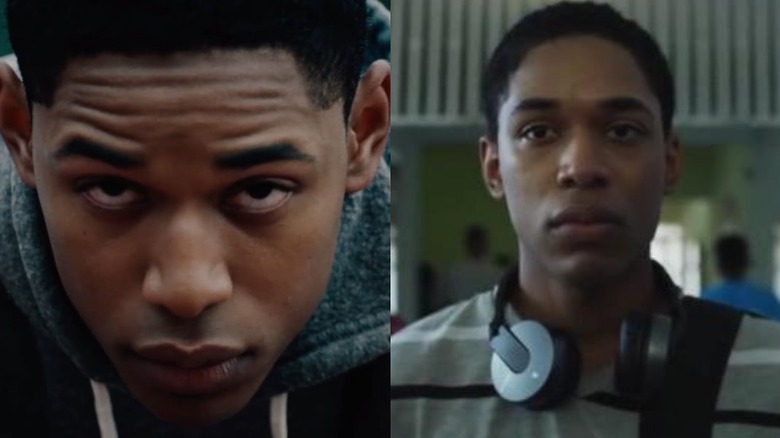 Neon/Crackle
In "StartUp," Kelvin Harrison Jr. plays Ronald's (Gathegi) son, Touie Dacey, who Ronald also strives to protect by getting involved with GenCoin. Harrison appears in Season 1 and part of Season 2, when he becomes the unfortunate victim of a tragedy.
Harrison is most recognizable for his roles in indie movies like "Luce," in which he plays the titular role, as well as the Netflix original movie "Monster." He also played Fred Hampton in "The Trial of the Chicago 7," David Cliff in "The High Note," and Teddy Greene in "Godfather of Harlem." Harrison starred in 2017's "It Comes At Night," 2016's "The Birth of a Nation," and 2019's "Waves." He had an uncredited role in "Ender's Game" and guest starred in "Into the Badlands," "Chicago P.D.," and "Shots Fired." Hayley Kiyoko fans may recognize him from her 2016 short "One Bad Night."
Aaron Yoo is known for 21 and Disturbia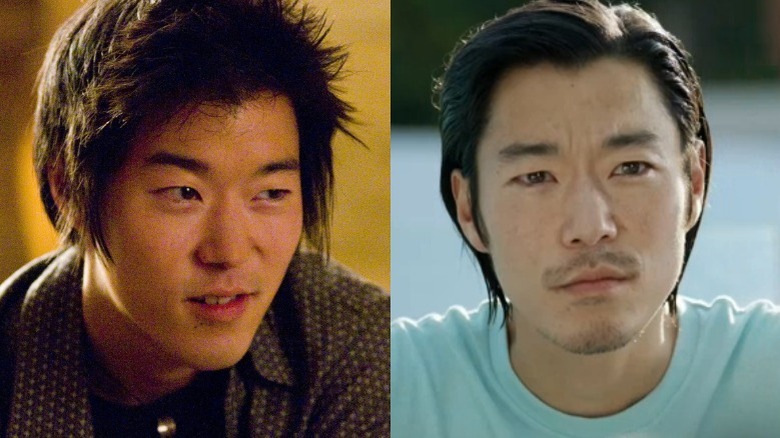 Columbia Pictures/Crackle
Aaron Yoo plays Alex in "StartUp," a billionaire venture capitalist who presents the GenCoin team with an offer they can't refuse — though there are definitely strings attached.
In the aughts, Yoo seemed to pop up in everything, and he's maintained a strong career over the last two decades. In addition to his role as James Fong on the 2006 TV mini-series "The Bedford Diaries," Yoo also played Heston in "Rocket Science," Lyle in "American Pastime," Ronnie in "Disturbia," Justin in "The Wackness," and Choi in "21." He also appeared as Thom in "Nick and Norah's Infinite Playlist" and Chewie in the 2009 "Friday the 13th." In addition to these highly recognizable roles, Yoo also played Russell Kwon in 2013's "The Tomorrow People" Season 1, guest starred in an episode of "The Blacklist," and played Won Joo in "Money Monster."
Addison Timlin guest starred in Californication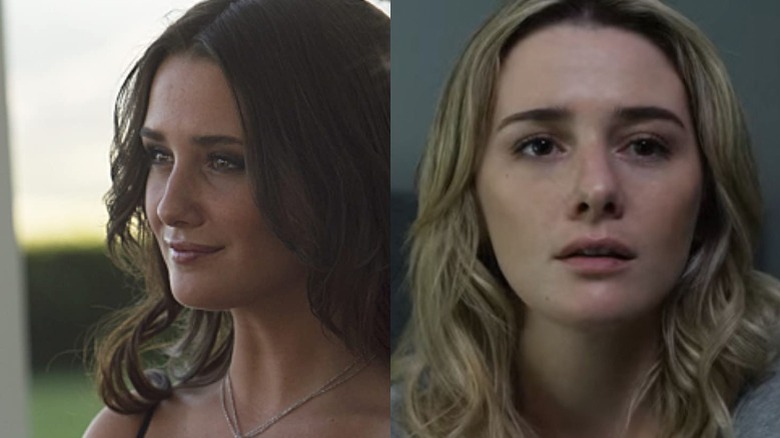 Showtime/Crackle
Addison Timlin plays Mara Chandler in "StartUp," Wes's (Perlman) daughter. She first appears in Season 2 as a recurring guest, then becomes a regular by Season 3.
Timlin has performed a handful of roles since her screen debut in the 2005 crime movie "Derailed." She played Charlotte Hanson in the short-lived medical drama "3 Lbs." and she played Emily Draper in "Cashmere Mafia." She's perhaps best known for her guest starring role as Sasha Bingham in "Californication," but she also played Rachel Lewis in the 2013 drama series "Zero Hour." In addition to her TV roles, Timlin has featured in a variety of movies, including 2014's "That Awkward Moment," 2019's "Life Like," and horror movies including "The Town That Dreaded Sundown" and "Depraved." She acted opposite Stanley Tucci in "Submission," a 2017 film about a predatory teacher, and she has a number of short films on her resume as well.