The Best American Horror Story Intro Music, According To Fans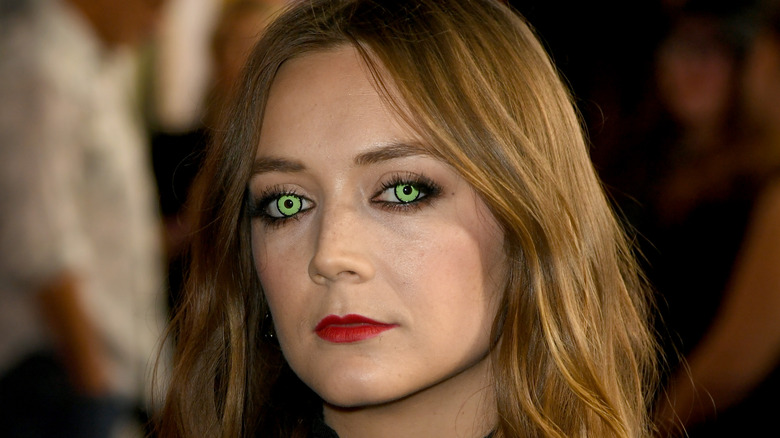 Kevin Winter/Getty Images
With Season 10 of "American Horror Story" quickly approaching, fans of the spine-tingling series are gearing up for more expertly delivered chills and thrills by looking to what they loved/feared in seasons past. While most discussion about what the aptly titled "AHS: Double Feature" will deliver revolves around casting and plot speculations (derived from creator Ryan Murphy's tantalizing teasers), some are focused on an aspect of the show so unique to each season that it inevitably invites fans to champion their favorite: the music in the opening sequence. 
Although the (original) score for AHS has been unnerving viewers for years with the same jarring and discordant arrangement of cringe-worthy metallic and mechanical sounds (originally created by composer César Dávila-Irizarry, and later recreated and built on by Nine Inch Nails' Charlie Clouser), each season brings a new and ever more alarming vibe and twist to this foundation. Of these twists, fans have historically been most haunted by the addition of the seemingly benign circus and carnival sounds woven into the opening of "AHS" Season 4, "Freak Show" — the twisting and popping of balloon animals, a twinkling, unsettling sleepy music box melody — in other words, the soundtrack to your very worst clown-themed nightmares. With new seasons in the mix, and "Double Feature" set to premiere on FX on August 25th, users of the "AHS" subreddit are returning to the all-important question of which season's song scares us the most.
Does the intro music to AHS: Freak Show still terrify fans the most?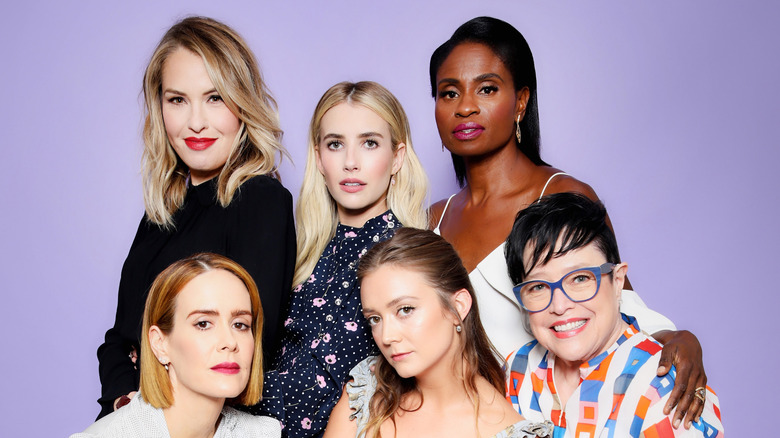 Rich Fury/Getty Images
Most recently, u/Loud-Act-6158 asked, "Favorite intro/season theme music? I myself can't decide! Another thing to look forward to with Double Feature!" Although the survey intentionally left Season 6 (the somewhat contentious "Roanoke") off the list, it did include Seasons 8 and 9, "AHS: Apocalypse" and "AHS: 1984," respectively. Still, it seems that while the infusion of simultaneously ominous and borderline comedic synthetic '80s pop in the latter's opening did give its following quite a boost — "1984 for the theme music," writes u/North-Discipline2851, "hands down" — there are just some things that viewers find more psychologically disturbing than others.
Things, for instance, like the black-and-white treatment given to the dark woods, tortured poppets, and medieval demon imagery in "AHS: Coven." There's also the murderous clowns, anatomically explicit automatons, and shiver-inducing juxtaposition of innocent childhood delights and melodies with the seedy, disconcerting machinery of chaos and grime that defines the "AHS: Freak Show" intro. It turns out that quite a few of us (and at least 107/339 voters) still love to be afraid of the same things that scared us as children: witches, clowns, and creaking sounds.  Perhaps unsurprisingly, both Season 1, "AHS: Murder House," and Season 2, "AHS: Asylum," were right up there with "Coven" and "Freak Show," but neither were able to unseat the current "Supreme" (wink, wink, nudge, nudge?), and only time will tell if the opening to "AHS: Double Feature" has what it takes to make viewers' skin crawl well before the first commercial break.