The Best And Worst Part Of Chandler's Relationship With Monica
NBC
Ross and Rachel, Chandler and Monica. "Friends" was a show about six friends, but two couples dominated the NBC sitcom. And while Ross (David Schwimmer) and Rachel (Jennifer Aniston) went on a "break," Chandler (Matthew Perry) and Monica (Courteney Cox) were in it for the long haul — once they actually got together, that is. Their journey to wedded bliss was long, and it involved several ups and downs.
Chandler and Monica had plenty of sweet moments after going from "friends" to "friends with benefits" via a hookup while in London for Ross's wedding. (A wedding that was not to Rachel, by the way!) But they also had several points — both in the timeline of the show and back in their younger years before the events of the show began — when they were not on the best of terms. Let's take a look at the best and worst part of Chandler and Monica's relationship on "Friends."
The couple had a nontraditional but romantic proposal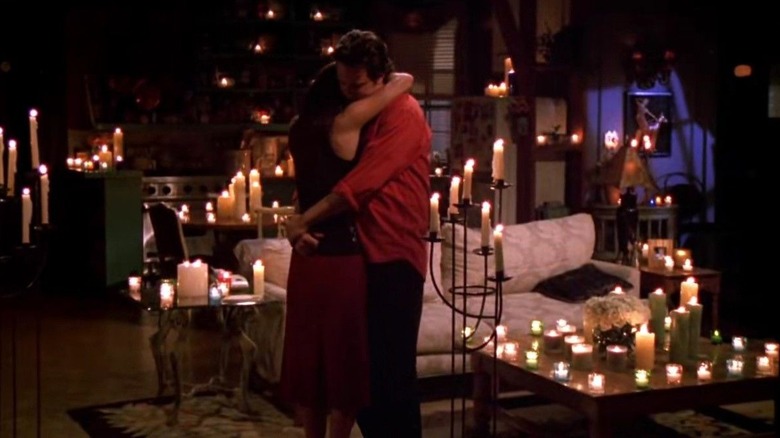 NBC
The cake topper had to be the couple's romantic proposal, which was spawned by Monica's eye doctor ex, Richard (Tom Selleck). 
In a Season 6 two-parter, "The One With the Proposal," Chandler's original plan to propose to Monica at a restaurant was ruined when her handsome ex walked into the same dining spot just as Chandler was about to pop the question. With his dream proposal dashed, Chandler decided to throw Monica off by pretending he wasn't interested in marriage at all. This coincided with Richard's move to tell Monica he was still in love with her and wanted to plan a future together. In the end, Monica took matters into her own hands and surprised Chandler with a candlelit proposal in their apartment. When her emotions got the best of her, Chandler took over to finish the job.
Mashable ranked Chandler and Monica's proposal as the top "Friends" episode in the entire series, and many fans would surely toast to that.
Chandler and Monica had a rocky start that involved a knife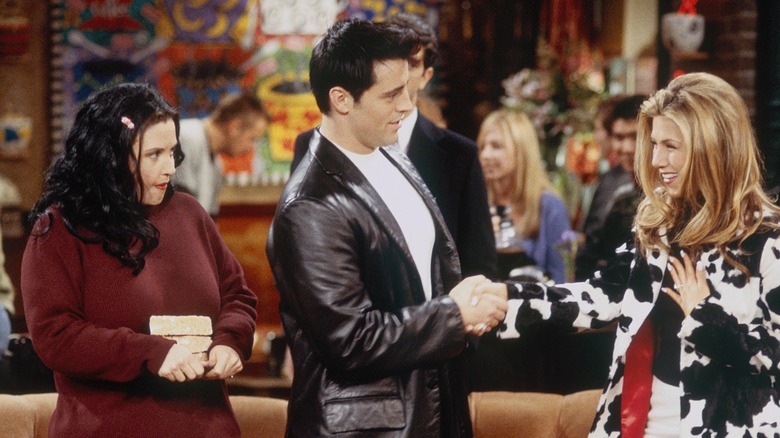 NBC
Chandler and Monica weren't so smitten back in the '80s. Back in the day, Chandler was better known as Ross' college roommate, complete with a Miami Vice look and a cocky attitude. In the 1998 episode "The One With All the Thanksgivings," flashbacks to the 1980s showed Ross bringing his Thanksgiving-hating buddy home for the holiday during their college break. At the time, Monica was known as "Fat Monica," a trope which Entertainment Weekly once described as "a ghost that continues to haunt 'Friends' 25 years later."
"Fat Monica" made several cameos, but the Thanksgiving episode was one of the worst. Why? Because after Monica overheard Chandler refer to her as Ross's "fat sister," she devised a plot for revenge that started with her losing weight, then attempting to seduce Chandler. Like Chandler's proposal plan, Monica's revenge plot hit a snag when she tossed a kitchen knife while trying to make carrot-slicing look sexy. The knife landed on Chandler's pinkie toe, totally severing it. Medic!
While Chandler was later up in arms over the fact that he lost his toe for calling Monica "fat," many "Friends" viewers were incensed over the body shaming and the insinuation that a skinny Monica was deemed more attractive than a full-figured Monica. Fat Monica is still known as one of the most problematic parts of "Friends," according to Screenrant. And Chandler actually saying the "F" word? Not his best Monica moment.