Is This The Reason Matthew Perry's Speech Was Slurred At The Friends Reunion?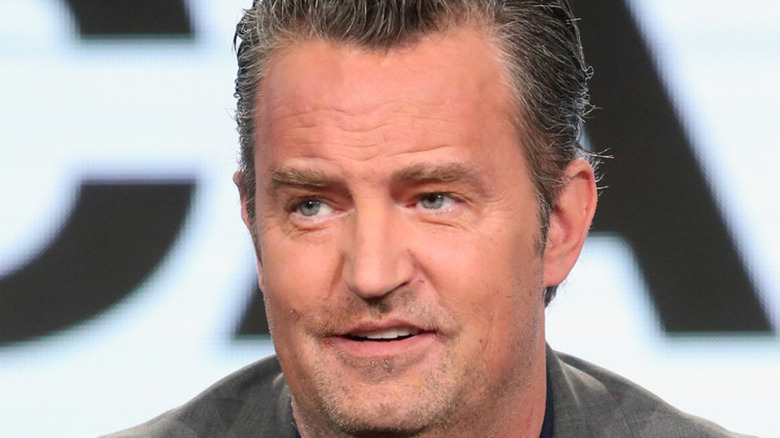 Frederick M. Brown/Getty Images
With the "Friends" reunion special airing this week on May 27 on HBO Max, fans of the beloved sitcom are practically buzzing with anticipation. Meanwhile, the cast has been doing promos ahead of the special's release, including a video interview with People, in which they reflect on their time on the show and the personal friendships between cast members that have lasted throughout the years. Fans most excited for the reunion have likely been devouring all the "Friends" reunion content they can get, which is why many of them noticed something ... off.
The interview with People, which is about eight minutes long, features all six of the original cast members — Jennifer Aniston, Courteney Cox, Lisa Kudrow, Matt LeBlanc, Matthew Perry, and David Schwimmer. However, of the six cast members, Perry seemed to talk the least, remaining quiet for the most part and often looking down or away. While his castmates seem jovial and animated, Perry's demeanor is more subdued. From what little he did contribute, his speech seemed to be off, slowed down, and somewhat slurred. Fans picked up on these details right away, and began speculating about the actor's health.
Knowing that Perry has a history with substance abuse — including during his stint on "Friends" — fans in the YouTube comments expressed their concern about Perry possibly having recently relapsed, or that he might be experiencing depression related to his recovery. One commenter named Felipe wrote, "I just wanna hug him and thank him for all the laughter he's responsible for till this very day and say how special he is." 
Another user, Life in 1984, expressed similar sentiments, writing, "I wish Matthew Perry so much solace and peace, he's been through so much and I really appreciate him doing this appearance for us. What a blessing to have them all together." 
The top comment on the video, from user rip, reads, "I wish we could make Perry as happy as he's made all of us."
Fortunately, the cause of Perry's slurred speech and mild demeanor is reportedly not related to his addiction, but rather an unrelated medical issue. Here's what we know.
Perry may have had recent emergency dental work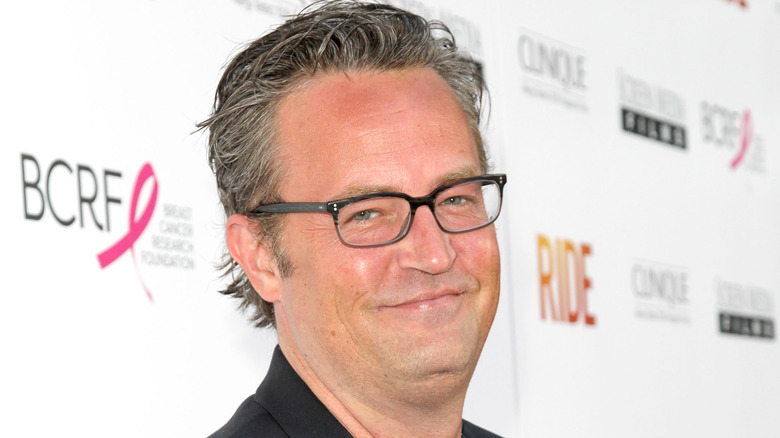 Rachel Murray/Getty Images
While neither Matthew Perry himself nor his official representatives have confirmed these claims or addressed the concerns elicited by the interview, an anonymous source spoke to The Sun about Perry's speech and appearance. The source revealed that Perry's speech was due to an emergency dental procedure, which occurred the same day that the interview with People was filmed. Because it was of an emergency nature, the interview couldn't have been planned around his procedure, nor could proper recovery time have been allotted beforehand. Likely because Perry is a pro, he had the procedure and simply decided that the show must go on.
The source told The Sun, "Matthew turned up to the reunion and members of his team said that he had an emergency tooth procedure that day. That was said to impact his wellbeing and also how he was feeling. He had been in pain from what we understand, which caused the slurred speech." The source also addressed the comments of concern online and reiterated that "Matthew has told those around him that he is sober, and there is no need to worry."
Fortunately, Perry's doing just fine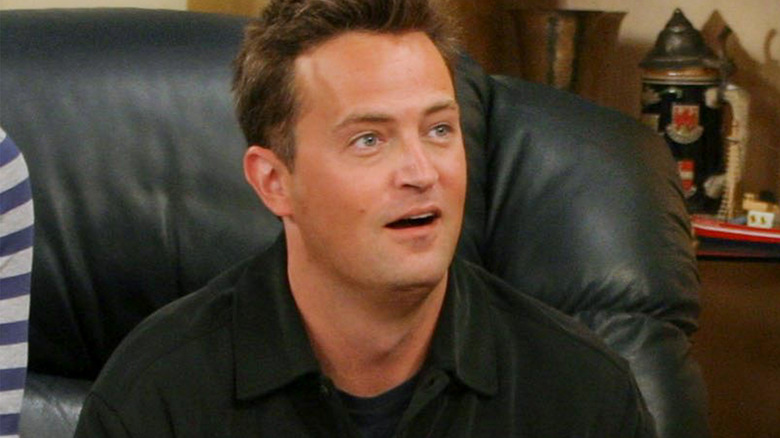 NBC
To the relief of fans everywhere, as well as those closest to Perry, there is no evidence of a relapse. In the past, Perry has been outspoken about his struggle with addiction, as well as his recovery and sobriety. Perry struggled with addiction to alcohol and pills, including during his time on "Friends." He has even stated publicly during an interview with BBC Radio 2 that he doesn't remember filming three full seasons of "Friends," stating, "Somewhere between season three and six ... I was a little out of it" (via Vulture). With Perry having been so open about his struggles of the past, it makes sense that fans would jump to this concern when they think something is off with the actor, as was apparently the case in the recent People interview.
To treat his addiction, Perry did two stints in rehab during his time on the sitcom, in 1997 and 2001, and in 2011 he returned to rehab to continue working on his sobriety (via People). In 2013, he told People that he turned his former home in Malibu into a facility for men's sobriety, stating, "The interesting reason that I can be so helpful to people now is that I screwed up so often. It's nice for people to see that somebody who once struggled in their life is not struggling any more."
If you or anyone you know is struggling with addiction issues, help is available. Visit the Substance Abuse and Mental Health Services Administration website or contact SAMHSA's National Helpline at 1-800-662-HELP (4357).