Friends Reunion: Jennifer Aniston And David Schwimmer Confirm What We Suspected All Along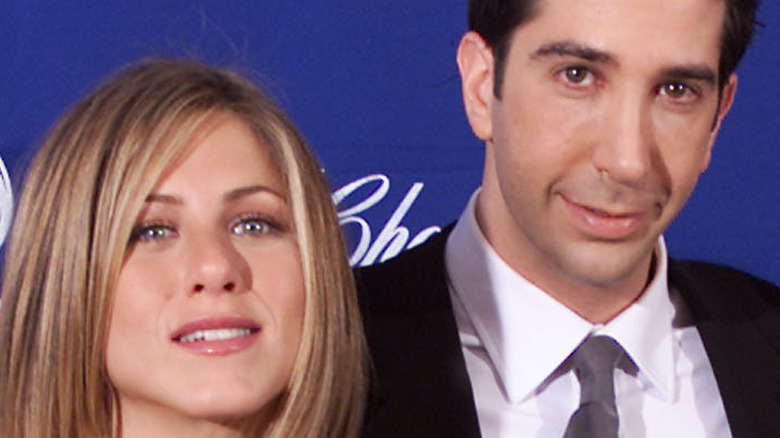 Kevin Winter/Getty Images
The hit '90s sitcom "Friends" does a fantastic job of detailing the complicated love lives of Monica Geller (Courteney Cox), Joey Tribbinai (Matt LeBlanc), Phoebe Buffay (Lisa Kudrow), Chandler Bing (Matthew Perry), Rachel Greene (Jennifer Aniston), and Ross Geller (David Schwimmer) for 10 seasons. Monica and Chandler have their obstacles, while Phoebe and Joey navigate the fling life. Still, the most complex relationship in "Friends" is that of Ross and Rachel – a will-they, wont-they romance that begins in Season 1 and, by the Season 10 finale, is nicely wrapped up with a bow.
Together, Rachel and Ross actors Jennifer Aniston and David Schwimmer made their characters' relationship incredibly believable on screen. (It's hard to watch "Friends" and not get teary-eyed when the couple is fighting about whether or not they took a break.) When the duo sat down with the rest of the cast sat down together for "Friends: The Reunion" on HBO Max, some spicy details regarding the actors came out — but they actually blew the whistle on themselves. As it turns out, there's a reason the chemistry between Ross and Rachel is so believable.
Jennifer Aniston and David Schwimmer admitted they had crushes on each other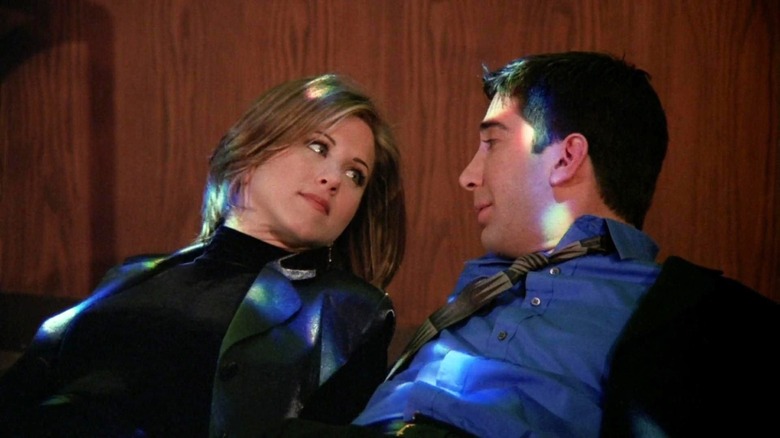 NBC
During the show's reunion special, Jennifer Aniston and David Schwimmer both admitted to host James Corden that they had crushes on one another in the first few seasons of "Friends" (via the New York Post). 
"The first season, I had a major crush on Jen," Schwimmer remembered. "At some point, we were both crushing hard on each other — but it was like two ships passing [in the night] because one of us was always in a relationship." Aniston confirmed, noting, "I remember saying at one point to David, 'It's going to be such a bummer if the first time you and I actually kiss is ... on national television!' Sure enough, the first time we kissed was in that coffee shop."
The actress explained that they "channeled all of [their] adoration and love for each other into Ross and Rachel," which was clearly evident on screen. The actors didn't do much to hide their crushes from their colleagues on set, as they often snuggled on the famous coffee house couch, and would fall asleep spooning one another. However, Schwimmer confirmed that they never became an item in their personal lives: "We never crossed that boundary — we respected that."
Meanwhile, Courteney Cox and Matthew Perry admitted they knew of Aniston and Schwimmer's feelings for one another, and Matt LeBlanc joked that it was "bulls***" that they never hooked up with one another.
Jennifer Aniston and David Schwimmer's chemistry was a 'hot topic' on set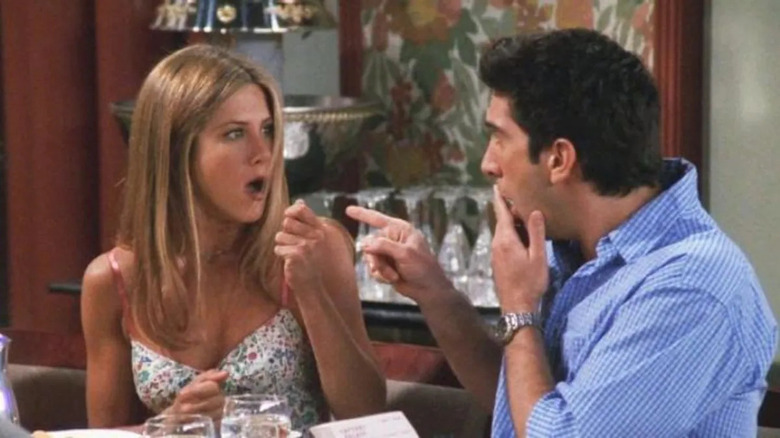 NBC
Jennifer Aniston and David Schwimmer's "Friends" co-stars weren't the only ones aware of the sparks that flew between the two early on in the show, particularly during Season 1. In an interview with the Hollywood Reporter following the premiere of "Friends: The Reunion," series co-creator Marta Kauffman and director-slash-executive-producer Kevin Bright confessed that nearly everyone on set was speculating about Aniston and Schwimmer's feelings for one another, as they were too obvious to ignore. 
"It was a very hot topic on the set because the electricity between them in the scenes was like, 'Oh my God, they can't be acting that, there's got to be something!' Everybody was suspicious that something was going on," Bright revealed. He added that the actors' chemistry when they were in character is what kicked off all the speculation: "Nobody found anything [actually going on between Aniston and Schwimmer]; it was just rumors that were all based on how good they were as actors." Thanks to Aniston and Schwimmer's recent comments, we know that they were, in fact, crushing on one another in real life.
Kauffman agreed with Bright, telling the Hollywood Reporter that it was "pretty obvious" something was up with Aniston and Schwimmer. "We didn't know for sure because we never asked either of them, but yes, we thought that perhaps might be going on," she said. 
And just like Aniston and Schwimmer never crossed a boundary by bringing their personal and professional lives together, the minds behind "Friends" didn't let the stars' initial romantic feelings shape the storyline between Ross and Rachel. "It did not wind up inspiring [Ross and Rachel's storyline] honestly at all. If anything, their ability to channel those feelings into Ross and Rachel just made the longing all the more relatable," Kauffman explained.
Although Aniston and Schwimmer never became a couple in real life, at least Ross and Rachel finally got their happy ending by the series' finale. All's well that ends well, right?
"Friends: The Reunion" is available to stream on HBO Max now.