Did Knives Out 2 Secretly Add Ethan Hawke And Jada Pinkett Smith To The Cast?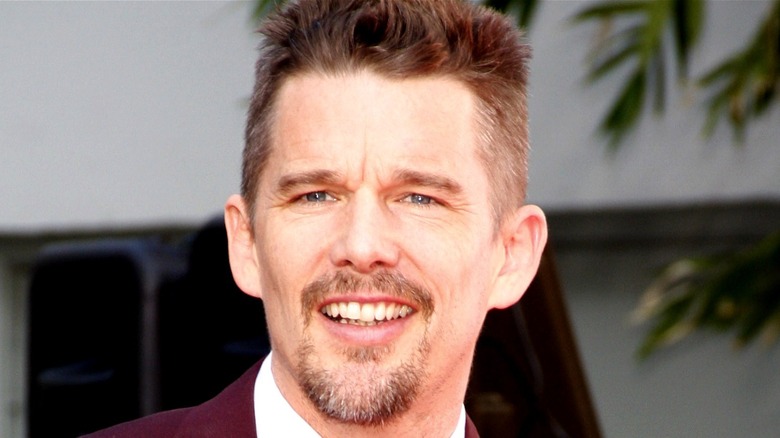 Shutterstock
Has the first major plot twist of "Knives Out 2" been revealed? While no official announcements have been made, new photos from the set of the film tease the strong possibility that two big stars we love — Ethan Hawke and Jada Pinkett Smith — have been quietly added to the already star-studded cast. 
One of the most curious aspects of "Knives 2" was which stars would be cast in the sequel. The first "Knives Out" installment boasts one of the more killer (no pun intended) casts in recent memory, with Christopher Plummer, Chris Evans, Jamie Lee Curtis, and Daniel Craig among the stars toplining the murder-mystery pic. With this cast and their incredible performances still looming large, fan expectations were likely high in hopes that lightning would strike twice in terms of casting. Prior to the start of filming, it was announced (via Deadline) that "Knives Out 2" would star Kate Hudson, Dave Bautista, Janelle Monaé, Leslie Odom Jr., Jessica Henwick, Edward Norton, and Kathryn Hahn — a not-too-shabby line-up, if you ask us.
"Knives Out 2" is the first of two Netflix-bound "Knives Out" sequels. The first "Knives Out," both an homage to classic murder mysteries while serving audiences a totally original story, was a critical and commercial success with its $311 million in worldwide box office earnings (via Box Office Mojo). As such, it's hardly a surprise that, as Variety reported in March, Netflix shelled out a cool $450 million to ensure the Rian Johnson-directed sequels found a home with the streaming giant. No official plot details about "Knives Out 2" or "Knives Out 3" have been revealed, although it's safe to say more intriguing mysteries await ultra-cool detective Benoit Blanc (Daniel Craig).
The first Knives Out 2 plot twist might be the casting of these two actors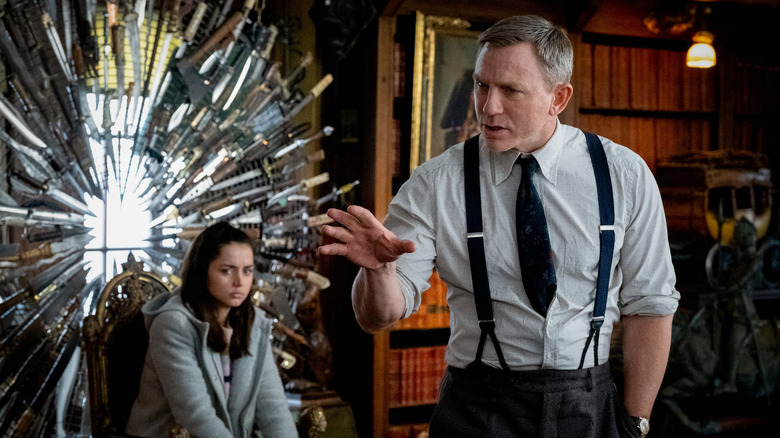 Lionsgate
Earlier this week, director Rian Johnson announced on Twitter that filming had officially begun in at least one unnamed, yet stunning seaside location in Greece. With filming now underway, unofficial photos taken near the set have made their way to the internet. On Tuesday, the Daily Mail published a veritable treasure trove of photos showing Johnson, the "Knives Out 2" crew, and the stars of the sequel hanging out on set before cameras started rolling. And while the outlet's report should be taken with a grain of salt, two surprising potential additions to the cast were spotted in the photos — Ethan Hawke and Jada Pinkett Smith. 
Hawke appears in photos with co-stars Hudson and Bautista in what looks like the trio hanging out, in costume, preparing to film a scene. Additional photos of Hawke show the "Good Lord Bird" actor filming a scene with Craig's Benoit Blanc and, separately, speaking with Johnson. As for Pinkett Smith, there is only one photo of the actor sitting on the back of a golf cart being transported to an unknown part of the set.
For now, no official statements have been issued regarding Hawke or Pinkett Smith's involvement in "Knives Out 2." That means we have no idea which characters the two stars might be playing or what their relationship to other characters in the movie might be. Fingers crossed that this casting is confirmed because the more details we have about the much-anticipated film, the better.