The Location For Knives Out 2 Will Blow Fans Away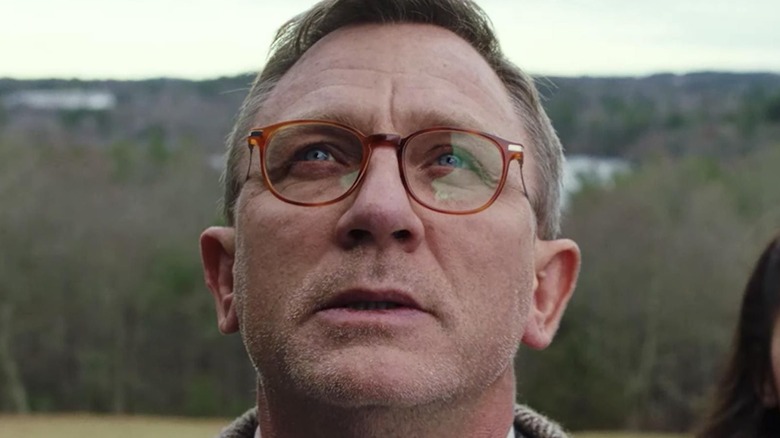 Lionsgate
In addition to its compelling central mystery and outrageous cast of characters, the modern whodunit "Knives Out" excelled at giving viewers a near-perfect setting. The large, rambling home of Harlan Thrombey (Christopher Plummer) was a perfect throwback to the eccentric mansions of movies like "Clue" and "Gosford Park." With the first of two sequels commissioned by Netflix currently in production, fans will be looking to see how the next installment in what is shaping up to be a Benoit Blanc (Daniel Craig) universe (The Blanciverse?) will top itself location wise. Based on an image shared by director Rian Johnson, "Knives Out 2" is set to do just that.
Back in March, it was reported that the first of the "Knives Out" sequels was set to film in Greece during the summer (via The Hollywood Reporter). In a June 28 Tweet, Johnson confirmed that those plans are still on. "Aaaaaaaand WE'RE OFF! Day one of filming on the next Benoit Blanc mystery," the "Star Wars: The Last Jedi" director wrote. "Thanks to all the lovely patient people here in Greece for letting us do all this murdering on their peaceful shores."
The announcement was accompanied by an image that will send anyone with vacation FOMO into a serious fit of jealousy. Not only is "Knives Out 2" set in Greece, but it also appears that it will be filmed in a particularly stunning seaside location. While that is a night-and-day difference from the first film, the setting is not without precedent.
"Knives Out 2" won't be the first mystery film set on the Mediterranean
While the sun-drenched shores of the Mediterranean may seem like a far cry from the appropriately dreary climes of New England, it's not actually an out-of-left-field setting for a murder mystery. Several previous thriller films have anchored their action around the seemingly bucolic Mediterranean to great success.
One of the most famous examples is the 1999 Matt Damon, Jude Law, and Gwyneth Paltrow starring "The Talented Mr. Ripley." That film was set in Italy and used the picture-perfect location as a strong contrast to its disturbing protagonist and twisted plot of deception and murder.
Another film based on the writings of Patricia Highsmith, "The Two Faces of January," also set its nefarious action under the Mediterranean sun. Like "Knives Out 2," it was (partially) filmed in Greece (via Screen Daily), making use of both the country's modern status as a vacation destination and its ancient history.
The Mediterranean has also been used as the backdrop for the spy thrillers "The Bourne Identity" and the Roger Moore era James Bond film "For Your Eyes Only." It appears that "Knives Out 2" plans to carry on that sunny legacy.