Where You've Seen The Cast Of The Ice Road Before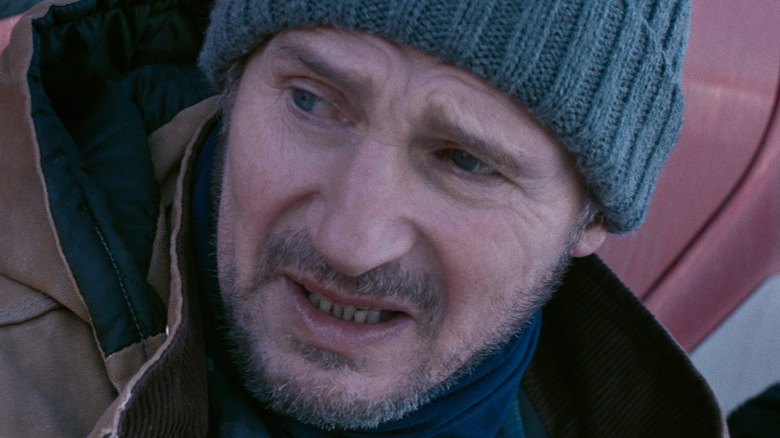 "The Ice Road" just dropped on Netflix and it's already got people talking. The frosty action thriller from Jonathan Hensleigh — whose writing credits include 1995's "Die Hard with Vengeance" and "Jumanji" and 1998's "Armageddon" and who wrote and directed 2004's "The Punisher" and 2011's "Kill the Irishman" — tells the tale of a precarious rescue mission as big-rig truckers race across frozen Canadian lakes to rescue miners trapped by an explosion in Manitoba. If that sounds more like a disaster flick, it's because this isn't a straightforward rescue mission; the would-be rescuers are sabotaged, attacked, kidnapped, and waylaid along the way. It turns out there's a dark undercurrent of corporate greed to this mine collapse and subsequent rescue mission; the Katka mining company instructed its workers to turn off their methane sensors — because they couldn't afford to shut down — and the resulting buildup is what led to the explosion that trapped the miners in the first place. Some of the purported rescuers aren't interested in saving the trapped miners and instead are trying to save the corporation millions in liability.
Thrills tinged with the dangers of corporate greed aren't new by any means — see: "Michael Clayton," "The Insider," "Wall Street," and "Boiler Room" — and members of the cast of Netflix's latest thriller should be easily recognizable to most viewers. Here's where you've seen the cast of "The Ice Road" before. 
Liam Neeson plays Mike McCann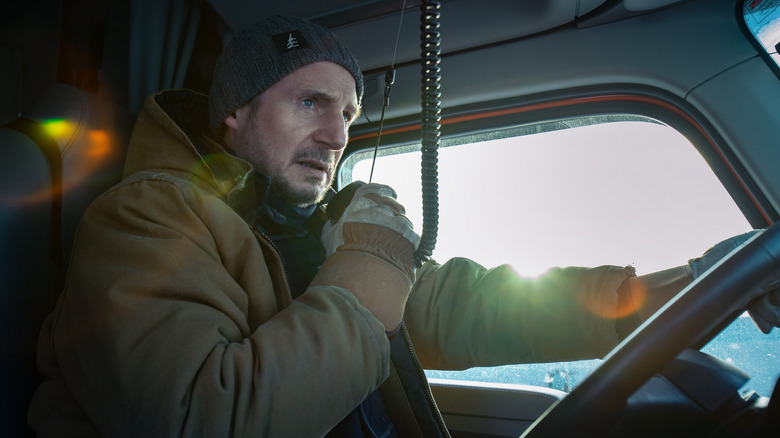 The primary protagonist of "The Ice Road," Mike McCann, is brought to life by none other than screen legend and action-movie veteran Liam Neeson. The grizzled, protective trucker loses his job after getting in a fight when a fellow trucker calls his mechanic brother, Gurty, a slur for the intellectually disabled — in reality, Gurty is a Gulf War veteran with PTSD and aphasia, limiting his ability to comprehend speech. This lack of employment leads them sign on for the Katka mission.
Neeson, of course, is no stranger to pulse-pounding action, having starred as Peyton Westlake, aka the title character in the dark and campy 1990 Sam Raimi movie "Darkman." He also starred as the titular outlaw-turned-folk hero in 1995's "Rob Roy," before playing Irish revolutionary Michael Collins in the historical biopic of the same name in 1996. Neeson really stepped up his action chops for the role of Qui-Gon Jinn in the "Star Wars Episode 1: The Phantom Menace" prequel in 1999. From there came his turn as Henri Ducard-slash-Ra's al Ghul, mentoring Bruce Wayne on his path to becoming the Caped Crusader in 2005 for Christopher Nolan's "Batman Begins." Perhaps his most famous action role came a few years later when he first showed off ex-CIA agent Bryan Mills' particular set of skill in 2008's "Taken," though prior to its two sequels, he also portrayed legendary tactician Colonel Hannibal Smith for the 2010 "A-Team" movie with Bradley Cooper.
Laurence Fishburne plays Jim Goldenrod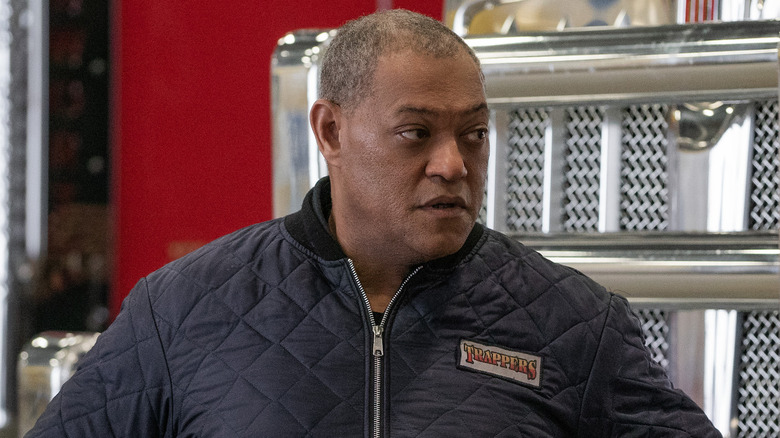 Liam Neeson isn't the only big-name action star among the main cast of "The Ice Road." Veteran actor Laurence Fishburne plays Jim Goldenrod, the ice road trucker organizing the rescue mission and the man who hires Mike and Gurty McCann.
Fishburne's action career spans more than 40 years, beginning with his turn as Tyrone Miller as part of the ensemble cast of director Francis Ford Coppola's psychological war movie "Apocalypse Now." He followed that up with an appearance as the street thug Cutter in "Death Wish II" — the sequel to the popular Charles Bronson vigilante film — before taking on Freddy Kreuger himself in 1987's "A Nightmare on Elm Street 3: Dream Warriors." Fishburne then went on to play two very different characters in short order, appearing as Jimmy "Jump" Colt — the gun-happy major domo of Christoher Walken's character Frank White — in 1990's "Kings of New York" before playing Jason "Furious" Styles Jr. — the hardened mentor and father of Cub Gooding Jr.'s headstrong Jason Tre" Styles III in 1991's coming-of-age film "Boyz n the Hood." 
Of course, Fishburne's biggest contribution to action movies came with his role as the enigmatic hacker Morpheus in 1999's sci-fi rollercoaster "The Matrix," once again playing mentor to the film's main protagonist, Neo, played by Keanu Reeves. He reprised his role as Morpheus in the two "Matrix" sequels, "Reloaded" and "Revolutions." Unfortunately, for reasons that have not yet been made clear, Laurence Fishburne won't be in "The Matrix 4" when it hits theaters.
Amber Midthunder plays Tantoo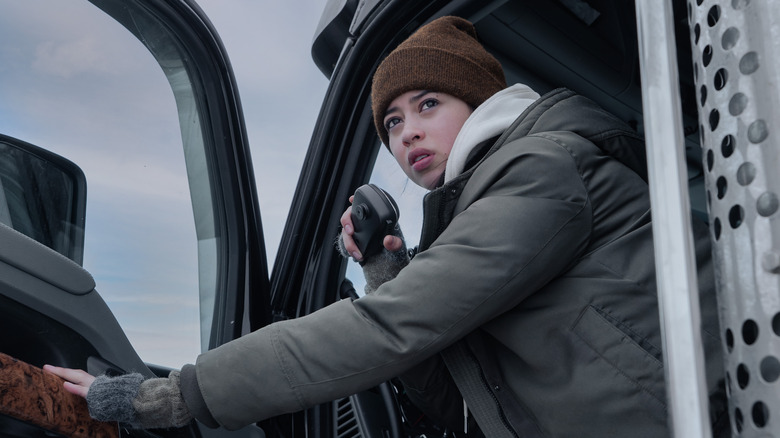 Actor Amber Midthunder brings some feistiness and grit in the role of Tantoo, Jim Goldenrod's recently released trucker who rounds out the team after getting out of jail. Initially Mike McCann suspects her as the saboteur, but it turns out her brother is among the trapped miners; there's no one on this mission more invested in seeing them safely rescued than she.
Midthunder should be recognizable to many viewers from her previous work. After appearing in a couple of episodes each on Longmire" — as Lilly Stillwater — and "Banshee" — as Lana Cleary — she moved on to bigger things like the part of Vernon Teller in 2016's Western crime flick "Hell or High Water," starring Chris Pine and Ben Foster. She followed that up with a recurring role in the Marvel television series "Legion." Midthunder plays the role of Kerry Loudermilk on the unique superhero series, coexisting within the body of Bill Irwin's Cary Loudermilk — we did say it was unique. She appeared in each of the 27 episodes of "Legion" across its three seasons before landing a role on the CW's relaunched sci-fi drama "Roswell, New Mexico." Midthunder initially had a recurring role as Rosa Ortecho, the older, deceased sister of series lead character Liz Ortecho (Jeanine Mason), who returns to the titular city to find that her adolescent crush is not from Earth and just maybe had something to do with Rosa's death. Midthunder was promoted to the show's main cast for its second season; The CW has since renewed "Roswell, New Mexico" for a third season.
Matt McCoy plays George Sickle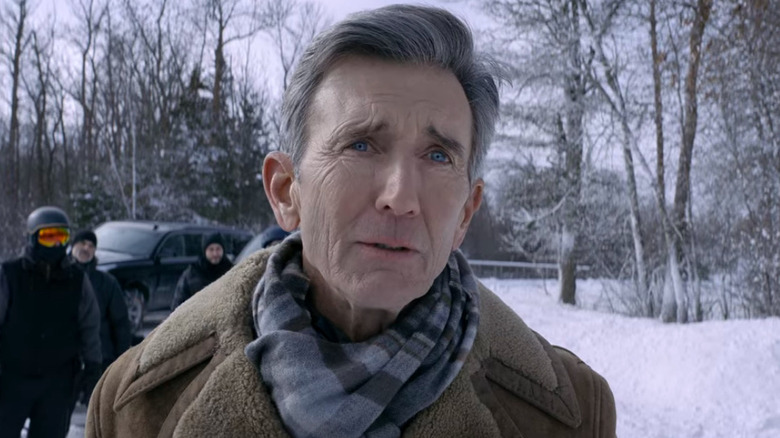 Part of the corporate conspiracy in "The Ice Road," GM George Sickle is played by actor Matt McCoy. The quote "If they are able to accomplish this, we will be exposed" tells you all you need to know about Sickle's priorities; he wants to make sure the cause of the explosion and the reason the miners are trapped stays a secret.
Matt McCoy, on the other hand, has often played much more light-hearted characters. He joined the long-running "Police Academy" law enforcement comedy film franchise in its fifth film, "Assignment Miami Beach," as Sgt. Nick Lassard — nephew to bumbling Commandant Eric Lassard (George Gaynes) — a role he reprised in the sixth movie, "City Under Siege." Things got quite a bit more serious in one of McCoy's next movies, 1992's chilling psychological thriller "The Hand That Rocks the Cradle," in which he plays Michael Bartel, a man whose family is infiltrated by an unhinged woman seeking revenge for perceived wrongs. McCoy once again took up his imaginary badge and gun to take on the role of Brett Chase, the star of "Badge of Honor," the show-within-the-film of 1997's "L.A. Confidential," palling around with Kevin Spacey's Detective Jack Vincennes. He picked up a recurring role on popular HBO tech dramedy "Silicon Valley," playing lawyer Pete Monahan, who represents the gang in the Hooli arbitration matter. McCoy would later appear as Dr. Nadler in four episodes of the first season of Amazon's "Jack Ryan" series starring John Krasinski.
Marcus Thomas plays Gurty McCann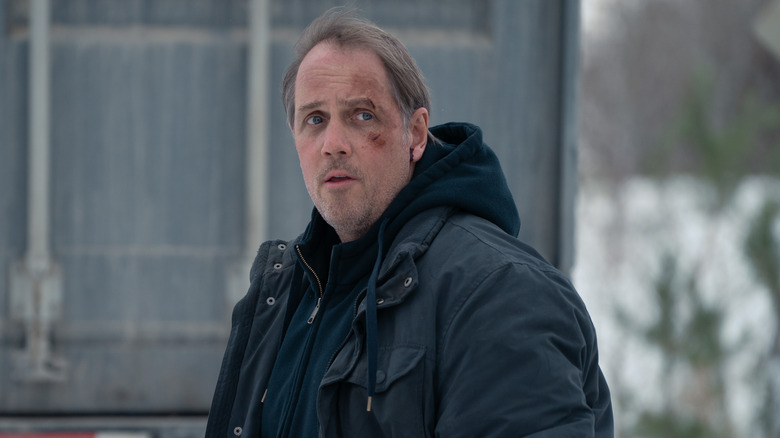 In the role of Gurty McCann, actor Marcus Thomas faces a serious challenge communicating. As a veteran of the Iraq war, he suffers from post-traumatic stress disorder and deals with aphasia — the inability to understand and-or communicate using language skills — as a result of a traumatic brain injury. But that doesn't stop him from being the best darn big rig mechanic you could ask for. It does, however, inspire the altercation that costs him and brother Mike their jobs, when Mike gets into a fist fight with a fellow trucker who calls his brother a slur for the intellectually disabled.
Prior to taking on the role of Gurty, Belgium-born Thomas began his acting career more than 30 years prior. His first film role of note came in 2000's ill-received dark comedy "Drowning Mona," which holds a dismal 29% critics score on review aggregator Rotten Tomatoes. Thomas took on the role of Jeph, son to the dead title character Mona Dearly (Bette Midler), a spiteful woman who drew the enmity of pretty much everyone who knew her. A year later he starred alongside Kiefer Sutherland as professional bull rider Ely Braxton in the Western movie "Cowboy Up." In 2003, Thomas took on the role of protagonist Peter Rooker, a man whose romantic failings inspire him to audition for a local production of "Cyrano de Bergerac" in 2005's "Bigger than the Sky." He first worked with director Jonathan Hensleigh in 2011's "Kill the Irishman," appearing as Billy McComber.
Benjamin Walker plays Tom Varnay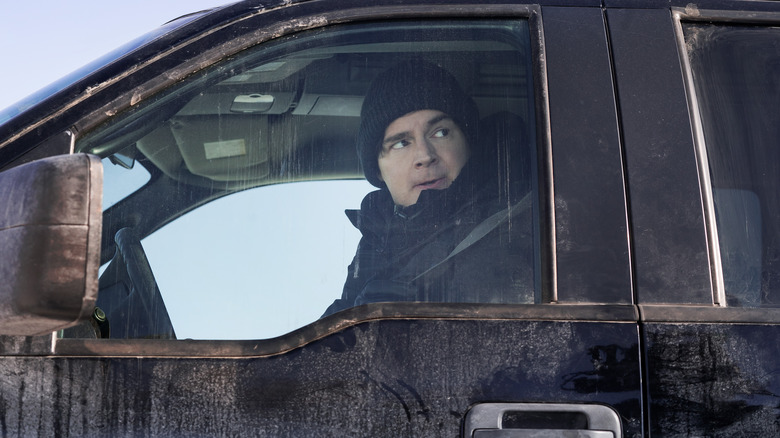 Actor Benjamin Walker takes on the villainous Tom Varnay in "The Ice Road"; initially claiming to be an insurance actuary in charge of risk assessment, he's later revealed to be the one who sabotaged Jim Goldenrod's truck, despite having himself accused Tantoo of doing so. He takes her captive and leaves Mike and Gurty to die after setting dynamite to blow up their truck with them inside.
Prior to his turn as the high-priced henchman, Walker's first credited acting role came in another Liam Neeson vehicle: 2004's "Kinsey," in which both men portrayed noted sexologist Alfred Kinsey. Walker played Kinsey at age 19 while Neeson played him later in life for the majority of the film. After a bit part in "The Notorious Bettie Page," Walker played Harlon Block in Clint Eastwood's 2006 war drama "Flags of our Fathers" about the WWII flag-raising at Iwo Jima. In one of his most notable roles to date, he played a fictionalized version of the 16th president of the United States in 2012's "Abraham Lincoln: Vampire Hunter," the adaptation of Seth Grahame-Smith's fantasy novel of the same name that cast a backdrop of the supernatural behind the American Civil War and emancipation of American slaves. Walker took on the role of Captain George Pollard Jr. — the real-life inspiration for Captain Ahab in Herman Melville's "Moby Dick" — in 2015's "In the Heart of the Sea."
Martin Sensmeier plays Cody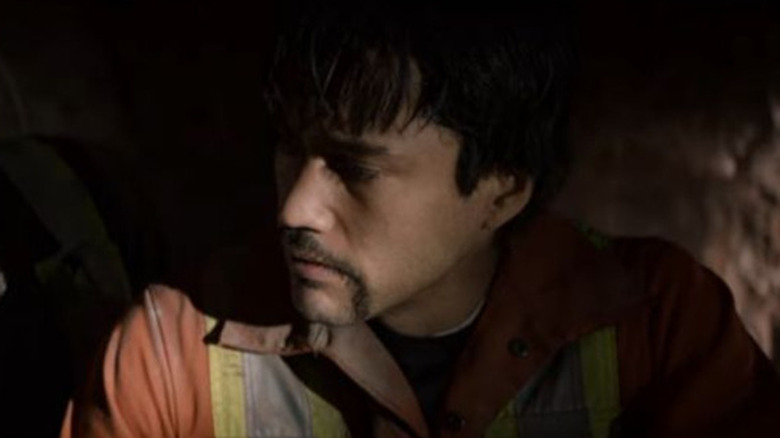 As Tantoo attempts to help the ice road convoy deliver the equipment to save the trapped miners, she's only got one thing on her mind: saving her brother Cody, who is among those 26 workers running out of air.
Actor Martin Sensmeier takes on the role of Cody, which, despite minimal dialogue, makes for a nice addition to the resume of this rising star. Despite only having two previous credited roles to his name (via IMDb), he appeared in the main cast of director Antoine Fuqua's 2017 remake of "The Magnificent Seven," the original of which was strongly influenced by acclaimed Japanese director Akira Kurosawa's "Seven Samurai." Sensmeier played Comanche warrior Red Harvest, a member of the titular crew, appearing alongside superstars like Denzel Washington, Chris Pratt, Ethan Hawke, and Vincent D'Onofrio. 
Sensmeier landed a recurring role as Wanahton, a Host in the second season of HBO's dystopian sci-fi Western series "Westworld." He also appeared in five episodes of "Yellowstone" as physical therapist Martin, who's tasked with caring for Monica Dutton (Kelsey Asbille) following her head injury, though the depth of their relationship may have violated the Hippocratic Oath.
Holt McCallany plays Rene Lampard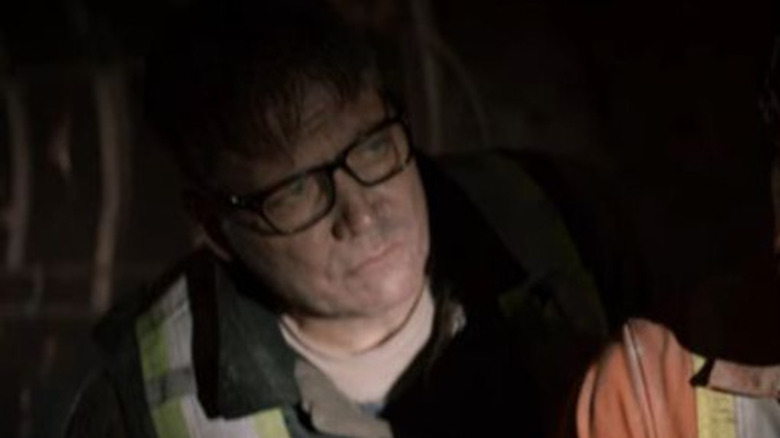 Actor Holt McCallany plays trapped miner Rene Lampard, who initially heads into Tunnel 6 to check the methane levels, prior to the gas explosion that traps the 26 miners underground. McCallany has appeared in notable films for nearly 30 years, including his role as Junior, a prison inmate at the work colony on Fury 161, where Ellen Ripley's (Sigourney Weaver) ship crashes in 1992's "Alien 3." He took on the role of Governor Lew Edwards' (Richard Crenna) aide Bill Barrett in director Joe Eszterhas' 1995 erotic thriller "Jade" prior to the small role of Mark Appleton in 1997's George Clooney action romp "The Peacemaker." 
Credited as "The Mechanic" for David Fincher's 1999 neo noir thriller "Fight Club" — based on the Chuck Palahniuk novel of the same name — McCallany is one of the members of Project Mayhem tasked with destroying a piece of corporate art and trashing a franchise coffee bar all in one fell swoop. The police show up and shoot Bob (Meatloaf) in the head, leading Project Mayhem to erroneously develop the trope that all deceased members are named Robert Paulson. McCallanny signed on for another Clooney military movie the same year in "Three Kings," playing Capt. Doug Van Meter, the rule-abiding superior officer to Mark Wahlberg's SFC Troy Barlow. He got another chance to work with Fincher as part of the main cast of Netflix's "Mindhunter" series, playing Special Agent Bill Tench of the FBI's Behavioral Science Unit, helping to lead the agency in its initial studies on serial killers in the 1970s.