Jack Ryan Season 4 - Everything You Need To Know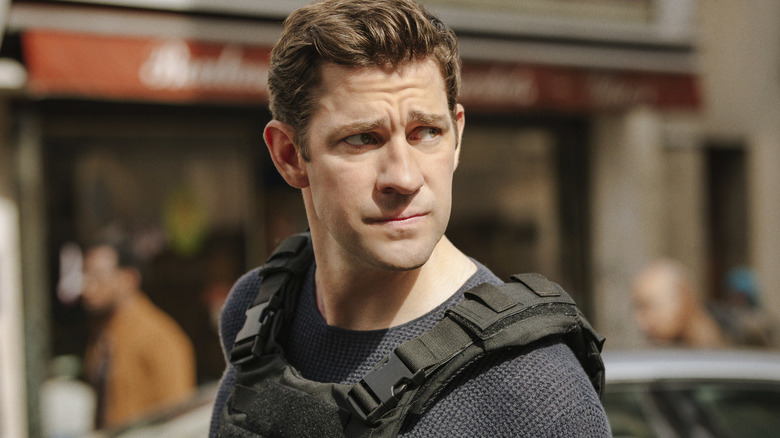 Amazon Studios
Years removed from "The Office," John Krasinski has transformed right under our noses into a totally ripped action hero. Anyone who watched Jim spend his free time pranking his coworkers may think him an unlikely choice, but Krasinski has fully grown into his new role as terrorist-plot-foiler Jack Ryan, just as he's grown out his beard.
Loosely based on the immensely popular spy novels by the late author Tom Clancy (and previously adapted into a blockbuster film franchise), "Tom Clancy's Jack Ryan" follows the explosive exploits of young CIA analyst Jack Ryan (Krasinski) as he moves from the comfort of his desk into the action packed world of biohazards and political upheaval. He's the one trying to stop the threats, of course, making him a superhero of sorts — he doesn't have any powers, mind you, other than his exceptional smarts.
If you just can't get enough of Amazon Prime's action-packed political spy thriller, then here's everything to know in advance of Season 4 of "Tom Clancy's Jack Ryan."
When will Jack Ryan Season 4 be released?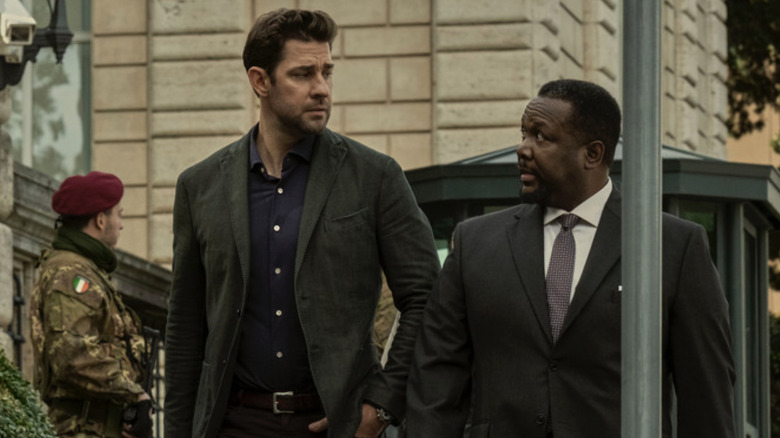 Philippe Antonello/Prime Video
In May 2022, Deadline reported that Amazon had ordered a Season 4 of "Jack Ryan." That shows the streamer has real faith in the series, because Season 3 had yet to air. Star and producer John Krasinski told The Wrap in December 2022 that both Seasons 3 and 4 had completed principal photography and that the gap between when those seasons appear on Amazon's Prime Video shouldn't be significant. "We actually shot three and four back to back," Krasinski said. Indeed, Season 3 premiered on the streaming platform in December 2022, and Season 4 will hit on June 30, 2023. That's the shortest gap in the series' history. And at six episodes, Season 4 will be the shortest in the "Jack Ryan" series. Prime Video will upload two new installments each week, leading up to the series finale on July 14, 2023.
It seems likely Amazon will continue adding to the expensive "Jack Ryan" just as long as it keeps drawing viewers to their streaming site. With a budget of $8 to $10 million per episode, according to The Hollywood Reporter, it needs to earn its keep. But a fundamental shift is underway. Season 4 of "Jack Ryan" will be the last set of installments for the flagship series, but Amazon Studios is interested in a spinoff starring Michael Peña ("Ant-Man") as another adventurous Tom Clancy character, Ding Chavez.
What is the plot of Jack Ryan Season 4?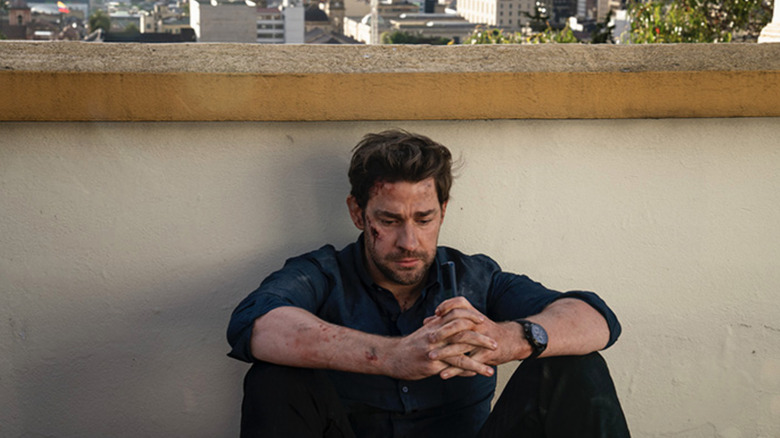 Jonny Cournoyer/Prime Video
So far, Jack Ryan has foiled a biological warfare terrorist attack and found himself embroiled in Venezuelan politics, so where is he going next? Well, the series doesn't exactly follow the books it's inspired by — it takes place earlier in Jack's career than most of the novels — so it's difficult to guess at what path the writers might take.
However, they've so far been mostly in the Middle East and South America, so our best guess is that they'll take the story to another continent entirely — like North America, and inside the U.S. According to Amazon Studios' plot summary, Season 4 of the spy thriller finds Jack Ryan as the newly appointed acting deputy director of the CIA. In attempting to fulfill his assigned duty of rooting out corruption inside his agency, he discovers a conspiracy that could prove catastrophic for the country, one that also involves the cooperation of a terrorist cell and a drug smuggling cartel.
Who is starring in Jack Ryan Season 4?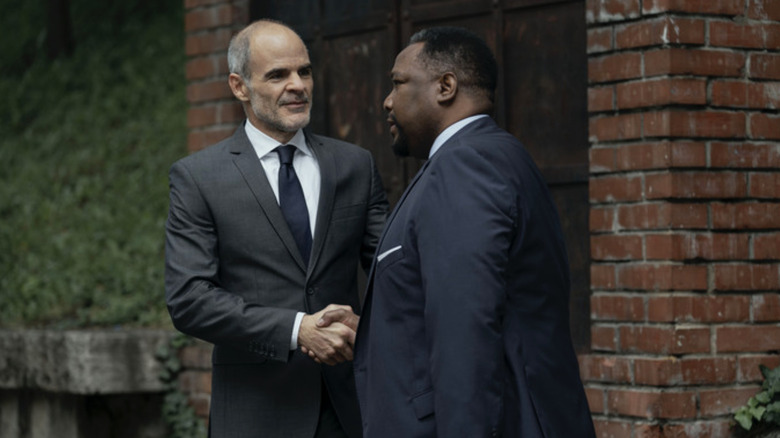 Attila Szvacsek/Prime Video
Naturally, there's no "Jack Ryan" without Jack Ryan, aka John Krasinski. He may still be most famous as Jim from "The Office," but Krasinski is now just as much Jack as he is Jim. As the titular character, a fourth season hinges on him coming back to the role.
Co-creator Graham Roland described the casting choice to Entertainment Weekly, saying, "We wanted to start our story with this guy who was just an office worker who was being pulled into something that he had never done before, and that was a journey that John was making in his career, going from a guy working on a sitcom based in an office to more of an action hero. It felt like he was the perfect guy."
Wendell Pierce (secondary protagonist James Greer), Michael Kelly (Mike November), Betty Gabriel (Elizabeth Wright), and Abbie Cornish (Cathy Mueller) willall be around for Season 4, while Louis Ozawa and Michael Peña are new additions to the cast.
Who is the showrunner for Jack Ryan Season 4?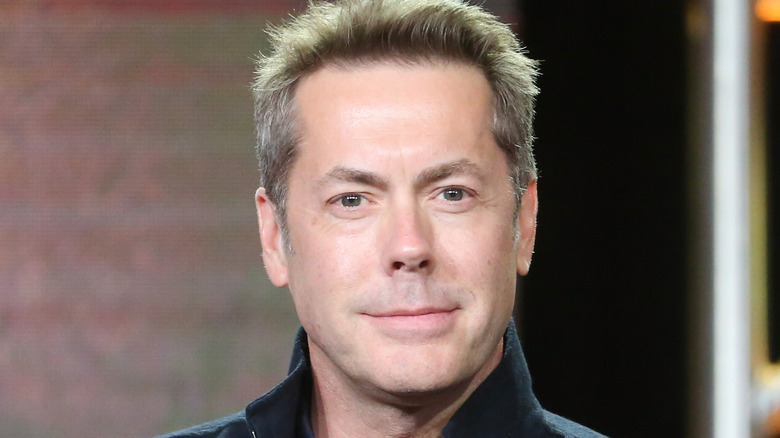 Frederick M. Brown/Getty Images
An adaptation of the voluminous works by spy thriller author Jack Ryan, Prime Video's "Jack Ryan" series was developed by TV veterans Graham Roland and Carlton Cuse. The latter served as a showrunner on "Lost," and he took those leadership and creative skills to "Jack Ryan." Cuse ran the show before stepping away from those duties when Season 2 of the series ended production, leaving day-to-day management to Paul Scheuring, best known for creating "Prison Break," according to The Hollywood Reporter. Before Season 3 could complete shooting, Scheuring had left and was replaced by second-in-command producer Vaun Wilmott, who became showrunner following a stint on "Star Trek: Discovery" and creating Syfy's "Dominion."
Wilmott acted as showrunner for Season 3 and Season 4 of "Jack Ryan." He worked closely with the series' star and executive producer John Krasinski, on crafting scripts for the show's final installments.
Where to watch previous seasons of Jack Ryan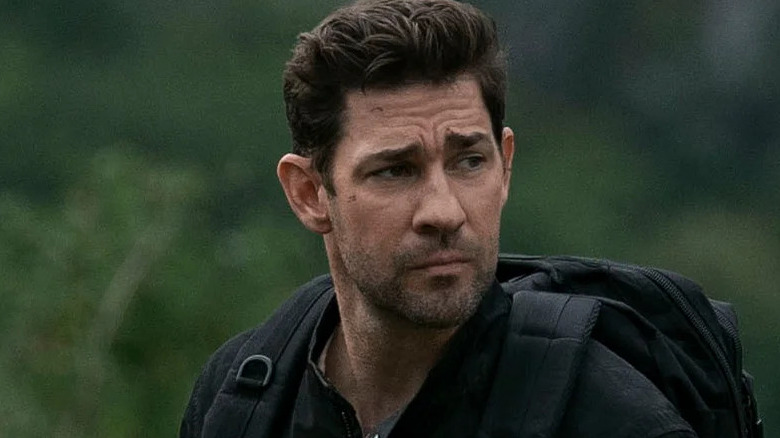 Attila Szvacsek/Prime Video
In 2018, while still in its relative infancy as a major player in the ongoing battle for streaming dominance, Prime Video, the distribution wing of production company Amazon Studios owned by online retail giant Amazon.com, launched a cinematic action series based on popular IP. "Jack Ryan," or "Tom Clancy's Jack Ryan" as it's officially known, is a spinoff of the multi-million selling series of high-stakes spy novels authored by the late Tom Clancy. In the 1990s and into the 21st century, Clancy's novels about global operative Jack Ryan inspired multiple big-budget movie blockbusters, including "The Hunt For Red October," "Clear and Present Danger," and "The Sum of All Fears."
While those films are available to stream on various subscription services, the contemporary "Jack Ryan" serial series is an Amazon production, and thus an Amazon exclusive. The first three seasons of "Jack Ryan" are accessible on Prime Video for free, provided the viewer has an Amazon Prime subscription.