This Easter Egg In The Halloween Kills Trailer Is Sending Fans Into A Frenzy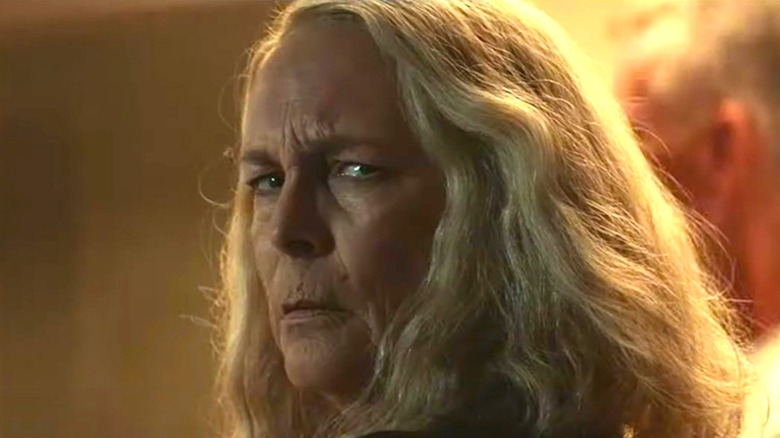 Universal Pictures
It's been a long, long wait, but we'll soon be watching Michael Myers carving up trick or treaters, late-night revelers, and innocent bystanders alike in "Halloween Kills." The highly anticipated sequel to 2018's mostly fantastic "Halloween" was, of course, among the dozens of pandemic-delayed films we initially expected to see in 2020, with Universal Pictures and Blumhouse Productions instead shifting its release from October of last year to October of this year. As it is, we're now just months away from seeing what new madness awaits Laurie Strode (Jamie Lee Curtis) and her beleaguered family in "Halloween Kills," with the film's brutal new trailer promising blood and gore galore.
And yes, there are kills aplenty featured in the new trailer for "Halloween Kills." So many, in fact, one has to wonder just how many more director David Gordon Green and company can possibly have in store for the new film. While we wait to see what sort of body count "Halloween Kills" boasts, a few sharp-eyed "Halloween" heads out there couldn't help but notice that three of the bodies in the new trailer are fitted with masks claiming very specific ties to another film in the famed horror franchise, "Halloween III: Season of the Witch." And yes, fans of that cult fave are excited about the Easter-eggy return of the Silver Shamrock Novelties Company. 
Fans are loving the Silver Shamrock Easter egg in the Halloween Kills trailer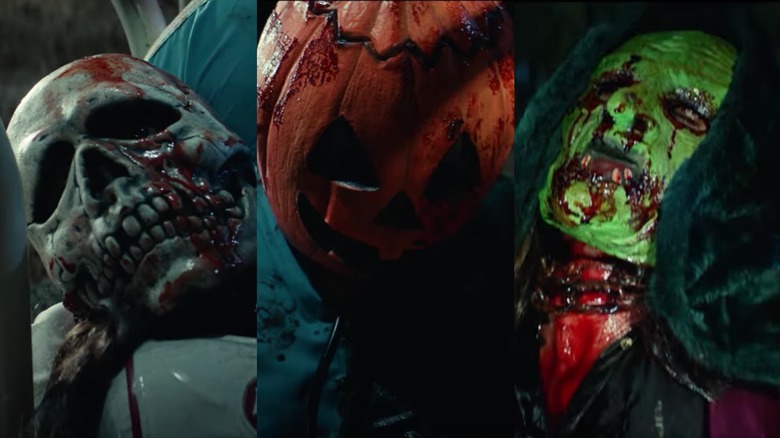 Universal Pictures
The inclusion of those creepy Silver Shamrock masks (which also cameoed in 2018's "Halloween") is surprising, as "Halloween III" had virtually nothing to do with any of the other "Halloween" flicks. Either way, fans are stoked the masks are getting their close-up this go-round. 
Twitterer @cbell_jr is among the most excited, posting in all caps, "ARE WE NOT GOING TO TALK ABOUT THE SILVER SHAMROCK MASKS IN HALLOWEEN III: SEASON OF THE WITCH?! LOVE THIS CROSSOVER!! OH. MY. GOD." User @WALSTGUY was just as enthusiastic, positing an intriguing theory about the masks' return: "I do like the nod to Halloween III Season of the Witch in the new trailer for #HalloweenKills even though III had nothing to do with the other films. Maybe they will find Michael Myers is wearing a Silver Shamrock mask which turned him into a serial killer."
That would be an unexpected turn of events for certain, though several other theories arose regarding the masks' appearance. User @SabinaHasNor even ponders a potential "Halloween" multiverse: "Is the HHN Hollywood Silver Shamrock Factory facade from the Halloween 3 universe or the #HalloweenKills universe?! What movie maze are we getting?! I'm so stoked!! Let's goooooooooo!!!!" In the end, @streetXXtrash maybe sums up the Silver Shamrock excitement best by simply recounting the company's infamous Halloween jingle, "happy happy halloween, halloween, halloween happy happy halloween, silver shamrock."
And it should be a "happy happy Halloween" indeed for horror fans when "Halloween Kills" arrives on October 15, 2021.