What Michael Myers Really Looks Like Underneath The Mask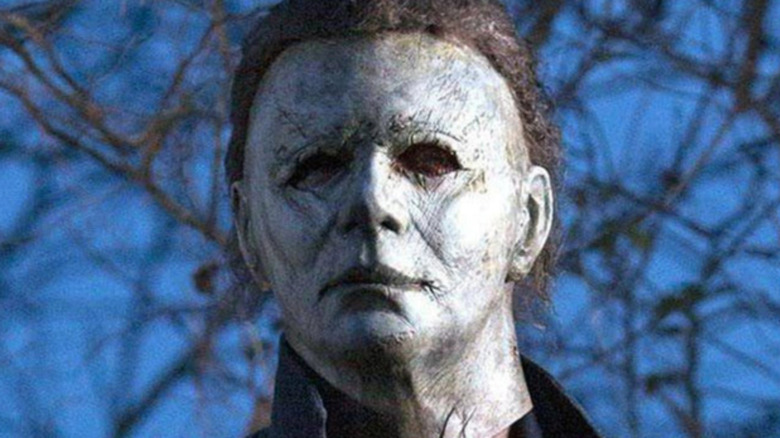 Universal Pictures
Since 1978, there has been one, consistent face in the world of horror — Michael Myers. And while there have been a few exceptions over the decades of "Halloween" franchise films (like "Halloween III: Season of the Witch" and the two Rob Zombie movies), that face has always been "the pale, neutral features of a man," aka a white-washed William Shatner mask.
However, while Michael Myer's mask has remained relatively the same from film to film, the actor wearing this mask has not. Originally portrayed by Nick Castle, Michael Myers has also been portrayed by Dick Warlock, Brad Loree, Don Shanks, Chris Durand, and Erik Preston, among others. When Michael Myers returned to the screen in the David Gordon Green directed 2018 "Halloween," we got two main people playing Myer: one actor was the original Myers himself, Nick Castle, while the other was an actor and stuntman who was fresh to the part — James Jude Courtney.
"Halloween" isn't Courtney's first rodeo with wearing some kind of mask or facial prosthesis: he played both Gyor and a Narn on J. Michael Straczynski's "Babylon 5," and perhaps more famously, he was the deadly Der Kindestod from the "Buffy the Vampire Slayer" episode "Killed by Death". Nonetheless, very little can compare with playing Michael Myers, so let's take a look at both the man behind the 2018 incarnation of the Shatner mask, and how he took on the role of one of the most famous slasher killers in cinematic history.
James Jude Courtney's road to Haddonfield feels predestined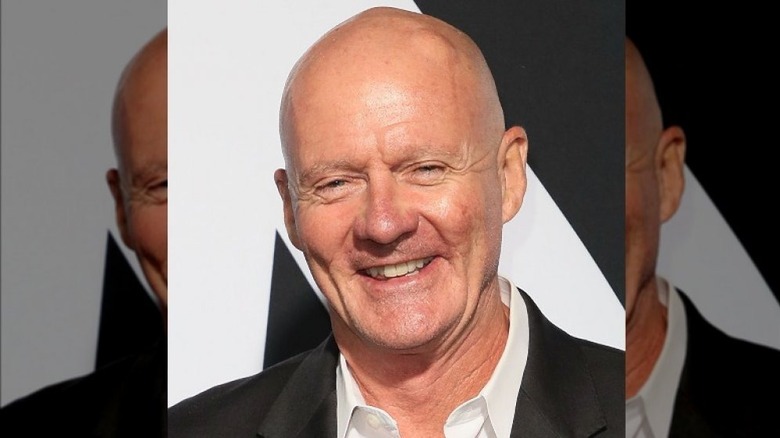 David Livingston/Getty Images
James Jude Courtney is a surprisingly perfect bit of casting for Michael Myers. For one thing, Courtney has been a fan of "Halloween" right from the start. In a March 2018 interview with Halloween Daily News, Courtney revealed that during his time studying at the University of South Carolina, he saw John Carpenter's original film in theaters. "There's a whole new paradigm being created right now," he said of his first thoughts watching "Halloween," adding, "I remember it very, very well."
Something else that makes Courtney stand out is his unique qualifications for portraying a killer. Courtney actually played a hit man in the 1993 film "The Hit List," but that's not what makes him such a good fit for Myers — it turns out that Courtney actually lived for a time with a former hired gun. In a June 2018 interview with Halloween Movies, Courtney said, "I learned how to kill from a mafia hitman who lived with me when he got out of prison." It turns out, Courtney's roommate was underwhelmed by the accuracy of the proverbial killer performances in "The Hit List," telling him that, "Jimmy, it was a really nice movie but that's not how you kill people."
It turns out that Courtney was able to turn those critiques into more realistic performances going forward. "I've been complimented many times here on set on how efficiently I kill," Courtney revealed, "and all I did was take what he taught me."
Whether it was his killing lessons or his love of the "Halloween" franchise, Courtney was recommended for the role of Myers by veteran stunt coordinator Rawn Hutchinson. And after auditioning, he got called back before he even left the parking lot.
What happened when James Jude Courtney put on the Myers mask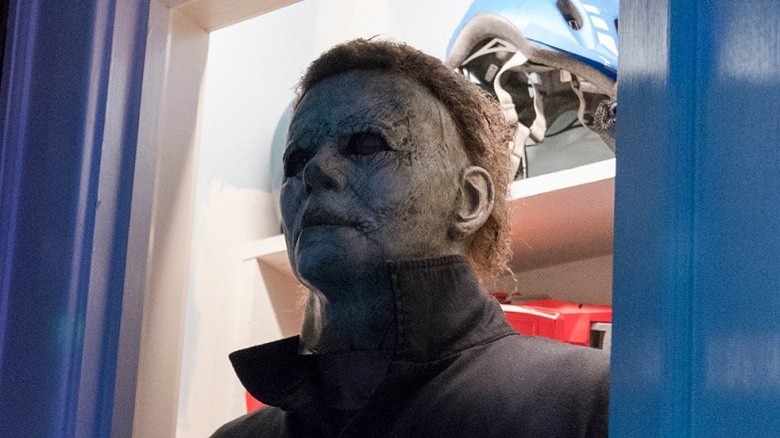 Universal Pictures
Now that you have a sense of who James Jude Courtney is when he's not playing Michael Myers, let's look at what happens when he inhabits the role of Haddonfield's greatest monster.
It turns out that it was a pretty momentous occasion that first time Courtney put on the Michael Myers mask. Producers and creatives behind the 2018 "Halloween" all assembled in secret to watch Courtney wear the mask for the first time. "This thing happened to me inside," Courtney explained. "I had already created the energy, I already knew the space, but man that was like after-burns, dude." Courtney even says he could feel "the 40 years of history and all the work that all the people have done, and all the fans' expectations and love."
Courtney's first words once he was inside the mask? "It's perfect for killing."
However, while Courtney felt a closeness with both Michael Myers and the "Halloween" fandom, there was one person he intentionally kept his distance from — Halloween's other star, Jamie Lee Curtis. "We don't interact," Courtney said in an interview with Entertainment Weekly. The decision was an intentional one. "They let me know that when she gets in in the morning, and she gets the wig on, she's in character, and she's in character all day long," Courtney said. And if Curtis is fully inhabiting the role of survivor Laurie Strode, it makes perfect sense that she would want to avoid the man playing the killer Strode survived. For his part, Courtney said he thought the decision to keep he and Curtis separate made "perfect sense."
The next film in the franchise, "Halloween Kills," hits theaters October 15, 2021.