Every Islands Of Adventure Ride Ranked Worst To Best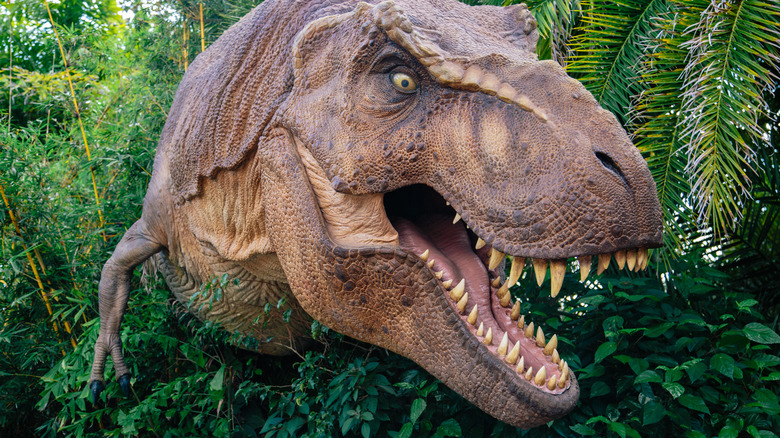 Shutterstock
Orlando, Florida is known around the world for its abundance of major amusement parks. But as great as all of Disney World's constituent parks are, there's a solid argument to be made on behalf of Universal Studio's Islands of Adventure as the strongest in the area, if not the world. The place has a weird but wonderful variety of themes and rides, ranging from kiddie carousels in Seuss Landing to a family-friendly Popeye the Sailor Man-themed river raft in Toon Lagoon, to epic, monster roller coasters in Harry Potter's Wizarding World, Jurassic Park and Marvel Superhero Island. 
Some of the rides are better than others, of course. There are rides with nothing to offer, or outrageously long lines that ruin what would have otherwise been a fun experience. But there are also unforgettably fun roller coasters, 4D rides, log flumes, and immersive line queues that drop you right into a comic book or a wizarding school. We've ranked every Islands of Adventure ride from skippable to amazing, to help you get the most out of your next trip. 
Storm Force Accelatron doesn't do the X-Men justice
The wait times for Storm Force Accelatron aren't usually too bad, but that's only because people are spending their time doing other things. It's not an awful experience. It's an acceptable, family-friendly teacup-clone, even if it's a bit more dizzying than it needs to be. But it doesn't make for a memorable time, either, and while you're waiting for it to end in your spinning seat with your chin in your palm, you'll have plenty of time to think about all the better X-Men rides that could have been. 
The story is fine, we suppose — Magneto is up to no good and Professor X and Storm need your help to stop him — but is this really the best they could do with such a great comic book franchise? What about a thrill ride where Phoenix launches you into the air with her mind? Or something with Angel and flying? Or some kind of Cyclops alien-shooter thing? The possibilities seem endless, so it's puzzling that the only X-Men-themed ride is so unimaginative. It feels like they forgot to include these iconic characters in the park and just shoehorned them in here to check a box off a list. Don't waste your time unless you've hit everything else first.
Pteranodon Flyers is unnecessarily restrictive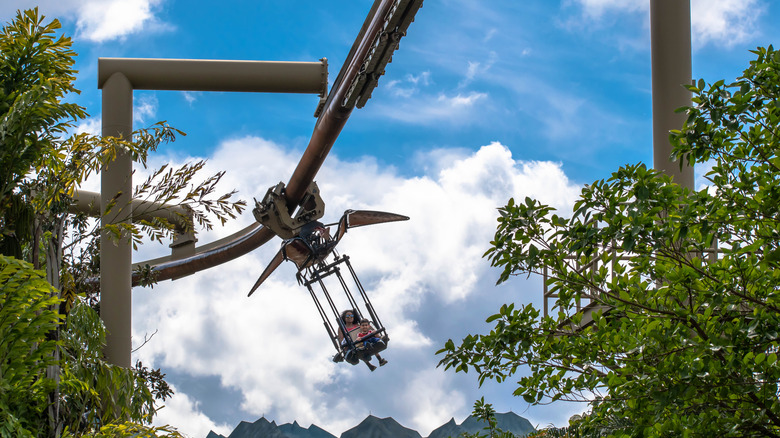 Shutterstock
Pteranodon Flyers isn't a bad ride in and of itself. Riders dangle from the track and soar high above Jurassic Park, swinging lazily on an aerial-gondola that offers great views of the park and a relaxing, kid-friendly way to kill a few minutes. The problem? The ride is simply too restrictive. 
There's a reason we said "kid-friendly" and not "family friendly": only two riders can use Pteranodon Flyers at a time, one in front of the other. Oh, and one of them has to be a kid, too. This means, A) you have to have or be a kid to begin with, B) riders can't sit next to each other and experience Flyers together, and C) larger families are separated for the duration and have to wait for the rest of the group at one of the three confusingly arranged exits. This leads to childless park visitors being unnecessarily turned away from the ride, joyless wait times for everyone else, and half the family waiting for the others at the far end. The ride has its moments, and when it opened in 1999 it might have been worth the hassle. But there are simply better ways to spend your time at the park.
One Fish, Two Fish, Red Fish, Blue Fish lets you control how wet you get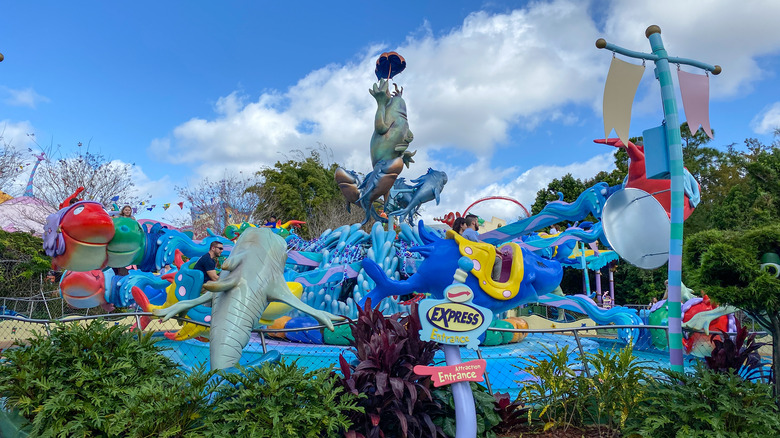 Shutterstock
Think Disney's Dumbo ride, but Dr. Seuss-themed. Riders can move their little cartoon fish cars up and down as they swing around in a circle. The views of Seuss Landing are colorful and fun, but they can be a bit distracting. That's because if you don't pay attention to the ride's catchy jingle, which subtly tells you when and how to move your car, there's a chance you'll get splashed with a little stream of water. It's a memorable little mechanism, but we can also see how it'd be a reason for parents to take their kids on other, dryer rides if they're not into that sort of thing. It's not like there's a shortage of twisty family-friendly rides. 
On the other hand, though, if you're planning to check out some water rides with the family, this is the only one at the park that gives you some manner of control over how soaked you end up getting. Overall, it's not anyone's favorite ride, but there are worse ways to spend an hour. Also, it's funnier if you let people figure out the water squirt feature for themselves.
Flight of the Hippogriff is nearby more interesting attractions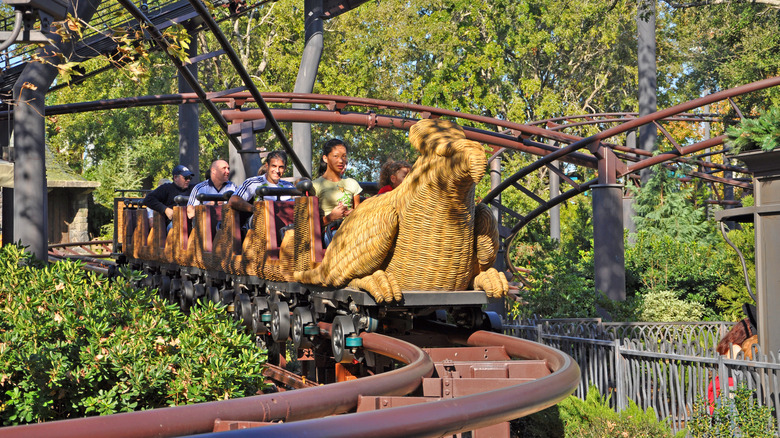 Shutterstock
Kiddie coasters have a tendency to get overlooked. But this one, in the Wizarding World of Harry Potter section of Islands of Adventure, might be worth a visit if you've got kids young enough to enjoy it. It takes you through the Forbidden Forest, past Hagrid's hut, and up to Buckbeak, the titular magical creature, before looping back around. The track is predictably tame, although there are some mildly unexpected twists that can force a smile out of you along the way. 
Overall, though, the best part about the ride is the spectacular views you get of Hogwarts castle and Hogsmeade village, both nearby (and sparkling at night, thus making a second trip on the coaster worth it if you've got the time). But of course, you'd probably be better off just hanging out in Hogsmeade or Hogwarts directly, rather than seeing them from a distance.
Doctor Doom's Fearfall is a long wait for a little fun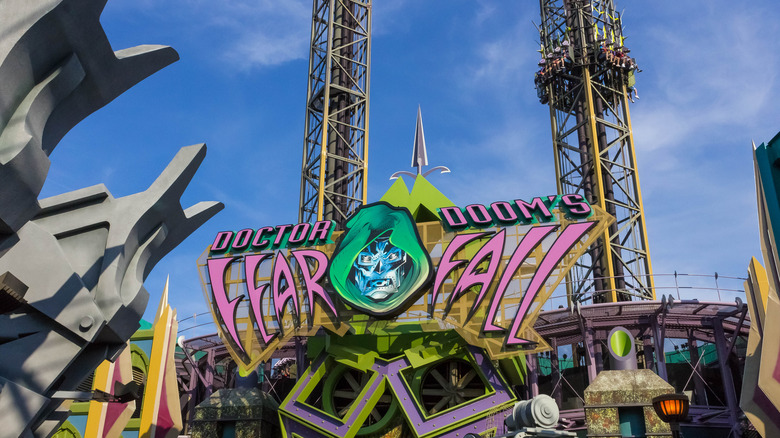 Shutterstock
Space shot rides definitely aren't for everyone. They're the ones where you get shot up to the top of a tower and then dropped rapidly, usually in controlled bursts broken up with air cushions for a stop-and-start thrill experience. Fearfall is one of the better ones. The queue is decorated like a mad scientist's laboratory. It has an ominous, comic-booky industrial aesthetic with dark halls lit only by sparse, colored lighting, lots of tubes and metal rivets holding the walls together, and TV screens that gradually fill you in on the backstory as you inch your way towards the ride. 
In a nutshell, Doctor Doom plans to harvest your fear to fuel his weapons. Spooky stuff, but the lines are so long that it's no wonder the Fantastic Four can't save you in time. Which, of course, brings us to the one downside of the ride: a punishing wait for only seconds of fun. In its defense, that's simply an unavoidable headache with these types of rides, because if they lasted any longer than 20 seconds or so, then Doctor Doom would be harvesting more puke than fear. But still, as much as the ride does to entertain you while you wait, you should only check this one out if you have time.
Caro-seuss-el is a standard family attraction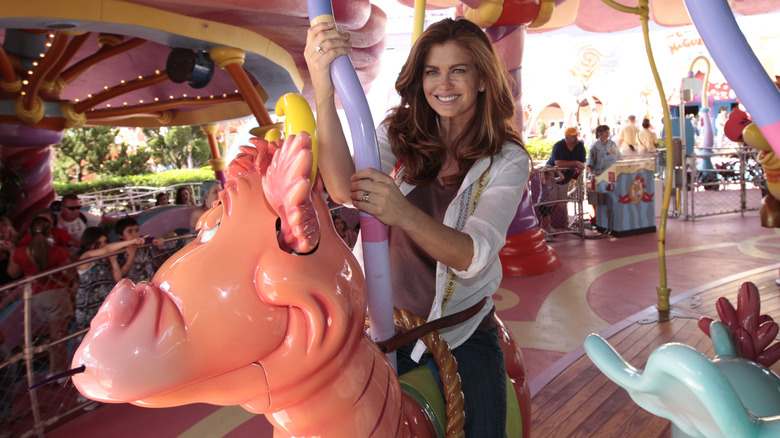 Handout/Getty Images
The Cat in the Hat might be the most iconic attraction at Islands of Adventure's Seuss Landing, but the Caro-seuss-el is the centerpiece. It's exactly what it sounds like: a carousel ride where the horses have been swapped out for Dr. Seuss characters. It's good, family-friendly fun with a relatively short wait time (due both to the presence of more thrilling things and the large number of people who can hop on at once) and a catchy little jingle. 
The best part about it, as is the case with a lot of kiddie rides, is that it lets you see the majority of Seuss Landing from the comfort of your Lorax or Flustard and maybe plan your next stop. Not too much else to add here, except that if you push on the levers on the character's necks or pull on their reigns, you can animate them. It's a bit of an open secret at the park.
The Cat In The Hat is pretty intense for little kids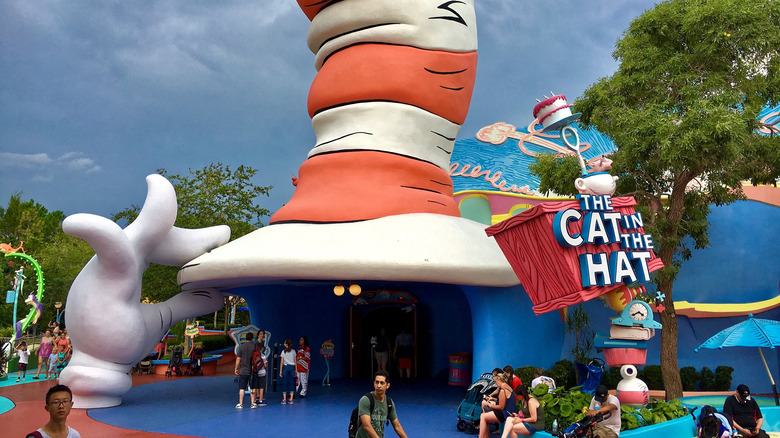 Shutterstock
The Cat's iconic Hat towers above Seuss Landing and can be fairly easily seen from adjacent areas of the park. So don't worry about having to consult a map or staff member to find your way here. The ride itself is certainly well put together: it's a track that takes you through a dimly lit, twisting hallway filled with iconic scenes from the classic children's book. There's the talking fish, Thing 1 and Thing 2, lots of crazy furniture to look at, and much more. And of course, the Cat makes plenty of appearances throughout. 
The main problem with this ride is that it's obviously too juvenile for adults to enjoy alone, and a bit intense for a lot of the younger kids it's clearly trying to appeal to. They did eliminate the chaotic, jerking motions the ride originally had, but that was only a partial solution, it turns out: there's still a lot of cartoony maniacal laughter, silly but scary music, things popping out at you, giant, scary words written on walls, and other things that might spook a toddler. And of course, kids much older than that might want to be in the Marvel section of the park anyway. But if yours are in the right, narrow age window, this can be a lot of fun.
Dudley Do-right's Ripsaw Falls soaks everyone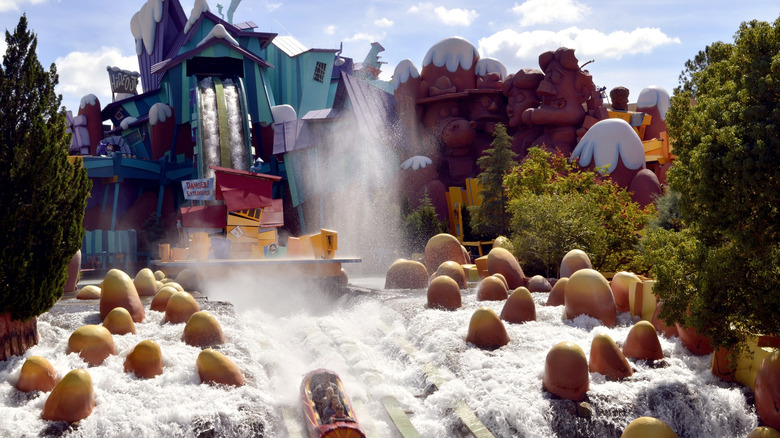 Shutterstock
This "Rocky and Bullwinkle"-themed Toon Lagoon log flume ride (say that three times fast) isn't an essential stop, but it could be a fun way for the family to beat the muggy Florida heat with laughs and a whole lot of water. The queue is a sleeper hit. You wander through Snidely Whiplash's little hideout, a spoof theater, and a room with talking mounted hunting trophies. It's bizarre, but that's the point of Toon Lagoon, isn't it? At the end, Nell Fenwick is kidnapped, setting up the ride's story. 
The ride itself continues these colorful, family-friendly hijinks. You chase Snidely as he tries to escape with Nell. Then comes that iconic, 75-foot plunge into the water below. The climax of the ride leaves nobody dry. Anyone who doesn't feel like getting soaked can still have fun with the ride: you just have to stand by and watch people get drenched, or you can pay a small fee and shoot them yourself with water turrets. It's a big, watery blast, although perhaps a bit too much for the kids it's trying to appeal to.
Poseidon's Fury has great guides and epic setpieces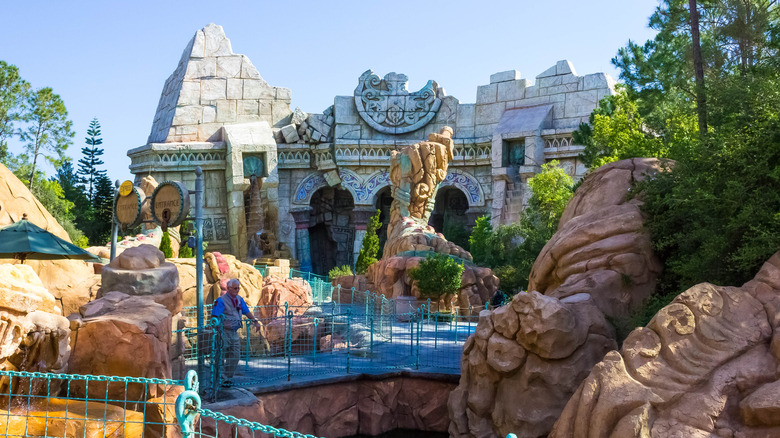 Shutterstock
This attraction is at least as much fun for the theater kid playing the archaeologist tour guide as it is for the families experiencing it. The idea is that the guide needs your help navigating the Temple of Poseidon, which is under attack from an evil dark lord. You walk through the massive halls yourself and there's quite a bit of standing around or looking for things to lean on, which can be tiring if you've got kids. But there's more than enough to see, hear, and laugh and marvel at as you make your way to the final battle. There's a great mix of physical setpieces that someone clearly had a blast building and digital effects that bring it all to life with the help of your animated, thoroughly entertaining guide. There are spooky moments, but nothing sudden or shocking that parents of young tykes need to concern themselves with.
Maybe the best part about the ride, though, is that wait times aren't too bad. That's because the rooms inside the attraction are big enough to fit a huge number of people in at a time. You can't see everything at an amusement park in one day. But while this ride isn't as essential as certain other things on this list, the relatively small time investment and solid entertainment value make it a worthy choice.
Jurassic Park River Adventure is an overstuffed, but fun, experience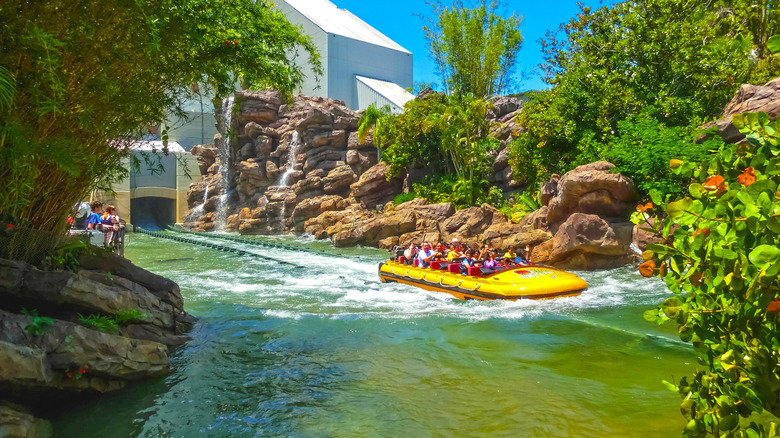 Shutterstock
There are raft rides and log fumes in just about any major theme park, including several others at Universal Studios itself. But what sets Jurassic Park River Adventure apart is something that, on paper, would make it sound rather lame: education. Yes, at least part of the purpose of this attraction is teaching you about dinosaurs. But it's a lot less boring than it sounds, because you're not reading museum plaques.
Instead, you'll be lazily cruising past massive, life-size animatronic dinos while a narrator fills you in on the details of the real thing. Think of it as a time traveling boat tour. Oh, and there's also an enormous, 85-foot plunge at the end that will soak everyone on the ride. We kind of wish they'd separated those ideas into two separate rides: an educational, family-friendly river cruise/dinosaur safari, and a thrilling white water dinosaur escape that could have ended with a giant, literal splash. Both could be worth an hour or more in line, but hey — the ride we got instead is still well worth checking out.
High in the Sky Seuss Trolley Train Ride offers fun and amazing views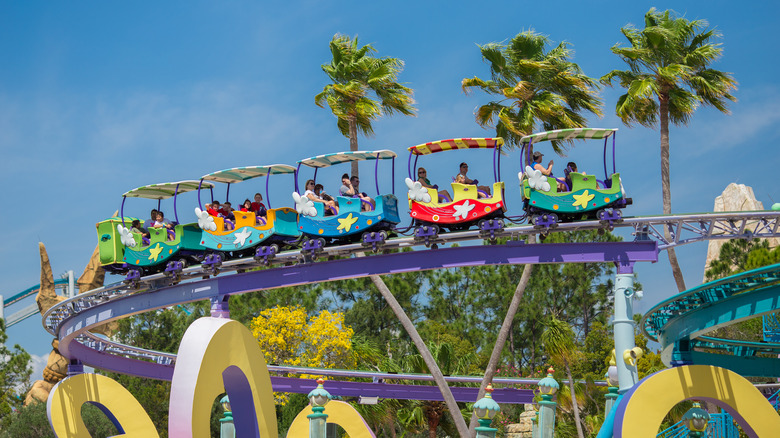 Shutterstock
High above the family-oriented fun of Seuss Landing, you'll find the High in the Sky Seuss Trolley Train Ride, which is both exactly what it sounds like and a little bit more. The train takes families through a "Sneeches and Other Stories"-themed adventure through Seuss-styled circus tents and houses, filled with all the weird, wacky, colorful creatures and contraptions you'd expect in such places. 
They could have easily put a ride like this on the ground, but instead they elevated it, so the outdoor stretches in between the ride setpieces offer spectacular views that, in certain areas, allow you to see beyond Seuss Landing and into the far reaches of Islands of Adventure. All in all, it's a fun, silly, colorful, relaxing way to spend a few minutes with the kids while everyone takes a breather and plans the next stop. It's certainly not the most thrilling thing for adults, who will certainly find it silly, but the kids will love it.
Popeye & Bluto's Bilge-Rat Barges is a worthy raft ride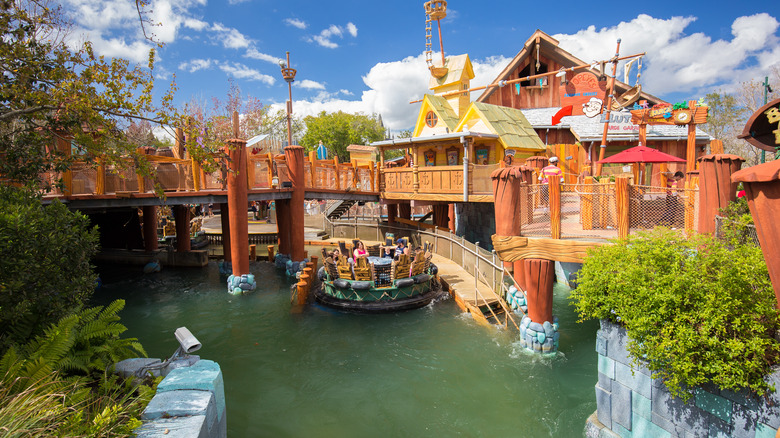 Shutterstock
Given the fact that Popeye the Sailor Man is nobody's favorite character, unless they're pushing 100 or too young to realize that literally any other cartoon exists, and the fact that Toon Lagoon is a fun but largely forgettable draw at the otherwise unmissable Islands of Adventure, Popeye & Bluto's Bilge-Rat Barges had its work cut out for it if it wanted to attract enough people to stay open. Luckily, it largely delivered.
The raft ride is a great way for families to beat the Florida heat and kill an hour or two. Just pile into a big, circular float and drift downstream, past plenty of colorful setpieces, classic, old school Popeye characters, and other parts of Toon Lagoon. It probably won't be anyone's favorite ride, but wait times are short and anyone willing to get a little wet will have fun. Plus, it's a nice way to quickly explore a fun but neglected part of the park that you probably won't be spending too much time in otherwise.
Skull Island: Reign of Kong is definitely worth the long wait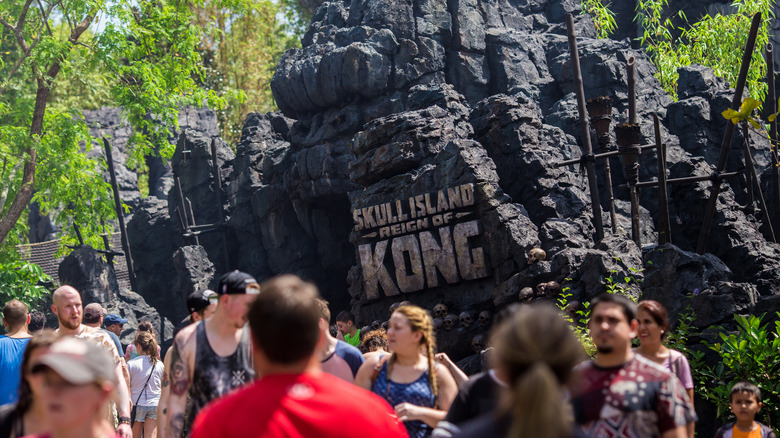 Shutterstock
This is simply one of the best trackless theme park rides in the world. Riders board a safari truck and get taken on a perilous journey through a spooky, dark Pacific island based on Peter Jackson's 2005 "King Kong" movie. The ride blends digital and physical effects to magical levels. There are bats, giant bugs, spooky caves, bones everywhere, and a huge fight between Kong and a giant dinosaur that sends your car reeling and crashing over cliffs (digitally, of course). It's an unforgettable experience truly worthy of the flagship status it's created for itself at the park in the few years since its 2016 opening.
The only thing preventing it from ranking higher, other than the fact that parents with little kids might want to wait a few years before taking them on this intense ride, is the punishing (but admittedly unavoidable) wait time. The queue mainly winds through a dark island temple that features plenty of spooky chanting and skulls in the walls. It works, aesthetically, but the effect of each chamber wears off well before you're even halfway through it, both because of how long it takes and because all the rooms start to look the same. Overall, though, this is an essential Islands of Adventure experience. You'll have to carve out a good chunk of the day to make it work, but you won't regret it.
Hogwarts Express is a ride as much as a shuttle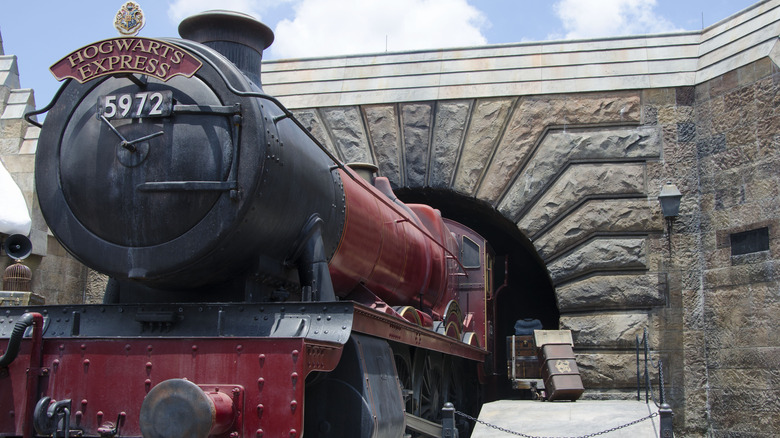 Shutterstock
This one's a bit weird, because it's only half in Islands of Adventure. But that's the whole point. Hop on the iconic train from the Harry Potter world there and ride it to the other, original half of Universal Studios, or vice versa. It functions more like a shuttle than a ride. After all, there are no drops, loops, twists, or any other crazy mechanics, and the whole purpose is to link both halves of the park.
But we threw it on the list anyway because the experience is almost as cool as the Hogsmeade and Diagon Alley park sections, which bookend it. That's because it's not just decorated like the Express on the inside, while the view outside the window is of all the gas stations and parking lots that we imagine separate both halves of Universal Studios. Instead, you get a digital display on the windows that makes it look like you're traveling through enchanted London and then the spooky Wizarding World we see in the films.
Jurassic World VelociCoaster has got some real teeth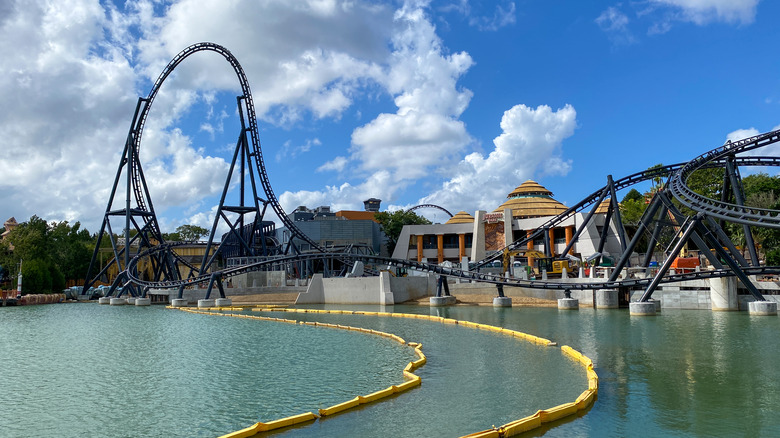 Shutterstock
The queue and the visible setpieces around Jurassic Park's VelociCoaster are nothing to write home about. It's about velociraptors, everyone's favorite dinosaurs ever since "Jurassic Park" made them famous, so there's plenty of those to see and hear as you move through the line. Bryce Dallas Howard and Chris Pratt (of "Jurassic World" fame) make predictable but welcome appearances about halfway through, and go on a bit about how they've built a roller coaster around raptors and how that might not have been a great idea. 
It's fine enough to keep you pleasantly entertained as you inch towards the loading platform, and you'll certainly appreciate the air conditioning, as the whole queue is indoors. Eventually you'll get to the coaster, though, and to say it makes the rather underwhelming queue experience worth it is an understatement. Prepare for high speeds, killer loops and twists, and big, fast drops. It's as solid a roller coaster as you're likely to find just about anywhere, and a must-ride for first timers to Universal and repeat visitors alike.
The Incredible Hulk Coaster earned its signature status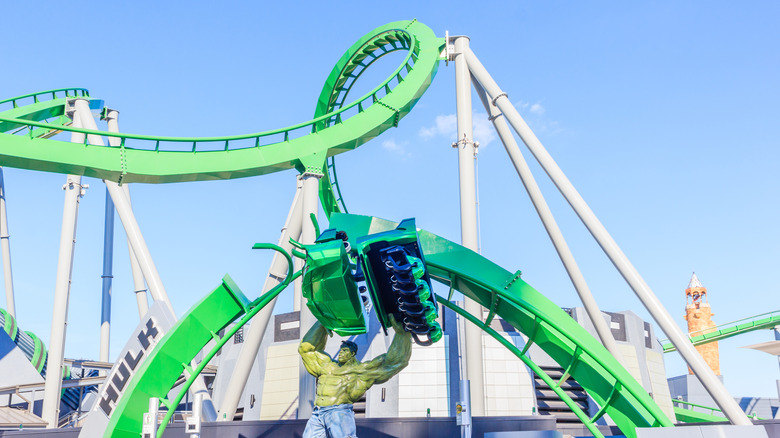 Shutterstock
All due respect to the more recent Harry Potter additions, but the Incredible Hulk coaster is perhaps the most iconic Universal Studios ride there is. Luckily, it's also one of the first things you'll get to do upon entering the park, since it's just to the left of the entrance. Unsurprisingly, the wait is long, given how easy the coaster is to reach and how popular it is, but Universal pulled out all the stops to deck out the queue with blaring lights, sirens and cool, comic-booky sci-fi gizmos patterned after the gamma ray incident that turned Bruce Banner into the titular giant green rage monster. So don't worry about getting bored on the way up.
Even if you do find yourself dozing off in line, the ride itself is worth the wait. Appropriately enough, it's a powerful, angry, green beast that plunges you into epic drops and launches you into loops and twists at thrilling speeds. The views at the top of the peaks are strong too, and get you excited to see the rest of the park sprawling out before you. When you leave hours later, it'll still be one of your favorites. That's almost a guarantee. We will say this, though: while the ride isn't necessarily too extreme for most theme park enthusiasts, it's definitely a good idea to grab a bite to eat after you get off.
Harry Potter and the Forbidden Journey is an unforgettable adventure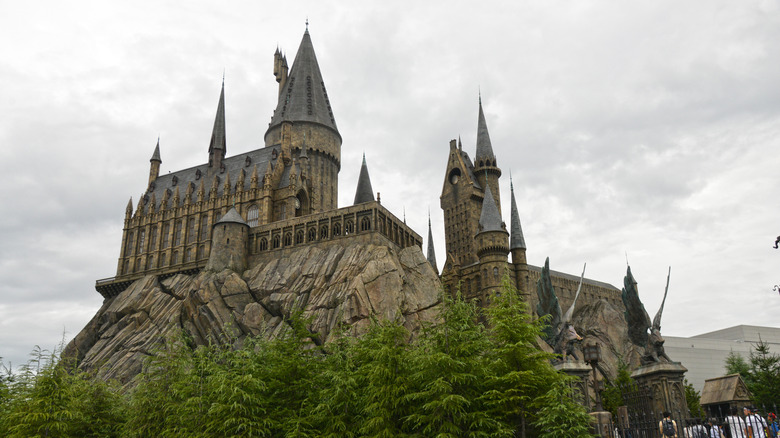 Shutterstock
Towering over Islands of Adventure and visible from several remote areas of the park is Hogwarts itself: the iconic castle-school from the Harry Potter films. It's a good thing that it takes so long to get to, because it builds anticipation throughout the day and keeps everyone in your group excited to get to the next place. The recreated town of Hogsmeade is just below and offers an incredible, immersive experience for Harry Potter fans and everyone else alike.
But the Forbidden Journey is the real draw here: a massive 4D flying adventure where you follow Harry himself on a dizzying, dazzling flight through the school grounds and away from dragons and dementors. The queue is certainly worth mentioning, as well, as it lets you experience all the iconic Hogwarts chambers from the movies, like the Defense Against the Dark Arts classroom, Dumbledore's office, and many, many others, all filled to bursting with Harry Potter Easter eggs. The wait time can be absolutely excruciating, but thanks to the ride and the chance to explore the castle, we've never heard of anyone regretting this one of a kind experience.
The Amazing Adventures of Spider-Man is one of the best rides in the world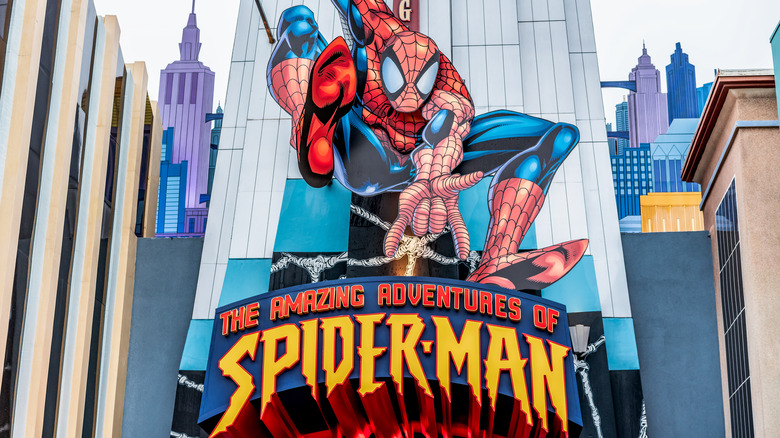 Shutterstock
4D rides can become something of a crutch for theme parks, since they're a bit easier to construct than roller coasters and take up less room (the original Universal Studios park certainly overuses the format). But Islands of Adventure uses them sparingly and effectively, ensuring that each one is memorable and definitely worth checking out, even if the lines can be punishing.
And in the end, it's hard to make a better, more thrilling, more impressive 4D movie experience than The Amazing Adventures of Spider-Man, just past the iconic Incredible Hulk coaster at Marvel Superhero Island. The queue is almost as memorable as the ride itself, allowing you to check out the inside of The Daily Bugle, the iconic fictional newspaper that Peter Parker worked at. That's where grumpy editor J. Jonah Jameson recruits the guests to get the scoop on the latest supervillain attack. The ride itself throws you into the thick of it alongside Spidey in his fight against the Sinister Syndicate, led by Doctor Octopus. It pulls out all the stops to make it seem real: lighting effects, wind blasts, simulator movements, and more. This award-winning theme park masterpiece truly is something to marvel at. Pun a little bit intended.
Hagrid's Magical Creatures Motorbike Adventure will take you for an incredible spin
As popular as the Incredible Hulk coaster, the Amazing Adventures of Spider-Man, and Harry Potter and the Forbidden Journey rides are (and deservedly so), the top spot has to go to a newer attraction, right in Islands of Adventure's Wizarding World section. It's none other than Hagrid's Magical Creatures Motorbike Adventure, a $300 million behemoth of a coaster that opened in 2019, in which the titular character takes you through a maze of epic Harry Potter setpieces filled with three-headed dogs, unicorns, and other magical creatures that roam the woods around Hogwarts.
There are plenty of other rides with lots of amazing, unforgettable things to see, but Hagrid's coaster manages to do what many other coasters have only attempted: make the queue part of a journey that merely climaxes with the ride itself. It's a good thing there's so much to check out on the way to the ride, too — because when it opened, wait times often exceeded eight hours. The massive hype for the ride set a brutally high bar, but it's safe to say the coaster reached it and then some.