The Theme Park That Brings Popeye The Sailor Man To Life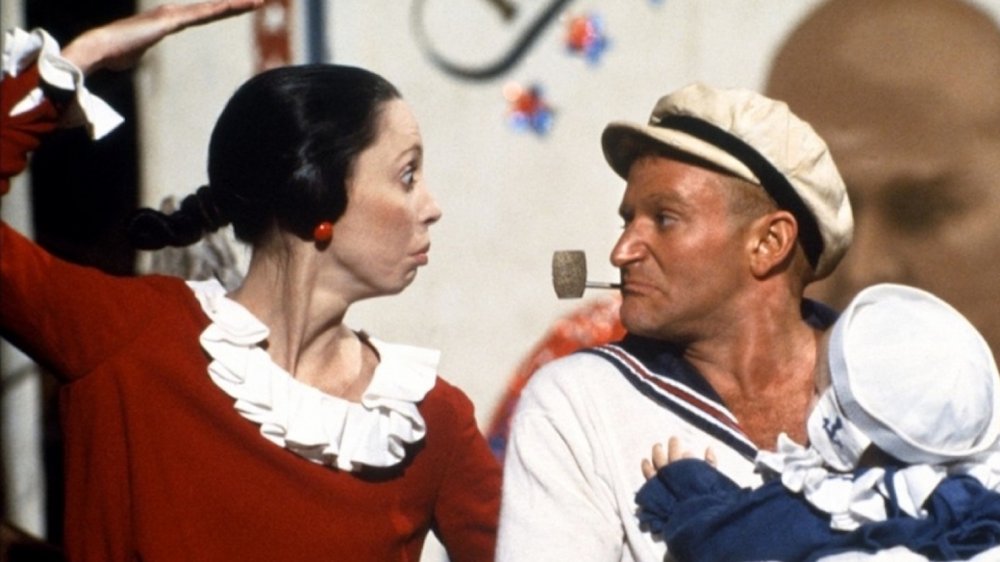 Paramount Pictures/Walt Disney Pictures
For a select group of cineastes, Robert Altman is a legitimate icon whose defiantly outsider sensibilities fueled the creation of some of the greatest films ever made. For others, Altman's singular cinematic confections remain frustratingly cryptic, and also exceedingly weird. 
Wherever you fall on the Altman spectrum, the director's decision to helm a musical adaptation of Popeye circa 1980 was one of the most unexpected moves of his storied career. It's hardly surprising, then, that Popeye remains the most divisive, most passionately maligned, and yes, weirdest film in his cinematic oeuvre. Four decades after Popeye's release, even Altman die-hards still don't really know what to make of it, and the impassioned musical is rarely mentioned in the company of '80s classics.
For many, Popeye stands as a middling Altman effort that's hard to love, but impossible to hate. Featuring bravura turns from Robin Williams and Shelley Duvall as Popeye and Olive Oyl respectively (and featuring infectious original songs from Harry Nilsson), Popeye didn't just seek to bring the beloved comic strip character to big screen life. More accurately, it set out to wholly reinvent the fanciful world of the spinach-loving sailor man via a wild mix of whimsical wonder and real-world grit.
While cinema historians continue to debate how well Altman carried it off, they all seem to agree Popeye contains the sort of soul-stirring pathos and raw cinematic ingenuity you'd expect from the master.
They also agree that Popeye boasts some of the most breathtaking sets you'll ever see in a film, with the production constructing a full village in the idyllic Maltese Islands to bring Altman's fanciful vision to life. If you've ever wanted to visit the town of Sweethaven yourself, you can now do so via a Popeye-inspired theme park.    
Apparently, no trip to the Maltese Islands is complete without a visit to Popeye Village
That park is called Popeye Village, and the colorful vista that stood in for Sweethaven in Altman's Popeye appears relatively untouched since production wrapped in the summer of 1980. There have, of course, been a few upgrades to the Anchor Bay locale over the decades, with the former film set now offering family-friendly activities like swimming, boating, and even miniature golf.
Such upgrades, and the obvious nostalgic vibes that come with the location's odd cinematic history, have made Popeye Village one of the most popular tourist attractions in the Maltese Islands — extra impressive when you consider just how gorgeous the Mediterranean setting is. Still, when it comes to cinematic nostalgia, something as rare as an actual film set that's been exceedingly well-kept for 40 years is sure to draw the attention of movie lovers young and old. 
As far as what you get to experience in Popeye Village outside of the aforementioned activities, it seems park organizers go all out in making each visit a unique Popeye experience, with costumed characters from the film and Popeye comics greeting visitors, ready to lead them through virtual movie recreations and guided tours of the practical locations. There's a few food outlets as well, so all you Wimpy fans can get your hamburger fix in the same locales Paul Dooley did during Popeye's production (though you probably won't be able to put payment for the meal off until Tuesday). 
While Popeye Village is billed largely as a family-friendly theme-park styled destination, it's also available to host weddings for those who want the full Popeye and Olive Oyl experience. Here's hoping any such event is capped off with a first dance to Shelley Duvall's show-stopping rendition of "He Needs Me."