The Jurassic Park Sequel Story You Can Only Learn In The Theme Parks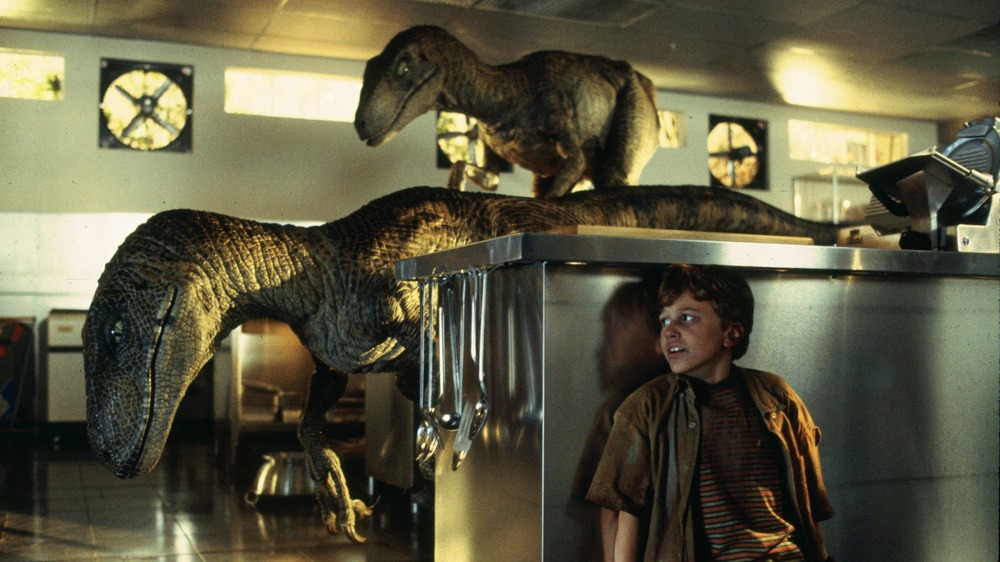 Universal Pictures
Jurassic Park fans know that the fictional Isla Nublar is where John Hammond first attempted to orchestrate his dream through a theme park of cloned dinosaurs. Obviously, that attempt went south, as did visits to a neighboring Isla Sorna, and eventually later attempts again on Nublar in Jurassic World.
But if you've never visited Universal Studios Islands of Adventure, you may not know about Hammond's second full attempt at creating an immersive dino-land: Isla Aventura. Translated from Spanish, "Isla Aventura" means "The Island of Adventure," the very name of Universal Studios' second park. Not to be confused with the Universal Studios' newer resort hotel Aventura, Isla Aventura's backstory was created by Universal in 1999, specifically for the Jurassic Park land, a dino-themed section of the park. 
There is no official mention of it on Universal Orlando's website, with direct references to the rebooted island's name — even within the park — being rare. Still, SyfyWire found a few fan-run Jurassic wikis that acknowledged its existence and a few more die-hard fans and dedicated park employees at Universal Studios Florida who can recount the long-forgotten backstory. 
So how did Hammond's attempt to rebuild Jurassic Park on an island near Orlando, Florida, come to be? And why do so few know or remember its backstory? While it's not regularly discussed, there is evidence that this mysterious backstory was created when Islands of Adventure first opened in May 1999.
A TV documentary and queue video offer clues to the hidden Jurassic Park sequel story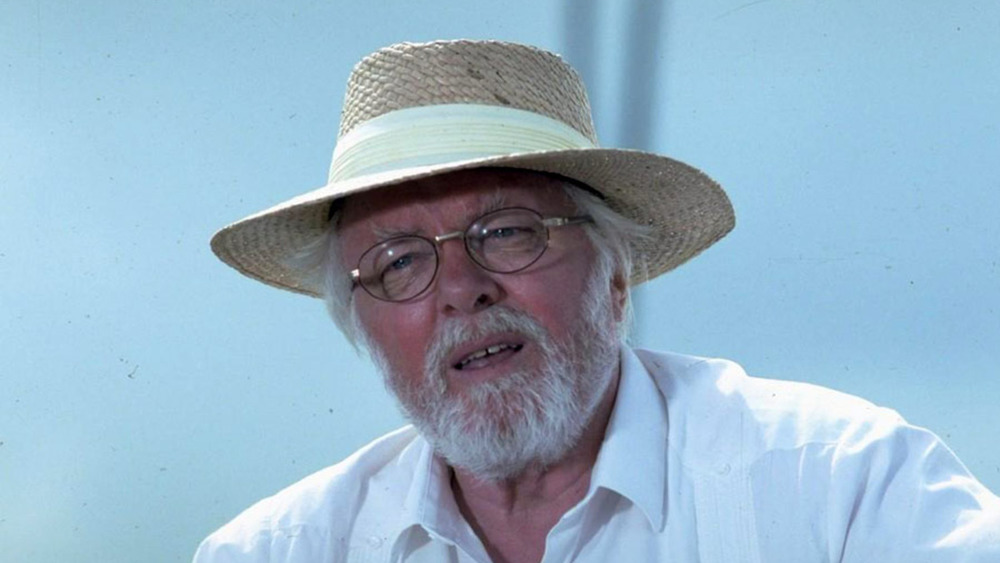 Universal Pictures
If you're visiting the park and happen to ride the Jurassic Park River Adventure attraction, you may catch a reference to Isla Aventura during the queue video. Deceased actor Richard Attenborough reprised his role as John Hammond to welcome riders to the attraction, and though he might not acknowledge the "island" by name, he does state "our Orlando park." It's presumably an allusion to that "second" attempt at creating a dino-driven amusement park. SyfyWire also found at least one employee, referred to as "Jurassic Joe," who knew and acknowledged the Jurassic Park land's original lore.
If that's not enough to convince you, and it's likely not, there's also a 1999 documentary that offers more substantial proof of Aventura's existence in the Jurassic Park canon. Titled Total Immersion: Theme Park For the 21st Century, the doc chronicled the second Univeral Studios Florida park's opening. During the Jurassic Park land segment, you can hear Vice President of Design & Creative Development for Islands of Adventure Mark Woodbury address the forgotten backstory. 
"With Jurassic Park, what we really set out to do was pick up where John Hammond left off after that small mishap in Costa Rica," Woodbury says. "And what we really wanted to do here at Islands of Adventure is build the park that John Hammond would have created given the opportunity to have a second shot at it." 
This further suggests that Isla Aventura is somehow part of the larger Jurassic Park canon, despite it clashing with elements of the big screen timeline and events of Jurassic World and Jurassic World: Fallen Kingdom. And though the ride queue video welcome, Universal Studios team members and the 1999 documentary make a strong case that the park's sequel story is legitimate. But recent park updates and the introduction of the new Jurassic World VelociCoaster may challenge that.
A new ride at Universal Studios Islands of Adventure could erase the Isla Aventura sequel story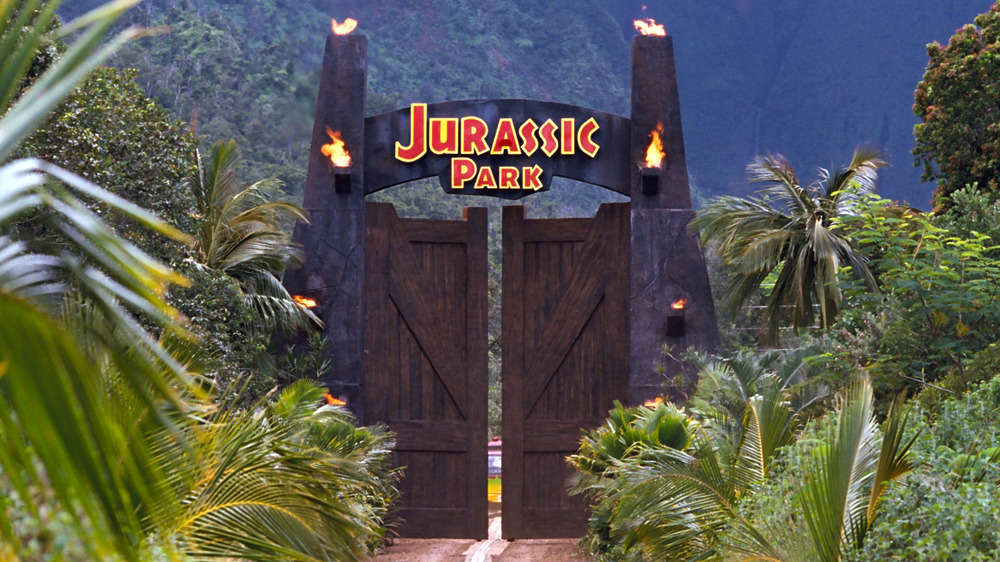 Universal Pictures
It's been unclear whether the area in Islands of Adventure would retain the Jurassic Park name or be upgraded to Jurassic World. Orlando Weekly reported that the Jurassic Park River Adventure ride at Universal Studios Hollywood was updated just last year to include Jurassic World branding. The VelociCoaster, which is slated to open at the Orlando park, currently features Jurassic World in the ride's title and marketing. Plus, the attraction's daring experience is a call back to the Velociraptors like Blue in the Chris Pratt and Bryce Dallas Howard sequel films.
In a press release announcing the new ride, Universal Studios noted that it "will feature an original story that expands upon the thrills, dinosaurs, and environments fans have seen on the big screen." Like many of its other franchise-based attractions, "guests will join the original cast of the films — Chris Pratt as Owen Grady, Bryce Dallas Howard as Claire Dearing, and BD Wong as Dr. Henry Wu." The attraction is reportedly designed to mimic "a high-speed chase" that allows park guests to "feel the rush of the hunt while racing alongside a nimble Velociraptor pack."
All of that points to Universal Studios letting the Isla Aventura backstory go, but all hope is not lost for those who love it. The California park doesn't have the same lore as Islands of Adventure, and if you've glimpsed the ride cars in the Universal Studios teaser, you've probably noticed that they don't yet have any Jurassic World name-branding. Instead, it's just the T-Rex logo both the original Jurassic Park and sequel series Jurassic World share.
It may be that Universal Studios is — albeit quietly — acknowledging Isla Aventura's origins and place in the Jurassic Park canon. But fans can't be sure whether the story of "Aventura" survives until the VelociCoaster officially opens in Summer 2021.