Every Disney World Ride Ranked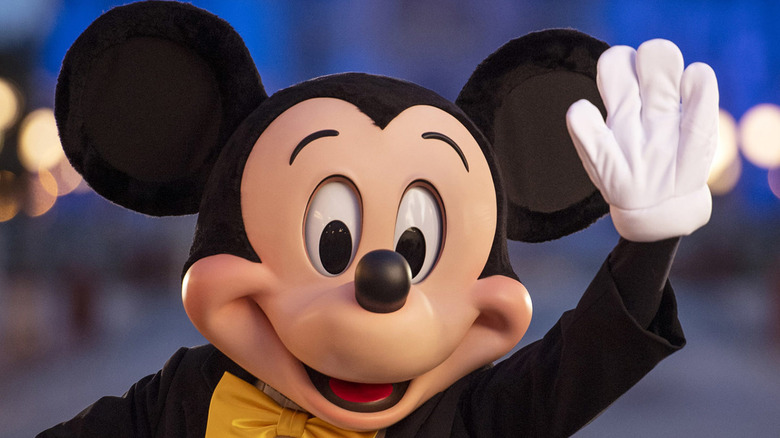 Handout/Getty Images
Since its inception in 1971, Walt Disney World has built its reputation on immersive ride experiences that push the boundaries of what a theme park can be. Like slightly-older brother Disneyland, it is designed to quite simply be "The Happiest Place on Earth," one where you can leave life's worries at the door and instead focus on your child's (or, your inner child's) all-consuming impulses towards which ride to line up for next. More often than not, the best ride is always the one you're about to go on. 
Now, with Walt Disney World celebrating its 50th anniversary, it seems like the perfect time to look back on the olden days of storytelling rides, the middle years of movie-tie-in rides, and the newer, technologically-advanced "Star Wars" rides. Taken as a whole, they represent the breadth of experience available in a day at Disney World for fans of all ages.
With that in mind, here is a list of all 47 Walt Disney World rides, ranked from worst to best.
47. Journey Into Imagination with Figment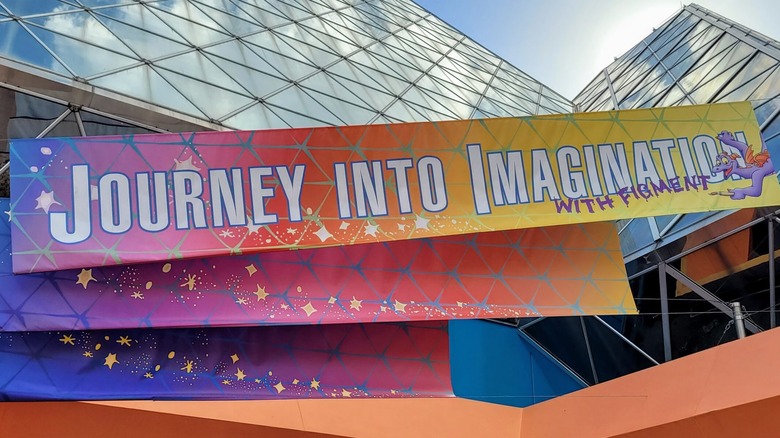 Located at Epcot's Imagination! Pavilion, Journey Into Imagination is an indoor ride featuring everyone's favorite Epcot mascot they forgot existed: Figment, the purple dragon. 
Figment has been around since the '90s, when the ride was built. The current iteration of Journey Into Imagination takes you on a mellow train ride through the five human senses. Frankly, there isn't much reason to take time out of your day for this ride, unless you have a very small child and your options are limited.
46. Walt Disney's Carousel of Progress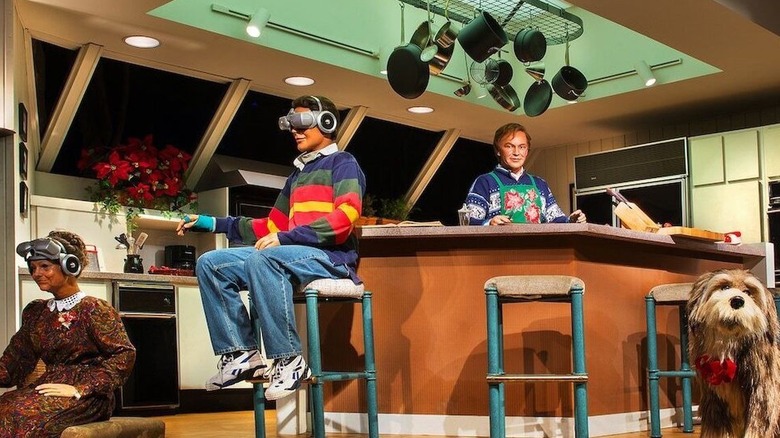 Disney Parks
This classic, created by Walt himself, has lost its luster as the years have progressed past it.
Another ride in the educational department, Walt Disney's Carousel of Progress is a poorly-aged relic from the 1960s, originally debuting at the 1964 New York's World Fair. In 1975, it arrived at the Magic Kingdom, and it remains one of the oldest rides in the park. Also, as you can see in the image above, one of the creepiest.
The rotating animatronic show guides you through history slowly ... very slowly. But on the bright side, you most likely won't encounter much of a line to get on this ride.
45. Prince Charming Regal Carrousel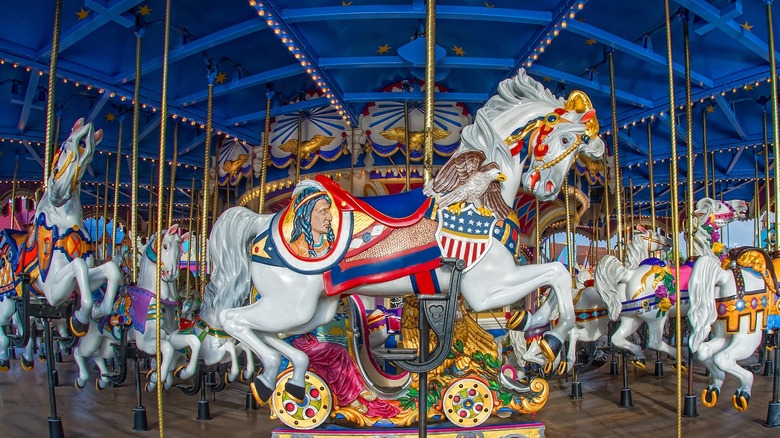 Unlike the Carousel of Progress, Magic Kingdom's other carousel is at least what you imagine when you think of the iconic fairground ride. 
Built in 1971 under the name Cinderella's Golden Carousel, the attraction was updated in 2010, but remains mostly faithful to its original design. The merry-go-round allows riders to pick from a selection of detailed horses, it has plenty of room with some 90 horses available, and it is often one of the quickest rides to get on. But at the end of the day, it's just a carousel — and despite the old-world charm in that, it doesn't offer much beyond what you could find at your local amusement park or fair. 
44. Tomorrowland Transit Authority PeopleMover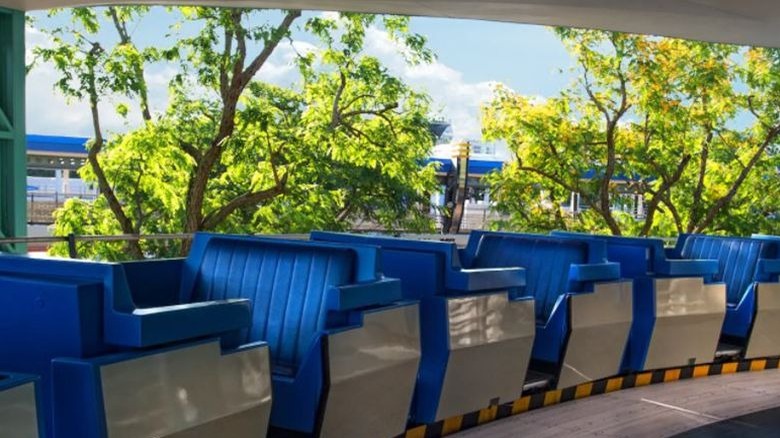 YouTube
The most aptly-titled ride at Disney World has got to be the PeopleMover. Because y'know, it gets you around.
In Tomorrowland, you'll locate this elevated train ride, which will take you anywhere in Magic Kingdom. It offers some nice views of the Magic Kingdom, but ultimately the Tomorrowland Transit Authority PeopleMover is less of a ride and more of a quick way to get to your dinner reservation. But hey, sometimes it's nice to give your feet a few minutes off and let something else do the PeopleMoving. 
Refurbished during the 2020 lockdown, the PeopleMover re-opened in April of 2021.
43. Wildlife Express Train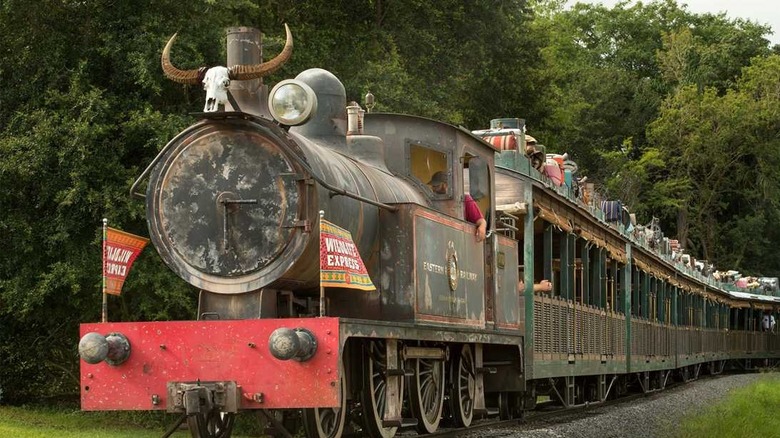 Disney Parks
Of all the "rides" on this list that are only peripherally rides, Animal Kingdom's Wildlife Express Train rises above the rest for one reason: the animals. 
Like the PeopleMover, this locomotive's main objective is to bring park goers from one side of the massive park (Animal Kingdom is by far the largest) to the other. Along the way you can get some stunning views of the park's wildlife population. This is great for animal lovers, but if you are already at Animal Kingdom, there are many more thrilling options like the Kilimanjaro Safari or the Maharajah Jungle Trek walking path.
42. Spaceship Earth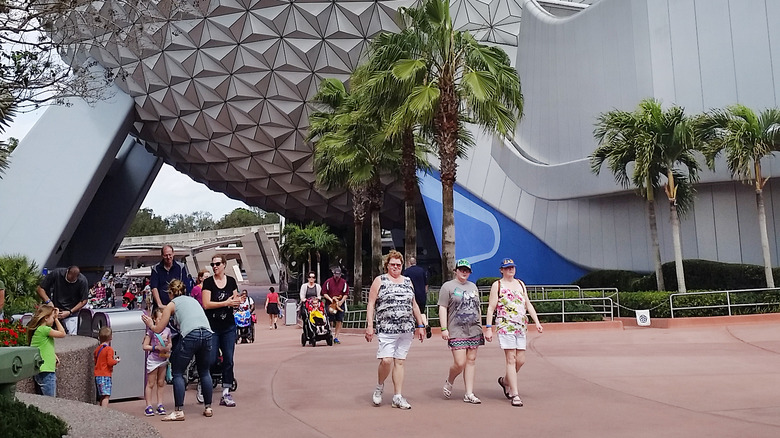 Shutterstock
Have you ever wondered what's inside the giant ball at Epcot? Well, it may seem disappointing but the answer is another slow, information-spewing ride. 
Spaceship Earth can be a nice place to catch an air conditioned break — or quick snooze — after walking around the nations of the world. This 15-minute ride usually has little to no wait and takes guests on a journey through the history of the Earth, narrated by no less than Dame Judi Dench. Once you get through the ride, there are some fun games and activities for youngsters, making it a halfway-decent option for parents looking to take a load off and kill some time at Disney World.
41. Living with the Land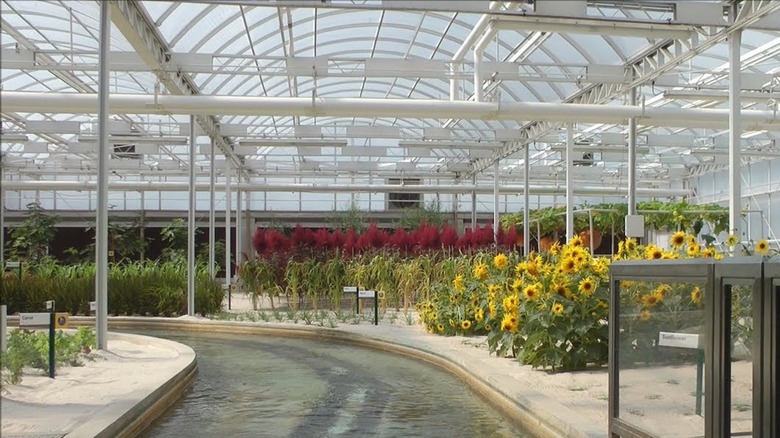 YouTube
A slightly more engaging, environmentally-friendly Epcot ride can be found not far from Spaceship Earth. 
This boat ride, located in the World Nature section of the park, takes a look at how our food is grown and the ways agricultural technology is used to create more sustainable food. Living with the Land floats guests through a series of greenhouses and labs, all while a narrator provides commentary and explains the ecosystem you are seeing. 
While it's more interesting than the various Earth histories that similar rides provide, c'mon ... you don't come to Disney World to learn, do you?
40. The Seas with Nemo & Friends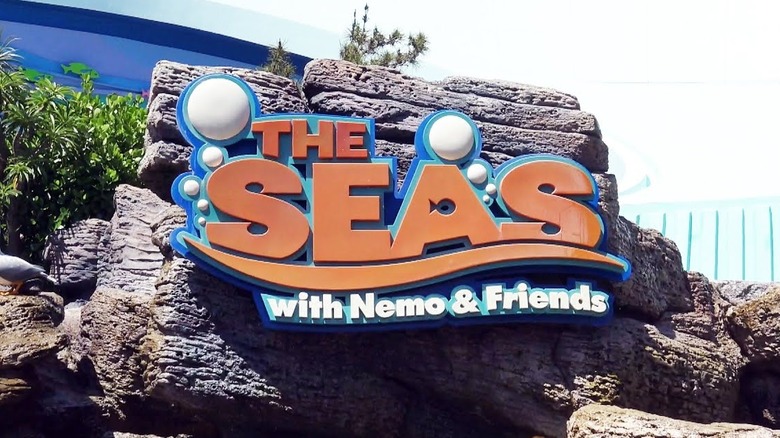 For worse and (as you'll eventually see) better, the rides at Epcot don't typically conform to what you might think of as Disney World rides. 
There are no traditional roller coasters, and even the thrill rides are unique. The Sea with Nemo & Friends feels like an attraction ripped right out of Magic Kingdom. You board a clamshell in this mellow, child-centric ride through the story of "Finding Nemo." The ride is in the tradition of classic Disney rides like Winnie the Pooh or Peter Pan, but pales in comparison to those titans.
39. TriceraTop Spin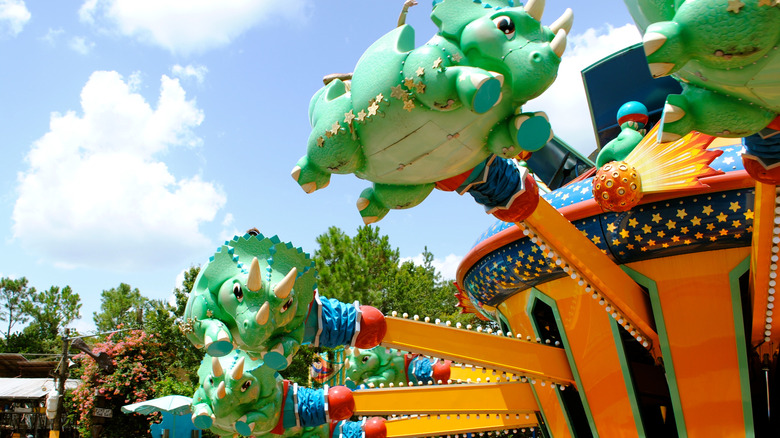 Disney Parks
The weakest of the ride options at Disney's Animal Kingdom, the TriceraTop Spin is one of the many aerial carousels found across the parks. 
Located in Dinoland U.S.A., this oft-skipped ride isn't terribly popular, and for good reason. It is quite unremarkable, lacking not only in thrills but also the charm and nostalgia that Magic Kingdom counterparts like Dumbo and Aladdin offer. The TriceraTop Spin isn't a bad ride, but it might be better to spend your daylight hours at Animal Kingdom with the critters instead.
38. Under the Sea: Journey of The Little Mermaid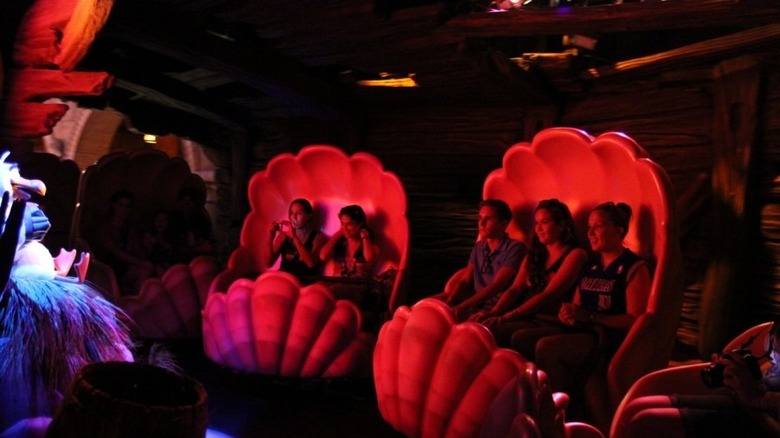 wdwinfo.com
This "Little Mermaid" ride is the most recent of the animated Disney classic recreations to be added at Magic Kingdom. 
In 2011, after years of attempting to make a ride from this movie, Disney finally brought "The Little Mermaid: Ariel's Undersea Adventure" to Disneyland's California Adventure. A year later, it was built in the Magic Kingdom with the name "Under the Sea: Journey of the Little Mermaid." Like most rides of this style, it's fine for kids, but only essential for adults if they love "The Little Mermaid."
37. The Magic Carpets of Aladdin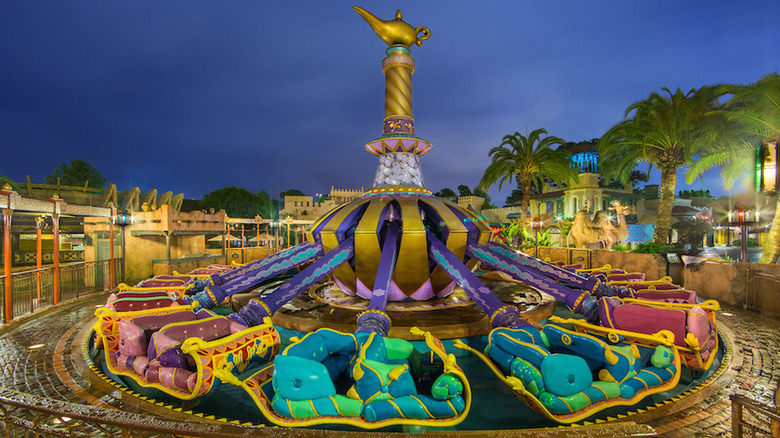 Disney Parks
In the heart of Adventureland, the Magic Carpets of Aladdin is a landmark, rising up and dipping down to give its riders a view of the entire park. 
This aerial carousel is based on the 1992 Disney animated hit, and is nearly identical to Dumbo (which is located just a short hike over in Fantasyland). Both rides are fun, but Dumbo has the advantage of being one of the original rides at Magic Kingdom. Without that boost of nostalgia, the Magic Carpets of Aladdin ends up being a tier beneath.
36. Astro Orbiter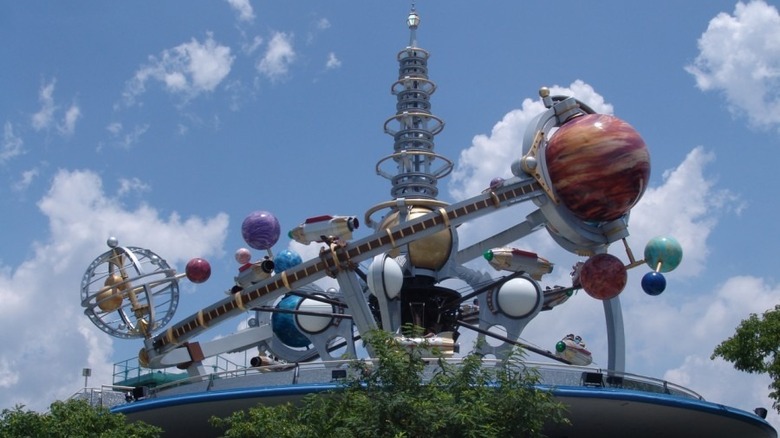 wdwinfo.com
Much like Aladdin and Dumbo, the Astro Orbiter is another one of the aerial carousels at the Magic Kingdom. 
This one is in Tomorrowland and takes its space theme all the way to the stars, or at least higher than most other outdoor rides. It lacks personality compared to its counterparts based on beloved Disney movies. However, the main appeal of the Astro Orbiter are the great views of not just Tomorrowland, but the entire park. It's definitely worth checking out at least once if you want to see Magic Kingdom from the best angles. it's also a great first ride to go on, giving you a chance to spy so much else that you'll hope to visit.
35. Tomorrowland Speedway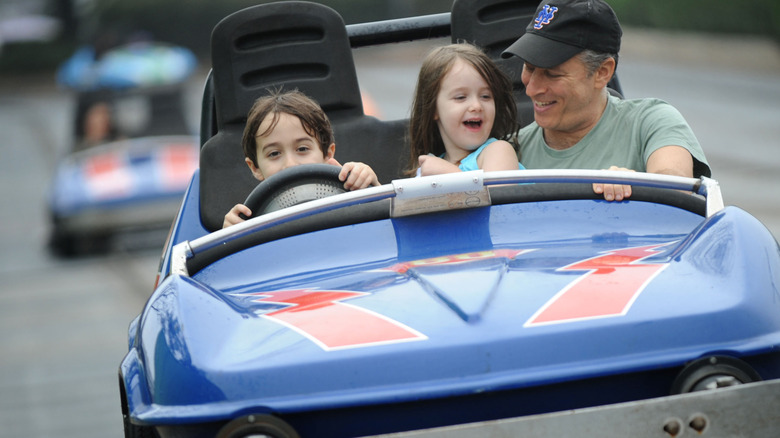 Handout/Getty Images
Hailing back to 1971, there isn't anything else in the Magic Kingdom quite like the Tomorrowland Speedway. 
If you or your kid wants the Disney take on bumper cars, this is a go-to ride. Originally introduced as one of the first rides at Disneyland in 1955, Autopia and its Disney World counterpart the Tomorrowland Speedway are a fixture of the parks. Sure, in the years that have come to pass more thrilling rides have threatened to eclipse this automotive ride, but it is fun to pay homage to a Disney World of yore just a few minutes from all the newest rides.
34. Mickey and Minnie's Runaway Railway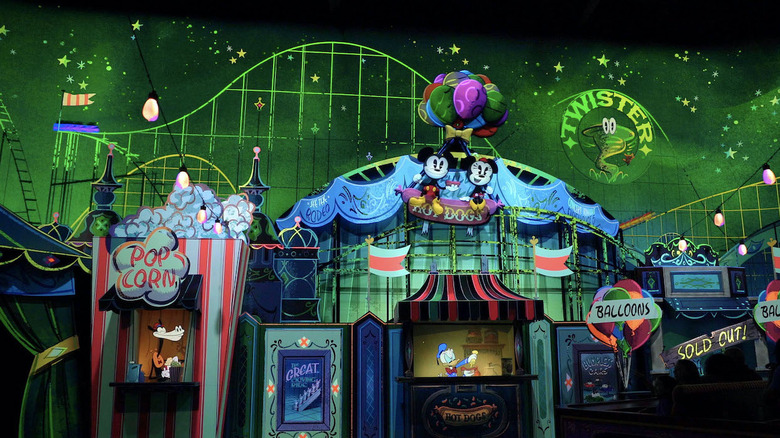 Disney Parks
Hollywood Studios houses a to-scale recreation of Hollywood's celebrated and historic Chinese Theater. While up until 2017 it housed the Great Movie Ride (a tour guide led boat journey through the history of Hollywood's Golden Age), it is now home to a brand new ride — Mickey and Minnie's Runaway Railway.
Board a train cart on this high tech ride, which uses projection mapping and screen effects that are reminiscent of other newer rides like Avatar Flight of Passage and many of Universal's offerings. The Runaway Rail adopts the contemporary art style seen in "The Wonderful World of Mickey Mouse" cartoon as well, which is a combination of old and new that might remind you of the "Cuphead" aesthetic. 
It is fun and filled with cutting-edge tech — but to longtime Disney fans and cinephiles, nothing will ever replace the Great Movie Ride.
33. The Barnstormer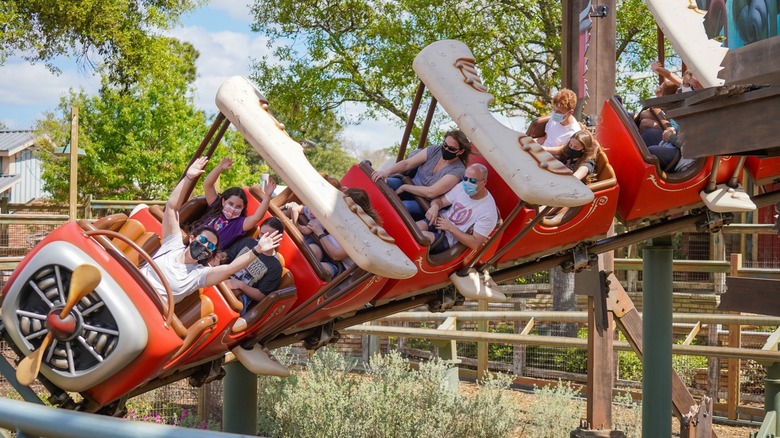 Blogmickey.com
If you were going to a Six Flags you might hear The Barnstormer called a kiddie coaster by the rude teens working the prize games; at Disney World, it's worth checking out. 
A junior roller coaster by definition, Great Goofini's Barnstormer is an updated version of a ride that used to be in the now-defunct Magic Kingdom area ToonTown. It was added back in the most recent Fantasyland expansion in 2012. The ride itself is a pretty unremarkable coaster that lacks much in thrills, even for the weak of stomach. While it ranks lowest of all the roller coasters on this list, if you have kids in your life it makes a good "gateway" introduction to the world of coasters.
32. Gran Fiesta Tour Starring The Three Caballeros
Disney Parks
The most underrated attraction at Epcot, the Gran Fiesta Tour Starring The Three Caballeros is hidden away in Mexico. 
Inside the Mexico Pavilion that looms over the region, you'll find shopping, dining, and a cooling boat ride all under a domed roof that emulates the night sky at all hours of the day. The Gran Fiesta Tour is a mellow river around the Pavilion featuring Panchito, Jose, and of course Donald Duck. 
The real stars here, though, are the views of the Pavilion ... and air conditioning. Sweet, sweet air conditioning. On a hot Orlando summer day, this ride is never a bad way to spend 10 minutes.
31. The Many Adventures of Winnie the Pooh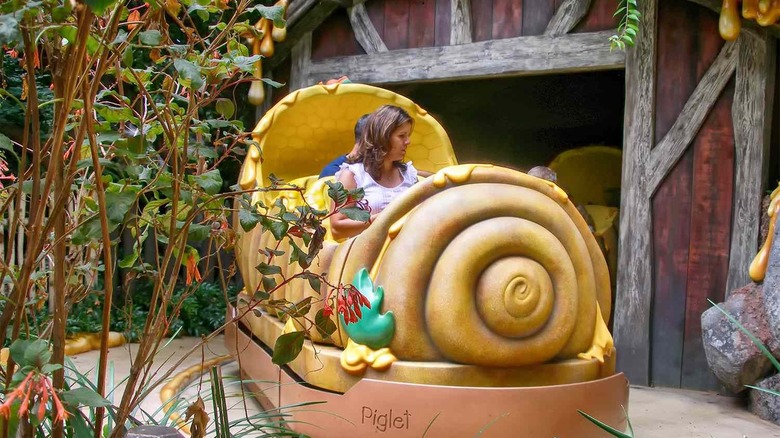 The Many Adventures of Winnie the Pooh is one of Disney World's classic storybook rides, despite only being in operation since 1999. 
It has become a must-ride for all children, or first time Disney park goers who are looking to check off all the essential character rides. Now, it is better than ever — the Fantasyland renovation of the early 2010s added an expanded interactive queue, allowing kids to play while the parents hold a place in line for the whole family.
30. Alien Swirling Saucers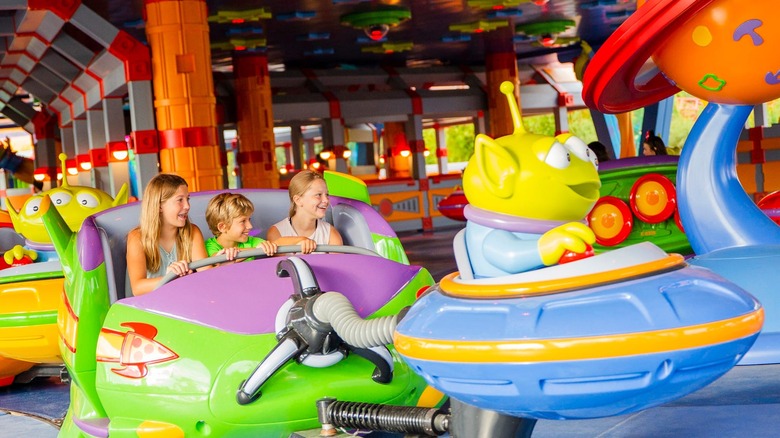 Insider
More or less a remix of the Mad Tea Cups over in Magic Kingdom, this Toy Story land counterpart can't be faulted for sticking to a tried and true formula. 
Like any good spinning ride, you can control the saucer's spin to make the ride as crazy or (relatively) relaxed as you want. Still, compared to all the other attractions in this more recent addition to Hollywood Studios, the Alien Swirling Saucers are the least innovative. Thankfully, wait times typically reflect this, so you can hop right in line and almost immediately find yourself saying "I have been chosen!"
29. Dumbo the Flying Elephant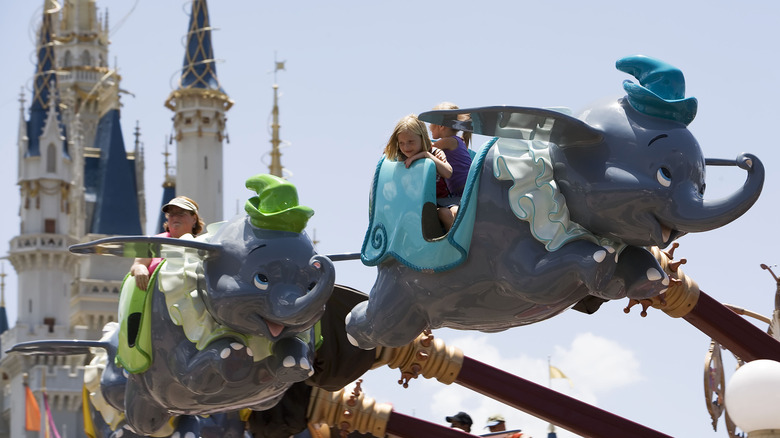 Bloomberg/Getty Images
Fly high with this true oldie. Dumbo the Flying Elephant has been at Disney World since the very beginning, and just looking at the elephants' smiling faces will put one on yours as well.  
The version of "Dumbo" you can ride today was modified and updated in the 2012 Fantasyland expansion, but the core appeal remains the same as it was in 1971. To ride Dumbo is not to ride just any old carousel, it is a part of history. To this day, a version of the Dumbo carousel can be seen at every single Disney park across the globe including Shanghai, Hong Kong, and Tokyo.
28. Na'vi River Journey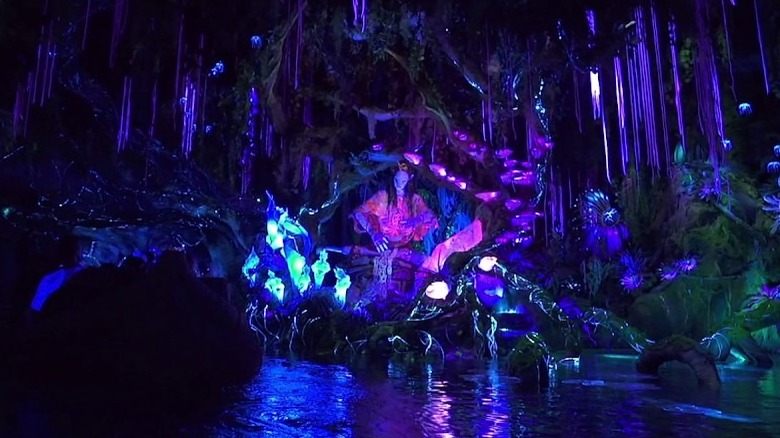 YouTube
This boat ride is one of the more recent additions to the Animal Kingdom. Based on James Cameron's "Avatar" and a part of the Pandora expansion to the park, the Na'vi River Journey is a slow-moving dark adventure through the world of Pandora.
The thing about the Na'vi River Journey — the thing that makes it really stand out — are the out of this world animatronics. The Na'vi you see as you travel down river are incredibly life-like; it truly is some of the best animatronics in the park. 
But, while these animatronics are on par with the best that the "Star Wars" rides have to offer, "Avatar" feels like yesterday's news. But who knows? With multiple sequels on the way, perhaps this ride is about to get a major injection of newfound relevance.
27. Slinky Dog Dash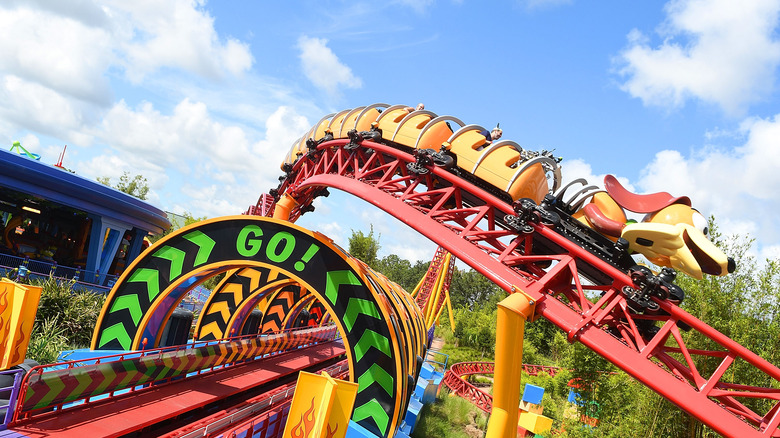 Gerardo Mora/Getty Images
Another slightly underwhelming coaster, the Slinky Dog Dash can be found at the Hollywood Studios' Toy Story land. 
It's no kiddie coaster, and the lines for this are often upwards of 30 minutes, but the Dog Dash isn't quite as intense as the Magic Kingdom's mountains or Expedition Everest. The result is something that feels like it is stuck in limbo, not quite for little kids but also unsatisfying for most adults.
This all-ages ride is worth hopping on if you have some time to kill and the wait is short, but it is far from a highlight of Hollywood Studios.
26. Frozen Ever After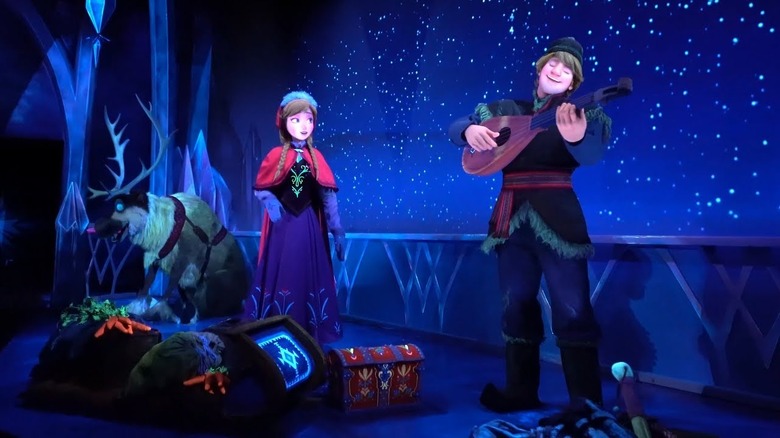 YouTube
Some say Epcot doesn't have good rides — frankly, they don't know where to look. A great example of a newer addition to the park's lineup of hidden gems, Frozen Ever After, is one of the best kept secrets at Disney World. Plus, it features one of the most immersive queues in the park, so the frequently 60+ minute line goes quickly.
The ride has the storybook style of Winnie the Pooh, but as a rider it feels more similar to Pirates of the Caribbean. The sailboat makes a couple pretty big dips for a ride based on a kids movie. It's proof that not all rides for a young audience have to bore adults, but just make sure you get a FastPass for this one if at all possible.
25. Jungle Cruise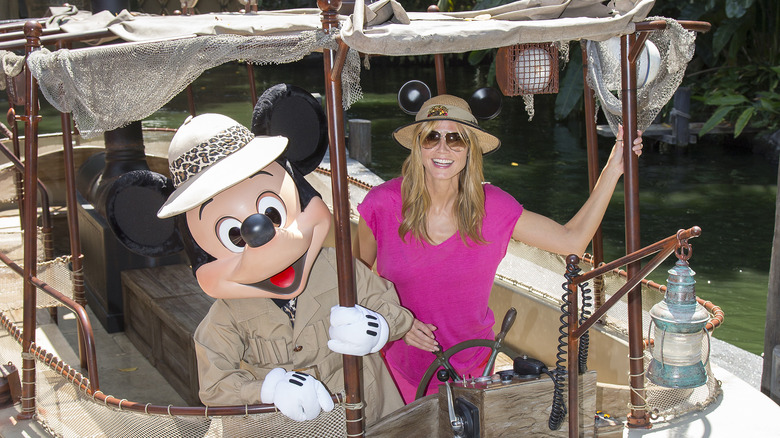 Handout/Getty Images
With the upcoming Jungle Cruise movie finally releasing this summer, you'd better get a ride on the original while you still can. As it stands today, the Jungle Cruise in Disney World is extremely close to the ride that debuted at Magic Kingdom's opening in 1971. Over the years, minor refurbishments have been made and racist content has been removed.
The ride itself takes you through a tour-guide led cruise through a jungle filled with animatronic crocodiles, gorillas, and other animals of enormous rubbery proportion. It is campy fun for the whole family and an important ride for Disney history nuts. Jungle Cruise set the stage for a lot of what was to come in Animal Kingdom — albeit, without live animals.
24. "It's a Small World"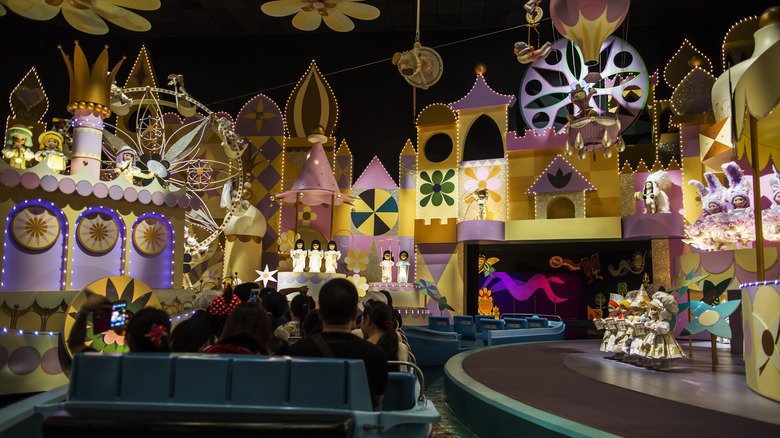 Bloomberg/Getty Images
Love it or hate it, you can't deny the staying power of "It's a Small World." 
The uniting message of peace and love will never go out of style — even if you may eventually get annoyed by the ear-worm signature song that propels the ride forward. While it's not a ride to do every single time you visit, there is an indescribable allure to "It's a Small World" that makes it worth recommending to everyone at least once. Quite frankly, it is impossible to imagine a first-time visit to Magic Kingdom that doesn't include time on "Small World."
23. Mad Tea Party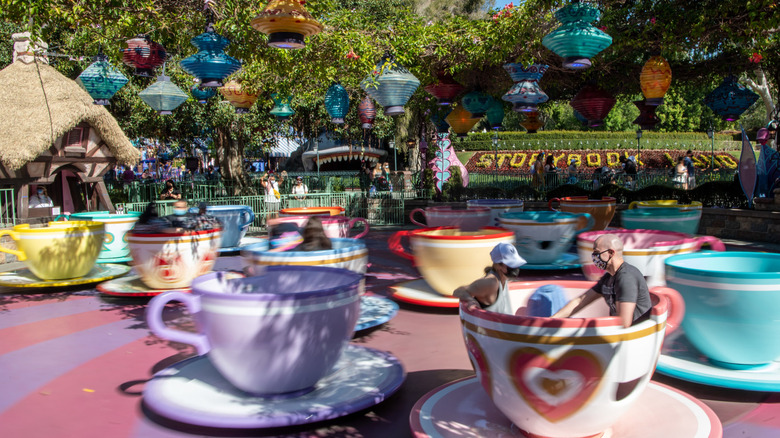 Handout/Getty Images
The original spinning teacup ride, the Mad Tea Party at Magic Kingdom is adored by Disney fans young and old. 
The original dates back to 1955 in Disneyland, making it one of the oldest ride concepts at the park. In both California and Florida, Mad Tea Party is an iconic centerpiece. It is the most well-known version of this type of ride in the world, and usually sports a longer line than expected. You already know if you like these types of rides or not. If so, this one's more than worth a spin.
22. Buzz Lightyear's Space Ranger Spin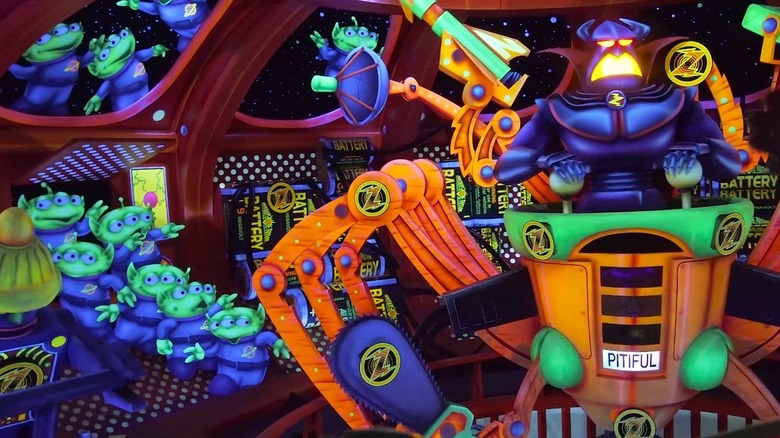 YouTube
While Toy Story Mania would eventually improve upon what Buzz Lightyear's Space Ranger Spin started, this space alien shoot-em-up is still well worth the wait. 
You and a loved one share a space pod equipped with two laser blasters and a spin stick, sent on a mission to find Emperor Zurg and eliminate his minions. This five minute ride goes fast as you compete with your partner for a high score by shooting targets on the walls of the tunnels. The buttons on the blasters can be a little imprecise compared to how newer rides have improved on this, but this older interactive ride still holds up. 
21. Mission: SPACE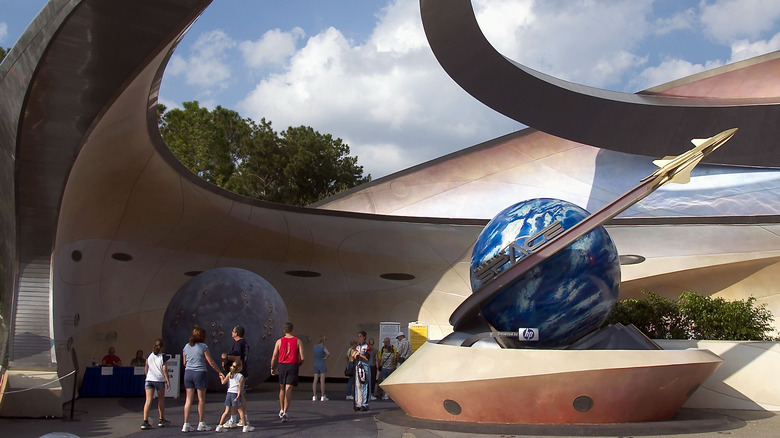 Matt Stroshane/Getty Images
First, a warning. Those prone to motion sickness or who have a serious health condition may want to avoid Mission: SPACE. 
Seriously, people have died due to complications from this ride and while it almost certainly won't happen again, it is worth noting how intense Mission: SPACE can be. If you still dream of being an astronaut but fear you can't ride, don't stress — there is a less intense version of the ride with no spinning available.
The ride is meant to simulate the experience of NASA astronauts who go to space, framed in a sci-fi setting that has you training to be the first humans on Mars. Applying force of up to 2.5 G to its riders, when Mission: SPACE says 'simulation,' it isn't lying.
20. Test Track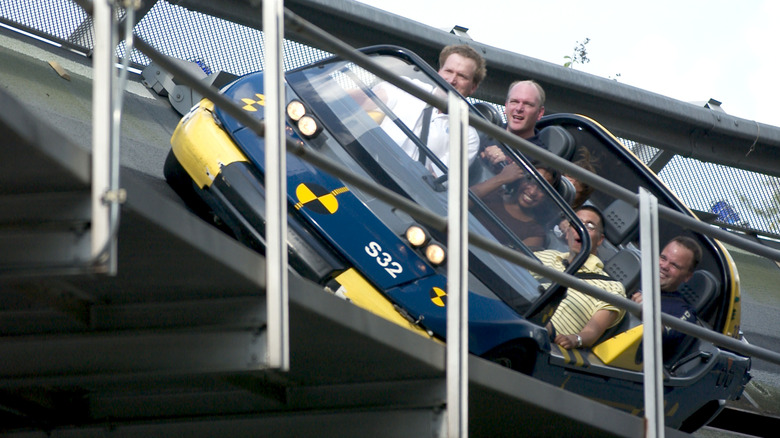 Matt Stroshane/Getty Images
Entering the top 20 rides at Disney World, it's time for some truly great ones. Test Track is hands down one of the best rides at Epcot. It is also plagued with one of the longest lines and no FastPass option, however it does offer a single rider line if you want to exchange sitting next to your friends and family for more time at the park.
While in the line, design your own Chevrolet before taking a SIM car on a series of trials testing how the car holds up against braking issues, rugged terrain, and harsh climates. These tests culminate in a thrilling finale that whips you back to the start of the ride at an exhilarating 65 miles per hour.
19. Seven Dwarfs Mine Train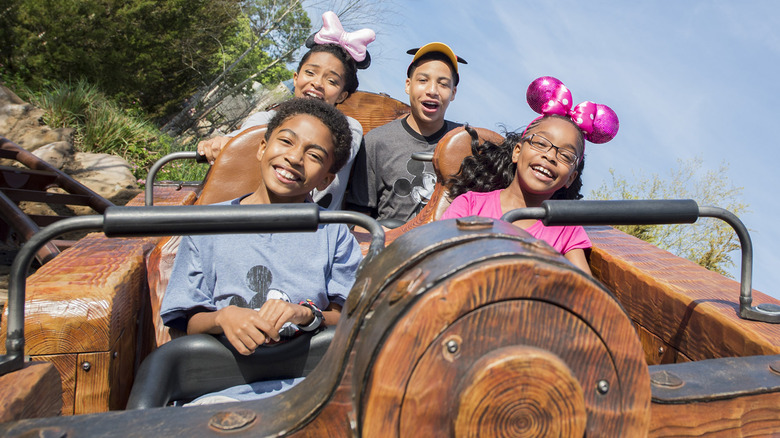 Handout/Getty Images
A newer addition to the Magic Kingdom's lineup of coasters, the Seven Dwarfs Mine Train is a short, fast train ride in the spirit of Big Thunder Mountain. 
This steel coaster is less rickety, however, taking you on a smooth and fast ride through the images and songs of "Snow White and the Seven Dwarfs." The queue has some interactive screens for younger riders, which is good because there is often a wait for the Mine Train. Ultimately, the Seven Dwarfs Mine Train was a solid addition to Fantasyland, one that we will likely see stick around for decades to come.
18. Kali River Rapids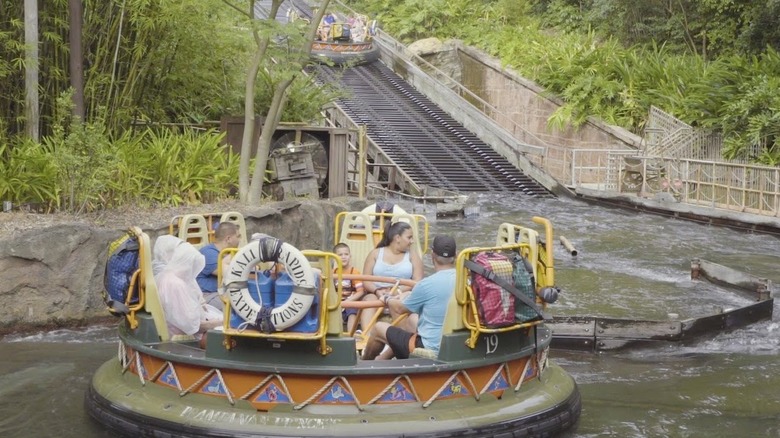 YouTube
Some people don't like the Kali River Rapids due to how incredibly drenched you can get. Others, however, say bring it on. 
Kali River Rapids is great because it is the rare water ride that promises you will get soaked. This raft ride delivers.
Located in Animal Kingdom's Asia region, the raft ride spins as the current pulls you and your boat mates forward. The rotation means that you never know when you'll be hit by one of the many interspersed fountains and sprinklers found throughout the ride. It also boasts some epic waterfall drops — and no matter where you're sitting, you're gonna get drenched.
17. Rock 'n' Roller Coaster Starring Aerosmith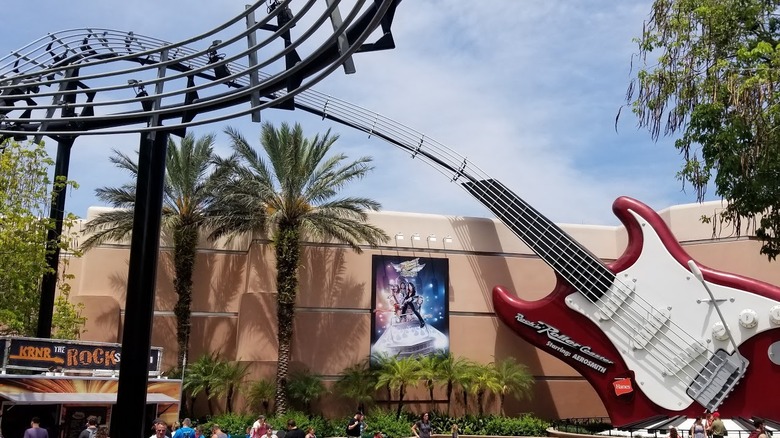 One of several still-standing, outdated celebrity crossovers is the Rock 'n' Roller Coaster Starring Aerosmith in Hollywood Studios. 
No more Captain EO? Gary Sinise has been replaced by Gina Tores in the Mission: SPACE intro? But Aerosmith? Yup, for some reason they are still at Disney.
A lot of this is because the Rock 'n' Roller Coaster wouldn't really work without Aerosmith. Soaring along to "Dream On" and "Walk This Way" is unlike anything else Disney has to offer. The amount of music played from Aerosmith's catalogue is also impressive, given this short ride only runs 90 seconds. Full of corkscrews, drops, and taking no time to slow down whatsoever, this is a true coaster.
16. DINOSAUR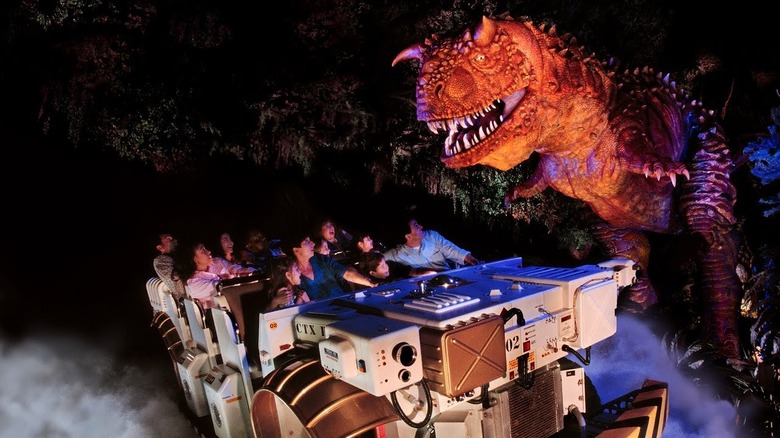 YouTube
The 2000 CGI animated movie "Dinosaur" has been largely forgotten, but the ride at Animal Kingdom is keeping the franchise alive. Seriously, the "Dinosaur" ride is a highlight of the park. 
The mission? Board your time rover to head back to the late Cretaceous period and rescue a live dino. It doesn't go as planned and the ride gets more hectic and exciting as you make your thrilling escape from the asteroid that is about to cause mass extinction. 
[Fun fact: The ride itself is an exact replica of the "Indiana Jones" ride over at Disneyland, just re-skinned to fit the "Dinosaur" theme.]
15. Kilimanjaro Safaris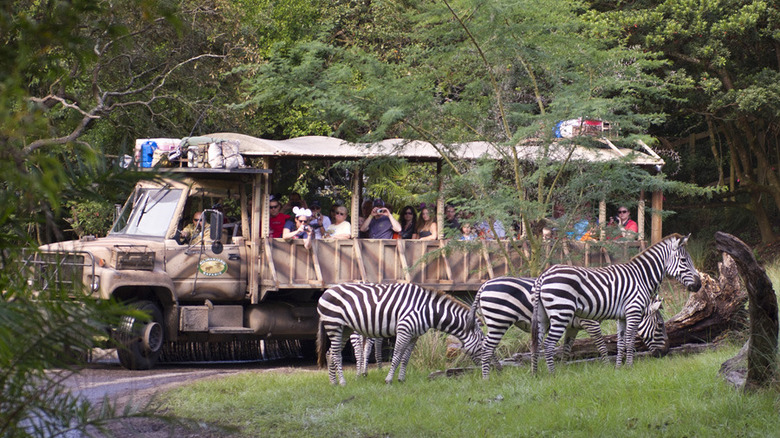 Disney Parks
Kilimanjaro Safaris are unique to Animal Kingdom, and no single ride is like the next. 
An evolution of the Jungle Cruise format of a host following a script narrating you through the jungle, the Safari is home to live animals. You never know what you're going to see and neither does the guide, so there will also be new information to learn depending on who pops out to say hi. You can find many creatures of the African plains here from Lions, Giraffes, all the way down to termites. 
If you're a frequent Disney goer, the Kilimanjaro Safari is worth going on every time you visit Animal Kingdom.
14. Toy Story Mania!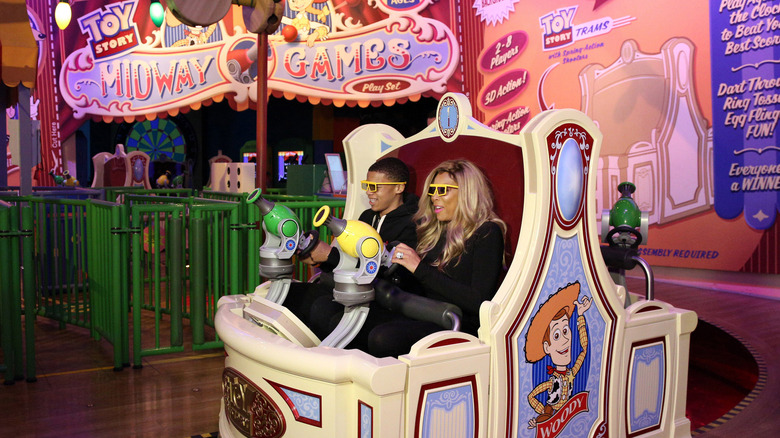 Handout/Getty Images
Buzz Lightyear's Space Ranger Spin was Magic Kingdom's early attempt at blending arcade games with dark rides. It was a success, but Toy Story Mania! takes this idea a step further.
Once you don some stylish 3D glasses and get in your cart, you are taken on a ride through a series of interactive digital games. Each is a variation on the shooting range. You use a pull-string connected to your firing mechanism to shoot digital projectiles at the various screen. There is a great variety to the games, but it only works because of the ample visual and tactile feedback that makes the whole thing feel great to play. You'll want to leave time for multiple visits at this one.
13. Star Tours - The Adventure Continues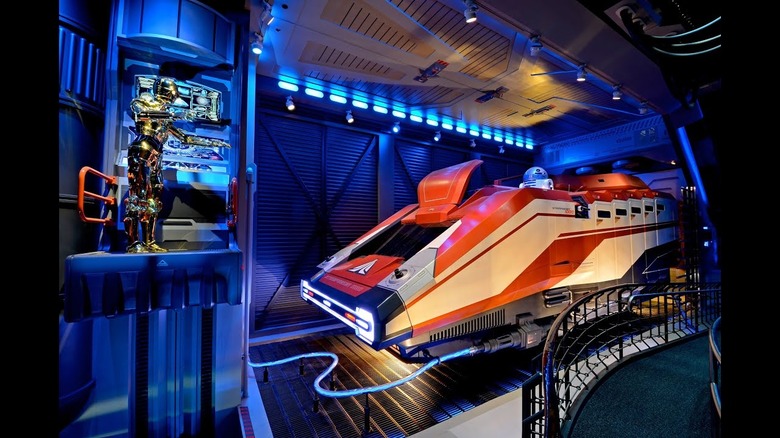 YouTube
Star Tours was always a great ride for "Star Wars" fans, but since it was replaced by the Adventure Continues in 2011 it has climbed up this list. A motion simulator shuffles fans on to a tourist space craft, but you always receive an emergency transmission from the Rebel Alliance that sends you on a planet trotting "Star Wars" adventure.
The Adventure Continues contains locations and characters from all nine "Star Wars" films, and you never know quite what you're going to get. The most innovative part about the Star Tours update is how the different components of the ride are randomly arranged to make each visit as unique as possible.
12. Peter Pan's Flight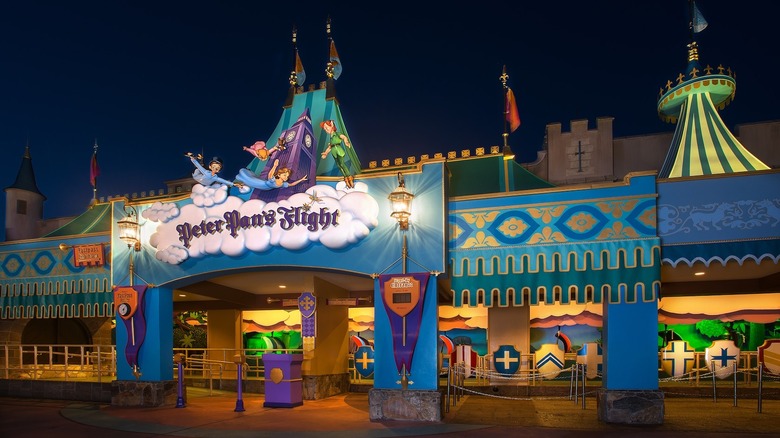 Walt Disney World
The longest lines across all parks are often found at Peter Pan's Flight. Tucked away in Fantasyland, this original Disney World ride typically maintains a 90 minute wait, but here's the kicker — it's worth it. Even if Peter Pan isn't your favorite of the Disney animation classics, you have to give the ride a shot.
Unlike Winnie the Pooh or other similar rides, the track your boat rides in Peter Pan's Flight is attached to the ceiling. This gives a unique sense of flight, and the ride plays with this, giving you a tremendous sense of scale as you soar over London. The animatronics are decades old, but still look great. Peter Pan's Flight is a beautiful, quintessential part of the Magic Kingdom.
11. Avatar Flight of Passage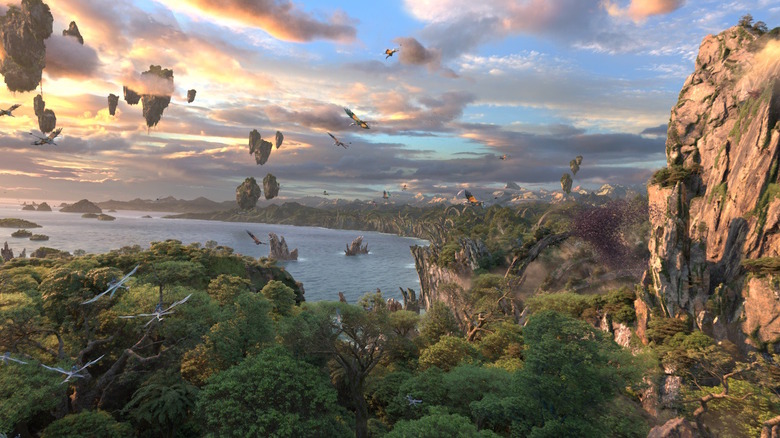 Disney Parks
One of the most cutting-edge pieces of tech in modern theme park rides, "Passage" just narrowly misses the Top 10. But that doesn't mean it isn't well worth your time. Depending on what time of year you go that may be a lot of time, so consider this a FastPass priority.
It's popular for a reason. Flight of Passage is a 3D simulation ride that is incredibly realistic and transports you to another world. As you take flight on the back of a mountain Banshee, you can see the detailed and high-res world of Pandora up close and personal.
10. Pirates of the Caribbean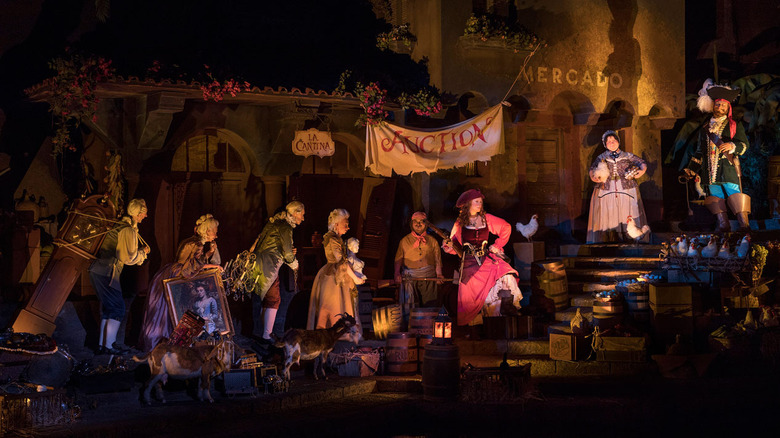 Disney Parks
Rarely does a simple ride serve as the inspiration for a multi-million dollar movie franchise. But Pirates of the Caribbean is no simple ride, it is a Magic Kingdom icon — a ride that captures the Disney magic perfectly. 
The boat journey takes riders through a world of animatronic scenes, filled to the brim with tiny details and jokes. Pirates is not without its fair share of dips and drops, so it never bores. It has been updated in recent years to include Jack Sparrow and other references to the movies, but by and large Pirates of the Caribbean remains the same jaunty journey it has always been. 
9. Splash Mountain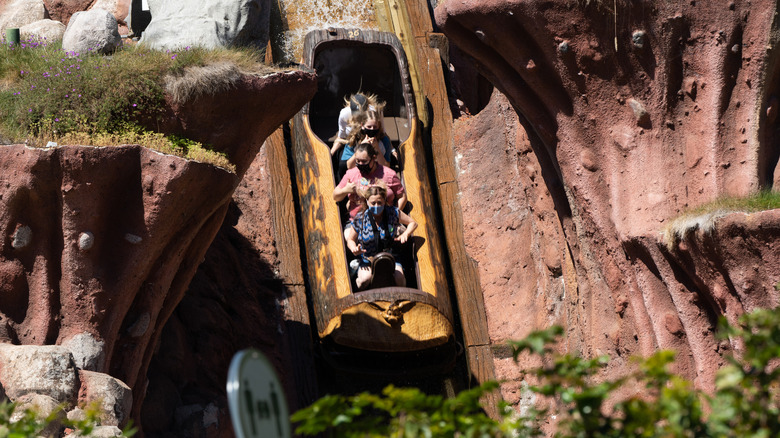 Bloomberg/Getty Images
While the movie Splash Mountain is based on is outdated and contains racist stereotypes, it is hard to deny the ride's status as a Disney World staple — and one of the most well-known water rides in the world. 
As you travel up the mountain in your log flume, you experience a series of increasingly steep drops until you finally reach the big 52 foot drop. Don't forget to smile, scream for the picture, or do something crazy. Your choice.  
To make it completely clear, yes, the ride as it stands today still contains depictions of racist caricatures from "Song of the South." While long overdue, the iconic water ride is being updated at some unknown point in the future to be themed like "The Princess and The Frog."
8. Big Thunder Mountain Railroad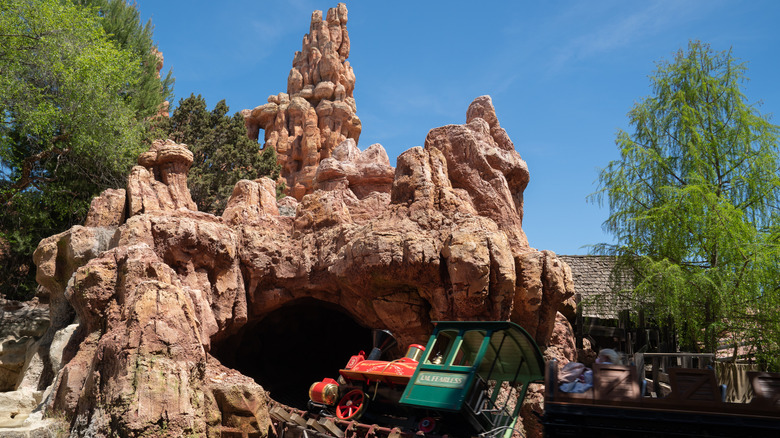 Bloomberg/Getty Images
Disney World's premiere rickety old roller coaster, Big Thunder Mountain Railroad is another must-ride attraction at Magic Kingdom. One of the trio of mountains located across the park, Big Thunder is a mostly outdoor roller coaster that is fast, full of twists and turns, and reminds us just how much fun an old-fashioned coaster can be.
Following the COVID-19 pandemic, it was one of the rides to get refurbished and was closed for a period of time in 2021. Big Thunder Mountain was re-opened to the public in June.
7. The Twilight Zone Tower of Terror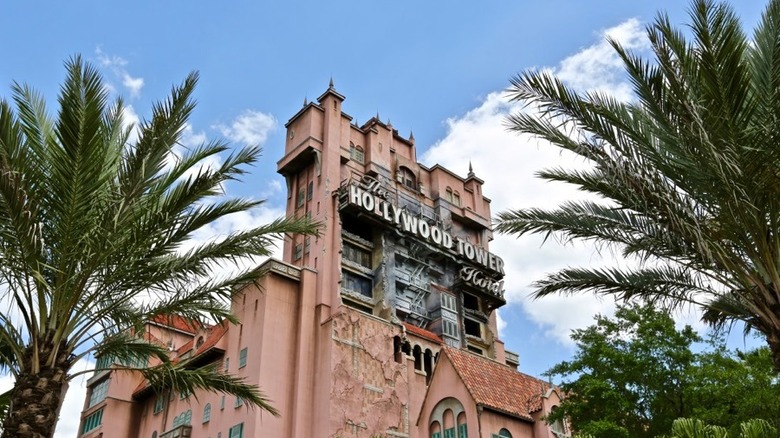 wdwinfo.com
You can see the Tower of Terror from almost anywhere in Hollywood Studios. Get close enough to this 200 foot drop ride (the second tallest attraction on the property) and you can hear joyous screaming as riders are plunged over 50 feet to their doom, over and over. If you're a thrill-seeker who has been so far unimpressed with Disney World's offerings, get your butt on the Tower of Terror. Also, it is "Twilight Zone" themed, which is a perfect vibe to help build tension for the incredible drops.
There is a FastPass option, but it is highly recommended you walk through the haunted Hollywood Hotel yourself. If you are a Twilight Zone fan, be on the lookout for plenty of easter eggs and references to classic "Twilight Zone" episodes while you pass them in line.
6. Star Wars: Rise of the Resistance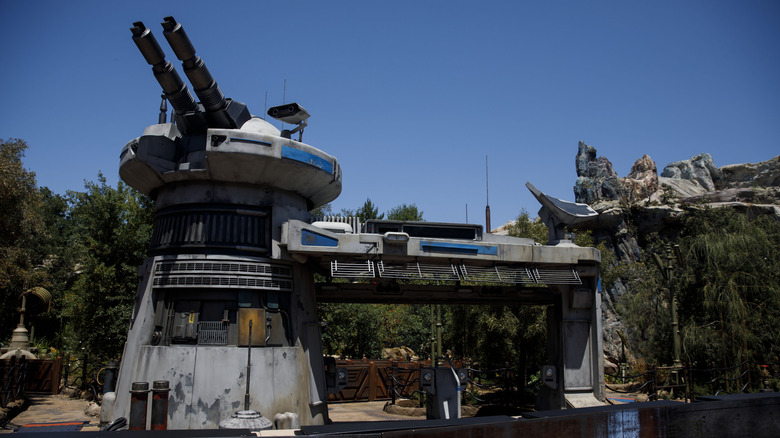 Bloomberg/Getty Images
It's difficult to place Rise of the Resistance on this list. Technologically, it is the most advanced ride at Disney across all parks worldwide; however, it is still relatively new and due to the pandemic very few people have been able to experience it.
According to early buzz on the ride, those who have ridden it are thrilled. 
The ride has multiple, distinct phases. After riders are given their mission by a very realistic-looking Rey and Admiral Ackbar, it is time to board the first transport vehicle. This is all preamble to the actual motion simulator ride, which concludes the nearly 20 minute immersive experience. There is plenty for "Star Wars" fans to fall in love with during that lengthy runtime, but since this is still relatively new it seems unfair to spoil the best parts.
5. Haunted Mansion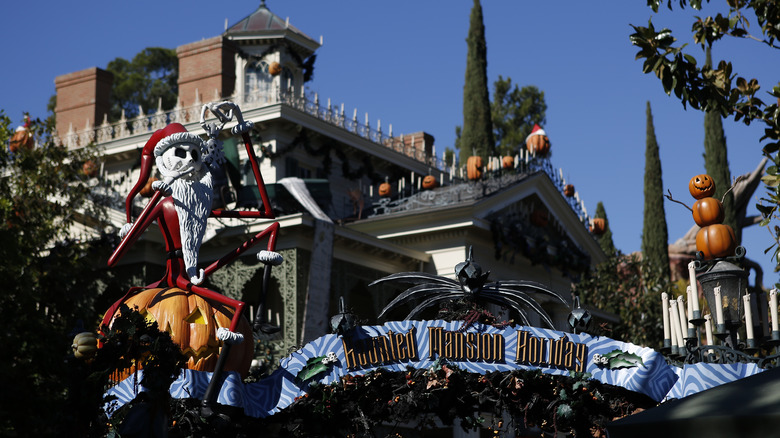 Bloomberg/Getty Images
Haunted Mansion is a testament to the fact that Disney was always focused on creating immersive experiences over pure thrills. While Rise of the Resistance is that mindset fully realized to the best of modern technology's ability, it couldn't exist without rides like the Haunted Mansion.
Walking through the graveyard queue, the headstones immediately give you a sense of the campy, family-friendly horror of the ride. Once you are inside, you are squished into an illusory room that feels like it is shrinking in on you before you are finally sent on your Doom Buggy through the ride. Filled with great gags and perspective tricks, Haunted Mansion is endlessly entertaining, and remains one of the most detailed and immersive rides at Disney World.
4. Soarin' Around the World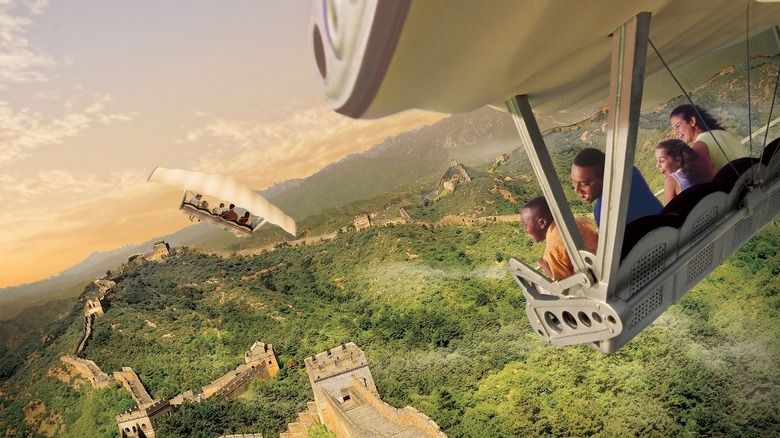 Walt Disney World
Soarin' is an incredible experience, and the best ride at Epcot. 
Previously Soarin' Over California — a transplant from Disneyland — the flight simulator ride lifts you high above the clouds as you take an international journey through the skies that will enrapture your senses. It really feels like flying, as your feet dangle in the breeze taking you from one majestic vista to the next. Waits can be as long as 90 minutes for this, but it is worth it.
Once you "Soar" for yourself, you'll want to experience it again and again. Do yourself a favor and add this to your FastPass list.
3. Space Mountain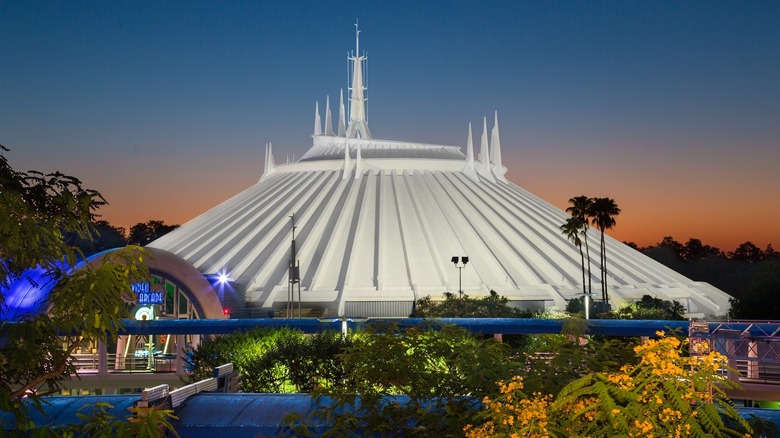 Walt Disney World
This dark coaster is the king of the Magic Kingdom. Space Mountain reigns supreme over the rest of the park, its iconic white tent visible from most locations in the Kingdom. The roller coaster is a fast trip through the stars, and the best part of it all? You can't see the track as you hurtle to what feels like your untimely doom.
Space Mountain is short and intense and, to some, even a bit frightening. As the oldest operating coaster in Florida, Space Mountain is an icon of American roller coasters and still one of the most thrilling rides on Disney property.
2. Expedition Everest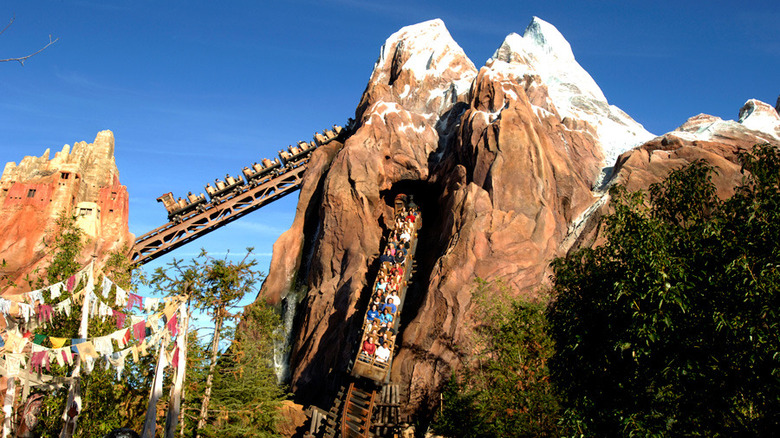 Disney Parks
Space Mountain is an undisputed classic, but the best coaster at Disney? That honor belongs to Expedition Everest: Legend of the Forbidden Mountain — located in the heart of the Animal Kingdom. Like all iconic Disney rides, the great coaster towers over the rest of the park, mimicking Everest herself.
The ride is a fast-paced escape from the Yeti of the mountain that takes you in every which way. Down, up, upside down, backwards, Expedition Everest doesn't care what you think you know about coasters, it wants to show you it's here for the long haul. With a perfect mix of suspense, terror, and speed Expedition Everest is what modern roller coasters should be. It also happens to be the tallest ride at Disney World. 
1. Millennium Falcon: Smugglers Run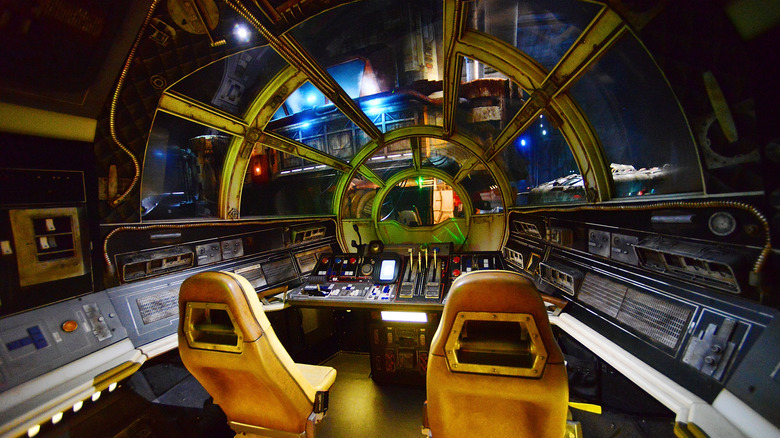 Gerardo Mora/Getty Images
Both major rides at Star Wars Galaxies Edge are on the cutting edge of pushing theme parks forward. While Rise of the Resistance is stellar, Millennium Falcon: Smugglers Run is one of the best pieces of interactive fan service ever created. Star Wars fans walk through the Falcon and truly inhabit the space before getting a chance to work together to pilot the ship and pull off one multi-target mission.
The amount of detail put into the queue and interior of the Millennium Falcon is truly awe-inspiring. Each ride has space for six crew members; two pilots, two gunners, and two engineers. This gives you a chance to "replay" the experience from a different perspective and get new experiences with successive rides. Pro tip: If you are a "Star Wars" fan, try being a pilot at least once — it will blow your mind.