Titans Season 3 First-Look Images Reveal A Pair Of Iconic Characters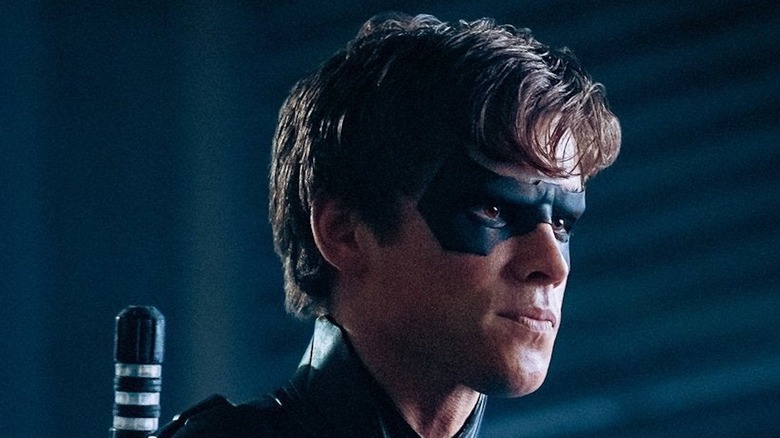 HBO Max/DC Entertainment
While we're still a few months from "Titans" Season 3 debuting on HBO Max, fans already have a good idea what to expect from the dark corner of the DC Universe, as the end of Season 2 finally pushed Dick Grayson (Brenton Thwaites) into taking up the Nightwing mantle. Yes, it was a bit of a departure from the comics — he originally took the name from an ancient Kryptonian hero — but the costume was perfect. When Season 3 eventually arrives, Grayson will be leading a reinvigorated team of heroes after they triumphed over Deathstroke (Esai Morales).
That's not to say isn't room for emotional development, because Wonder Girl (Leslie Conor) died trying to protect civilians from a falling electrical tower. If that wasn't enough, a number of villains will make appearances in Gotham City just to complicate things even further. HBO Max previously revealed a look at Jason Todd (Curran Walters) and his brutal new identity, Red Hood. In the comics, the anti-hero has no issue executing the criminals of Gotham to make the streets safer, as he feels that's where Batman has failed in saving the city. Expect him to clash with Dick Grayson when/if the Titans leader figures out who he is.
New images from Season 3 revealed a look at another classic Batman villain, as well as an ex-member of the Bat-Family itself.
A friend and a foe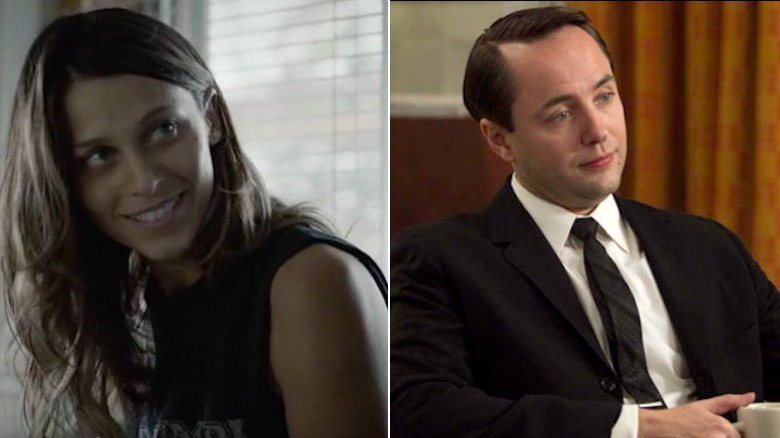 History Channel/AMC
New images over at Entertainment Weekly revealed the first look at "Mad Men" alum Vincent Kartheiser as Dr. Jonathan Crane, AKA Scarecrow. The classic Batman villain uses a fear toxin to terrify his victims and generally cause chaos across Gotham City. The character was one of the main villains in Christopher Nolan's "Batman Begins," played by Cillian Murphy in a chilling performance. The new image shows Crane in handcuffs, seemingly being transported somewhere — although the splash of blood on the door doesn't look like a good sign.
From what showrunner Greg Walker told the publication, it sounds like Crane will help Dick Grayson get inside the mind of other villains. "Think Hannibal Lecter. He's been given the opportunity to opine on ways to stop villains," says Walker, also revealing that "a villain breaks out in Gotham and it draws [Dick Grayson] to work with him." Is Nightwing trying to get inside Red Hood's head by working with Crane? We'll have to wait and see.
The second photo shows Grayson out of the Nightwing suit as he talks with Barbara Gordon (Savannah Welch), who has left the Batgirl mantle behind to become the Gotham City Police Commissioner. Because she's using a wheelchair, it seems like this version of the character has already been attacked by the Joker as she was in Alan Moore's "The Killing Joke." Walker explained how the former Batgirl plays into the story of "Titans" Season 3, saying, "It's about sons and daughters, [and] stepping into the shadow of your parents," also noting that "Barbara is going to be conflicted by Dick's arrival." 
Can we please have the entire season now, HBO Max? Thanks.