Who Is The Star In The Cheetos 'Flamin' Hot Collaboration' Commercial?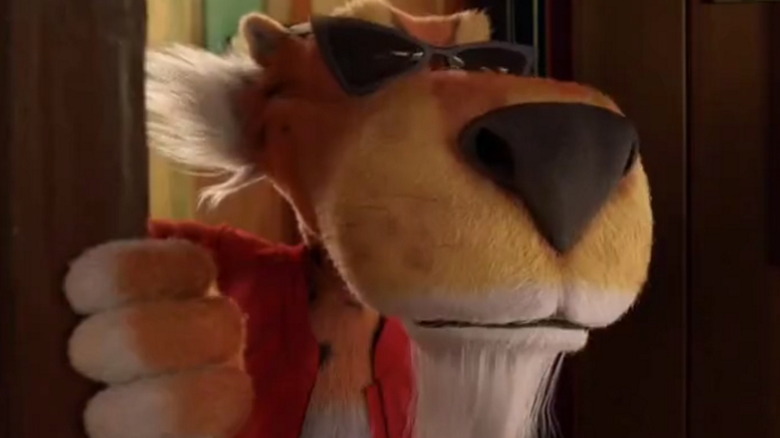 Frito-Lay/iSpot.tv
Celebrities have always collaborated with brands they are passionate about. Whether it be Whoopi Goldberg for Nurtec, or Kaia Gerber for Louis Vuitton, these popular endorsements encourage fans to interact with — and potentially purchase — said products. One of the most universally beloved products consumed by both Hollywood stars and everyday people? Snacks.
Frito-Lay's Cheetos are known for leaving a cheesy, orange dusting on your fingers (otherwise known by the official title of "Cheetle" since 2020), which tends to rub off on everything you touch, so it isn't all that surprising their new marketing slogan translates to "Leave your mark." However, their social media campaign to "#DejaTuHuella" goes beyond mere Cheeto dust, to also encourage this newest young generation to leave their mark on every aspect of culture. Along with embracing this Latino phrase, Cheetos has also pledged alongside the Good Bunny Foundation to give back to the Hispanic community with a $500,000 commitment toward addressing racial inequality and creating new opportunities to uplift Latino voices.
So, who is that familiar artist who can be seen snacking alongside Chester Cheetah in the commercial itself? Keep reading to find out.
This Latino artist said 'I Like It' to Flamin' Hot Cheetos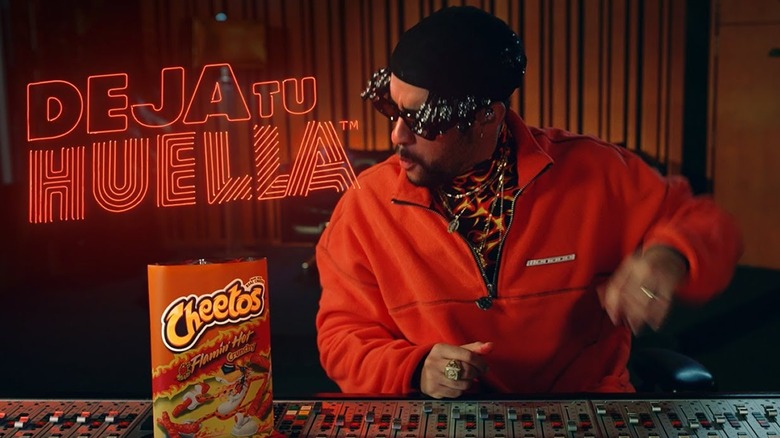 Frito-Lay/iSpot.tv
Considering all of that, who better than Puerto Rican rapper Bad Bunny to champion this "Flamin' Hot Collaboration?" 
The Latin trap artist, who rose to fame following collaborations with artists Cardi B and Drake in 2018, has continued to collaborate with other artists throughout his growing career. Now that he is also collaborating with Chester Cheetah, the 2020 Grammy winner is helping to celebrate his culture by encouraging people to #DejaTuHuella.
In the commercial, as "Yo Visto Así" plays in the recording studio, Bad Bunny can be seen munching on Flamin' Hot Cheetos, and he says, "In life, you can choose to leave things just like they are ... or you can choose to leave your mark." Looking at his mark, the global superstar has gone from uploading songs to SoundCloud in 2016 to becoming the first Latin urban artist on the cover of Rolling Stone Magazine, as well as performing alongside Shakira and "Te Gusto" collaborator Jennifer Lopez at the Super Bowl LIV halftime show in 2020.
Bad Bunny was also Spotify's most-streamed artist in 2020 (via Billboard), breaking yet another record by becoming the first non-English language artist to do so. Talk about embodying the #DejaTuHuella mentality.