The Miz Reveals What It Was Really Like Working With Bad Bunny At WrestleMania - Exclusive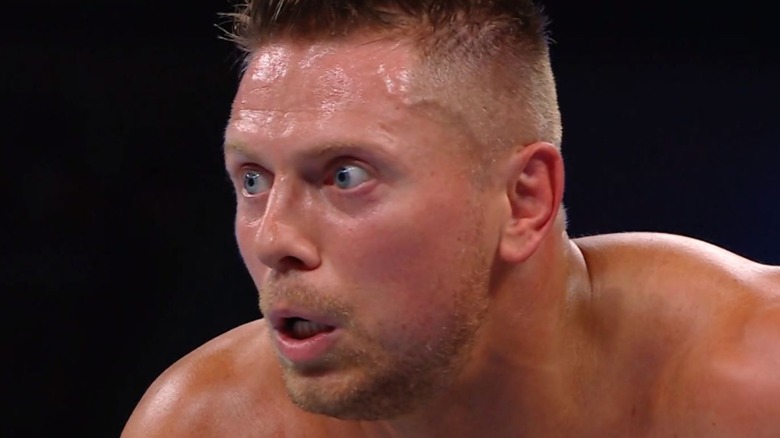 WWE
Celebrity involvement in wrestling has long been a contentious subject among fans. Cyndi Lauper's partnership with the WWF was instrumental to the 80s wrestling boom (per Bleacher Report). Meanwhile, David Arquette's WCW World Championship reign counts among wrestling's strangest and most pathetic moments — even if Arquette has redeemed himself.
WWE in particular has made proximity to celebrities part of their brand since the first WrestleMania. It's generally understood that the odd celebrity match, especially at marquee events like the Big Four Pay-Per-Views, are a means to an end: getting casual viewers to shell out for a PPV. That doesn't mean it's liked — there's always concerns that a celebrity match will take a spot from a workhorse performer.
This year's WrestleMania saw The Miz and John Morrison face off against Damien Priest and Latin trap megastar Bad Bunny. Few celebrity matches are held in even middling regard, but there has been a bit of a sea change in recent years: both Ronda Rousey and Pat McAfee have had solid matches in the past few years. But those two were already athletes. How would Bad Bunny, a wiry musician, fare?
Turns out, he fared "pretty well." While promoting Lotrimin's #GoWithConfidence campaign and charity auction, The Miz spoke to Looper about facing off against Bad Bunny.
"Nobody worked harder than Bad Bunny"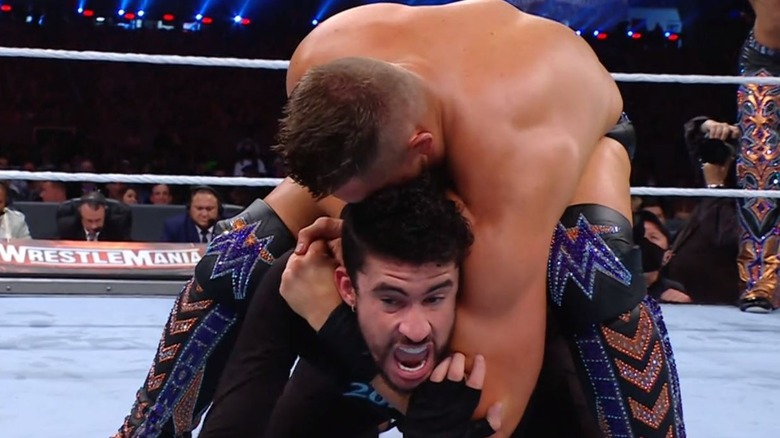 WWE
"I feel like anytime there is a celebrity, I'm the person they put them with," notes The Miz, "which I feel like is a big compliment. I love the challenge. I love to see the difference in a process that every celebrity takes to do a good job in WWE."
His opponent left him impressed. "Nobody worked harder than Bad Bunny. He was nonstop all day, every day. Whether he had to fly out for the Grammys, win a Grammy, then fly right back and get into a WWE ring, he would do it. Training wise, he trained very hard, and I think everyone saw how hard he trained when we had that match at WrestleMania[.]"
It's hard to argue with results: the match generated great reactions in person and at home. "I was reading Twitter and all the negativity that was coming up about this match each and every week. And then you see the match and all of a sudden, all that negativity went away and it was like, 'that was match of the night. This might've stole WrestleMania.' And it's like, wait a second. A celebrity match steals WrestleMania? That does not happen ever. So I applaud John Morrison as well as Bad Bunny, as well as Damian Priest."
The Bunny destroyer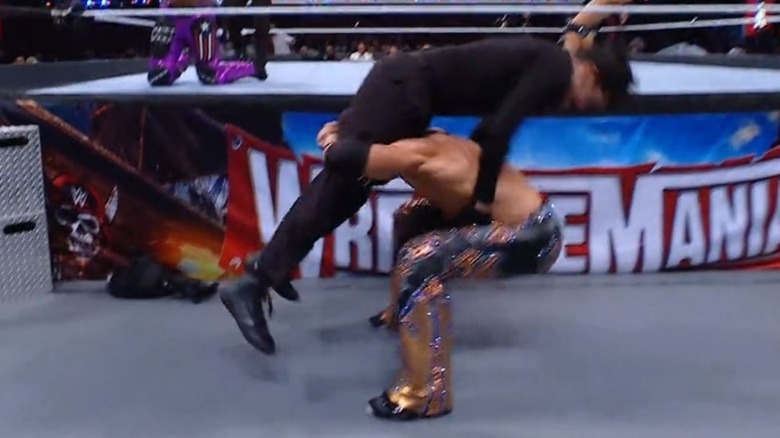 WWE
Miz also noted Bad Bunny's heavy involvement in the match: "I think people were expecting Bad Bunny not to be in the ring that much because it was a tag match. And usually whenever a celebrity is in a tag match, they stay on the apron the entire time and just stand there, and then they do a couple moves and they're done. Bad Bunny was in 90% of that match and it's kind of the way we wanted it. We wanted to show something different. We wanted to surprise the audience[.]"
No part of the match generated more discussion than Bad Bunny performing a Canadian destroyer on Morrison. The Miz originally shot down that idea, given that even he can't do a Canadian destroyer. "But man, that was an incredible move. And the way John got hit with it, I was in awe. I mean, you see the look on my face. It's like, did that really just happen like that? I did not expect it to look like that at all. It was magical. Incredible. And yeah, kudos to Bad Bunny because I don't think I could have done it that well."
The Miz currently has an autographed pair of shoes up for auction on ebay.com. The proceeds will benefit charity Soles4Souls as part of the #GoWithConfidence campaign. Even if you miss your chance to bid, Bayer will donate $1 for every Lotrimin AF Daily Prevention product sold in the U.S. to Soles4Souls, up to a maximum of $50,00 through June 28th.