Who Is The Actress In The Expedia 'All By Myself' Commercial?
In this crazy world that we live in, sometimes we feel a little alone. Constantly being surrounded by influencers, new trends, and the media can be overwhelming, and you just need someone by your side, especially when things start to go wrong. That's exactly how Expedia is winning customers over in their new "All By Myself" commercial. The company uses its airtime to show how Expedia will always have your back on any journey, so you never have to be alone.
In this commercial, the main woman misses a flight by seconds and has to deal with being put on hold. It doesn't take long before she feels alone in a sea of busy people who are always trying to be someone or get somewhere. When all hope seems lost, a celebrity makes a grand appearance, sings "All By Myself," and helps the woman figure out her trip. It's a fun way to show that even if you're traveling alone, you can still have reliable service at your fingertips.
But who is the actress in the Expedia "All by Myself" commercial?
When you're feeling all alone, Rashida is there
Some of you may have recognized this actress from her roles in "Parks and Recreation," "The Office," or, more recently, "On the Rocks." That's because it's Rashida Jones, the all-too-relatable actress who has been featured in countless movies and TV shows. Some other well-known films she's appeared in include "Celeste & Jesse Forever," "I Love You, Man," and "Tag" (via IMDb). You've likely seen her before in something else as well, considering her career spans back to 1997. Jones is also the daughter of music industry icon Quincy Jones, so she essentially descends from entertainment royalty.
Fast-forward to today, and she plays the perfect role helping a friend in need. Although an everyday person would never have a celebrity such as Rashida Jones as that friend, it's still fun to imagine what life would be like with someone like that by your side. Besides, Jones' confused-yet-comforting demeanor in this commercial is precisely what the hopeless woman needs to find her perfect travel destination. In the end, Expedia wants to remind us that traveling doesn't have to be a hassle.
Rashida Jones is a popular spokesperson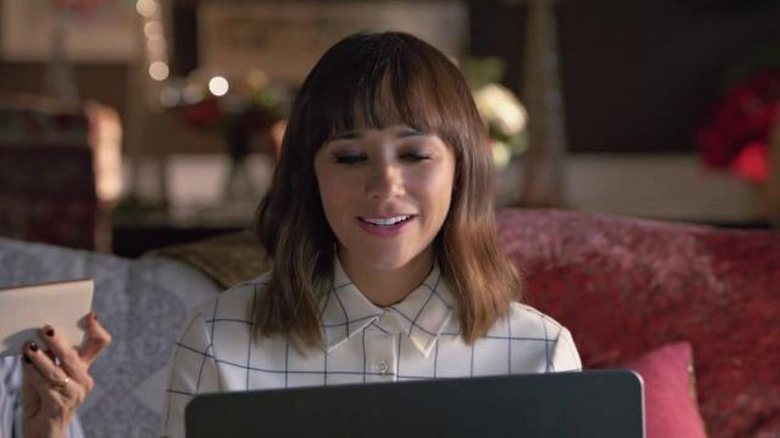 Verizon
Ever since she started storming popular NBC sitcoms like "The Office," on which she had the unenviable role of Jim's (John Krasinski) girlfriend before Pam (Jenna Fischer), and "Parks & Rec," on which she had the much more enviable role of lovable Pawnee nurse and Leslie Knope-muse Ann Perkins, Jones has been a fixture of pop culture. Her sitcom superstardom and relatable, girl-next-door appeal have made her a hot commodity in the advertising world. Even if you've never seen a single episode of one of Jones' long-running shows, chances are good that you've seen her face during the ad breaks between acts of whatever you are watching.
Long before Expedia snapped her up for "All by Myself," Rashida Jones donned her appealing public persona in a series of Verizon Fios ads that includes such cable classics as "What Football Movie are You Watching?" and "What Holiday Movie are You Watching?" The unifying theme of this dramatic suite is, of course, the astonishing breadth of the Verizon Fios media offerings. You want to watch a football movie? Pick any of them. Of course, we'd watch just about anything next to Rashida Jones.