What Is The Song In The Apple 'Privacy On iPhone' Commercial?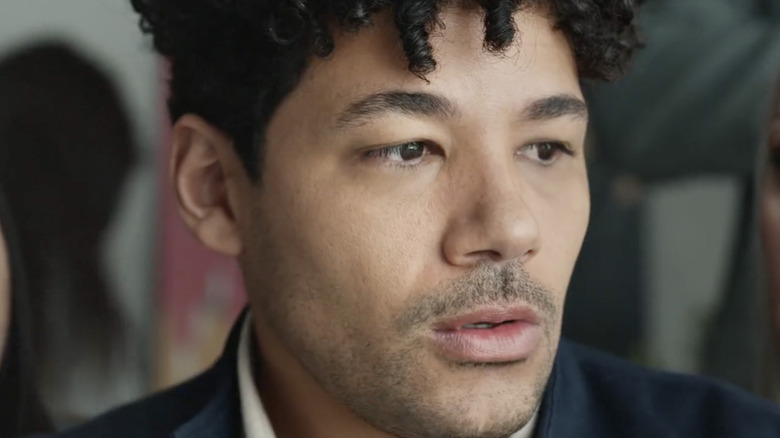 Apple
Tech giant Apple's profits dipped during the COVID-19 pandemic – although not as much as predicted — but its streaming service, Apple TV, has continued to churn out some great movies and shows, like "Palmer" and Season 2 of "Mythic Quest." And since the 2021 release of iOS 14.5, Apple has made it harder for apps to track users' activity, a positive step toward protecting consumers' privacy, though one that's not without controversy, according to CNET.
This feature took center stage in Apple's marketing with the new "Privacy on iPhone" commercial, which has a wacky plot backed by a fun, slightly dissonant track. The commercial opens with the most mundane of subject matters — a guy named Felix picking up his morning coffee — but things soon get weird. After he grabs his cup, the barista leaps over the counter to join him in his rideshare. Then a motorcycle starts chasing the car, and we hear the biker say, "Tracking current location!" When they get to Felix's destination, the driver gets out of the car with him and, like the barista and biker, follows Felix into his bank, where — of course — the banker, as well as several passersby, start to stalk Felix. When he finally gets to his apartment, he's amassed quite a following, and he resolves it's time to do something about it.
So Felix pulls out his phone and denies an app's request to track his activity, and POOF, his stalkers explode into little puffs of dust. The music gets louder, and the commercial ends with punky female vocals repeating "Why don't you mind your own business?" — a phrase that's more of a command than a question. The song really makes the commercial pop, but it's not very familiar. So, we did some digging, and here's all you need to know about the song in the recent Apple commercial.
Mind Your Own Business, corporations
Given the lyrics of the song backing the Apple commercial, it's not surprising that it's called "Mind Your Own Business." Originally released in 1979 as the debut single of the English post-punk band Delta 5, the song was somewhat of an instant hit — at least among fans of the avant-garde in Leeds. According to the band's Spotify page, although Delta 5 gained traction after the release of "Mind Your Own Business," the band parted ways when their debut album, "See the Whirl," met little success in 1981. The group then kind of fell into obscurity, their music hard to find. That is, until the label Kill Rock Stars compiled the "Singles & Sessions 1979-1981" album from Delta 5's discography a quarter century after the band split up. The album revitalized Delta 5's popularity, and Spotify now reports that there are 134,802 monthly listeners to the band on their platform alone! So it's safe to say "Singles & Sessions" is how Apple discovered the once-lost song for their new commercial — although probably through its own Apple Music platform, not Spotify.
And it's not just good news for Apple that they found the perfect song to match the new privacy feature of iOS 14.5: A representative for Kill Rock Stars told Variety that Delta 5 still holds the copyright for "Mind Your Own Business," so "they will be getting paid" for its use. Forty years later, and the money is finally rolling in from this absolute gem of a song. With the brilliant pairing of plot and music in Apple's new privacy ad, perhaps "Mind Your Own Business" will become the next commercial jingle that people can't get out of their heads! We'll just have to wait and see.