Which Actor Do You Wish Would Never Do Another Season Of AHS?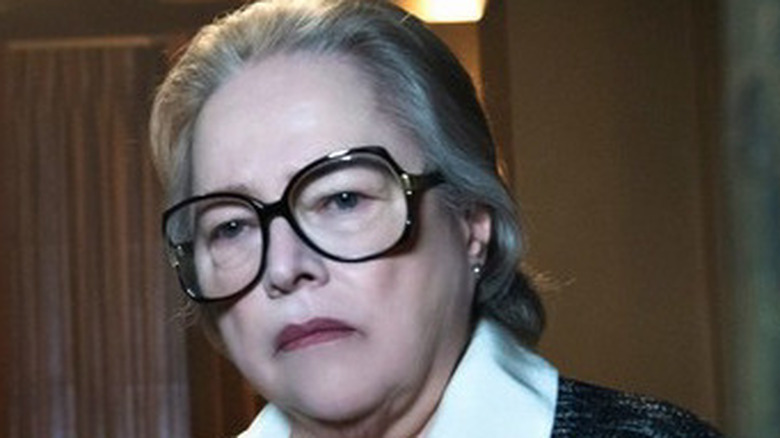 FX
"American Horror Story" fans are an opinionated group of people. Ask them how they'd rank the show's previous nine seasons and they'd have some pretty diverse opinions as to what they'd consider the best season or the very worst one.  Some fans applaud the "Coven" season while others take it as a sign of the show hitting its peak, while others have a fondness for the "Roanoke," "Cult," and "Apocalypse" seasons, all of which drew mixed reviews from fans on a larger scale.
So when we polled 536 of our readers and asked them which actor they never want to see do another season of the show, the results were generally pretty close across the board. One actress did stand out from the pack, however, and she's appeared in five out of nine of the show's seasons so far. Who was the actress, and how high did she rank in our survey? Keep reading to find out.
AHS fans want a little less of Emma Roberts
FX
Coming in with 25.37% of the vote is Emma Roberts, who is best known in the AHS universe as snooty Hollywood queen Madison Montgomery in the "Coven" and "Apocalypse" seasons of the show. She also essayed the innocent Brooke Thompson for "1984," Serena Belinda in the "Cult" season, and Maggie Esmerelda in the "Freak Show" season. Perhaps Roberts' tendency to play the villainess during her appearances on the show worked against her here.
At second place with 19.22% is Denis O'Hare, who portrayed Larry Harvey during the "Murder House" season, was the horrifying butler Spalding in "Coven" and Stanley in "Freak Show," was the memorable Liz Taylor in "Hotel," and played both Dr. Elias Cunningham and William Van Henderson in "Roanoke." He will have a role in the upcoming "Double Feature" season of the show, though it has not been named at press time.
Rounding out the top three with 18.10% is Lily Rabe, who was Nora Montgomery in "Murder House," the demonically possessed Sister Mary Eunice in "Asylum," Stevie-Nicks obsessed Misty Day in "Coven" and "Apocalypse," Shelby Miller in "Roanoke," and Lavinia Richter in "1984." She also made two appearances as real-life serial killer Aileen Wuornos in "AHS: Hotel."
Finishing in the top five are Sarah Paulson and Kathy Bates, who were tied with 14.18%. Evan Peters was just outside the top five with 8.96%.