Amanda Brugel Dishes On Her New Thriller Flashback And What The Future Holds For The Handmaid's Tale - Exclusive Interview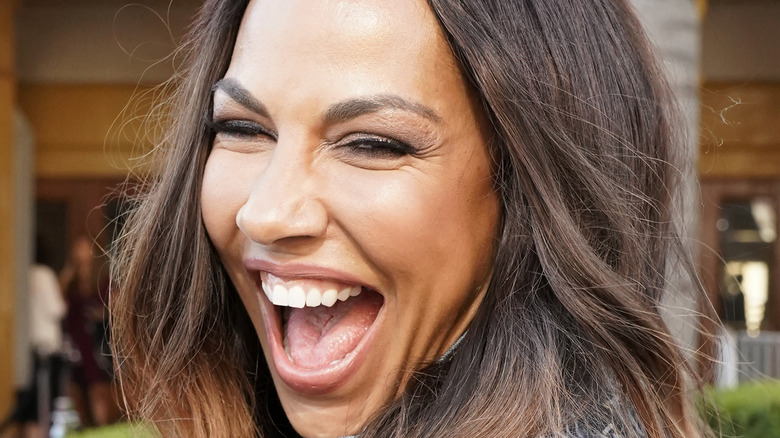 Erik Voake/Getty Images
Amanda Brugel is no stranger to major film and TV releases, with a resumé spanning back to 1999. While fans know her best as the empowering Rita Blue from "The Handmaid's Tale" and the charming Pastor Nina Gomez from "Kim's Convenience," fans can find her work in numerous hit TV shows and movies. Brugel appeared alongside Jennifer Connelly in the dystopian series "Snowpiercer" after significant stints in other hit shows like "Orphan Black," "Covert Affairs," "Dark Matter," and "Workin' Moms." She also had a role in the 2016 DC film "Suicide Squad" as a National Security Council member.
Now, Brugel is back with her new film "Flashback." Prior to the pandemic, the film was slated for a 2020 release, but the state of the world had other plans. After a long wait, fans can finally dive into the time-bending mystery thriller, which also stars Dylan O'Brien as Fredrick Fitzel. Brugel snagged the role of Fred's ever-understanding boss Evelyn, who watches Fred go down the dark path of a mystery drug called mercury — and possibly time travel.
Looper spoke to Brugel for an exclusive interview, during which she dished on working with O'Brien in "Flashback," revealed how they passed the time on-set, and offered her theory on some of the film's murkier aspects. She also teased the Season 4 finale of "The Handmaid's Tale" and revealed where she wants her character to go in Season 5.
Dylan O'Brien: Defying Hollywood stereotypes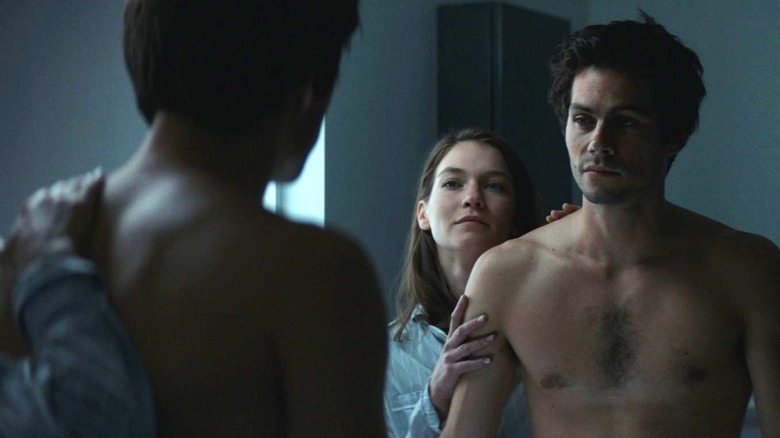 Lionsgate
"Flashback" is a wild ride and such a cool movie. What drew you to the role of Evelyn?
I mean, Chris MacBride's script was wild, like you said. I think that's the best way to describe it. And I at first was slightly confused, but also exhilarated, and it was really interesting and I'd never seen anything like it. So really, that was the reason I first wanted to just even talk about doing it. And then I was in L.A. for the Emmys, and Chris called me on the phone, and we just had the most beautiful conversation about the film about life and death. And we shared such similar thoughts on parenting and life and death and losing parents and sort of losing time that I was like, "I have to do this."
What was it like working with Dylan O'Brien?
Dylan is the best. I miss Dylan. I didn't know what to expect. I had seen a couple of the things that he had done, but I didn't know if I was going to get this like, too cool for school Hollywood, young, hot guy. He's so the opposite. He's so generous with his work, generous with everyone on set, and the crew. And he's so funny. I didn't expect him to be that funny, and he really took the material seriously and really wanted to put everything that he could into it. I was so impressed with him, and I didn't really have a lot of time with him. All my scenes are with him, but I didn't. They blocked me out in such a short amount of time that I just, I still miss him.
What the heck is going on with Fred?
Lionsgate
This is probably Dylan's most psychological movie yet. And Evelyn is one of the few characters who really tether him to reality. So what was it like getting to watch Fred sort of spiral from a reluctant, moderately well-adjusted office employee to this drug spiral tinged with these fantastical layers?
Well, you know, like I said, a part of my draw to it was that the script was so complex and so complicated, but then having to actually go do that, to be able to achieve the time jumps was incredibly difficult and took a lot of scheduling. So we would ... Poor Dylan would have to change costumes or change whether or not he was broken down or if he was very put together. Because we shot in a very tight amount of time, we would flip back and forth between future to present to sort of some of his hallucinations all in a period of three hours. Dylan was a pro — I'll say that first and foremost. There were a couple of times we both accidentally changed into the wrong costume. We just had to run and change into something else.
And that was stressful. But the parts where he would sort of break down and really spiral were some of the best acting I've seen. There was one part where I almost called cut because I was like, "Is he okay?" Like not the character. Is Dylan okay? He really went for it. And Chris would let him sort of improv and let him roll takes and let him really get to the heart of where he needed to get. So it was exciting to watch. But if you care about your co-star, you are also concerned for their mental wellbeing.
Finding humor during intense scenes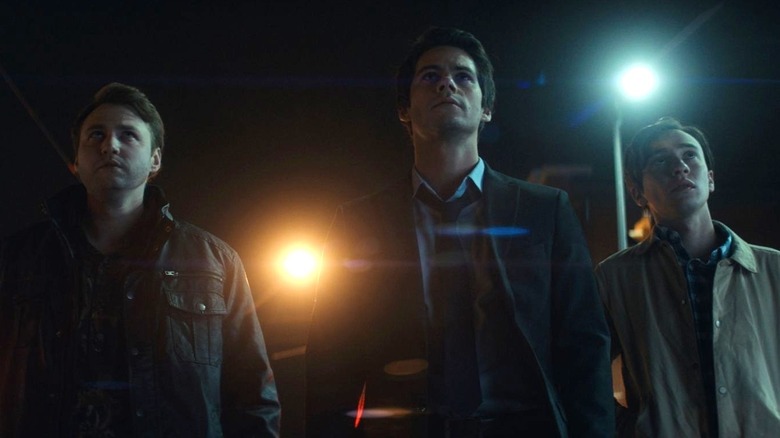 Lionsgate
Right, yeah. That was a rough progression. Can you remember anything specific that might've been ad-libbed or added in the moment?
I don't know how much of it I'm trying to think made it in. Just when he flips out in the office, and then he sort of flips out. He threw things. He moved furniture. He screamed at people. He ran about the room, and so every take was different. And so it was great. It was very helpful for my reaction and everyone else's reaction because I genuinely didn't know what Dylan, therefore the character, was going to do. So every reaction was authentic every time.There's a part where I jump, and I genuinely jumped because yeah, I didn't know what he was going to do.
Did you or Dylan do anything between takes to lighten the mood for these intense scenes?
Absolutely. We would go outside. We were shooting in, I think it was a hospital turned into a ... I'm not even sure what it was, but it was just a very cold, large sort of office building. And the two of us as artists, I don't spend a lot of time in offices, so we would go outside and gossip about — I can't tell you what we gossiped about, but we have a lot of friends in common or some friends in common. And so it was nice to sort of just be able to discuss stuff outside of the heavy material that was the movie and also bond and get to know one another and trust one another. So when he had to go to those places, he had a friendly face in the room.
Right. Can you think of anything that might be in the blooper reel or something like that?
Oh, my goodness sakes. No. For myself, when I got scared, I ran into a wall twice, but I don't think that made the blooper reel. I just tried to get out of his way and I ran directly into a wall. But I'm hoping that I didn't make the reel.
I would like to see that.
So would I, because I did it twice. Not once.
That's funny.
Twice and it was the same wall.
The subtle subtext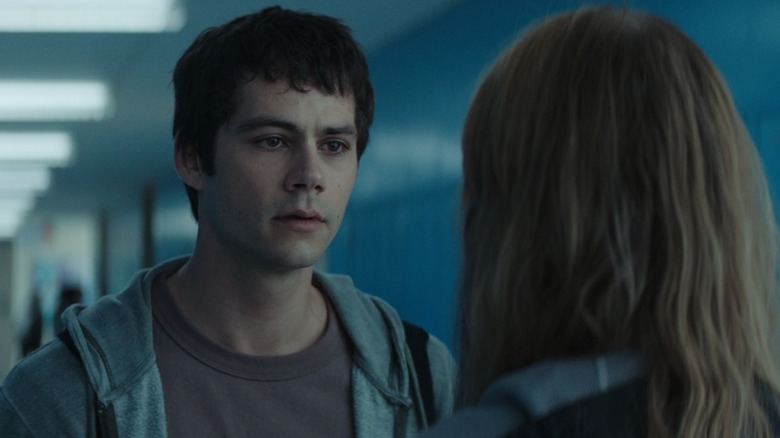 Lionsgate
This question contains significant spoilers for "Flashback." 
So I was getting a bit of a "Game of Thrones" vibe at the end of the movie. Is Cindy supposed to be Mrs. Fitzel? Can you say? Do you have a theory?
I think so. Yes. I personally think so. I think that's why my mentioning the conversation with Chris just about like motherhood, and sort of that is a very strange cycle that has happened throughout his life that I personally think so. I'm not sure, but that's how I read it, and that's how I interpreted it. And when I watched it, that's what I was left with and happy with. Very good, though. I'm glad that you picked that up.
I had to go rewatch that scene three times, and I'm like, "Am I just hallucinating this? Or is this intentional?"
No, I think it was very intentional, but not so obvious that there are audience members that would be disappointed with that or not so obvious that it forces audiences to have one conclusion. I think the thing that I like the most about Chris is that he allows audiences to go away and sort of apply their own story or their own theory to his projects. And I think that's really generous as far as an artist is concerned.
Rita Blue: Fighting for freedom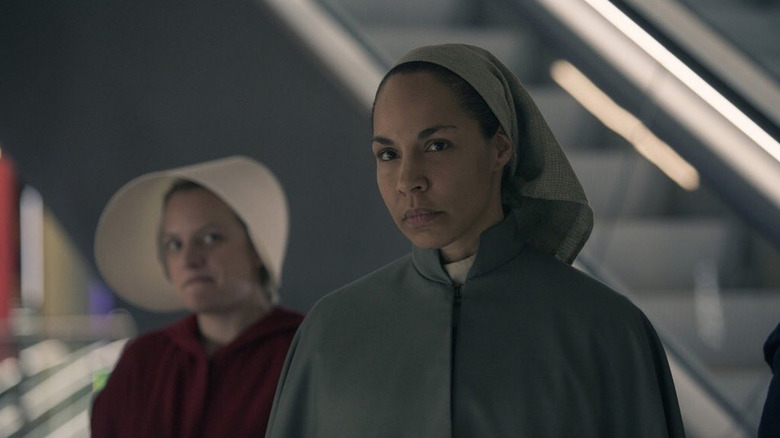 Hulu
In "The Handmaid's Tale," your character Rita starts out as a Martha, and she later gains freedom as a refugee. Given that so many women face this kind of oppression every day, how did it feel to bring that reality onto the screen? And how did you react to reading that moment in the script?
How did I react? I was scared. If I'm going to be honest, I was scared that I wasn't going to be able to do it justice, so I did a massive amount of research on refugees, particularly Syrian refugees. I'm Canadian, and I live in Canada still. And we had a massive influx of Syrian refugees a few years ago. And I just wanted to be able to do it properly without overacting or over-arching or adding something that someone might watch and think that it doesn't happen. 
And doing it was ... there's a scene where all of us are marching through the woods, and doing it was single-handedly the best moment I've ever had in my career because we actually had to do that. We had to be in the woods at four o'clock in the morning with the 96-year-old background performers. And we did it again and again and again — and I kept thinking about how many women have gone through this. It was incredibly moving and something I will never forget. It is burned into me. I will never forget it. It was a gift.
Reminiscing about Season 4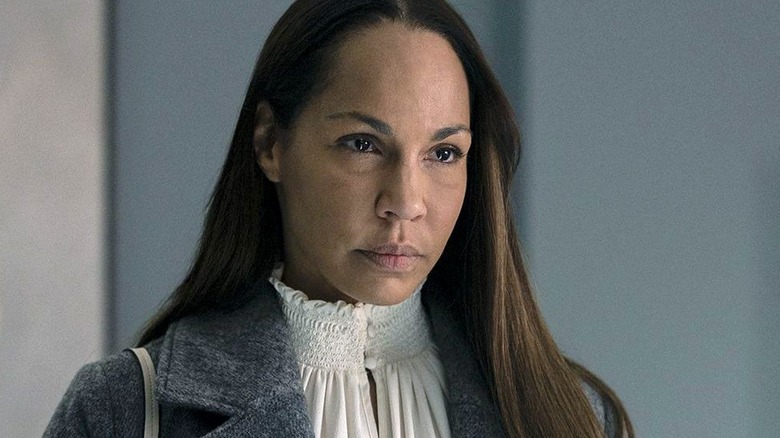 Hulu
Season 4 of "The Handmaid's Tale" has featured some really powerful scenes. Which was your favorite to shoot, and which was your favorite to watch as a viewer at home?
My favorite to shoot by far was the confrontation, or not the confrontation — the meeting with Yvonne, who plays Serena Joy. I think everyone expects it's going to be Fred, but I actually didn't like doing that because I love Joseph Fiennes so much. I love everybody, but Joseph is so nice. He's such a gentleman. And so, to be mean to him at all, I wasn't looking forward to it because I really had to stretch. And I sincerely did have to stretch because even looking in his eyes ... But the scene with Serena Joy, I loved because it's the most that Reed Morano has ever gotten to speak.
We went through sort of peaks and valleys where I'm suspicious of her at the beginning. And then she reveals the child, and then I'm suspicious of her at the end. And so it felt for the first time as an actor, I was really able to go through a range of emotions and not be sort of a witness to someone having emotion. And my favorite thing to my favorite scene was Lizzie's [Elisabeth Moss] debut directing episode in Season 4, Episode 3. It's not nice because they're my friends, but the beautiful scene when all of the handmaids are running — I love Radiohead. I love the shots. I love the slow motion, the colors, and the saturation of the colors. I thought everything was immaculate.
The future of Rita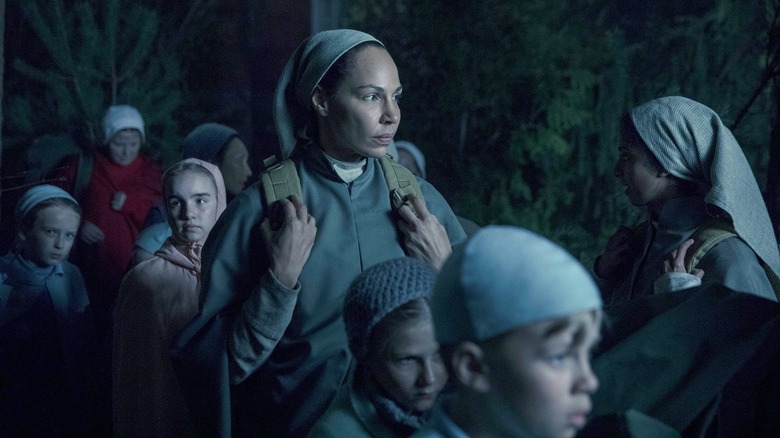 Hulu
Without spoiling anything, of course, what do you think or hope the response to "The Handmaid's Tale" Season 4 finale will be, and can you tease anything?
Girl! I said from the beginning, I don't know how people are going to react. And that's not me teasing to be like, "I don't know." I genuinely don't know how people are going to react because it is so crazy to me. Like ... I think people will like it.
I do think people will like it, but I do think that there are some people that are ... It's going to take them a minute to be able to process what they have just witnessed. And so I think fans that have watched and been loyal and been patient for the last four years will be very happy to have sort of that, the crescendo that you get in Season 4, Episode 10 — but yeah, I think there's going to be polarized responses.
Rita Blue has been a constant in the interweaving narratives of many "Handmaid's Tale" characters and has a heart-wrenching story of her own. Where do you see her going in Season 5?
In Season 5, I'm hoping that she's finally able to accept her freedom and become a little more modern. With that being said, I hope she sort of shakes some of the Gilead vernacular. I hope she starts to dress real cute and just really embraces her newfound freedom. And I hope at least we find a family member or a friend or something from her past that can help her move forward in the future. She's one of the characters that has no link to anything. There are other characters that have had previous children or marriages. We know nothing about her, and she's sort of this floating, mysterious being. So I'd like to find an anchor for her in Season 5.
The end of an era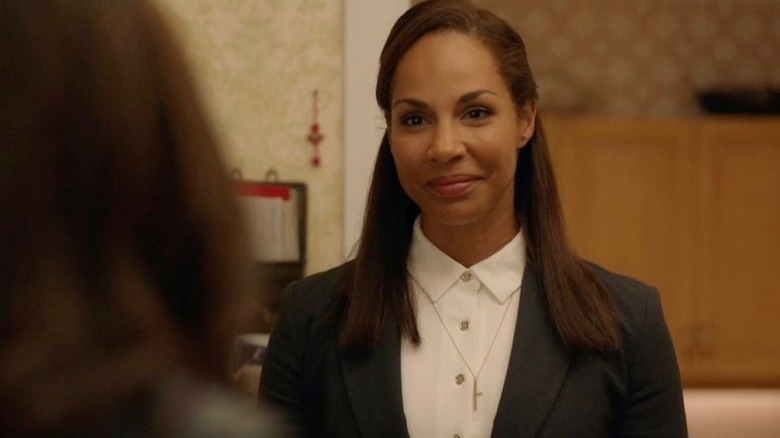 Netflix
What was it like working with Simu Liu in "Kim's Convenience"? And how do you feel about the show ending?
I had only a couple of scenes with him in ... God, it was so long, in season 1, I think. And so it was a long time ago. I don't really remember, but we had fun. We always had fun on that show.
It was devastating that the show ended. It was like summer camp. It was so exciting to look forward to doing. We were such a close family. I know that it's been suggested that we weren't, but everyone has their own experience, and mine was just pure joy. I still talk to Appa and Umma, and Kimche. It was all of the time. I was just talking to Appa yesterday, Paul Sun-Hyung Lee. And so I think having such an abrupt ending and the actors that have been playing them for so long, the leads not being able to sort of tie up their storylines in a way that they would want to, I think, is a shame. It's unfortunate. However, I'm so proud to have been a part of something that touched so many different people in so many different nationalities and backgrounds. So I'm trying to focus on that.
That was a show that I always looked forward to. It's just such a fun refresher from reality, which is what everyone can use right now, especially. What was it like working with Jennifer Connelly and Sean Bean on "Snowpiercer"?
Jennifer Connelly is so nice and so quiet and so humble. It was another one of those situations where I didn't know what I was getting into. I was such a fan of hers from "Labyrinth." I rarely get nervous meeting people. When I met her, I couldn't really get words out and didn't really make a lot of eye contact because I was so nervous and scared. I didn't actually meet Sean. Well, I met Sean Bean a couple of times, but we weren't in any scenes together. Jennifer was very prepared and has a grace and an integrity to her that sort of just reverberates throughout all of the cast and the crew. And so she's very much a lady and very kind.
"Flashback" is available now on VOD, and fans can tune into Season 4 of "The Handmaid's Tale," with new episodes premiering Wednesdays on Hulu.