Outer Banks Season 2 - What We Know So Far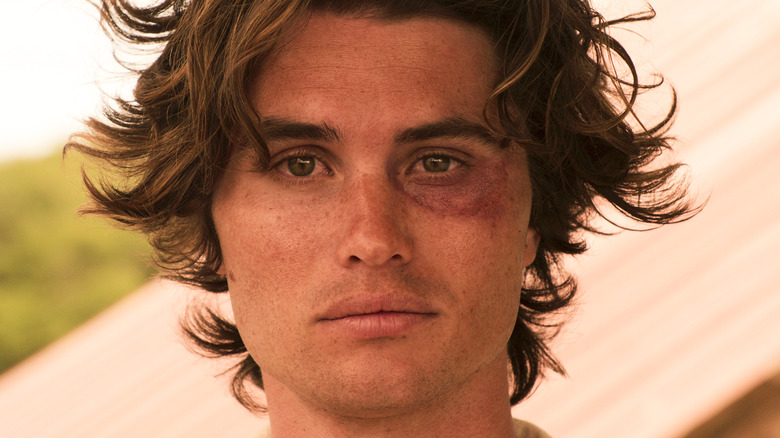 Netflix
If you're a fan of "Outer Banks," you've probably been on the edge of your seat waiting to find out when the hit Netflix teen drama's second season will arrive. The streamer previously confirmed that Season 2 would arrive sometime during summer 2021. Now, viewers finally know when they can enjoy another wild North Carolina adventure. On June 9, Netflix announced on Twitter that "Outer Banks" Season 2 will premiere on Friday, July 30.
You may recall that "Outer Banks" Season 1 ends on a massive cliffhanger. After the Pogues finally find the hidden gold treasure they spent all season looking for, Kook queen Sarah Cameron's (Madelyn Cline) villainous father Ward (Charles Esten) steals it and frames Sarah's Pogue boyfriend John B (Chase Stokes) for the murder of Sheriff Peterkin (Adina Porter). While John B and Sarah flee from the cops, their boat capsized, leading the entire town to believe they died. In reality, they take off for the Bahamas to get their gold, while fellow Pogues Kiara (Madison Bailiey), Pope (Jonathan Daviss), and JJ (Rudy Pankow) deal with their own problems back home.
In announcing Season 2's premiere date, Netflix also gave fans another gift: a long-awaited teaser trailer for the upcoming season.
The Outer Banks Season 2 teaser previews John B's 'funeral' and Bahamas drama
The "Outer Banks" Season 2 teaser opens with JJ creating a memorial for John B on the bark of a tree, and he, Kiara, and Pope gather to pay tribute to their supposedly dead friend. "To John B," JJ says, raising a flask. "And to Sarah," Kiara adds, sharing a sorrowful glance with Pope. Little do they know that lovebirds John B and Sarah are alive and well in the Bahamas, watching the sunset and getting ready for their next adventure. "Back in the G-game, baby," John B tells Sarah.
But as the rest of the teaser shows, the Pogues' journey to reunite and find the missing gold won't be all smooth sailing: There's a shot of John B and Sarah fleeing from someone in a car chase and jumping off a massive boat, as well as a wild high school party. 
Naturally, fans were thrilled at the news of Season 2's release date, as well as the teaser trailer that gives them a taste of what's ahead. "Outer Banks season 2 will probably kill me and bring me back to life again omg I can't wait," @L0STLYRICS wrote on Twitter, while the "Chicks in the Office account" tweeted, "WE CAN TASTE OUTER BANKS SEASON 2."
With this much fan excitement, it's going to be entertaining to see how "Outer Banks" raises the stakes for the Pogues even further when Season 2 arrives on July 30.