New Outer Banks Season 2 Images Are Lighting Up Twitter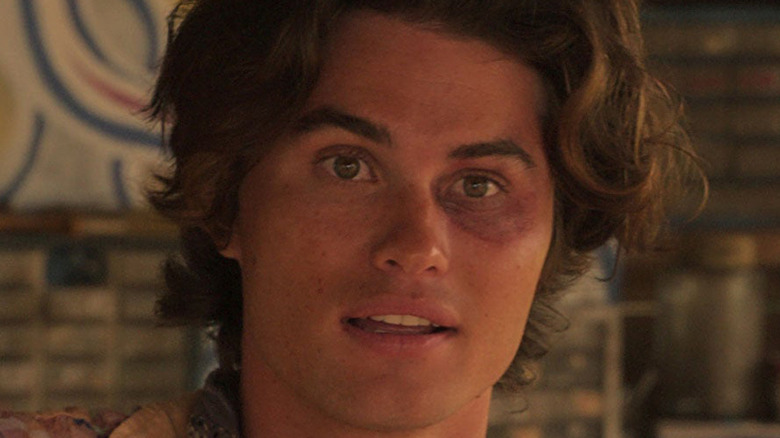 Netflix
The first season of the Netflix original series "Outer Banks" introduced audiences to the Pogues — not the '80s Celtic punk band but a group of friends who live in the Outer Banks of North Carolina, which are a series of islands that border the East Coast state. Their name designates that they're part of the Outer Banks' working class, as opposed to the wealthier Kooks. The Pogues are comprised of leader John B. (Chase Stokes), Kiara (Madison Bailey), Pope (Jonathan Daviss), and JJ (Rudy Pankow).
What begins as a teen drama with a romance between Pogue John B. and Kook Sarah Cameron (Madelyn Cline) as its backbone soon becomes something else entirely when the Pogeus find out that John B.'s missing father may be the key to a $400 million treasure. The Pogues slowly but surely join in on a treasure hunt in which multiple factions on the islands, including the Kooks and the local police department, are likewise implicated.
Fans have been waiting for more "Outer Banks" ever since the cliffhanger that concluded its first season. Thankfully, not only is Season 2 on its way, but Netflix has shared the first official images of the next chapter of the series.
Bahamas, baby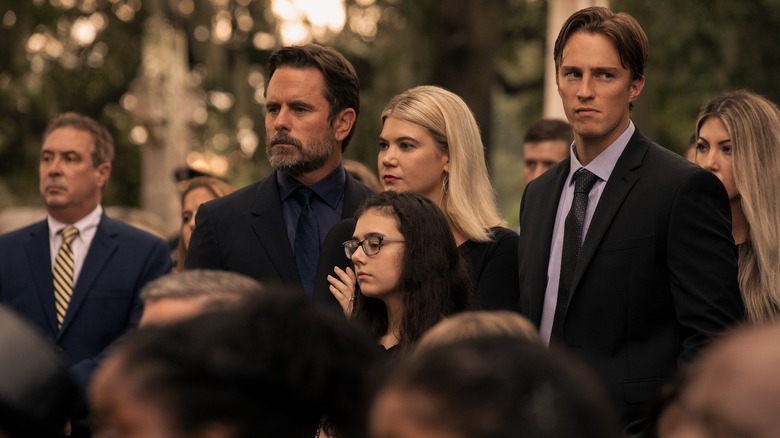 Netflix
At the conclusion of "Outer Banks" Season 1, John B. and Sarah were on their way to the Bahamas to continue their pursuit of the treasure once sought by John B.'s father. In the first of a series of four images shared by the official Netflix Twitter account from the upcoming second season, John B. and Sarah sit with each other on an empty beach. This is presumably fans' first look at their Bahamas excursion.
Meanwhile, the rest of the Pogues are stuck back at home but nevertheless appear to be invested in the ongoing treasure hunt in their own way. In one image, Kiara and JJ are hopping a fence with nervous facial expressions. In the next image, Kiara, Pope, and JJ appear to be plotting something with one another during class. The final photo is of the villainous Ward Cameron (Charles Esten) and his family, including his equally nefarious son Rafe (Drew Starkey), attending a funeral. Presumably, the deceased is Sheriff Peterkin (Adina Porter), whose murder was pinned on John B. despite being committed by Rafe himself.
In response to the new images, one fan shared a compilation of moments featuring Sarah taken from the show, with the caption "cant wait to see her back." Another user simply shared a gif of a crowd cheering at a soccer match.
As per Netflix's Tweet, "Outer Banks" Season 2 will premiere on a date that has yet to be specified during the summer of 2021.