Why John B From Outer Banks On Netflix Looks So Familiar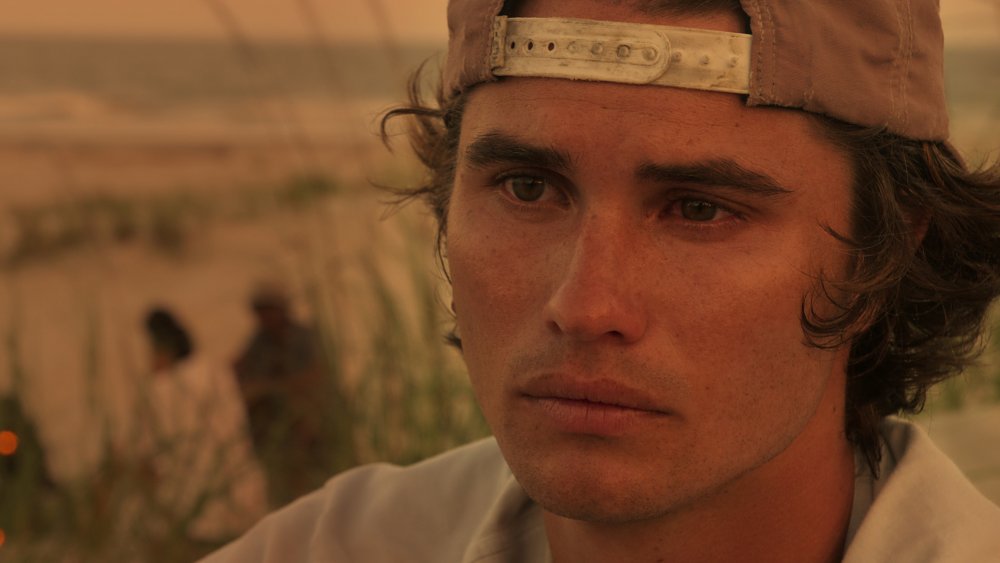 If you haven't dipped your toe into the rocky waters of Netflix's young adult drama Outer Banks, you're missing out on one of the streamer's most adventurous new mysteries. Set on the shores of the Outer Banks, a 200-mile string of barrier islands off the coast of North Carolina, the series follows a group of teens known as the Pogues, most of whom are from the region's working-class community. During the summer, they party, surf, and get into teenage trouble, but when the father of their charismatic leader, John B, goes missing, the four teens set out to find him and end up stumbling into a quest for a shipwrecked treasure.  
The first season of this sizzling summer series sees the teens take on the law, a wealthy group of teens from another island, drugs, love, friendship, and more in their effort to fulfill a 20-year quest initiated by John's father. Following the release of the show back in April 2020,  relative newcomer Chase Stokes achieved a bit of overnight fame for his leading role as John B, a part the 27-year-old actor almost turned down. "The first time I got the audition, it was the most bland email I've ever got," Stokes told Barstool Sports' Chicks in the Office. "It was four friends on a treasure hunt, Netflix, and the character's name was John B. So I was like, 'This is f***ing Goonies. It's a Goonies reboot.' I said no." He eventually got the script, realized his mistake, and after agreeing to audition for a different part, landed the role that has made him the latest Netflix break out star. 
This, however, is far from the first Netflix or TV series on which Stokes has appeared. If you're a fan of teen dramas, here's where you've probably seen the Outer Banks star. 
Chase Stokes got his TV start on the Netflix hit Stranger Things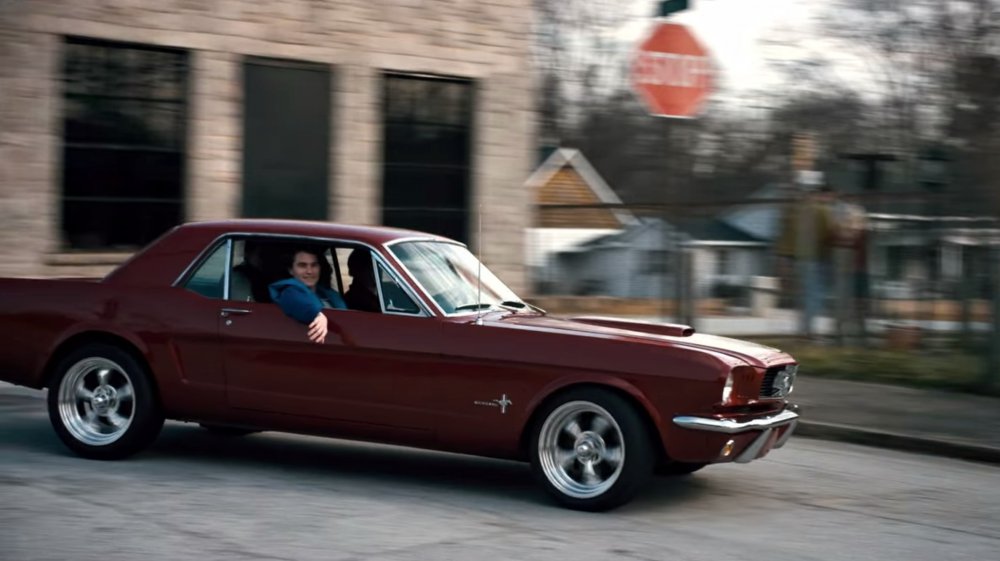 Netflix
When Stokes isn't playing guitar, writing poetry, or taking to the water with his boating license — as evidenced by his Instagram — he's mostly appeared in smaller recurring roles across TV. His career began in the mid-2010s, with a guest appearance on another Netflix series — one of its most-watched. The Outer Banks actor appeared on season 1 of Stranger Things' "Chapter Six: The Monster" as Reed, a classmate of Jonathan and Nancy's from Hawkins High School. Stokes' role is fleeting, marked only by a single line as he drives by in a car after the two have finished buying hunting supplies. It's not a particularly flattering line either, as it serves as viewers' first hint that Steve has harassed Nancy by spray-painting offensive graffiti about her on a theatre marquee. Still, Stokes did post about it on his social media. 
Two of his co-stars also had small roles on the series, and in an interview with IMDb, the actor suggested a crossover between the two Netflix shows. "I'm going throw a little fanfiction into the world," he said. "I had a little bit in Stranger Things. [Madelyn Cline] was in Stranger Things. Caroline [Arapoglou], who plays Rose, was in Stranger Things. So..."
After leaving Hawkins behind, Stokes appeared on the short-lived Daytime Divas, starring Vanessa Williams. Taking a cue from The View, the 10-episode series chronicles the daily clashes that regularly erupt on the set of a daytime talk show between its five female co-hosts. Stokes had a minor, three-episode arc on the show, appearing alongside recognizable daytime celebrities like Joy Behar, Star Jones, Kelly Osbourne, and Tamera Mowry-Housley. His next notable TV appearance occurred in 2018 in a single-episode part as Finn, the love interest to the daughter of Sean Penn's Mars-bound astronaut on Hulu's The First. 
Two coast-based movies helped prepared Chase Stokes for Outer Banks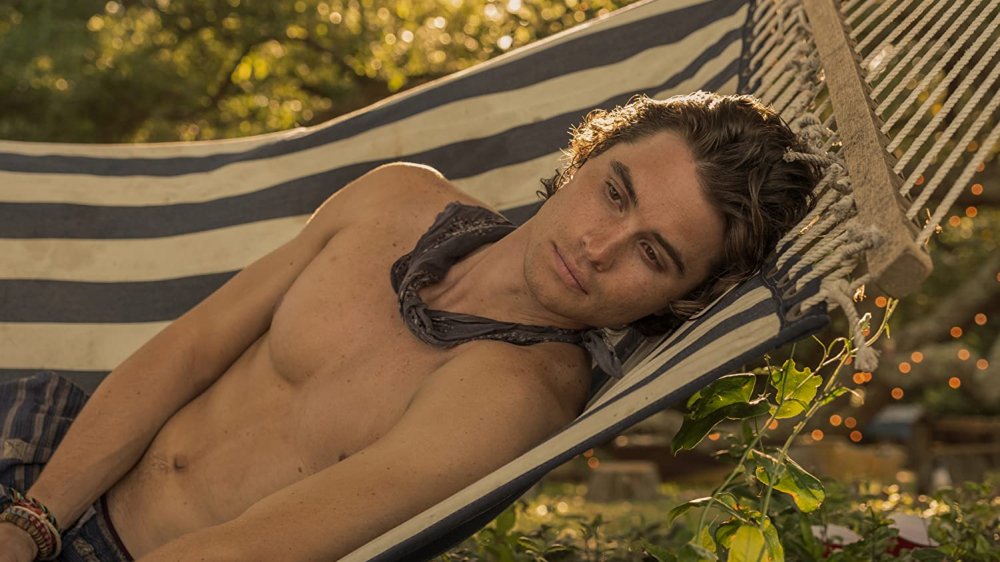 Netflix
The burgeoning actor's next roles were film parts that perfectly prepared him to lead Outer Banks. The first of his two beach-themed movies follows best-selling author Rick Gray, who, despite his fame and adoring fans, finds himself experiencing a mid-life crisis. Desperate to return to the days of his youth, Gray goes back to his coastal hometown in Florida and, with the help of his two childhood friends, attempts to find his first car, a red 1966 Mustang. Stokes plays a younger version of Gray's friend Dale in this 2018 dramedy adventure, a fitting part for the actor. He told Refinery 29 that he not only went to high school in Florida, but grew up visiting his grandparents in Maryland's coastal community. 
"I didn't tell any of the creators [of Outer Banks] this when I was cast: When we were in Charleston [where the show filmed,] I reached in my wallet and pulled out my boating license," Stokes told the outlet. "They were like 'Great, that makes everything a lot easier.'" 
That same year, he appeared as a character named Russell Bennett in the Hallmark Channel film The Beach House, starring Minka Kelly, Andie MacDowell, and Chad Michael Murray. Based on the 2002 novel by Mary Alice Monroe, the film follows a woman recently fired from her Chicago advertising job who returns to an island town near Charleston, South Carolina. There, she tries to pick up the pieces of her life while fixing her family's beach house and embarking on a mission to save hundreds of sea turtles washed ashore in a storm. 
Stokes' next project would be Outer Banks, his biggest role yet. Fans can expect to see him next on the upcoming TNT drama Tell Me Your Secrets while they wait for news of a second season of Outer Banks.