LEGO Leak Reveals Jaw-Dropping Scenario For Iron Man In What If...?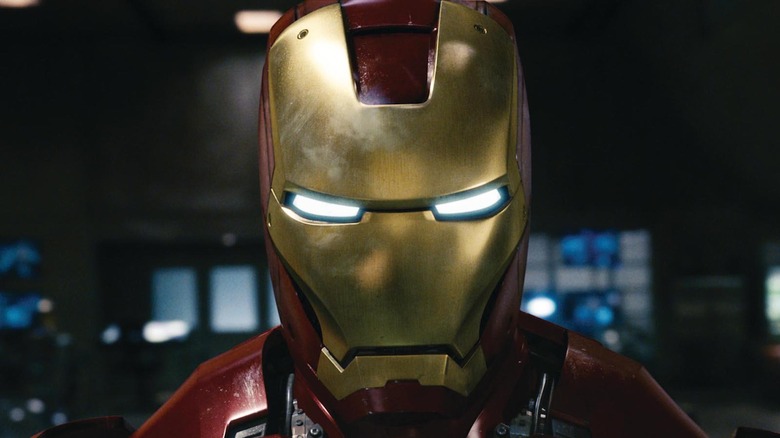 Marvel Studios/Disney
It's an exciting time to be a Marvel fan — especially if you subscribe to Disney+, where several new series are headed in rapid succession. "Loki" is next up to bat, and promises to feature the titular God of Mischief dealing with alternate timelines and working alongside the Time Variance Agency, that keeps everything in order. After that, fans can anticipate "Ms. Marvel," "Moon Knight," and "She-Hulk," all projects that will introduce brand new heroes into the Marvel Cinematic Universe. And these are just the projects we know about; there's no doubt in our mind that Marvel Studios head Kevin Feige probably has some even wilder ideas up his sleeve for the future.
One of the most intriguing shows heading to Disney+ is adapted from a classic line of fan-favorite comics of the same name: "What If...?" takes characters and elements from throughout the MCU and mixes them together, crafting a string of hypothetical scenarios seemingly inspired by the Butterfly Effect. The first trailer for the series showed off Agent Carter (Hayley Atwell) getting the super soldier serum instead of Steve Rogers in World War II, while a young T'Challa gets picked up by a spaceship to become the next Star-Lord instead of Peter Quill. It's fascinating stuff for any Marvel fan. 
Clearly, there are going to be many surprises in store for audiences when "What If...?" reaches our screens in August, but at least one of those surprises has already been blown by a recent LEGO leak revealing that Iron Man will find himself in a very, very strange place on the upcoming series.
The Hulkbuster goes galactic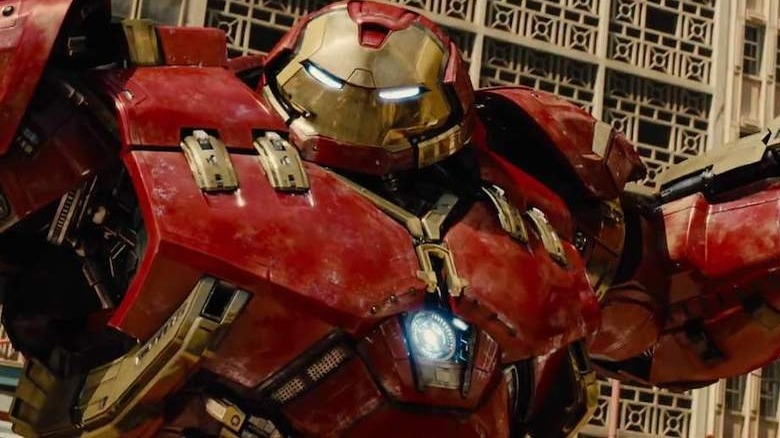 Marvel Studios/Disney
Since Robert Downey Jr.'s Tony Stark kicked off the MCU as we know it, it's no surprise that "What If...?" will explore new situations for Iron Man. The LEGO leak revealed that he'll be heading to the far side of the galaxy in an upcoming episode of the animated series (via The Direct). Iron Man will apparently be stuck on Sakaar instead of Bruce Banner (Mark Ruffalo), with the set showing off Tony Stark's Sakaarian Hulkbuster.
It's not clear if the series will use the same Quinjet-method of space travel to take Stark over to Sakaar, as the MCU did with Banner at the end of "Avengers: Age of Ultron," but it'll definitely see the return of Tessa Thompson's Valkyrie, because her mini-figure comes with the LEGO set. The photos also suggest that the Sakaarian Hulkbuster can transform into some kind of vehicle — although that could just be a feature added purely for the set. It seems likely that Iron Man will repair the Hulkbuster using parts he finds on Sakaar (it is a trash planet after all), rather than building it from scratch. With the vibrant red, gold, and turquoise colors, it definitely looks like a combination of the original suit and new parts.
Last but not least, it even comes with a mini-figure of the Watcher, the omniscient figure who watches everything unfold throughout the Marvel Cinematic Universe. Fun fact, he's voiced by Jeffrey Wright in the series, so it's worth buying the set just for him. Although this begs the question: Which other LEGO sets will the "What If...?" series spawn? Only time will tell.