Why Marvel Fans Are Currently Losing It Over Iman Vellani's Ms. Marvel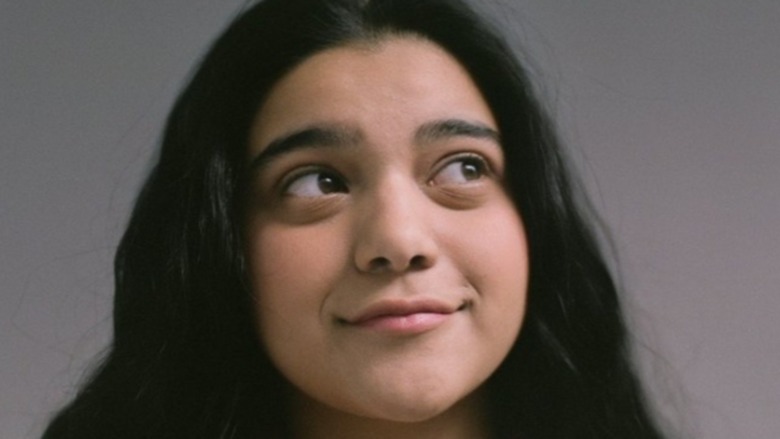 TIFF 2020
The Marvel Cinematic Universe is back in full swing this year, more than making up for an unintentionally disappointing 2020. While the likes of "Black Widow" and "Shang-Chi and the Legend of the Ten Rings" have yet to hit theaters, the blockbuster franchise has taken over the streaming world courtesy of Disney+. "WandaVision" captivated audiences for all nine of its episodes, and "The Falcon and the Winter Soldier" was equally impressive with only six. As they wait for June's "Loki" series to begin, fans are already looking to the future of MCU TV and getting the hype train rolling.
One of the most highly anticipated projects on the way to small screens everywhere is "Ms. Marvel," which was confirmed as a reality in August of 2019. The program will follow the life of Kamala Khan, and her journey from an average Pakistani American teenager to the size-shifting heroine that has graced the pages of Marvel Comics for nearly a decade. Tasked with bringing the character to life is upstart actress Iman Vellani, who was recently spotted on set in her superhero garb (via Just Jared). From the red, blue, and gold color scheme to the crime-fighting mask around her eyes, there's no denying that Disney+ is the home of comic book accurate costumes.
As it generally does, the internet had some thoughts on Ms. Marvel's TV threads, and the vast majority of social media users aren't holding their feelings back.
MCU fans adore the comic accuracy of Ms. Marvel's costume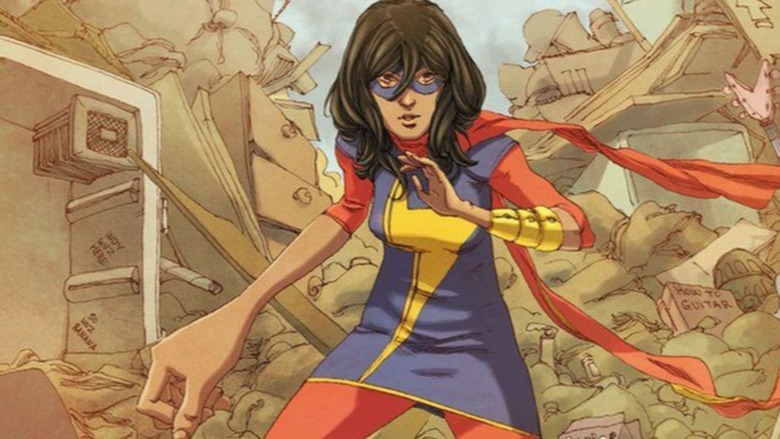 Adrian Alphona/Marvel Comics
Based on online reactions alone, it's obvious that the majority of MCU fans are loving Ms. Marvel's outfit for more reasons than one.
"The Ms. Marvel suit is the definition of perfection," wrote @UberKryptonian on Twitter, and @therealsupes seemingly agreed, according to their remark that "Whoever is running Marvel's costume department for Phase 4 deserves a raise." @KammySiddique raised a great point about Kamala Khan's MCU introduction and the state of representation in superhero cinema, writing, "To see a Pakistani Muslim Female (both Actor & Character) in a lead role for the Marvel franchise is a thing of amazement."
@MsMarvelNews took an even closer look at Khan's new duds, noting, "If you look closely at the #MsMarvel suit, you can see that the fabrics aren't just one solid color. They have a very subtle pattern going across!" @Croc_Block gave the super-suit plenty of praise, stating in a Tweet that "Wow, Ms. Marvel genuinely has the best MCU Superhero suit. I was extremely skeptical to see how this would look in live action, but she actually looks perfect-"
Accompanied by a picture of Carol Danvers (Brie Larson) as Captain Marvel and Kamala Khan as Ms. Marvel, @CaptMarvelNews Tweeted, "The moment their glances meet, eye to eye, pure magic will happen! Can't waaait!" This post references Khan's presence in the impending "Captain Marvel 2," and her idolization of the former United States Air Force pilot that leads to their eventual friendship.
No matter which project Iman Vellani appears in as Ms. Marvel, it's a given she'll do so in style, and the MCU faithful can't get enough of it.