Set Photo Gives Fans A First Look At Tatiana Maslany In She-Hulk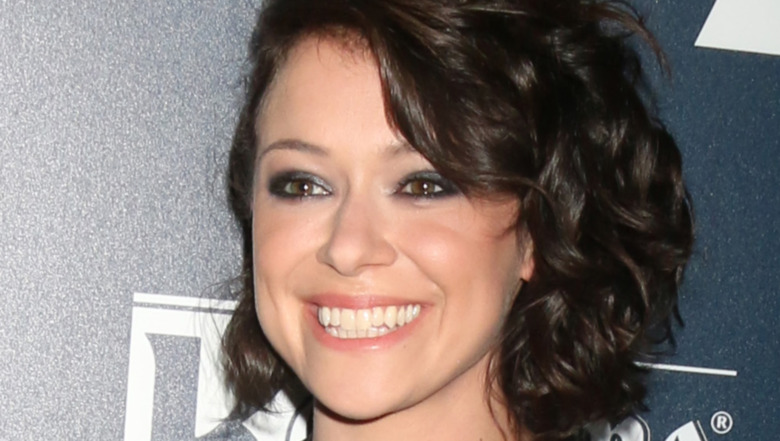 Shutterstock
Thanks to Disney+, Marvel fans no longer have just feature films to anticipate for their MCU fix. With smash hits like "WandaVision" and "The Falcon and the Winter Soldier" making waves in early 2021 and "Loki," "Hawkeye," "What if..?," and "Ms. Marvel" premiering on the streaming service later in the year, Marvel lovers have plenty to be excited about. 
"She-Hulk," slated to premiere sometime in 2022, is another hotly anticipated Marvel series. The show will star Tatiana Maslany as Jennifer Walters, the She-Hulk herself, and fans will get to see even more of the original Hulk, too, with Mark Ruffalo set to reprise his role as Bruce Banner. "She-Hulk" will be a half-hour comedy, following Walters' career as a lawyer. "It's Always Sunny in Philadelphia" director Kat Coiro is directing and executive-producing the show, indicating that it is certain to be full of laughs. 
While we're still waiting on more series details, fans finally have a sneak peak of Maslany as Jennifer Walters, making us even more excited for the show's eventual premiere.
Is this Jennifer Walters before she becomes She-Hulk?
In a set photo posted to Instagram by paparazzo @Atlanta_Filming, we see Tatiana Maslany smiling in a yellow UCLA sweatshirt. UCLA is the alma-mater of Jennifer Walters, which suggests this may be from a flashback scene of her pre-Hulk days.
Plot details of the series are still unknown, but in the comics, Bruce Banner gives Walters, his cousin, some of his blood to save her life. It is successful but causes her to permanently look like She-Hulk, albeit maintaining her human intelligence (and lacking the rage). Alongside Maslany and Mark Ruffalo, Tim Roth is reprising his role as the Abomination from 2008's "The Incredible Hulk," with comedian Ginger Gonzaga and "Hamilton" star Renée Elise Goldsberry also starring in the series.
Due to COVID-19 delaying production schedules across the industry, "She-Hulk" only began filming in early April 2021, making it certain that more photos from the set are to come. With what we've seen from Disney+ so far, we're sure "She-Hulk" will be another amazing watch.