The Best Time Sylvester Stallone Ever Broke Character As Rocky Balboa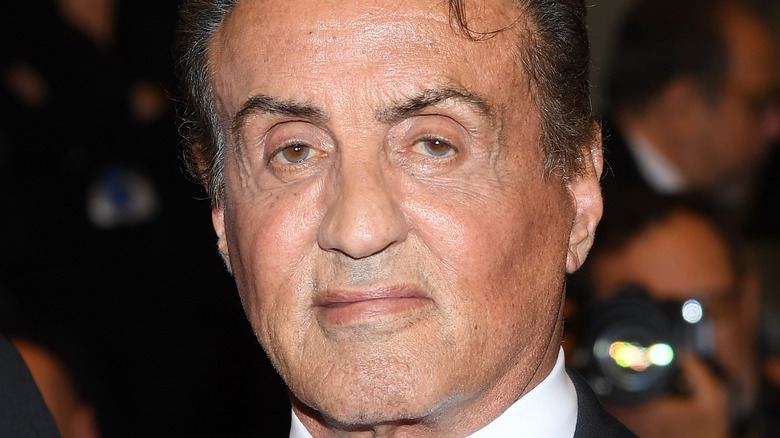 Pascal Le Segretain/Getty Images
Though Sylvester Stallone is now a household name, he was just getting started on his acting journey when he made his breakthrough performance in "Rocky," the first of several films in the franchise by the same name. "Rocky" tells the story of Rocky Balboa, a working class Italian-American boxer in a rough part of Philadelphia. When Rocky gets the opportunity to fight against the reigning heavyweight champion Apollo Creed (Carl Weathers), his life is changed as he works hard to prove he can go the distance. Following the massive success of "Rocky," Stallone continued to play the titular role over the course of the entire franchise, including its most recent iteration, the "Creed" spin-offs.
Since Rocky is most commonly portrayed as a serious and tough fighter, Stallone has adopted the same reputation throughout his successful career — including similar action-packed roles in films like "First Blood" and "The Expendables." Despite his reputation, however, Stallone has had his fair share of lighthearted career moments as well, and some can even be seen in bloopers from those early "Rocky" movies. Let's take a look at the best time Stallone ever broke character, while playing his most well-known role.
Sylvester Stallone had some fun while filming the Rocky movies
If you follow Stallone on Instagram, you've likely seen some of the behind-the-scenes clips and deleted scenes from his various "Rocky" films. Most of what he's shared has emerged from his time re-editing "Rocky IV" in preparation for its re-release. These clips have included a moment of himself giving Dolph Lundgren acting directions, as well as several longer fight sequences that didn't make it to the final cut (via Instagram). In September 2020, Stallone shared a more lighthearted moment on his page, as well, one that provided an inside look into what it was like for the star to direct and perform at the same time.
In the blooper shared on Instagram, Stallone is playing Rocky as he stands seemingly exhausted during the fight with Lundgren's Ivan Drago. Stallone says "action" before someone off-screen throws water on his face, but it seems to catch the actor off guard. He's a bit slow to react, and instead starts chuckling, joking about the way the water hit him. Stallone quickly recuperates from the outtake and does the scene over again, this time nailing the shot.
The rarely seen moment of Stallone acting while calling the shots in "Rocky IV" is a perfect example of his multitude of talents, and is sure to make his fans even more excited for the yet-to-be-released director's cut of the iconic "Rocky" four-quel.