How Jennifer Aniston Really Felt Returning To The Friends Set For The Reunion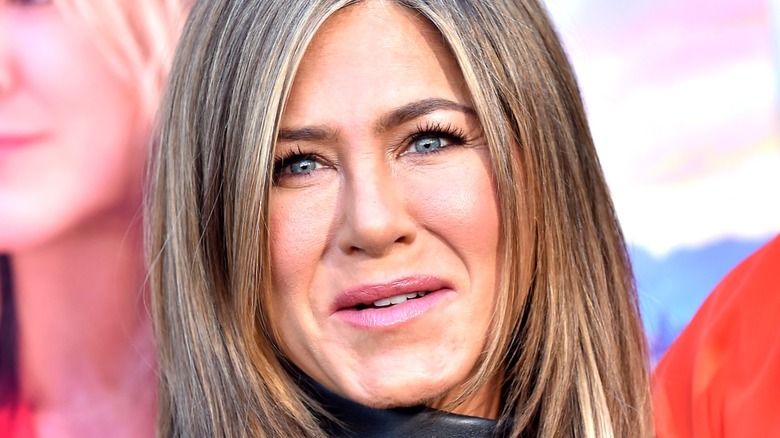 Shutterstock
One of TV's favorite friend groups recently got together to look back on their times on set, and fans have been buzzing ever since. "Friends: The Reunion," available to stream on HBO Max, brought the gang — consisting of Matthew Perry, Courteney Cox, David Schwimmer, Lisa Kudrow, Matt LeBlanc, and Jennifer Aniston — back together, and fans watched as they told embarrassing stories, confirmed long-suspected romance rumors, and re-created iconic moments in "Friends" history. Though there will never be another "Friends" reunion special, it's safe to say that fans got plenty of material to look back on for years to come.
That said, while "Friends: The Reunion" made tons of fans happy and nostalgic, there were others viewers who had some big problems with the "Friends" special. Nonetheless, it looked like the stars of the hit sitcom had tons of fun catching up and reminiscing on the start of their careers — even as they also shed some nostalgic tears. And speaking of getting emotional, "Friends" icon Jennifer Aniston opened up about how she really felt during the reunion, and it'll break your heart all over again.
Returning to the set was 'a sucker punch in the heart'
NBC
While chatting with Gayle King during an appearance on the legendary host's radio show "Gayle King in the House," Jennifer Aniston dished about her reaction to revisiting the "Friends" set, explaining that the reunion was emotional not only for her, but also for the whole group.
"It was a sucker punch in the heart, in a way. It was for all of us, I think," said Aniston. "Even Courteney [Cox] we got tears out of! And I don't even know — she's so, you know, not emotional." 
Much of the emotional reaction came from the recreated set, which was so detailed that it caught the "Friends" stars off guard. Though the "Friends" cast has stayed in touch since the show ended 17 years ago, Aniston reiterated that they hadn't actually stepped foot on the set since the series finale, which aired on May 6, 2004. "You also have to remember we haven't been there [since the show ended]," she told King. "That time was a very specific time when we were saying goodbye to something that we didn't want to, we cared deeply about, but we knew it was the time to say goodbye. Our lives were ahead of us. We had our future ahead of us. And it almost felt like time had stopped and we time-traveled."
If you haven't already seen "Friends: The Reunion," head over to HBO Max to catch up with the "Friends" gang.