The Steamy Horror Thriller You Can Find On Netflix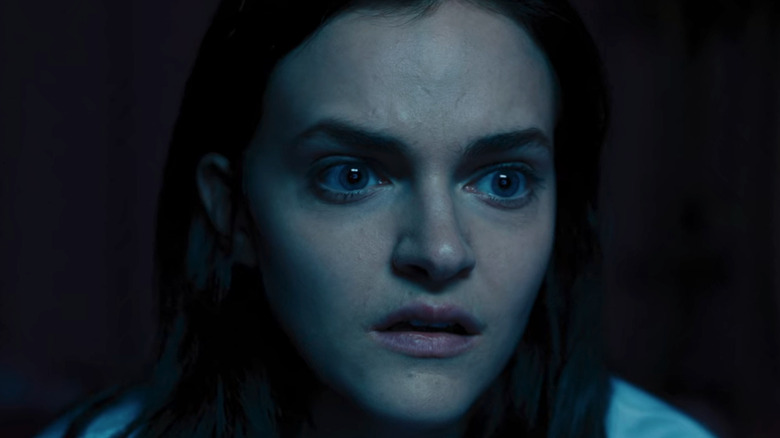 Netflix
The horror movie genre is hugely popular, in part due its many subgenres. From horror comedy hidden gems like "Psycho Goreman" to forgotten found-footage horror flicks like "Bad Ben," scary movie lovers have tons to choose from when it comes to creepy material. One of the most popular horror subgenres is the psychological thriller, which are particularly entertaining for those who aren't fans of gore or other slasher elements.
One of the newest psychological thrillers to hit Netflix is "Cam," a 2018 horror film with equal parts horror and mystery. The movie boasts a 93% critics score on Rotten Tomatoes, and earned praise via its Critics Consensus as well: "Smart and suspenseful, CAM is a techno-thriller that's far more than the sum of its salacious parts — and an outstanding showcase for Madeline Brewer in the leading role." If you're looking for a steamy horror thriller to enjoy on your next movie night, consider taking a look at "Cam."
Cam is a horror thriller with a message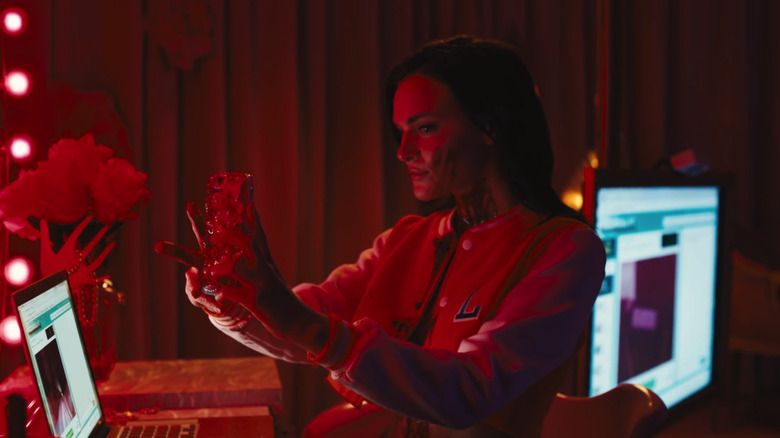 Netflix
"Cam" tells the story of Alice Ackerman (Madeline Brewer), a young woman who works as a camgirl. Alice does increasingly dramatic stunts to improve her ranking on the website she streams on, including simulating her death by suicide at the urging of her online fans. She becomes obsessed with making it to the top spot on the site, but one day she wakes up to find that she can't log in to her account, and someone else has taken her place — someone who looks exactly like her. The thrilling flick will keep you on the edge of your seat as Alice tries to figure out what's real and what isn't, as well as who is behind her mysterious impersonator.
The steamy horror flick was written by Isa Mazzei, a former camgirl herself. In an interview with Vice, Mazzei explained how she wanted to subvert stereotypes about sex workers by drawing on real experiences — including her own. "And I think it's important to note, too, that it wasn't just me," she said. "We talked to a variety of women and men who are engaged in this industry in order to make sure that it felt authentic to them because I'm definitely not arrogant enough to think that I could make a film that would feel authentic to all sex workers if I just included only my own voice. It was absolutely fundamental that I was involved, but all the other people that we involved were important as well."
"Cam" is now available to watch on Netlfix.