Why Janine From The Handmaid's Tale Looks So Familiar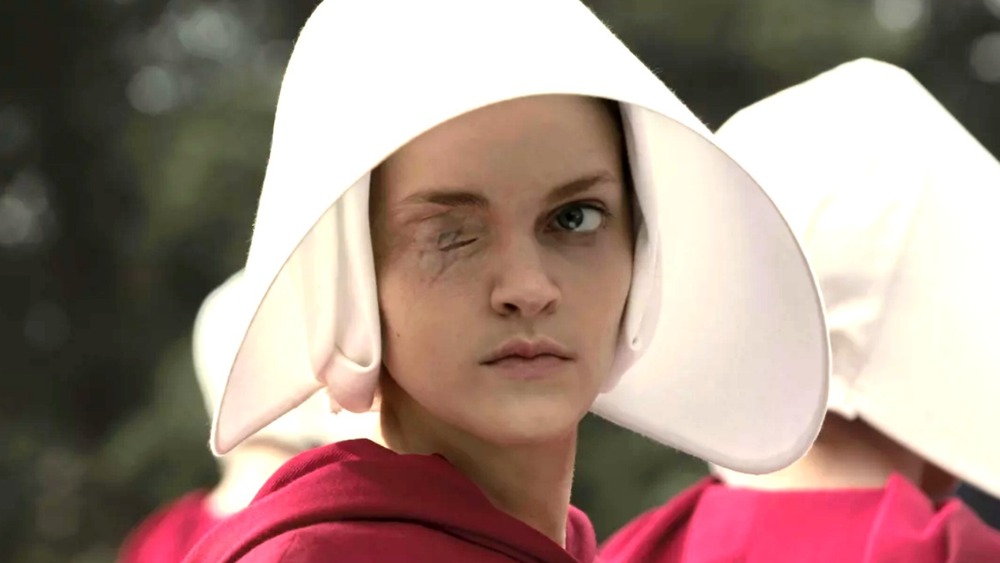 Hulu
Hulu's award-winning series The Handmaid's Tale stars Elisabeth Moss as June Osborne, also known as Offred, a woman who is caught and forced to be a Handmaid while attempting to escape the United States. Based on the 1985 book by Margaret Atwood, the show portrays a dark and depressing dystopian world in which a totalitarian government has taken over the US and established a violent, sexist, and oppressive new class structure.
The Hulu series began in 2017 and has released three seasons so far, with a fourth premiering on April 28, 2021. The Handmaid's Tale has won two Golden Globes, including one for Best Television Series – Drama, as well as many Emmys. Along with Moss, the series stars Yvonne Strahovski, Joseph Fiennes, Ann Dowd, Alexis Bledel, Samira Wiley, Madeline Brewer, and many more familiar faces. Brewer plays a character named Janine, a rebellious woman who fights against the government of Gilead's new way of life. Because of this, she loses her right eye and is sent to a commander's house where she is forced to have his children. Janine soon has a daughter and goes through quite a lot to be with her, even attempting to kidnap the baby.
Brewer manages to stand out amidst an already amazing cast, and her character Janine is as complex and layered as they come. Along with this role, Brewer has had quite the full career since she first started acting in 2013, and you've definitely seen her before.
Here's why Brewer, the actress who plays Janine in The Handmaid's Tale, looks so familiar.
Madeline Brewer's first role was Tricia Miller in Orange is the New Black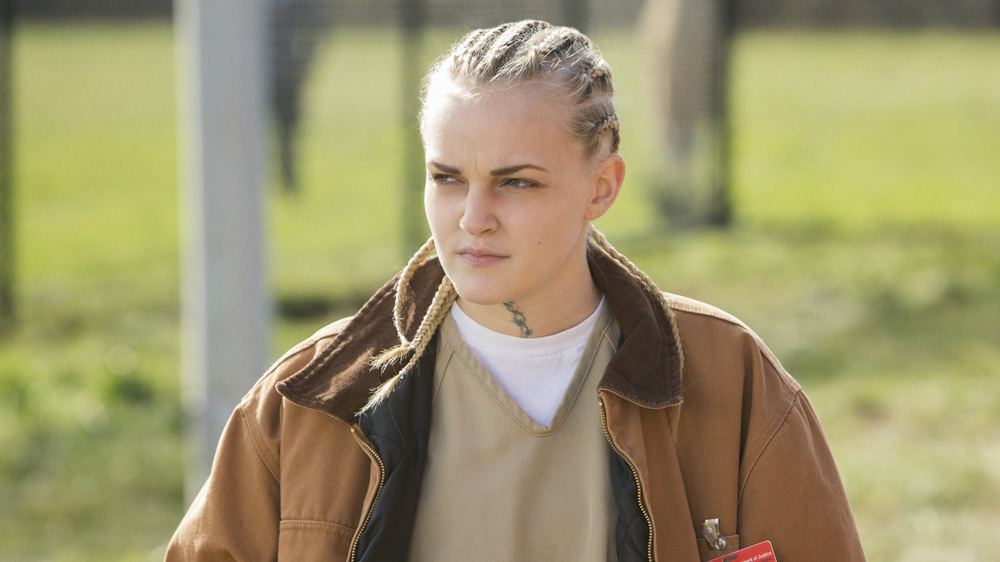 Netflix
Brewer didn't waste any time starting her acting career, and her first role was in the hit Netflix series Orange is the New Black. Starring Taylor Schilling and Laura Prepon, the show follows a woman named Piper (Schilling) who is given a sentence of 15-months at the Litchfield Penitentiary in Upstate New York for drug smuggling. The punishment comes ten years after the crime was actually committed, and it upends her peaceful life with her fiancé, friends, and a steady job. Orange is the New Black follows Piper's new life in prison as she reunites with her past love, Alex Vause (Prepon), and takes on the drama and trauma of life as an inmate.
In the Netflix drama series, Brewer plays a character named Tricia Miller, a fellow inmate at Litchfield Penitentiary. Tricia is only 19 years old in the first season of Orange is the New Black. She is one of the youngest inmates and suffers from drug addiction. One of the corrections officers supplies Tricia with drugs while she's in prison, resulting in her addiction continuing. When the supply runs dry, Tricia is forced to detox, which is good for her, but once the corrections officer begins smuggling drugs in again, he makes Tricia sell. Of course, that ends up being too much of a temptation for her, and Tricia takes a bunch of Oxycontin pills and overdoses.
Brewer's character only appears in the first season of Orange is the New Black, but her story has a lasting impact on both the characters and the show.
Brewer portrayed Miranda Cates in the supernatural drama Hemlock Grove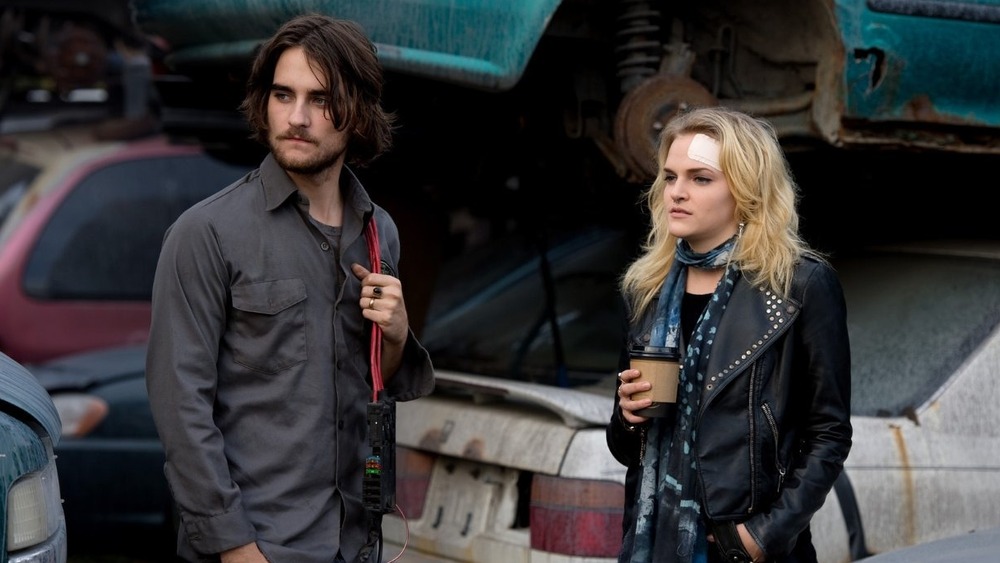 Netflix
Brewer's next major role was actually in another Netflix Original series called Hemlock Grove. Alongside Orange is the New Black and House of Cards, Hemlock Grove was one of Netflix's first original productions, starring Bill Skarsgård, Landon Liboiron, Famke Janssen, and Dougray Scott. According to Netflix's official synopsis, "Hemlock Grove is a riveting one-hour murder mystery that revolves around the residents of a former Pennsylvania steel town. When 17- year-old Brooke Bluebell is brutally murdered, any of Hemlock's peculiar inhabitants – or killer creatures – could be suspects." The show is dark, weird, and definitely not for kids, but it's quite an exciting ride.
Brewer joined Hemlock Grove for its second season as a character named Miranda Cates. Driving through town, Miranda is driven off of the road and ends up at the house of Roman Godfrey (Skarsgård). Strange and intense, Miranda should be put off by Roman, but instead she finds him interesting and the two develop a romantic relationship. At the same time, Miranda meets Peter (Liboiron) and begins a relationship with him as well. But soon enough this is all torn apart, as Miranda finds out just how supernatural the town of Hemlock Grove is and that Roman and Peter aren't as human as she thought.
Brewer played Alice in the critically-acclaimed horror film Cam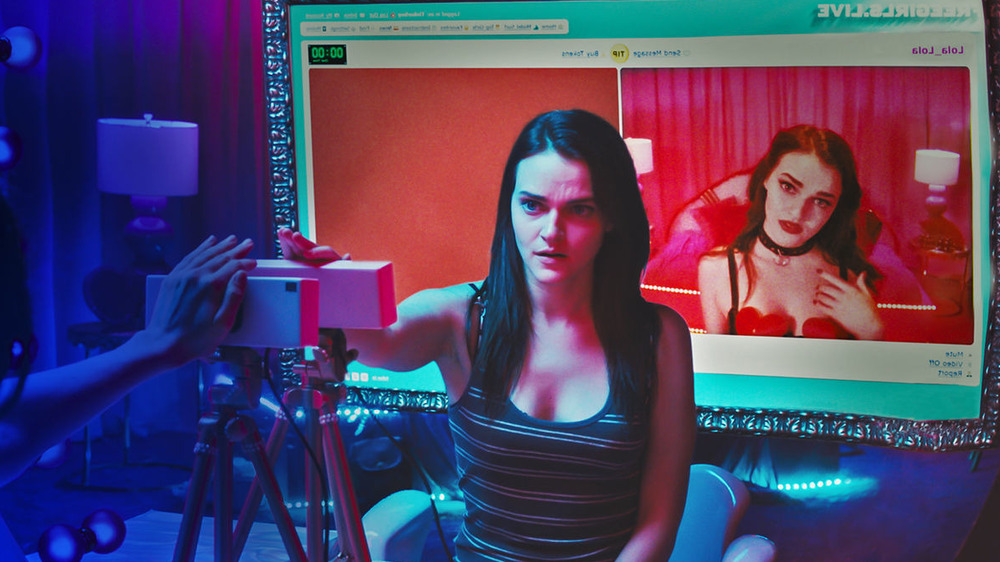 Netflix
In 2018, Brewer starred in the indie horror film Cam, about a young woman named Alice who works as a "cam girl" online and finds her life stolen by her online persona, Lola.
Alice starts working as a cam girl for a popular site and quickly rises to the top of the ranking list. Everything's going great until one morning when Alice can't log in to her account and finds someone who looks exactly like her going live on her channel. Alice attempts to tell people that it's not her but no one listens, so she starts looking deeper. Alice quickly finds out through her most loyal customers and other cam girls that this has happened before to other women, and there doesn't seem to be any way to stop it. But Alice wants her life back, and she doesn't intend to stop until she succeeds. 
Cam did extremely well with critics on the festival circuit and after premiering on Netflix, with many praising Brewer's performance, and the film earned a 93% on Rotten Tomatoes. In an interview with Paper Magazine, screenwriter Isa Mazzei explained how she wanted to create a story centered around a complex and realistic sex worker, especially in a genre like horror, in which sex workers are usually treated as disposable or heavily stereotyped. She said, "I think that by getting an audience inside Alice's head and having them root for Alice, they're empathizing with a sex worker in a way that's actually pretty subversive." 
The film Hustlers featured Brewer as the unreliable Dawn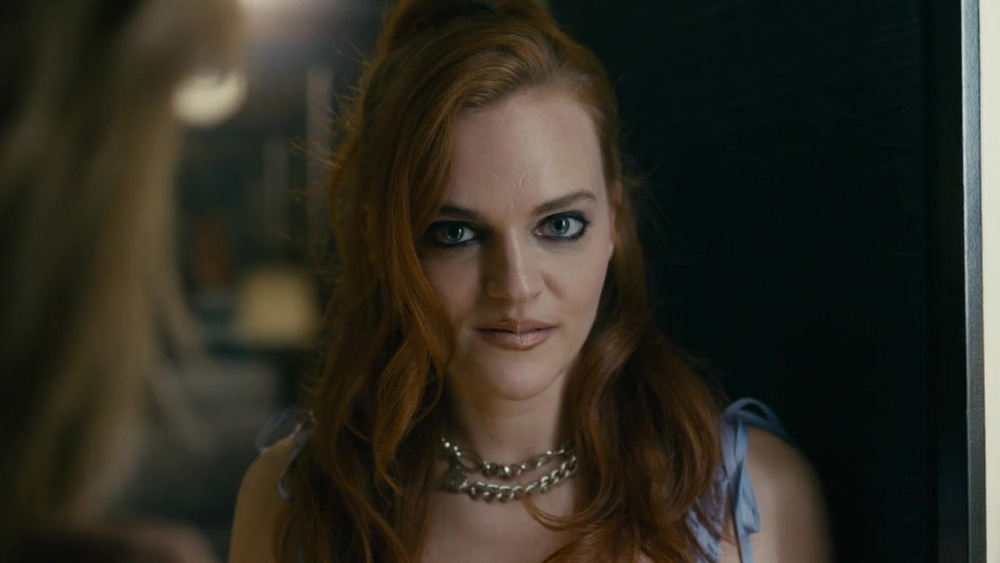 STX Entertainment
Most recently, Brewer played an important supporting role in the Jennifer Lopez-led drama Hustlers. The critically-acclaimed film was directed by Lorene Scafaria and also stars Constance Wu, Julia Stiles, Keke Palmer, Lili Reinhart, and many more. The story is based on a nonfiction New York Magazine article called "The Hustlers at Scores" by Jessica Pressler. The article's introduction stated, "Here's a modern Robin Hood story for you: a few strippers who stole from (mostly) rich, (usually) disgusting, (in their minds) pathetic men and gave to, well, themselves," and that pretty much sums up the plot of the film.
Lopez's character, Ramona, works as a stripper with Wu's Dorothy, and together the two devise a plan to earn a lot more money through scamming men in NYC. They bring in a handful of other girls to help, and soon enough they are practically rolling in cash. Brewer's character, Dawn, is a bit of a latecomer to the game. She is brought in by Ramona when their business is getting too big to handle. Unfortunately, Dawn is flighty and immature and dealing with drug addiction, and eventually a confession of her involvement brings the women's kingdom crumbling to the ground.