The Horror Comedy Hidden Gem That Has Fans Flocking To Amazon Prime Video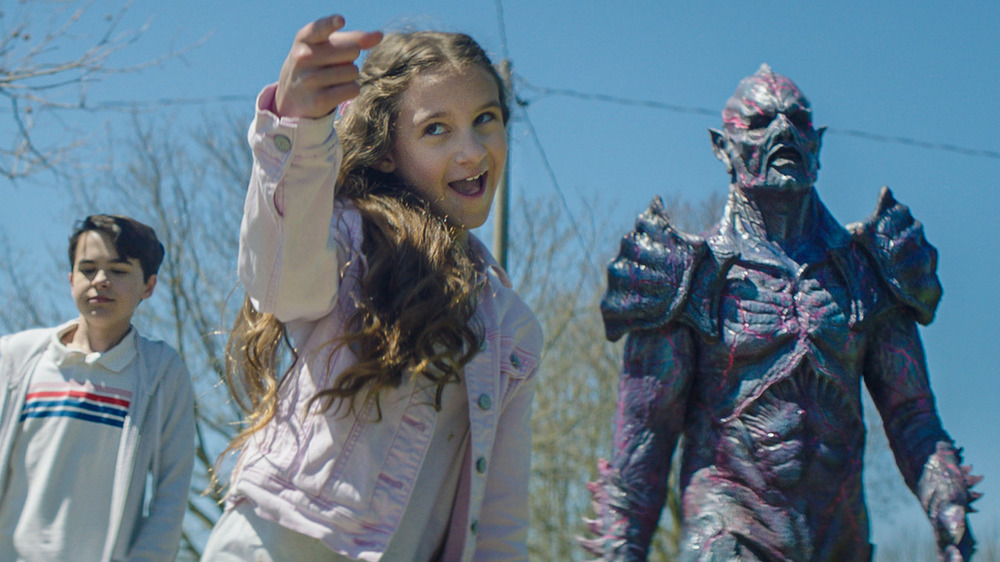 Raven Banner Entertainment/RLJE Films
Do you 1) like a good horror flick with extra-terrestrial flavor and a tinge of Lovecraftian mirth, 2) have a genuine affinity for practical special effects mayhem, and 3) enjoy a good laugh and a lot of camp alongside ghastly dismemberments and fountains of fake blood? If you checked all three of those boxes, Amazon Prime Video just added a flick that needs to head to the top of your queue immediately. It's called Psycho Goreman, and it's unlike any horror comedy movie you've ever seen.
Yes, that last statement remains true even if you're familiar with Steven Kostanski as co-director of 2016's The Void, or with any of the similarly offbeat productions from B-movie genre powerhouse Raven Banner Entertainment (see: 2014's WolfCop, 2015's Turbo Kid, and 2019's Yummy). And as far as those films pushed the cinematic limits of good taste, good camp, and good ole "holy s**t, did they just do that?" style laughs, Psycho Goreman ups the ante in ways few films not set in Tromaville would ever dare.
It will come as little surprise that Kostanski indeed has ties to Troma, having worked with the infamous production house on several past projects, including 2011's riotous Father's Day. Psycho Goreman is just the director's second solo feature, however, with much of his previous work having been with the Atron-6 collective. And after his gonzo 2018 fright-fest Leprechaun Returns (yes, a revival of the infamously so-bad-you-have-to-see-it series that's been everywhere from the hood to space), it's safe to assume that Kostanski is categorically incapable of holding back when it comes to pushing boundaries.
If you want to see exactly how far Steven Kostanski goes in Psycho Goreman, one look at the film's trailer will be enough to prove it's a must-see for the horror-comedy set.
What's the plot of Psycho Goreman?
Kostanski clearly relishes every chance he gets to push boundaries further than ever before with Psycho Goreman, a positively unhinged adventure about a pre-teen girl (Nita-Josee Hanna) who, along with her brother (Owen Myre), uses a magical gem to resurrect an ancient alien overlord capable of destroying the universe. Initially they use the creature in service of their own childish whims, but that changes when intergalactic assassins come to town and, well, the less said about that madness the better. Just know Psycho Goreman is the very definition of a film that has to be seen to be believed.
Even still, many who have seen Psycho Goreman are having trouble believing the film's brazenly over-the-top action, and they've taken to Reddit to discuss the insanity. Yes, that conversation is about as colorful as you'd expect, and much of it is unprintable here. Nonetheless, initial poster occupy_elm_st kicked things off by lovingly hailing Psycho Goreman "one of the most absurd Horror Comedies out there."
Psycho Goreman is getting an appropriately colorful response from fans on Reddit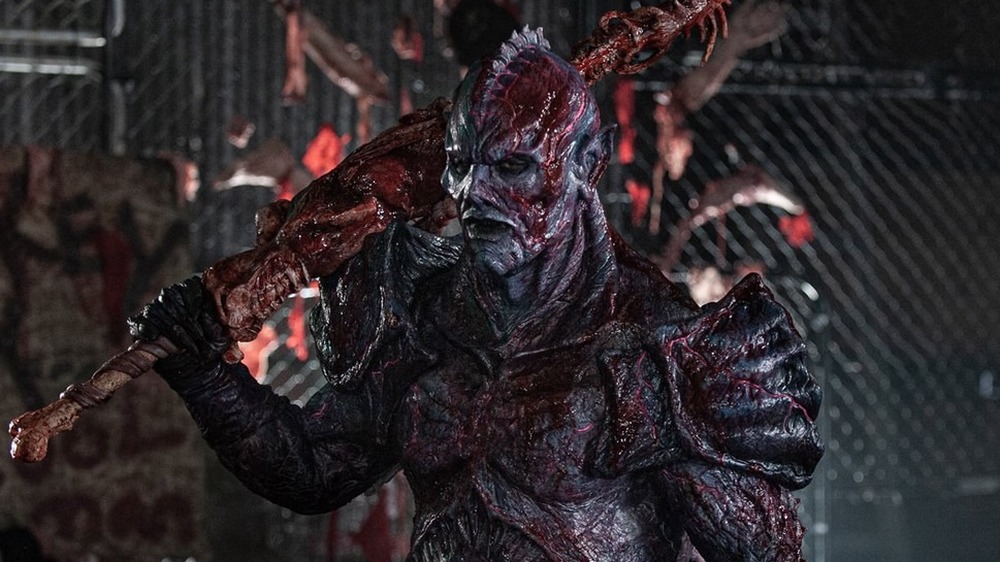 Raven Banner Entertainment/RLJE Films
CashMclane backed the enthusiastic sentiment from occupy_elm_street, proclaiming, "I've been laughing about it for 2 days straight," later doubling down on their love of the film by boasting, "I've already watched it twice and can't wait to watch it again." The praise continued with Wolfsblut_AD adding "This instantly turned into one of my new favorite movies, I loved it so much," and mrmanticore2 saying simply, "Everything about this was awesome lol."
It isn't just the bonkers tone of Psycho Goreman that's drawing raves in the thread — there's plenty of enthusiasm for the movie's particular technical merits, too. "You like practical effects?" frankdog180 writes. "This movie has practical effects." In fact, those "rubber monster" vibes have more than one commenter making a fairly apt comparison by calling it "Power Rangers for adults." Of course, as one might assume from the title, there's also so much gore that it's basically impossible to discuss the movie without the conversation circling back to that point again and again.
And if Reddit reviews aren't enough to convince you, you might be intrigued to learn that professional critics have been showing Psycho Goreman some love, too. The splatterfest currently holds a Certified Fresh rating on Rotten Tomatoes, with the review aggregator's consensus stating that it "delivers all the cheesy midnight-movie goodness promised by its title."
Clearly Psycho Goreman comes with more than a few hearty recommendations. Of course, it doesn't come without a warning — as occupy_elm_st writes in their initial Reddit post, "Of all the films I've seen in my lifetime, this one takes the cake for 'not for everybody.'" But if you want to see whether it lives up to the hype, you'll have to drop $6.99 to find out, as the film is currently only available to rent. You'll just have to trust those Redditors that, for the right sort of viewer, Psycho Goreman is more than worth that paltry sum.