Why Pastor Pedro From Plan B Looks So Familiar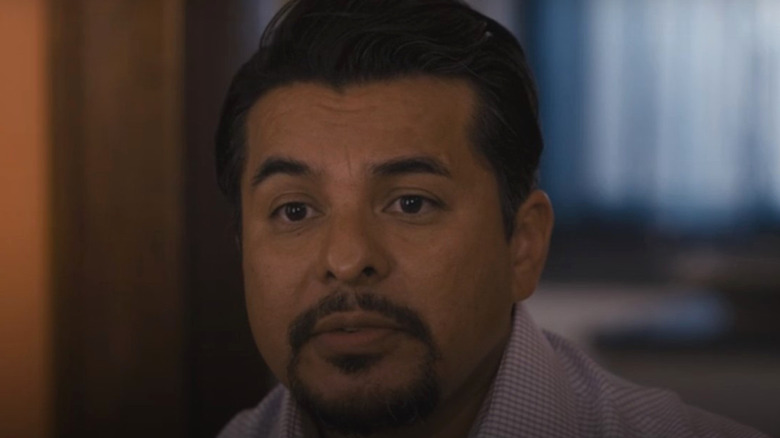 Hulu
There's a reason the trouble often starts at home in movies about teenagers. Even when someone has kind and loving parents, the relationship between a teen and their mom or dad can be fraught as the kid grows into a new identity and the parents try to reconcile it, both with the person their child once was and the person they hope that child will become. 
In actor-turned-director Natalie Morales' new high school road trip comedy "Plan B," Lupe (Victoria Moroles) has a parent who's unafraid to let her know exactly what he thinks of the teenager she's becoming, particularly in terms of her style choices. "You look like a skunk," Pastor Pedro tells his daughter when she comes to breakfast wearing black lipstick. "A depressed skunk," he adds. Lupe talks back but does what he says when he tells her to wipe it off, getting her revenge only after she's left the house when she puts on her septum ring. 
It's probably best to listen to her dad. Though Pastor Pedro may be a religious single father raising her and her brothers, actor Jacob Vargas is no stranger to playing Hollywood tough guys of varying degrees of effectiveness throughout his career.
Jacob Vargas joined the family band in Selena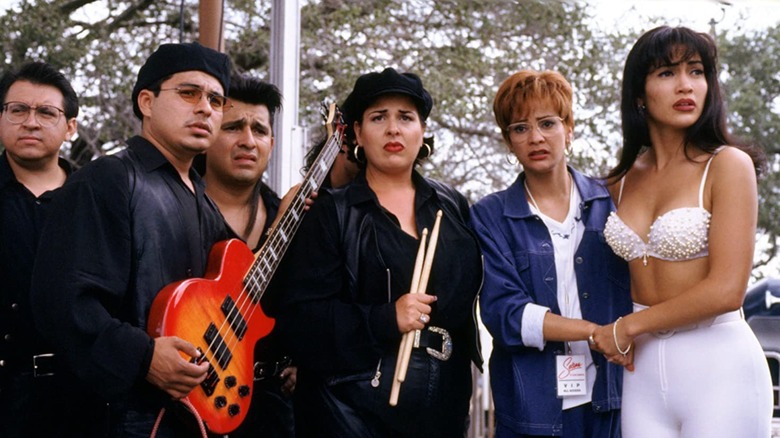 Warner Bros.
Vargas got his breakout role in 1997 when he was cast as Abraham (A.B.) Quintanilla III in the Jennifer Lopez-starring biopic "Selena." A.B. was Selena's older brother, recruited by their father, Abraham Jr. (Edward James Olmos) to play bass in her backing band, Los Dinos. Sister Suzette (Jackie Guerra) played drums, and the band became even more of a family affair when Selena married its lead guitarist, Chris Pérez (Jon Seda).
The real A.B. Quintanilla served as a producer for Selena and co-wrote some of her hits before going on to found the bands the Kumbia Kings and the Kumbia All-Stars. A.B. and the family also worked with Netflix on "Selena: The Series." 
It wouldn't be the last time Vargas would appear on film as a family member of the central character in a biopic. In Gabriel Luna's 2014 film "Cesar Chavez," Vargas played Richard Chavez, the brother of Cesar who would be a crucial player in the formation of the United Farm Workers.
Jacob Vargas wasn't the only Joker in Next Friday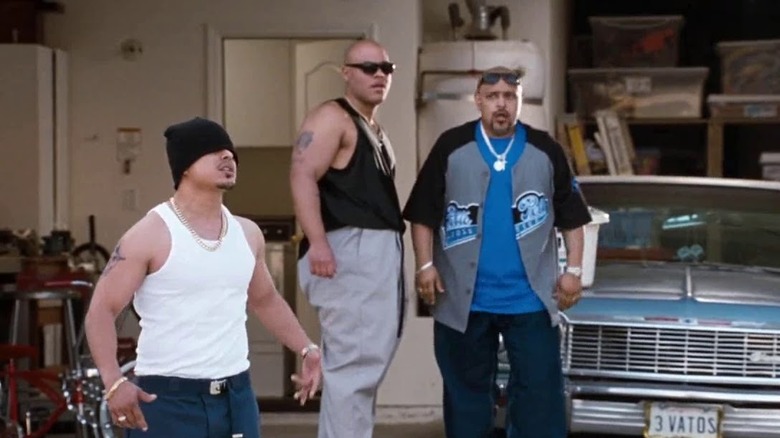 New Line Cinema
In 2000, Vargas landed a part in the comedy sequel "Next Friday" as the always-shouting, ski-cap-wearing gangster Joker — not to be confused with his brothers Lil' Joker (Lobo Sebastian) or Baby Joker (Rolando Molina).
In need of money to avoid having their house in Rancho Cucamonga repossessed, Day-Day (Mike Epps) and Craig (Ice Cube) decide to steal some of the Joker brothers' ill-gotten gains. The plan is not executed flawlessly, and Day-Day and his co-worker Roach (Justin Pierce) end up kidnapped by the brothers. Craig, with the help of his father Willie (John Witherspoon), uncle Elroy (Don Curry), and a last-minute appearance from his nemesis Deebo (Tommy Lister Jr.), fights off the three Joker brothers, obtains the cash, and saves the house.
Vargas landed another big film role in the year 2000 when he played Mexican police officer Manolo Sanchez in Steven Soderbergh's "Traffic." Manolo is the partner of Benicio Del Toro's Javier Rodriguez, who joins Javier in working to wipe out the Obregón cartel for the corrupt General Salazar (Tomas Milian). He's murdered by Salazar after attempting to report him to the U.S. Drug Enforcement Agency, which leads Javier to turn on the general and provide the information that leads to his arrest.
Jacob Vargas was a late addition to the Sons of Anarchy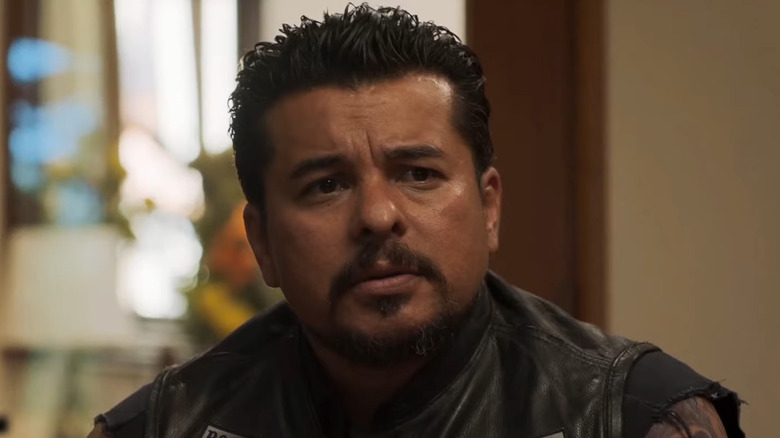 FX
In 2013, Vargas signed on to a gang a little more intimidating than the Jokers when he joined the cast of "Sons of Anarchy" as Allesandro Montez, a former member of the Sons of Anarchy Motorcycle Club's Reno chapter who makes the move to the Redwood Original chapter at the center of the show's events. 
Though Vargas appeared in 15 episodes of "Sons of Anarchy," Montez was largely a background character, distracting law enforcement, burying bodies, and accompanying other characters on their missions, but getting few story beats of his own as the show wrapped up plotlines from the previous five seasons. 
Vargas would reprise the role as Montez in the spin-off series "Mayans M.C." where he's been promoted to Road Captain of the SAMCRO chapter and entrusted with accompanying the SAMCRO members as they meet with the Mayans and try to settle tensions. Montez appeared in Seasons 2 and 3 of "Mayans," but was killed in the fourth episode by El Palo (Gregory Cruz), the leader of the Vatos Malditos, who caught him off-guard and suffocated him with a plastic bag. 
Jacob Vargas played a warring gang leader on Luke Cage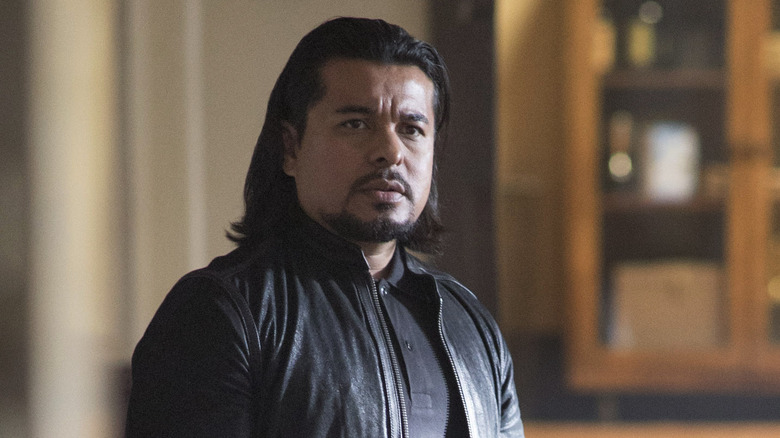 Miles Aronowicz/Netflix
In 2016, Vargas was cast as Domingo Colon, leader of the Colon Crime Family on Marvel's Netflix series "Luke Cage." Colon and his associates made up one side of a gang war that erupted in Harlem after an arms deal between his outfit and the Stokes Family went bad. Luke Cage's (Mike Colter) new vigilantism has raised tensions, with everyone wondering who the new threat is working for and what he wants. This struggle and the uncertainty around it is the background for Cage's own battles with Cornell "Cottonmouth" Stokes (Mahershala Ali), Mariah Dillard (Alfre Woodard), and his half-brother, the arms supplier Diamondback (Erik LaRay Harvey).
But Colon overreached in the conflict, attacking Diamondback in an effort to get the weapons necessary to consolidate power. He and his men corner Diamondback, but their quarry counterattacks in an armored battlesuit developed by Hammer Industries that's able to withstand their gunfire, which allows him to kill Colon and his men.