Mayans MC Fans Just Got Some Fantastic News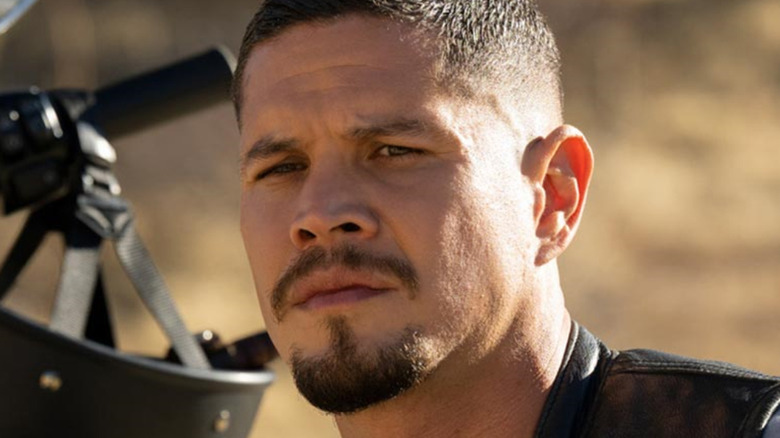 FX
"Sons of Anarchy" spin-off "Mayans MC" debuted on FX in 2018, just months after the network ordered a 10-episode first season of the series. Its title is in reference to the Mayans Motorcycle Club, who were a consistent presence throughout the seven-season run of "Sons of Anarchy." In the debut season of "Sons of Anarchy" the Mayans work in firm opposition to the titular motorcycle club. One of their first acts in the series is stealing a stash of guns from the Sons of Anarchy and burning down the warehouse that held it. Later on, the Mayans and the Sons of Anarchy ally with one another, though tensions continue to swell between the two clubs from time to time.
"Mayans MC," in addition to focusing on the Mayans Motorcycle Club, is something of a sequel series to "Sons of Anarchy," opening a little over two years after the original show's finale. However, while its predecessor takes place in a fictional town in central California, "Mayans MC" features a fictional town on the border between California and Mexico as its primary location.
The final episode of the third season of "Mayans MC" is set to air on May 11. That said, fans of the series thus far can now rest assured that the series' third season will not be its last.
The Mayans will return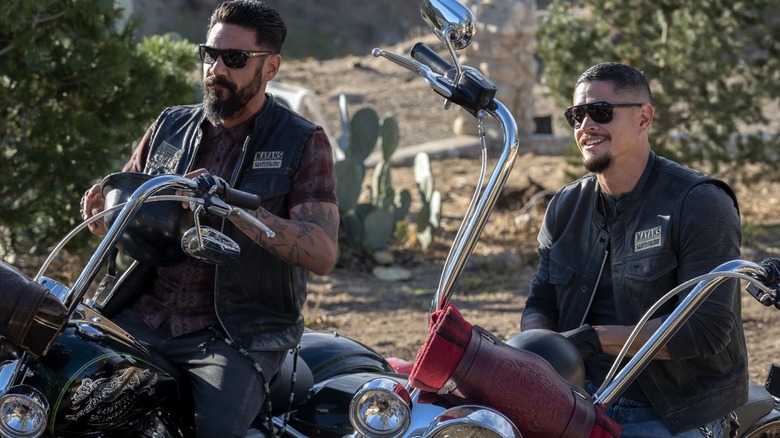 FX
In the lead-up to the series' Season 3 finale, FX has announced that "Mayans MC" has been renewed for a fourth season (via The Hollywood Reporter). The network has yet to announce an exact release date for the "Mayans MC" Season 4 premiere, but has stated that the upcoming season should debut sometime in 2022. The series is currently one of the most popular shows on FX, drawing an average of 741,000 viewers upon the premiere of a new episode, and twice that in the days following.
Just before the debut of Season 3 of "Mayans MC," FX fired showrunner Kurt Sutter, who also served in the same capacity on "Sons of Anarchy," from his role as executive producer (via Deadline). In March 2019, Disney acquired Fox, which included the FX network. Sutter credited tensions between him and his new bosses at Disney with his firing. The network, meanwhile, cited complaints from cast and crew about Sutter's behavior. Former hardcore punk gang member and "Mayans MC" co-creator Elgin James took over as "Mayans MC" showrunner in the wake of Sutter's departure. James will remain showrunner upon the return of "Mayans MC" for its fourth season in 2022.