Zack Snyder's Latest Green Lantern Reveal Has Justice League Fans Talking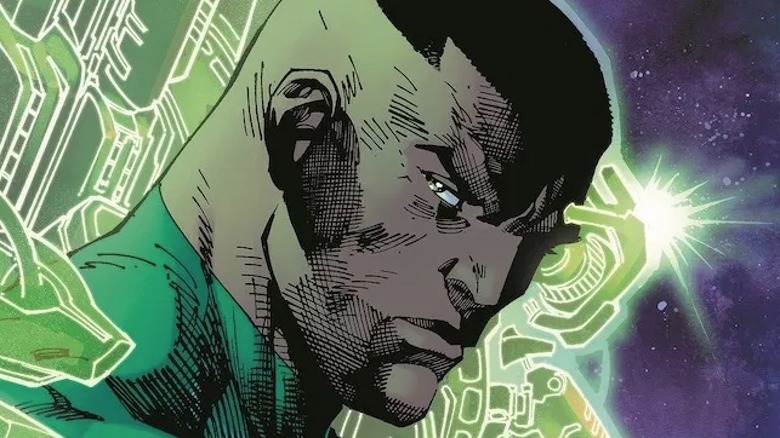 DC Comics
Zack Snyder is having himself a year, folks. Even as the beloved director's hotly anticipated zombie heist flick "Army of the Dead" is mere days away from invading Netflix, the genre-loving cineastes of the world remain in rapture over the release of Snyder's recut, reshot, and revamped comic book epic "Zack Snyder's Justice League." Since the streaming-only release of that film in March, Snyder and some of his closest collaborators on the project have delighted fans with behind-the-scenes glimpses of things that did, and did not, make the movie's final cut.
That includes a look at Jojo Aguilar's stunning concept art for the John Stewart version of DC's Green Lantern, whom Snyder originally slotted into his "Justice League" for a cameo appearance. While that scene was ultimately cut at the request of Warner Bros., it seems Snyder and his Green Lantern actor Wayne T. Carr did indeed complete the footage. As was the case with the scene that replaced it (Harry Lennix's Martian Manhunter cameo), they also filmed said footage in the director's own driveway. And during a recent online Q&A, Snyder himself revealed a look at what might have been, showing off a glorious shot of Carr in full Green Lantern regalia.
An photo of Snyder's reveal has since been shared on Twitter by Ishaan Sangha, and we have to admit that even as a tiny, grainy shot displayed on Snyder's own phone, it's a bit of a stunner.
Zack Snyder fans are lighting up social media over that Green Lantern image
That shot has the whole of Zack Snyder's fanbase lighting up Twitter with overwhelmingly positive reactions. Wayne T. Carr himself was among them, responding to the image's leak by posting, "In brightest day! @zacksnyder You Rock!" with the accompanying hashtags "#ZackSnydersJusticeLeague" and "#RestoreTheSnyderVerse."
The Green Lantern love came in waves soon after, with Isa Bello Slueiman dropping that #RestoreTheSnyderVerse hashtag behind their own adoring post: "This is crazy!! Green Lantern – John Stewart in the SnyderVerse." Twitter user Owen soon provided one of many posts demanding to see the footage, "Bruh if this is real I want to see it ASAP," followed by fire and popped-eye emojis. Steph Anie was quick to agree, pondering why the scene was cut, "GIMME!!!!! Why did they cut this man??!! This would have been EPIC!!!" AVar214 was also impressed by Snyder's ongoing bravado, posting, "What a boss f***in move!!!"
The love continued from there, with most Snyder fans offering genuine confusion as to why WB brass asked that the scene be cut. Even more were asking why WB didn't want the director to release his Green Lantern footage. The answer is pretty clear, as HBO Max has greenlit a "Green Lantern" series which might include John Stewart among the Green Lantern Corps. Likewise, Warner Bros. may or may not be eyeing the character for a standalone "Green Lantern" movie (via Screen Rant). Whatever the plan, fans are clearly ready to see John Stewart in action. Here's hoping Wayne T. Carr is the man to bring the character to life, 'cause he really is looking great in that shot.