Dwayne Johnson Has Shared Some Great News About Jungle Cruise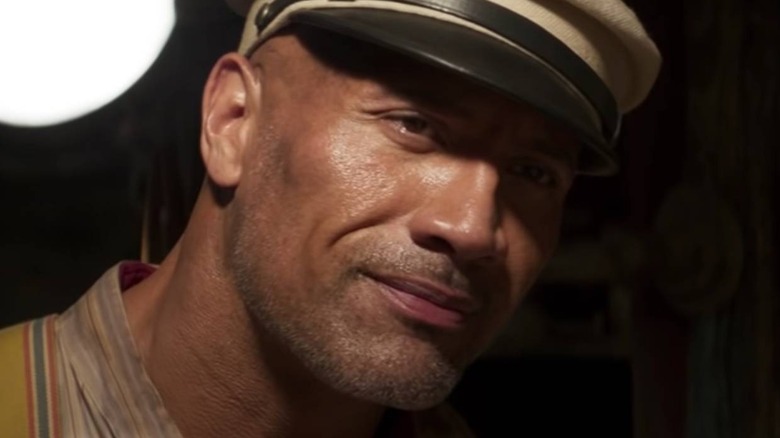 Walt Disney Studios Motion Pictures
The relationship between Disneyland rides and Disney films is a symbiotic one. The studio has a ton of inspiration right there in the parks ripe for the picking, and Disney has already seen a massive amount of success with the "Pirates of the Caribbean" franchise with even more adventures on the open sea planned for the future. Now, the Mouse House is hoping lightning can strike twice with its upcoming live-action adventure film "Jungle Cruise."
Directed by Jaume Collet-Serra, "Jungle Cruise" stars Dwayne Johnson as riverboat captain Frank Wolff and Emily Blunt as scientist Dr. Lily Houghton, and follows the characters as they embark on an epic voyage that will undoubtedly take them behind a waterfall to try to find the mythical Tree of Life. Bringing two likable actors together for what looks like a fun journey is bound to be a hit with audiences, and it's just a shame we've had to wait so long for the movie to come out. 
The film was originally supposed to be released in July 2020, but the COVID-19 pandemic had other plans. "Jungle Cruise," along with pretty much every other blockbuster, got pushed into the future so that audiences could actually have the opportunity to watch them on the big screen. Of course, in the event you're still hesitant to head to a crowded theater in the near future, some good "Jungle Cruise" news has just dropped — courtesy of the Rock himself.
Jungle Cruise will come to theaters and Disney+ Premier on the same day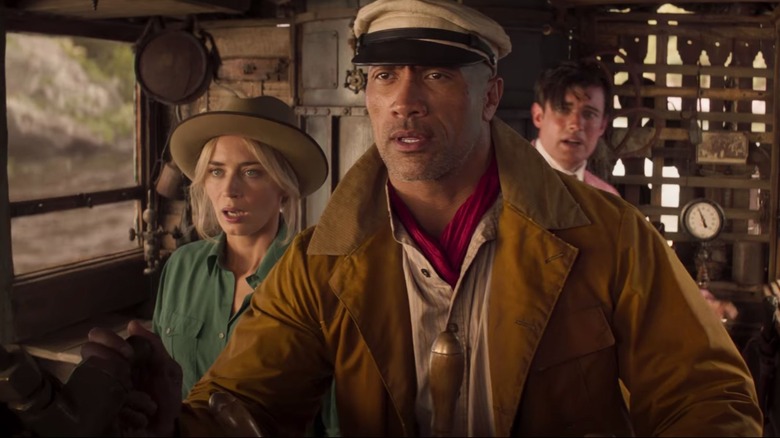 Walt Disney Studios Motion Pictures
2021 is serving as a year of experimentation for many studios. Warner Bros. is releasing all of its 2021 films to theaters and on HBO Max simultaneously. Paramount will release its films to its own streaming service, Paramount+, just 45 days after the movies land in theaters. And naturally, Disney has its own platform its been playing around with. While some films like "Soul" have gone directly to Disney+ without an additional charge, the studio also has Premier Access, where subscribers can pay $30 to watch the movie the same time it's in theaters; alternatively, they can wait three months from the time of the film's theatrical release to watch it on Disney+ without an additional charge. It looks like "Jungle Cruise" will be getting the Premier Access treatment, as evidenced from an Instagram post from Dwayne Johnson.
The actor used his massive Instagram following to announce that "Jungle Cruise" will still debut in theaters on July 30, but it will also be available that same day on Disney+ Premier Access for an extra $30.
Along with the video, Johnson included a lengthy message: "Join my ace Emily Blunt (the female Indiana Jones) and myself on THE ADVENTURE OF A LIFETIME as our DISNEY's JUNGLE CRUISE hits theaters and your living rooms ON THE SAME DAY — JULY 30th." That means regardless of how you're comfortable watching movies while COVID-19 is still around, you can do so this summer.
"Jungle Cruise" follows in the footsteps of some other major Disney releases, including "Cruella" and "Black Widow," that will engage with the same release strategy. Will this just be a 2021 thing, or is it going to be the future of how studios release their films? It's hard to say, but for now, we can just look forward to seeing Johnson and Blunt combat with snakes, tigers, piranhas, and everything else in the Amazon trying to kill them.