Pirates Of The Caribbean 6 Development Details And More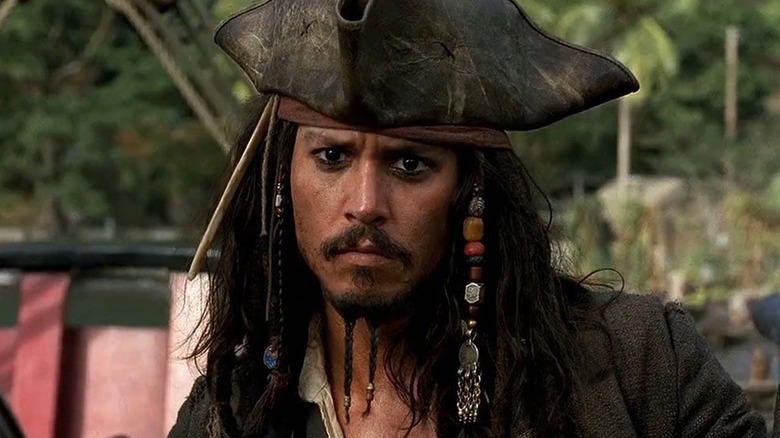 Walt Disney Pictures
We may receive a commission on purchases made from links.
When "Pirates of the Caribbean: The Curse of the Black Pearl" sailed into theaters back in 2003, did anyone really expect it to become such a major success? After all, it was based on a Disneyland ride, cost $140 million to make, and starred Johnny Depp — a respected actor but not yet a box office draw. Of course, audiences absolutely loved Depp's portrayal of drunken Captain Jack Sparrow, and the film earned a whopping $654 million worldwide, making it the second highest-grossing movie of the year domestically.
After that, Disney steered into sequel territory, creating an entire franchise revolving around Captain Jack and his motley crew. However, after a series of critical and financial disappointments, the series petered out with the fifth film, "Dead Men Tell No Tales." But will the Black Pearl ever set sail again? Is there a sixth film in store for our buccaneer buddies? Well, mateys, things look like they're moving in a positive direction, so put down that bottle of rum and read on for everything you need to know about "Pirates of the Caribbean 6."
When will Pirates of the Caribbean 6 be released?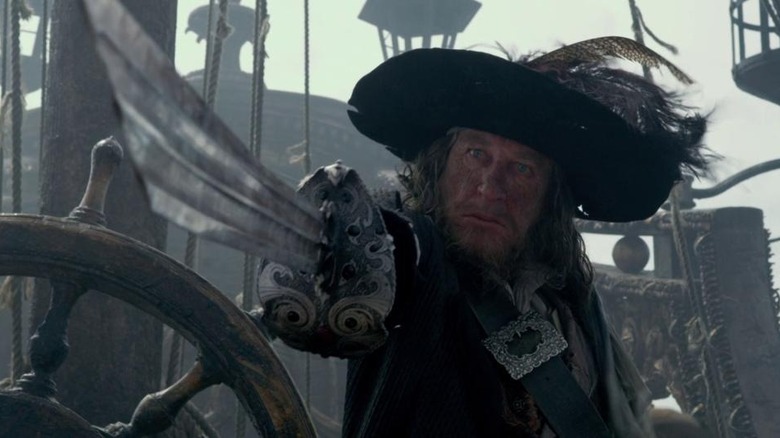 Walt Disney Pictures
Disney has been wanting to make a "Pirates of the Caribbean 6" for quite some time. In December 2010, Hitfix reported that the studio actually planned on filming "Pirates 5" and "Pirates 6" back to back, "Lord of the Rings"-style. Obviously, that didn't pan out, and with "Dead Men Tell No Tales" getting shellacked by critics and becoming the lowest-grossing "Pirates" film at the domestic box office and the second lowest-grossing installment worldwide, it appears that plans for a six film were temporarily scuttled.
However, the House of Mouse hasn't given up on the idea of another swashbuckling adventure. In 2018, the studio began assembling writers to pen a new script (more on this in a minute). Of course, the COVID-19 pandemic and Johnny Depp's tempestuous legal affairs have made things complicated for the franchise, but it seems that Disney still hopes to get "Pirates 6" made. In June 2023, Sean Bailey — the president of Walt Disney Studios Motion Picture Production — told The New York Times that they were working on a new movie, saying, "We think we have a really good, exciting story that honors the films that have come before but also has something new to say."
Still, we have no clue when the movie will actually hit theaters. There's no director no attached, no cast announced, no official plot synopsis, and filming definitely hasn't started. Everything is very much in early pre-production, but we'll keep you updated when news breaks.
Who is starring in Pirates of the Caribbean 6?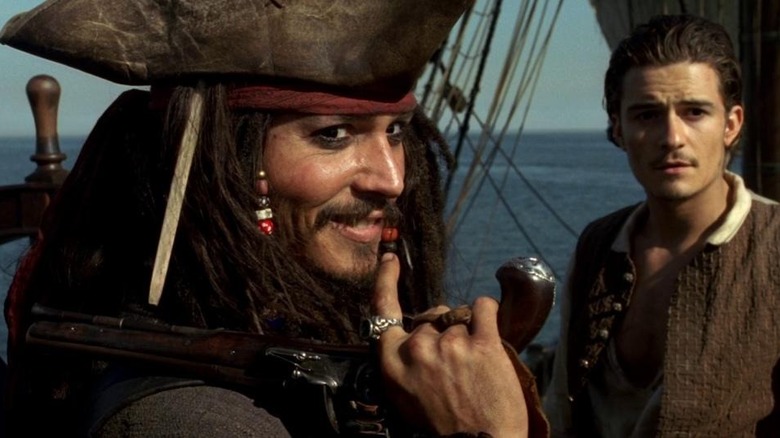 Walt Disney Pictures
In December 2022, producer Jerry Bruckheimer told The Hollywood Reporter that they were close to getting started on a "Pirates" movie featuring "a younger cast." He didn't elaborate further than that, but we're wondering if a certain older character will be back in action. Will Johnny Depp return as Captain Jack Sparrow?
Well, everybody on the planet knows Depp was involved in a very public defamation trial against his ex-wife, Amber Heard. And according to Depp, accusations leveled at him by Heard had a major impact on his career. In 2018, the U.K. tabloid Daily Mail claimed that Depp was "out" as Jack Sparrow, and when this was brought up during the trial, Depp responded, "Two years had gone by of constant worldwide talk about me being this wife beater. So I'm sure that Disney was trying to cut ties to be safe."
What have the Disney suits said about this? In May 2020, Collider asked Jerry Bruckheimer about Depp's involvement in "Pirates 6," and he responded, "The one we're developing right now, we're not sure quite what Johnny's role is going to be." Similarly, in December 2018, The Hollywood Reporter asked Disney exec Sean Bailey if the A-lister would return. His answer? "We want to bring in a new energy and vitality." However, a year after the trial, The New York Times went to Bailey and asked about Depp. His answer? "Noncommittal at this point," which sounds like a step back from his earlier response.
But would Depp even return, or does he hold a grudge? Well, during the defamation trial, the actor affirmed that not even "$300 million and a million alpacas" could get him to work with Disney on another "Pirates" film. But in July 2023, People reported a source close to Depp said the actor actually might board the Black Pearl again. "Anything is possible," the source told People. "If it's the right project, he'll do it."
Who is writing Pirates of the Caribbean 6?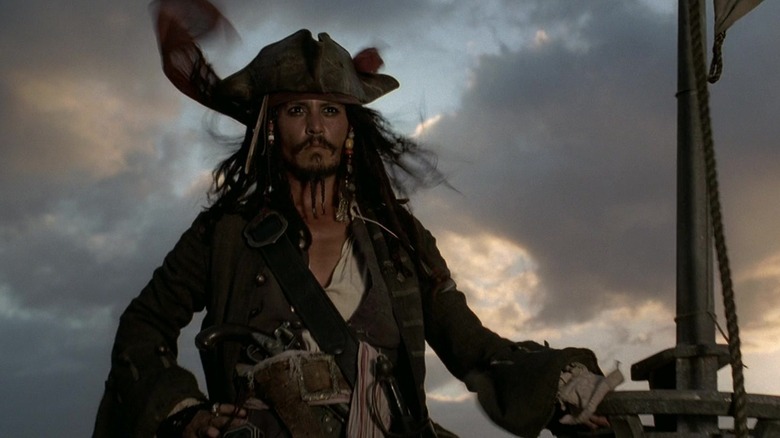 Walt Disney Pictures
Real movement on "Pirates of the Caribbean 6" started in October 2018, when Rhett Reese and Paul Wernick were tapped to write the screenplay. Reese and Wernick are two of the hottest writers in Hollywood, having penned all three "Deadpool" movies and both "Zombieland" flicks. According to Disney exec Sean Bailey, these two were brought onboard to make the franchise "punk rock again." However, by February 2019, the dynamic duo was out. 
A few months later, it was reported that Ted Elliott — who co-wrote four "Pirates" films — would be writing the script alongside Craig Mazin of "Chernobyl" fame. Then, word on the screenplay went kind of quiet until May 2020, when producer Jerry Bruckheimer told Collider, "We're working on a draft right now, and hopefully we'll get it shortly and give it to Disney, and hopefully they'll like it."
After the success of "The Last of Us," showrunner Mazin gave an interview to the L.A. Times where he dished a bit more on his "Pirates" take, describing it as bonkers — even for a "Pirates" movie. "We pitched it and thought there's no way they're buying it, it's too weird. And they did!" Mazin told the paper. "And then [Elliott] wrote a fantastic script, and the strike happened, and everyone's waiting around."
So at the moment, we're still not 100% sure on the future of "Pirates 6," although if Mazin is still captain of the ship, we're expecting something truly unique. We'll be sure to keep you updated as news breaks.
What's the plot of Pirates of the Caribbean 6?
Walt Disney Pictures
Since nothing has been confirmed, we'll have to do some guesswork when it comes to the potential "Pirates" plot. Fortunately, this is educated guesswork, as the fifth movie set up a possible story for a future installment.
"Dead Men Tell No Tales" featured a post-credits scene that teased the return of Davy Jones as an antagonist. Here, the Flying Dutchman captain sneaks into Will and Elizabeth's room as they sleep, prepares to attack them, and suddenly vanishes. Will believes he's dreaming, but the barnacles on the floor prove Jones was really there. One could easily assume this means the next "Pirates" film will involve Jones to some degree. However, "Pirates" movies haven't always stayed on a continuous timeline. The sixth film could go back in time again or focus on new pirates entirely in between the existing films. We might not hear from Davy Jones again until the seventh or eighth "POTC" movie. And, of course, this also assumes that actors like Bill Nighy, Orlando Bloom, and Keira Knightley would return to the franchise.
If the movie wanted to take a more original route, many fans have argued that "Pirates of the Caribbean 6" should focus on Redd, a once-problematic character from the original "Pirates of the Caribbean" theme park ride. In the original version of the attraction, Redd was a captive being sold in a bride auction. In 2018, the ride was updated and Redd became a female pirate auctioning off the goods she stole from the village.
Will Pirates of the Caribbean 6 be a female-led movie?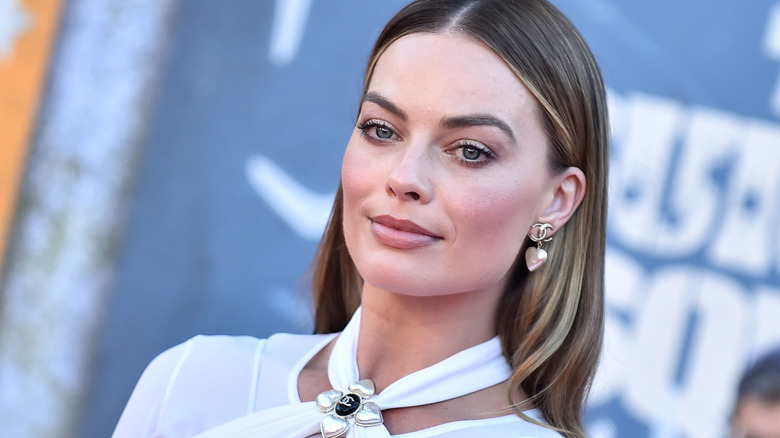 DFree/Shutterstock
If Johnny Depp doesn't come back for "Pirates 6," the series will need a new hero to fill his pirate boots. Could that character come in the form of Barbie herself? At one point, it was reported that Disney was considering a female-led "Pirates" movie with Margot Robbie as the lead. Is this movie the long-fabled sixth "Pirate" film, and is it still in the works?
Well, as it turns out, the female "Pirates of the Caribbean" movie was never intended to take the place of the sixth movie. In fact, the Robbie version was supposed to be a spinoff — another swashbuckling story set in the same universe — with a script courtesy of Christina Hodson ("Bumblebee," "Birds of Prey," "The Flash"). However, in November 2022, Robbie threw cold water on the movie's chances of ever hitting theater screens. "We had an idea," she told Variety, "and we were developing it for a while, ages ago, to have more of a female-led — not totally female-led, but just a different kind of story — which we thought would've been really cool. But I guess they don't want to do it."
However, producer Jerry Bruckheimer recently said there's still a chance we might see Robbie with a cutlass in one hand and a bottle of rum in the other. Speaking with Collider, the Hollywood titan explained that while Disney is moving ahead with the sixth film in the proper "Pirates" storyline, "I think that [the Christina Hodson] script will come forward at a certain point." We're all about seeing more pirate adventures on the big screen, so fingers crossed that Robbie eventually gets her chance to find buried treasure and fight her own set of cursed sailors.
Where to watch the Pirates of the Caribbean movies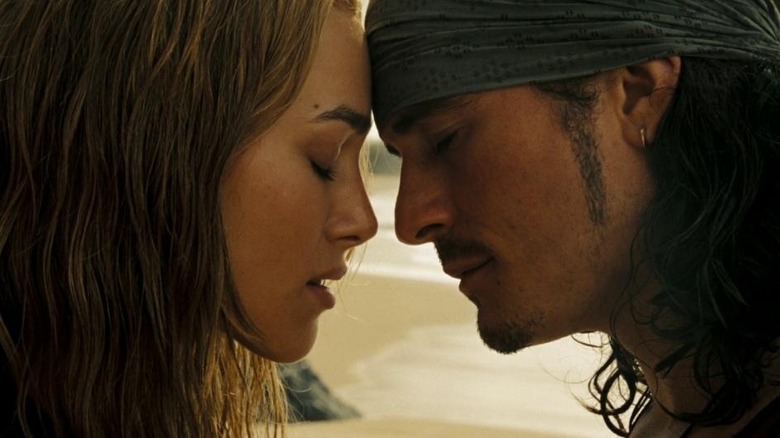 Walt Disney Pictures
While we're all waiting for "Pirates of the Caribbean 6" to emerge from the murky depths, perhaps you should settle in, invoke the right of parlay, and rewatch the previous "Pirates" movies (or perhaps check them out for the first time).
The original installment — "The Curse of the Black Pearl" — introduced a generation of movie fans to the drunken swagger of Captain Jack Sparrow, along with memorable characters like Elizabeth Swann, Will Turner, and Captain Barbossa. You can stream the first "Pirates" movie on Disney+ or rent it for $3.99 on sites like Prime Video, Google Play, YouTube, Apple TV, and Vudu.
In "Dead Man's Chest," we dive deeper into "POTC" lore, as the monstrous Davy Jones tries to claim Jack Sparrow's soul. With CGI that still stands up to this day — plus a pretty amazing showdown with a kraken — "Dead Man's Chest" is a worthy sequel that can be streamed on Disney+ or rented for $3.99 on sites like Prime Video, Google Play, YouTube, Apple TV, and Vudu.
The conclusion of the first three "Pirates" movies, "At World's End" brings in big names like Naomie Harris, Chow Yun-Fat, and rocker Keith Richards. It also features a climactic battle between our heroes, the East India Trading Company, Davy Jones' crew, and one very angry witch. You can stream the threequel on Disney+ or rent it for $3.99 on Prime Video, Google Play, YouTube, Apple TV, and Vudu.
After four years away from theater screens, Jack Sparrow returned to action with "Pirates of the Caribbean: On Stranger Tides." While nowhere near as beloved as the three previous films, it does star Ian McShane as Blackbeard and Penelope Cruz as Jack's old flame, with everyone searching for the Fountain of Youth. Stream the fourth film on Disney+ or rent it for $3.99 on sites like Prime Video, Apple TV, Google Play, Vudu, and YouTube.
Lastly, there's the fifth film — "Dead Men Tell No Tales." While a disappointment for Disney, the movie did continue to keep money coming into Penelope Cruz's home, as hubbie Javier Bardem stars as a scenery-chewing Captain Armando Salazar. The undead scourge of the sea is searching for a fantastical trident in order to murder every pirate on the planet, and you can stream the adventure on Disney+ or rent it for $3.99 on sites like Prime Video, Google Play, Vudu, and YouTube.