Netflix Shows To Watch If You Like The Umbrella Academy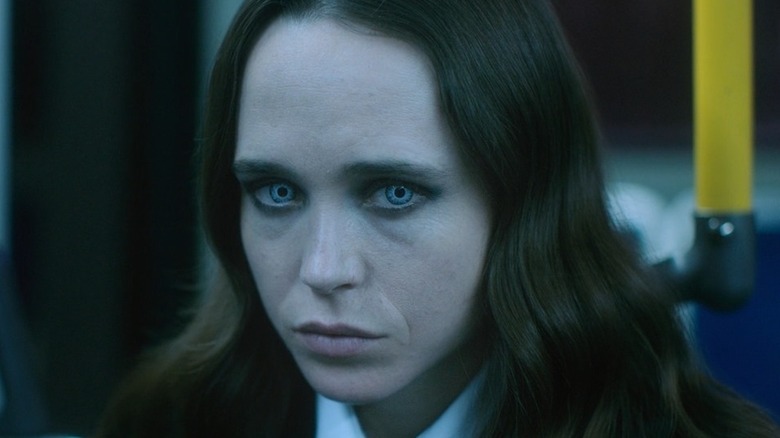 Netflix's "The Umbrella Academy," based on the Dark Horse comic series of the same name created by Gerard Way and Gabriel Bá, follows a dysfunctional family comprised of seven superpowered individuals who were adopted as infants by the eccentric and wealthy Sir Reginald Hargreeves, aka the Monocle. These children were part of a bizarre event in which 43 superpowered babies were born to unconnected people all over the world, who hadn't shown any signs of pregnancy the morning of the births. Hargreeves transforms his seven adopted charges into a superhero team, and sends them to stop bank robberies and other crimes when they're still children.
"The Umbrella Academy" Season 1 briefly explains how the seven came to be, then introduces them as adults, after the untimely death of their adoptive father. One of them died young, and the other six have barely managed to cope with the trauma of growing up under their particular circumstances. In the Netflix series, Luther (Tom Hopper), Diego (David Castañeda), Allison (Emmy Raver-Lampman), Vanya (Elliot Page), Number Five (Aiden Gallagher), and Klaus (Robert Sheehan) have to overcome their differences and work together to stop the apocalypse, but there are quite a few snags along the way.
In addition to "The Umbrella Academy," Netflix has adapted several other comics projects for its original series lineup, many of which share themes, tones, and even creators. Anyone who's looking for something new to watch while they wait for "The Umbrella Academy" Season 3 won't have to go far.
Locke & Key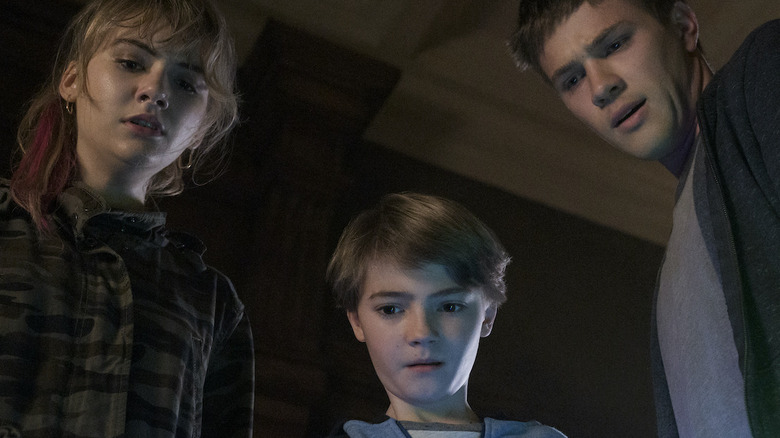 Based on the IDW comics series of the same name, written by Joe Hill and illustrated by Gabriel Rodríguez, with colors by Jay Fotos and letters by Robbie Robbins, Netflix's adaptation of "Locke & Key" follows three siblings as they literally unlock secrets of their ancestral home after the tragic death of their father. The trio discovers a series of keys hidden throughout the house that can unlock each other's minds, open portals, create visions of the past, and more. At first, everything is magical and fun, but then the siblings discover there's a demonic presence also seeking the keys for its own purpose, which raises the stakes considerably.
Netflix's "Locke & Key" shares a similar tone with "The Umbrella Academy" and explores similar themes, with a high-concept blend of fantasy, sci-fi, and horror. Season 1 is currently available on Netflix, and the series has been renewed for at least two more seasons. 
The End of the F***ing World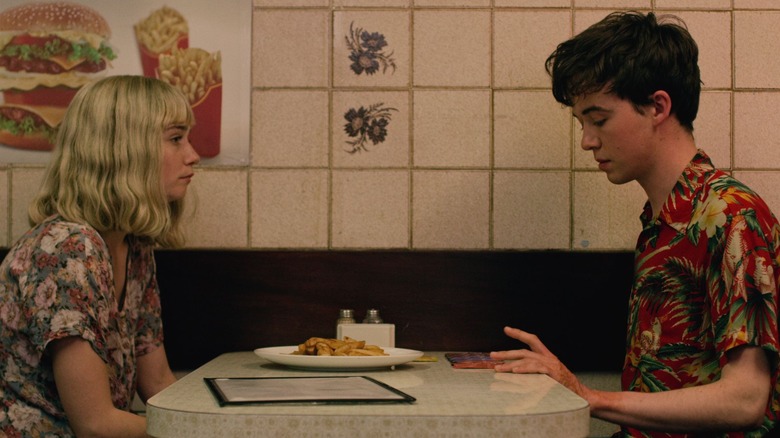 "The End of the F***ing World" is a dark drama/comedy series based on Charles Forsman's comics of the same name. The series follows James (Alex Lawther) and Alyssa (Jessica Barden), who come together under disturbing circumstances. James, who believes he is a psychopath, kills animals for fun. Eventually, he grows bored and decides to kill a human, setting out to prey on Alyssa. That's when she surprises him by asking if they can run away together. James agrees, intending to kill her somewhere along the way, but the two eventually bond over a series of mishaps. They eventually grow apart and Alyssa gets romantically involved with someone else, but they're reunited when someone close to James' first human victim comes looking for vengeance.
There are just two seasons of "The End of the F***ing World," which makes it a fairly quick watch that maintains a darkly comic tone not unlike that of "The Umbrella Academy." No one in this series has superpowers, but the normality of it all actually makes it even more disturbing.
I Am Not Okay With This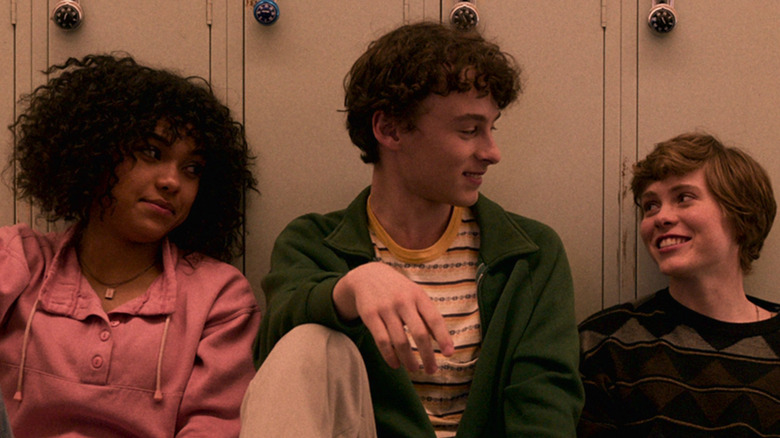 Like "The End of the F***ing World," "I Am Not Okay With This" is based on comics by Charles Forsman, but it takes a slightly more supernatural turn. There's only one season, due to complications of the COVID-19 pandemic preventing its continuation, but those seven episodes will definitely appeal to fans of "The Umbrella Academy."
In "I Am Not Okay With This," Sydney Novak (Sophia Lillis) discovers she has telekinetic powers that she isn't great at controlling. Her emotions affect the output of her powers, so when she feels things in the extreme — especially anger or sadness — she's more likely to cause property damage or even hurt people. As she struggles to figure out coping mechanisms, life goes on around her, and her relationships become increasingly complicated. At the end of the first season, it's revealed that Sydney isn't the only person in the world with telekinetic powers, though it seems she may not want to be influenced by others that do. 
Daybreak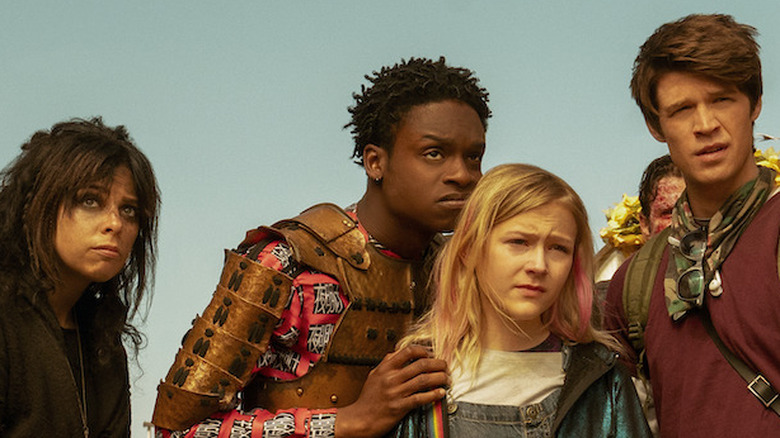 Based on the 2011 cult classic graphic novel by Brian Ralph, Netflix's "Daybreak" is a fourth wall-breaking apocalyptic comedy about a group of teenagers who have to navigate life after the end of the world, when all but a handful of adults have seemingly disappeared forever. The show follows 17-year-old Josh Wheeler (Colin Ford), who's searching high and low for his missing girlfriend. Along the way, he teams up with his former bully, Wesley (Austin Crute), and a 10-year-old pyromaniac named Angelica (Alyvia Alyn Lind). Together, the trio attempts to survive a terrifying version of their hometown, where other kids and teens have formed gangs that often battle it out and most of the adults have been turned into zombie-esque creatures called ghoulies.
"Daybreak" has just one season, comprised of 10 episodes averaging 45 minutes each. It's a quick watch that evokes some of the same images and themes of "The Umbrella Academy," with a little more in-your-face slapstick for effect. 
Sweet Home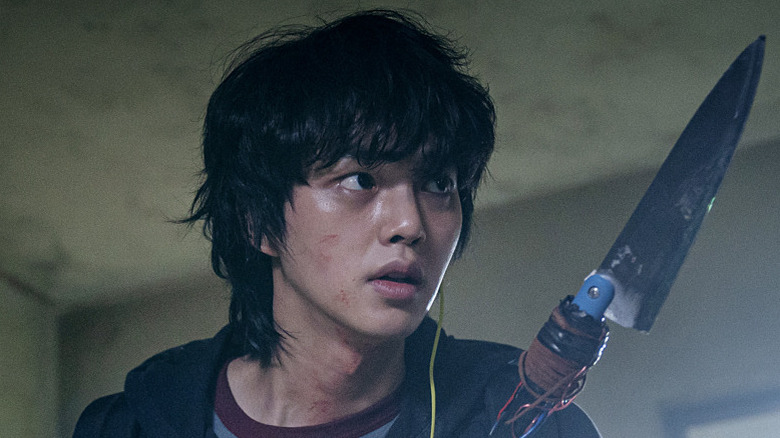 "Sweet Home" is a South Korean horror series based on the Webtoon comic of the same name by Kim Kan-bi and Hwang Young-chan. The show follows Cha Hyun-soo (Song Kang), a suicidal high school student who leaves home after his family is tragically killed in a car accident. He moves into an apartment, but it's not long before finds himself in the middle of the apocalypse. The humans inside Cha's new apartment are trapped by the monsters that roam outside, hellbent on destroying humanity and claiming the world for themselves. Cha eventually gains superpowers, which gives him an edge over the monsters trying to kill him. Others in the apartment, including Pyeon Sang-wook (Lee Jin-wook), also have powers. 
"Sweet Home" is scarier than "The Umbrella Academy," mostly because it deals with supernatural monsters rather than human ones. However, the series will likely appeal to "Umbrella Academy" fans because of its webcomic roots, its pop-apocalyptic aesthetic, and the themes explored — as long as viewers don't mind a little gore.
Warrior Nun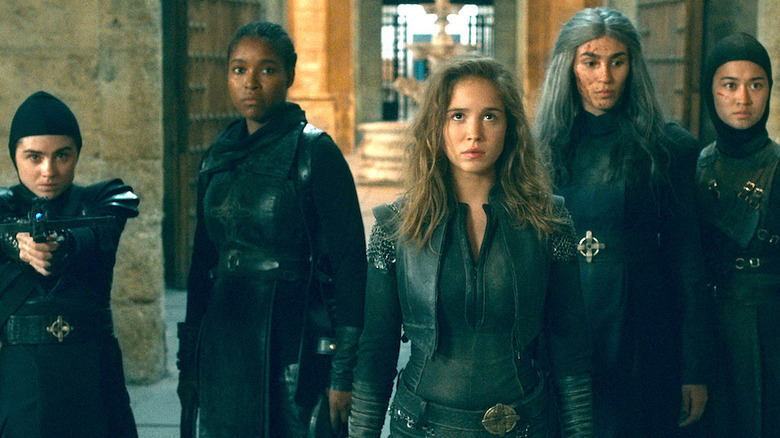 "Warrior Nun" is a fantasy series based on Ben Dunn's manga "Warrior Nun Areala." It follows Ava Silva (Alba Baptista), a teenager who wakes up in a morgue with a divine artifact embedded in her skin. This grants her admission to the ancient Order of the Cruciform Sword, an alliance of warriors sworn to battle demons on Earth. Forces on both sides of this ancient conflict want to control Ava for their own purposes, which raises the stakes significantly.
Similar to the surprise children born in "The Umbrella Academy," Ava doesn't expect to wake up with these powers. When she does, she's forced to adapt quickly, lest she become an instrument of demonic destruction or heavenly righteousness. "Warrior Nun" has been criticized for ableism, with critics pointing out that Ava receiving the divine artifact after its previous owner dies "cures" her chronic illness and paralysis — a plot point with roots in some pretty problematic tropes. Fortunately, executive producer Simon Barry has said he hopes to address these issues in Season 2.
Cursed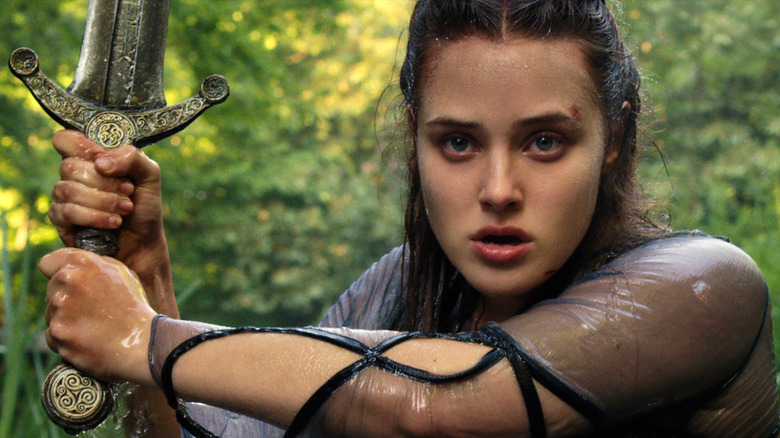 Netflix
Netflix's "Cursed," based on the illustrated young adult novel of the same name by Frank Miller and Tom Wheeler, examines Arthurian legend through a new perspective: Nimue's (Katherine Langford). The series explores how Nimue becomes the infamous Lady of the Lake, who is most often attributed with bequeathing the sword Excalibur to King Arthur. In "Cursed," Nimue is a young woman who teams up with Arthur, a young mercenary, on a quest to find Merlin. Their goal is to deliver an ancient sword, and along the way, they encounter plenty of trouble.
"Cursed" is primarily a coming-of-age tale for Nimue, especially as she becomes bolder and more courageous in the face of incredible threats. The series is more fantastical than "The Umbrella Academy," but similarly examines inevitability and fate, as well as whether a single person can change the entire course of history through their actions, even if they don't exactly know what's to come or when it's coming.
Lucifer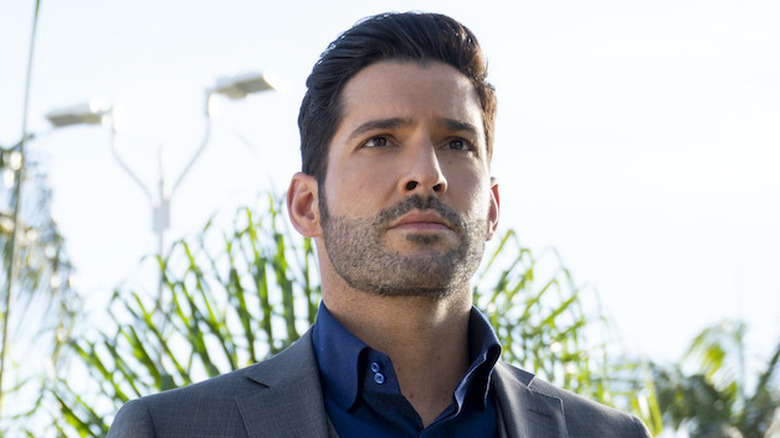 "Lucifer" originally debuted on Fox in 2016, but the network canceled the series after three seasons. Netflix stepped in to renew it, and the series is now slated to run for a total of at least six seasons. The series follows the titular Lucifer Morningstar (Tom Ellis), aka the Devil, who leaves Hell to run a nightclub in Los Angeles and consult with the LAPD. This version of Lucifer is based on the DC comics character created by Neil Gaiman, Sam Kieth, and Mike Dringenberg for "The Sandman."
Lucifer's life in Los Angeles is drastically different from his life in Hell, though he still has to deal with celestial and demonic forces from time to time, and his ability to manipulate humans comes into play more than once. The Netflix series focuses a lot on the romance between Lucifer and Detective Chloe Decker (Lauren German), which begins as a working relationship and then grows into something more.
Similar to "The Umbrella Academy," "Lucifer" plays with comic book tropes and complicated family relationships, as well as broad concepts like morality and sin.
Chilling Adventures of Sabrina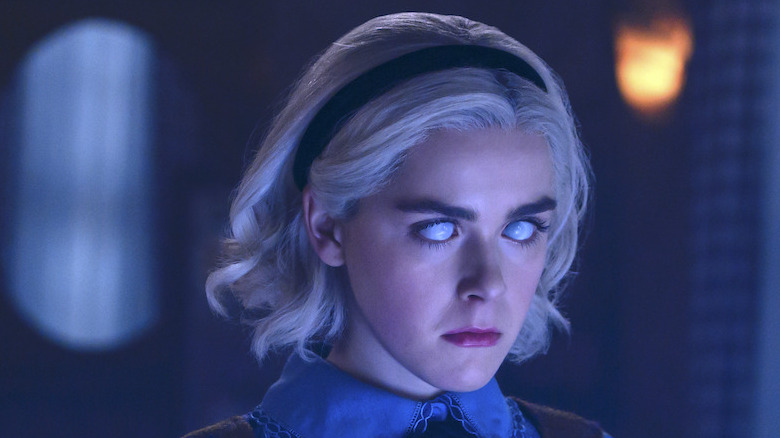 "Chilling Adventures of Sabrina" was created by "Riverdale" showrunner Roberto Aguirre-Sacasa, who adapted the comic series of the same name that he wrote for Archie in 2014, with art by Robert Hack. The Netflix series plays fast and loose with the comics storyline, with half-witch/half-mortal teenager Sabrina Spellman (Kiernan Shipka) attempting to navigate high school, romance, friendships, familial relationships, and a new pact with Satan himself as she embraces her witch powers and saves the world.
The show ended its 36-episode run at the end of 2020 with a rather divisive finale that left fans hoping to see their favorite witch reappear some day — even if it's in another form. Although "Chilling Adventures of Sabrina" is slightly more magical than "The Umbrella Academy," the two series do have key elements in common, including time travel, slapdash teamwork, apocalyptic threats, and years-old secrets that change everything for the characters. 
Jupiter's Legacy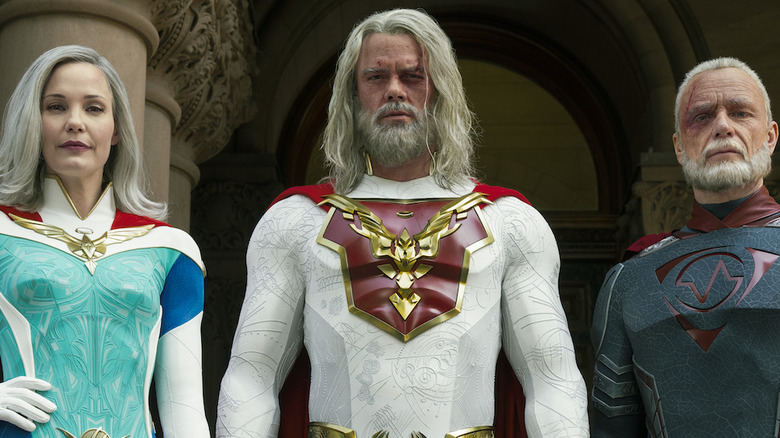 "Jupiter's Legacy" joined the Netflix roster in May of 2020, adapting the 2013 Image Comics series of the same name by Mark Millar, Frank Quitely, and Peter Doherty. Told in two parallel narratives — one set in the past and the other in the present — the show explores generations of superheroes and the connection between superpowered individuals and the American ideal. Former businessman Sheldon Sampson, aka the Utopian (Josh Duhamel), travels with his brother Walter, aka Brainwave (Ben Daniels), to an uncharted island in the Atlantic Ocean following the death of their father. On the island, Sheldon, Walter, and four others receive superpowers, and Sheldon becomes the leader of a team dedicated to improving the world. Their ideals are to never kill anyone and to never interfere in political matters.
As the world changes, these superheroes have superpowered children who are expected to live up to the same ideals. Unfortunately, the pressure gets to them, and Sheldon's son Brandon, aka the Paragon (Andrew Horton), seemingly kills a supervillain in a fight. This sparks a massive debate over the role of superheroes in society, and whether the Utopian's ideals still make sense several decades later.
"Jupiter's Legacy" is a cape and cowl comic adaptation, but it explores some similar themes to "The Umbrella Academy," especially regarding family legacy.