Will There Be An Ava 2?
2020 was a challenging year for movies. Between production hiatuses and closed theaters, the COVID pandemic forced many studios to postpone film releases or move to a streaming platform, resulting in a confusing and chaotic period of "Is that movie ever coming out?" When director Tate Taylor began work on his action-thriller "Ava" in 2018, he likely envisioned a standard theatrical release with the usual media blitz promoting the film. Instead, the film was given a video-on-demand release on DirecTV Cinema in August 2020, followed by a Netflix debut in December. But once "Ava" did premiere, the question viewers began asking was, "Will there be a sequel?"
Starring Jessica Chastain, "Ava" tells the story of Ava Faulkner, an elite assassin who is marked for death by her own clandestine agency. Unlike other spy movies, "Ava" incorporates a family drama angle involving Ava's sister, mother, and former fiancé. The film ends with Ava triumphant over her adversaries, but she is being stalked by the daughter of one of her enemies – thus the speculation about a sequel.
Critics were not kind to Ava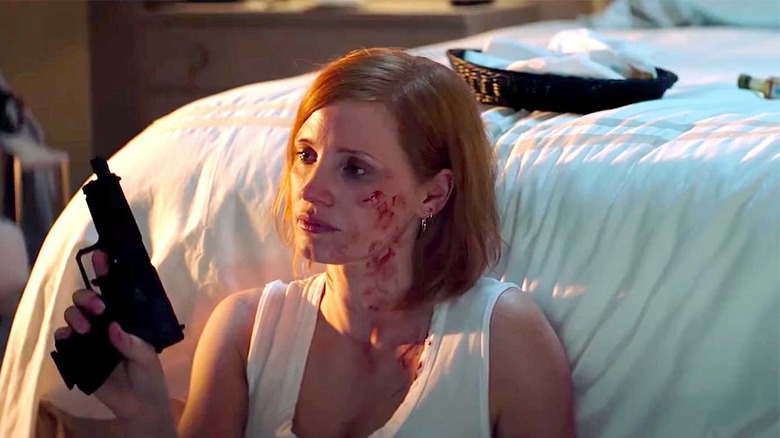 Vertical Entertainment
Critics were not kind to the film, with many unfavorably comparing it to the "Bourne" and "John Wick" franchises. Currently, the movie has a dismal critics' score of 16% on Rotten Tomatoes. For her part, Chastain earned relative praise. The Hollywood Reporter said, "Chastain is utterly convincing in another tough-as-nails role." And Richard Roeper of the Chicago Sun-Times found the actress "terrific as the world-weary, ruthlessly efficient but deeply troubled Ava." Unfortunately for THR and Roeper, and many other outlets, Chastain's skill could not save the movie.
As for the fans, they propelled "Ava" to the top of Netflix's charts during the first weekend the film was available to stream. Given the extremely poor critical response, it is unlikely that "Ava" will receive a sequel. Netflix, however, has been known to purchase canceled projects and give them new life, though those decisions have often focused on television properties. The streamer has also greenlit a sequel to "Bright," which, like "Ava" received a negative response from critics. Only time will tell if the success of "Ava" on Netflix will prompt the streaming giant to continue her story.