What Kind Of Car Is 'Eleanor' From Gone In 60 Seconds?
Like the original 1974 film of the same name, the 2000 remake "Gone in 60 Seconds" is packed with classic, high-quality cars doing wild stunts and destroying city property. That comes with the territory for expert auto stealer "Memphis" Raines (Nicolas Cage), especially when he's tasked by a gangster with the near-impossible goal of stealing fifty cars in one night, or else his brother (Giovanni Ribisi) dies.
Dominic Sena's action blockbuster features cool muscle cars and collectibles ranging from the Porsche 996 to the Cadillac Escalade – they even heist a 1962 Aston Martin that James Bond would have approved of. But Memphis insists that his crew will steal a particularly special car last, one he's tried to steal before and which he calls "Eleanor." It's as close as the character comes to having a white whale.
But why is "Eleanor" so special to Memphis Raines? Here's more about the make and model of the car that will make his desire click into place.
'Eleanor' is an extremely powerful Mustang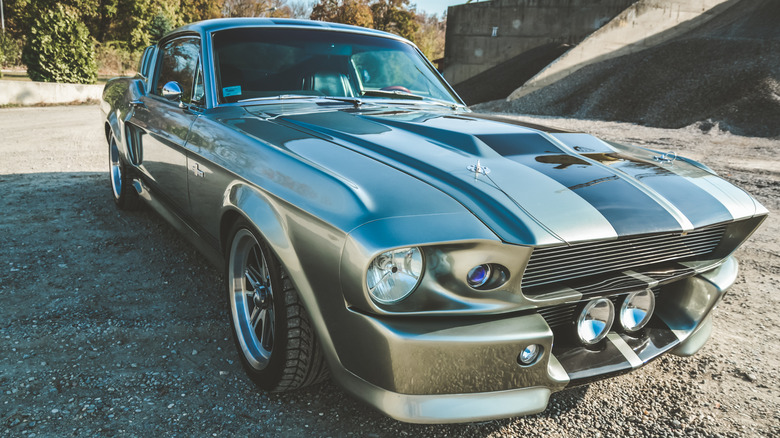 Shutterstock
The particular car Memphis Raines wants to steal so badly that he saves it for last, nearly blowing his operation, is called "Eleanor" but is really a classic 1967 Ford Shelby GT500, a modified version of the Ford Mustang. This was inspired by the car named "Eleanor" in the original '70s film, a customized 1971 Ford Mustang Sportsroof.
The original Shelbys were built from 1965 to 1969 (via Road Tests & Classic Cars). Created by racer and designer Caroll Shelby, the Shelby Mustang is still considered an incredible performance machine even compared to other Mustangs, and a version of the car is manufactured today (via Autoweek).
It makes sense then that a fan of high-performance cars like Raines would want "Eleanor" for his own, and when his brother buys him a ramshackle 1967 Shelby GT500, it feels like the perfect payoff for the reformed car thief. Memphis invites his ex (Angelina Jolie) on a ride and they try to drive off into the sunset – until the car breaks down.