The Cobra Kai Scene 35% Of People Think Went Too Far
With "Cobra Kai" officially returning to Netflix in the fall for its fourth season, fans will finally be getting answers to their biggest questions. Namely, who will win in the valley-wide karate war that has been brewing between Daniel LaRusso (Ralph Macchio)/Johnny Lawrence (William Zabka) and the titular dojo's sensei, John Kreese (Martin Kove), whether or not Robby (Tanner Buchanan) will come back to the light side of the karate force and what will happen with Johnny's budding relationship with Carmen (Vanessa Rubio).
Although the series may have felt like a simple nostalgia play ahead of its debut – and it definitely leans hard into its "Karate Kid" legacy – "Cobra Kai" quickly became streaming gold with its rich characters, a pitch-perfect blend of new and old and a gripping story.
That said, not every piece of character development or plot twist has landed with all of the show's audience. Much of what transpires in "Cobra Kai" definitely qualifies as heightened reality, and writers have occasionally delved into areas that are simply too much for even its most fervent fans. Mashed conducted a survey of 537 people around the United States and asked them which of those moments went too far.
One moment outpaced the field by capturing more than a third of the vote.
Fans think Miguel's fall was too much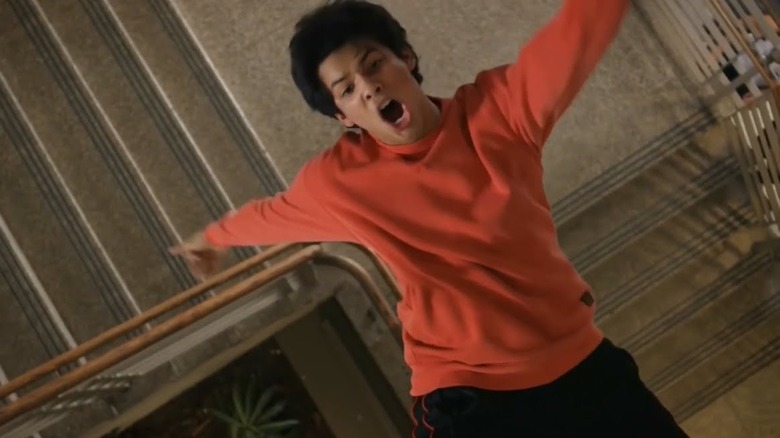 Netflix
As good as "Cobra Kai" has been, there were a number of strong contenders for moments that may have overreached. Hawk (Jacob Bertrand) breaking Dmitri's (Gianni DeCenzo) arm – a move that was beyond the pale given their lifelong friendship – was a popular choice. So, too, was the brawl during which it occurred. However, neither struck as many viewers as a too-much moment as Miguel's big fall during the same melee in the Season 2 finale.
It may have been a pivotal moment in the series given its place in the respective journeys of Miguel (Xolo Maridueña) and Robby, and the former's recovery after the incident had left him paralyzed was a key cog to the third season's story, but a whopping 35% of respondents thought it went too far.
Hawk's dark deed was a close second at 29.6% and the brawl as a whole was third with 13.4% of those polled thinking it went too far. Rounding out the results were the infamous mall fight (13.4%) and Johnny's pummeling of a group of high-schoolers outside of a convenience store in the show's very first episode (8.6%).
There's a clear trend in the answers here with fans believing that karate fights that seem to break out at an inordinate rate on "Cobra Kai" may be a bit much at times. Ultimately, they'll never take the karate out of a "Karate Kid" show. Clearly, though, the story is the thing.