This Cobra Kai Storyline Was Tragically Inspired By Real Life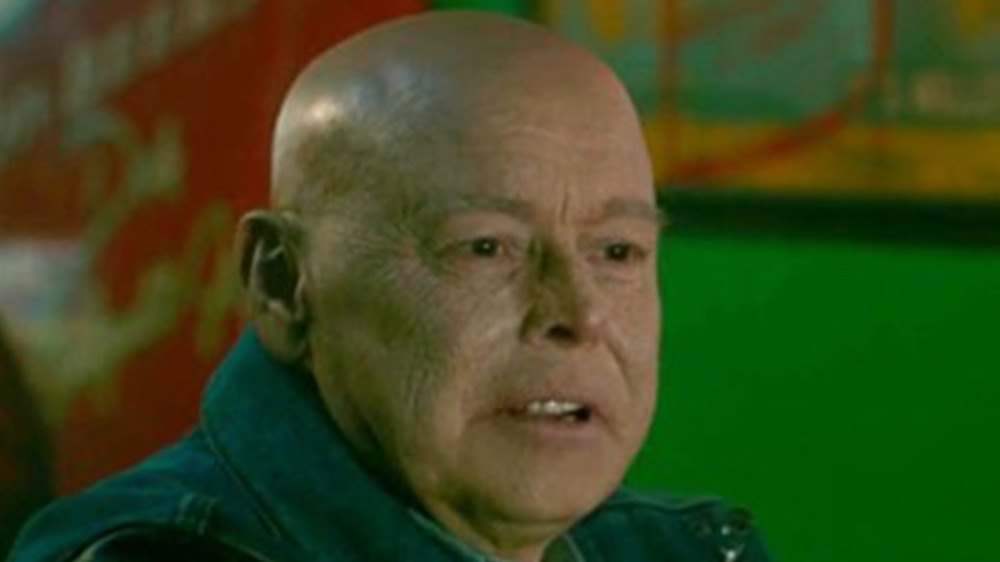 Netflix
The hit Netflix series Cobra Kai offers everything that fans of the Karate Kid film franchise could want: humor, heart, drama, plenty of butt-kicking karate action, and the chance to reconnect with classic characters while getting to know new ones. With only three seasons under its belt, the series has swiftly developed into one of the best shows on television, with its smart writing matched only by the talents of its excellent cast. We never would have guessed how satisfying and entertaining it would be to catch up with Johnny Lawrence (William Zabka) and his arch-rival, two-time Under 18 All-Valley Karate champ Daniel LaRusso (Ralph Macchio), after more than three decades — but now that we know just how much we needed it, we kind of hope Cobra Kai keeps going for, oh, 10 or 12 seasons.
The show's writers have done a fantastic job endearing us to its young cast, including Xolo Maradueña as bullied teen-turned-karate champ Miguel, Mary Mouser as Daniel's good-hearted daughter Samantha, and Tanner Buchanan as Johnny's troubled, estranged son Robby. But they've also proven to be spectacularly adept at mining the Karate Kid films for smaller supporting characters who can pop in at crucial times to help drive the story forward. Case in point: the season 2 episode "Take a Right," in which Johnny has a little soul-searching to do after several of his students in the Cobra Kai dojo — inspired by Johnny's own nefarious mentor, John Kreese (Martin Kove) — engage in a heinous act of vandalism against Daniel's Miyagi-Do dojo. After receiving a timely phone call, Johnny hits the road to hang out with a few old buddies, all of them Kreese's former students: Bobby (Ron Thomas), Jimmy (Tony O'Dell), and Tommy (Rob Garrison).
Four friends were reunited by tragedy on Cobra Kai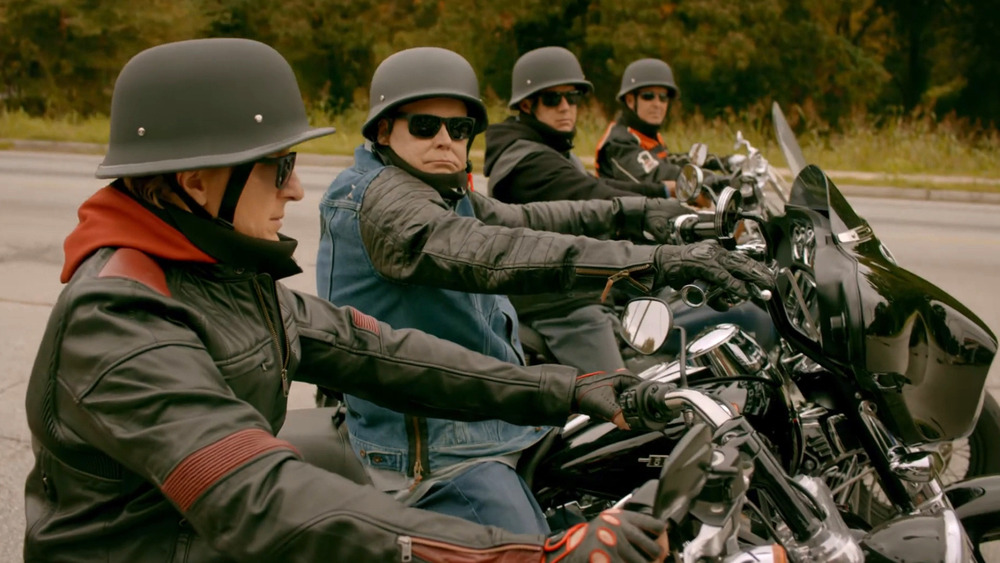 Netflix
Johnny is happy to get out of the valley to clear his head for a bit with some help from his friends, but unfortunately, the visit isn't an entirely joyous one. Tommy has been diagnosed with terminal cancer, and the friends' outing basically constitutes one last hurrah for the core members of the 1984 Cobra Kai team. Only Dutch is absent; the actor who portrayed him in the original film, Chad McQueen, had scheduling conflicts, and his absence was explained in the episode as being due to a jail sentence for ol' Dutch, who was always quite the troublemaker.
The four friends have a good time reliving their glory days, getting into a karate fight in a local bar and spending the night camping in the mountains, where Johnny and Tommy have a poignant final conversation after everyone else has retired for the night. Tommy confesses that when the two were teenagers, he had been in love with Johnny's girlfriend, Ali (Elisabeth Shue), but that "someone else struck first." He tells Johnny that this was his reason for joining Cobra Kai; he had wanted the same confidence that Johnny had, and when Johnny expresses regret at how his life turned out, Tommy brings out the big tear-jerking guns. "You still got one thing that's more important than anything, Johnny," he says. "Time. You still have time." Johnny explains that he just wants to keep his students from making the same types of mistakes that he did, to which Tommy replies, "You'll do it, Johnny. You're the champ."
The following morning, Johnny, Bobby, and Jimmy awaken to find that Tommy has died in his sleep. They take comfort in the fact that they were able to give their friend one last great night — which, unfortunately, closely mirrors what Cobra Kai was able to do for Garrison in real life.
Rob Garrison's struggle with cancer was all too real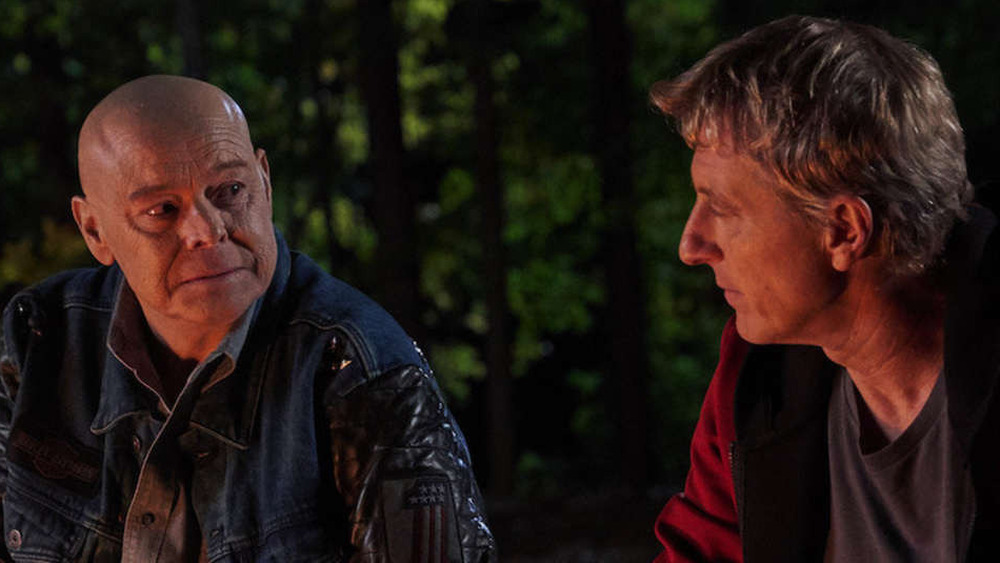 Netflix
Rob Garrison had largely been retired from acting, appearing in only one project — the 2011 feature The Pledge — since 1995. Nevertheless, he greatly enjoyed his guest stint on Cobra Kai, and had engaged with fans on social media about the possibility of returning in some capacity for season 3 — but it was not to be. As it turns out, at the time "Take a Right" was being filmed, Garrison really was struggling with cancer — a struggle that would soon claim his life (via ScreenRant). Shortly after the second season of Cobra Kai premiered, Garrison was admitted to the hospital with kidney and liver issues, and after fighting the good fight for a month, he passed away in September 2019 at the age of 59.
In an Instagram post, William Zabka remembered that he and Garrison had met while auditioning for The Karate Kid, and had been close friends ever since. "Rob was a true thespian — an 'actors actor,'" Zabka wrote. "Working with him was always natural and effortless. He elevated every scene and moment inside of them. Outside of acting, he was one of the most selfless and wonderful human beings I've ever known and I will miss him immensely." 
Ralph Macchio also paid his respects in a statement, via People. "Rob Garrison was a kind gentleman from the first day I met him to the last day we spoke," he said. "I am so glad he had the opportunity to show his range and genuine heart with his performance last season on Cobra Kai. His campfire scene in Ep 206 was truly one of my favorites of Season 2." The premiere episode of Cobra Kai's third season was dedicated to Garrison, who was memorialized with the most fitting four words imaginable: "Cobra Kai Never Dies."