The Most Problematic Things Johnny Has Done On Cobra Kai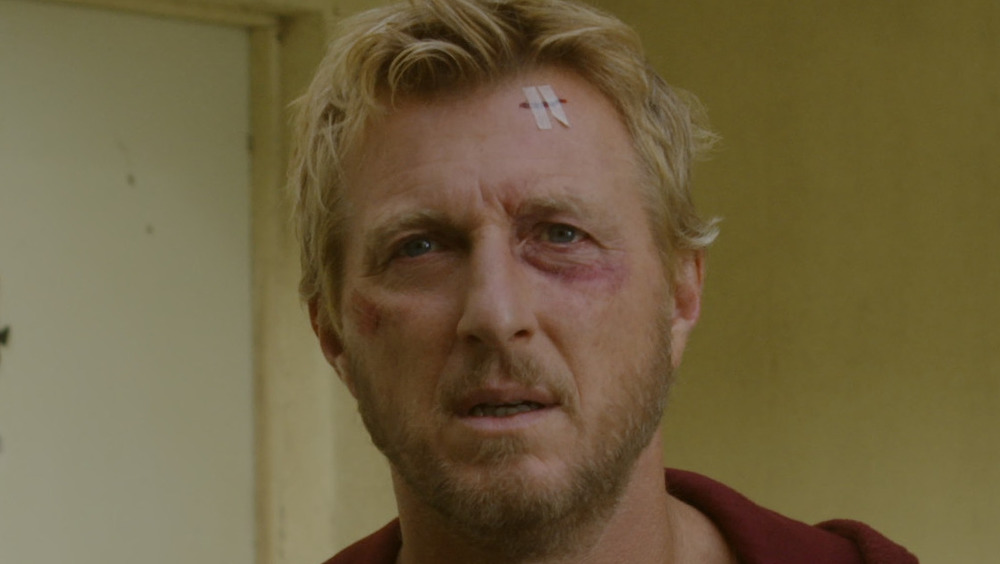 Netflix
Netflix series Cobra Kai has been, perhaps, the most surprising smash hit of the past decade or so. Not just because nobody expected to see a Karate Kid spin-off series set 34 years after the events of the original film — with William Zabka returning as Johnny Lawrence and Ralph Macchio reprising his role as Daniel LaRusso — but because nobody ever could have expected it to be so good. The series' ingenious conceit: making Johnny the focus rather than Daniel, filtering the events of the pair's interactions as teens through his eyes, and allowing him a chance at the kind of redemption arc at which the original movies only hinted the possibility of.
This concept is particularly inspired because Johnny is sorely in need of redemption. As Cobra Kai opens, he is — how do we put this delicately? — a drunken, boorish jerk, having accomplished nothing with his life, and is still fixated on his loss to Daniel at the All-Valley Under 18 Karate Tournament all those years ago. It doesn't help his outlook that Daniel has become quite successful, with a gorgeous, supportive wife, two awesome kids, and one of the busiest car dealerships in the valley. Cobra Kai's very first episode immediately illustrates that Johnny is a study in contrasts. Visiting the local convenience store for a slice of soggy pizza, he comes to the inadvertent rescue of Miguel Diaz (Xolo Maradueña), a teenager being harassed by bullies; he does this by beating the crap out of all four of Miguel's assailants, who themselves are teen boys.
Of course, it's shortly after this that Johnny decides to resurrect the infamous Cobra Kai dojo, which prompts Daniel to open his own, based on the teachings of his dear departed mentor Mr. Miyagi. But despite a wealth of compelling subplots related to their students, Johnny's struggle to be a good guy has been at the center of the series for all three of its current seasons. Here are a few times that he has fallen short — so very, very short.
The fact that Daniel didn't call the cops doesn't mean Johnny didn't commit Grand Theft Auto
Netflix
Johnny's efforts to reconcile with his estranged son Robby (Tanner Buchanan) — who is a volatile chip off the old block whether he likes it or not — present Johnny with perhaps the highest level of difficulty keeping an even keel. He obviously cares a great deal for the kid, but Robby's tendency to mirror Johnny's own emotional shortcomings — not to mention his stint as Daniel's student in Miyagi-do — gets under his skin in a big way. Robby's involvement in the school-wide karate brawl at the end of season 2 — which culminated in him gravely injuring Miguel, leaving him temporarily paralyzed — brings out Johnny's caring Dad side when the kid goes on the run afterwards. Johnny joins Daniel to help track down the old minivan that Robby had stolen from Daniel's car lot, and they find it — having been stolen from Robby — at a local chop shop. 
A fight breaks out, and Johnny and Daniel easily take care of the thieves — but their team-up goes south when Johnny, in a rage, continues beating on one of them after he's clearly out of commission. After a brief spat, Johnny storms off, or, more accurately, drives off in the stolen minivan they had just recovered. Viewers could be forgiven for thinking that Johnny might return the vehicle after cooling off, but no — he literally drives it around for the remainder of the season. Perhaps fortunately for him, between an unwanted buyout attempt from a rival dealership and troubles with an overseas supplier — not to mention karate-related troubles with his wife Amanda (Courtney Henggeler) and daughter Samantha (Mary Mouser) — it seemed that Daniel simply had bigger fish to fry than worrying about a stolen 1993 Dodge Caravan. But, given that Daniel yelled for him to return it and he chose not to, Johnny still committed a felony.
Johnny's rehabilitation methods were slightly irresponsible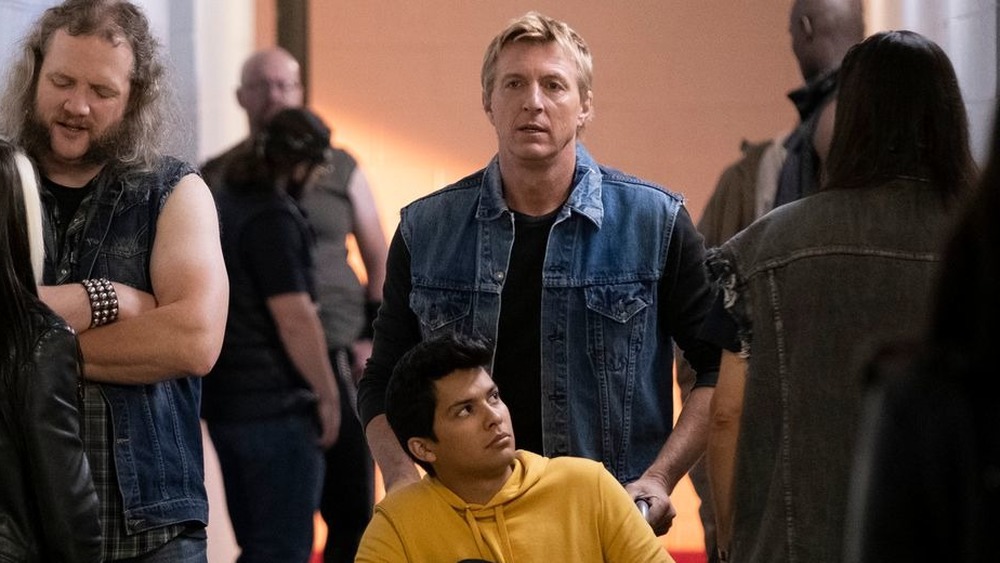 Netflix
As complicated as Johnny's relationship with Robby is, his role as mentor to Miguel is arguably even more so. Miguel, initially livid with Johnny for his perceived poor advice after his terrifying injury at the end of season 2, eventually forgives his sensei — who, while very fond of Miguel, is also obviously smitten with the boy's mother Carmen (Vanessa Rubio). She agrees to let Johnny take a crack at rehabilitating Miguel, and in a compressed time frame that may just as well have been an eighties-style montage, Johnny successfully gets Miguel on his feet. The way in which he does so, however, might have had Carmen scrambling to call the cops, had she been aware of his... unorthodox methods.
First, in order to get Miguel in the proper mindset for rehab, he brings the wheelchair-bound, underage boy to a raucous, 21-and-up concert featuring legendary Twisted Sister frontman Dee Snider — and, for good measure, gives him a beer. Then, there's the rehab itself, which includes techniques that could only be described as "highly questionable." Johnny suspends Miguel from the ceiling in a climbing harness and then releases it, letting the boy collapse in a heap; when that doesn't work, he tries lighting a metaphorical fire under his student by lighting a literal fire under him, hoping that this will psych Miguel into leaping to his feet (it doesn't). Eventually, Johnny resorts to slightly more conventional methods, like weight training (with a full pony keg) and resistance training (having Miguel leg-press a bench while Johnny lounges with his feet up on it). And, yes, we eventually get the badass payoff shot of the pair triumphantly tossing Miguel's crutches and wheelchair in a dumpster. To get there, though, Johnny only had to break about a half-dozen child welfare laws.
Johnny's drinking habits: Don't try this at home
Netflix
As previously mentioned, Johnny is a bit of a drinker, and his affinity for getting blackout, falling-down drunk would be troublesome enough on its own. As a direct result of being utterly soused, Johnny has been arrested more than once — after that series-opening fight with the teen bullies, and after a third-season brawl with a couple dudes in a bar, for example. But Johnny's affinity for the suds has an even more worrisome aspect: the fact that he drives drunk repeatedly, even habitually, without consequence. Particularly during Cobra Kai's first two seasons, the sight of Johnny staggering out of a vehicle while finishing off a beer is an alarmingly regular one — and there are even more instances in which he's seen pounding back the brews, only to show up somewhere else in a subsequent scene, with no explanation as to how he got there; given his relative ineptitude with technology, he probably didn't call an Uber. It's safe to say that anybody who regularly and flagrantly drives wasted as often as Johnny does would not only have their license revoked within a week, but they would be extremely lucky not to seriously injure or kill themselves or someone else.
Fortunately, Johnny seems to be heading in the direction of curbing some of his more outrageous behavior, and he's perhaps even edging toward truly turning over a new leaf. At the conclusion of season 3, he went so far as to merge his newly-formed dojo, Eagle Fang, with Daniel's in order to more effectively train their students to deal with Johnny's nefarious ex-sensei John Kreese (Martin Kove) and his Cobra Kai ruffians in the upcoming tournament. Hopefully, Daniel's philosophy of balance will rub off on Johnny — but it's pretty tough to balance after eight or nine cans of Coors Banquet.